After a super fun kickoff week, we tweaked things a bit for the second run of the Zwift Insider Tiny Race series last Saturday. This led to another great turnout, and our new custom routes certainly made things interesting!
I actually opened up Zwift and watched the Zone 3 B races, heckling riders from the start pens and commentating a bit via in-game messaging. And you know what I discovered? These races are really fun to watch! They are short and animated, and you get to know who the key riders are as the races go on. A few screenshots: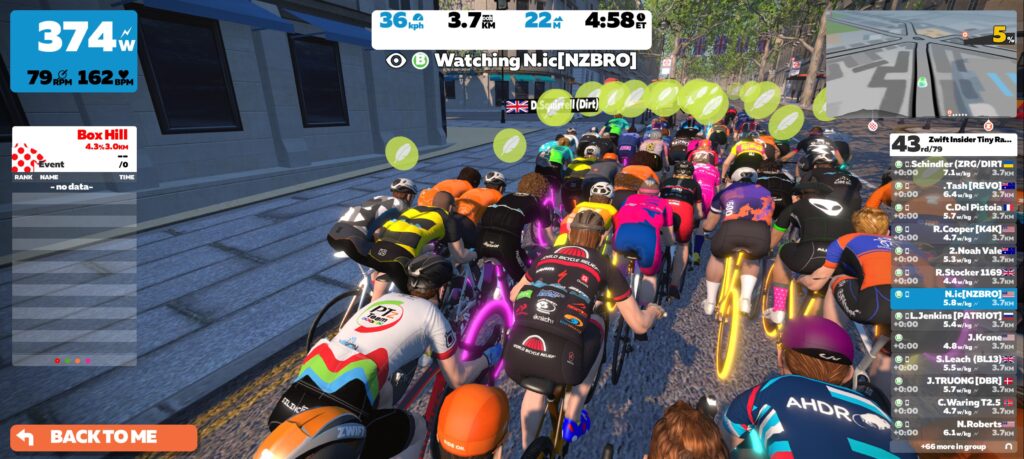 One thing I found particularly interesting was how the custom London Loop route ending in the Underground tunnel caught a high number of racers sleeping. The pack strung out early on the bridge, then picked up so much speed on the descent that even strong riders couldn't get back to the front and contest the finish! Live and learn…
Congrats to Last Week's Winners
A: Joakim Lisson (POAUTO – CeramicSpeed)
B: Ed Gray (DIRT)
C: Paul Smith (ART)
D: TT (USO)
A: Zach Nehr (NeXT pb Enshored)*
B: Robin Andersson (eSRT)
C: Julien Beijer (Team Type 1)
D: Robert MacArthur (ATP)
A: Caleb Carl (SKYLAB)
B: Troels Abildskov
C: Kendrick Murphy (WTRL)
D: Darrick Bissell (BPCC)
* Johannes Randrop Keiding and Zach Nehr tied for points in Zone 2 A division, but Zach had the highest placing with a 1st place finish in race 1, so we gave the win to him.
This Week's Routes
This week's has two more "custom" routes. These are standard in-game routes, cut short so they finish at an interesting spot. Here are photos so you can see the precise location of the custom finish lines: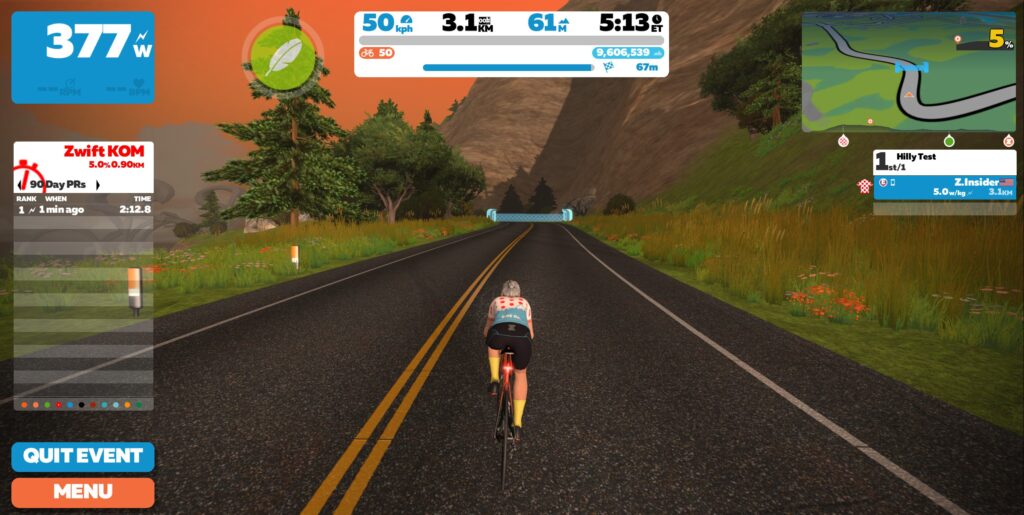 Sign up at zwift.com/events/tag/tinyraces
The Formula Works
Not many changes to make for this 3rd week of races – we think the overall Tiny Race "formula" is a hit. It's made up of five parts:
Short races that take 5-10 minutes to complete, scheduled 15 minutes apart so you can do 4 in an hour
Finishing points are awarded to all riders, so everyone has an incentive to keep pushing
Each race is on a different route and (ideally) in a different world, so you're getting a sort of baby Tour de Zwift each week
One type of powerup for each race, so nobody gets an unfair advantage
A fresh mixture of routes each week to keep everyone on their toes, including custom-length routes nobody has raced before!
NEW: Chat & Chill Cooldown Events
This week we're adding one thing: a "Chat & Chill" cooldown event after the last race in each zone. We're adding this because riders seem to be having such a fun time commiserating between races that we thought you'd like to chat and spin the legs out after that final effort. Here are the links to sign up:
Zone 3 (8:55pm UTC)

We've set the Chat & Chill events to start 10 minutes into the last race, to avoid making riders sit in the pens after their last race. This means some riders will still be on the course when the event begins. No worries – just late join and hang out as long as you'd like!
ZwiftPower Results + League
Zwift displays preliminary race results when you cross the line, but points are computed after all four races finish, with final race results on ZwiftPower. (We have to press a ZwiftPower button to compute results manually, so if your rankings don't show up right away, just be patient.)
Riders will earn points based on finish position in each of the 4 Tiny Races. The category winner of each week's series is the rider with the most points across their timezone's 4 races. Here are the links for each timezone's results on ZwiftPower:
Note: HR monitors are required if you want to show up in the final results.
Questions or Comments
Post below!