Last Saturday's Tiny Races were all based on the "Fast Finishes" theme, and they were fun to watch (and race)! World Tour pro Lawson Craddock showed up for the zone 1 timeslot and seemed to enjoy ripping legs off with some hard attacks. (He finished 3rd overall in the As, but we assume he was just venting a bit after unfortunately missing the World Road Championships in Wollongong due to visa approval issues.)
Want to see what the Tiny Race experience is like? Watch the stream below (best cover art ever!) from Ben Pitt, who finished 4th in the same timeslot as Lawson, including taking the win in race 1:
Congrats to Last Week's Winners
Overall Podiums
A: Sébastien Havot (HEX)
B: Magnus Wiklund (eSRT)
C: David Hivey (ART)
D: Stephan Aspfors (SZR)
A: Geoffrey Millour (HEX)
B: Aleksandr Dubs (FFZ)
C: Steven Sijmons (DIRT)
D: WooWoo (HHTT)
A: Fabian D'Evola (dPAC-ELITE)
B: Patrick Davis (DIRT)
C: James (Cryo-Gen)
D: Dom Sim (Team Italy)
Women's Podiums
A: Nini (CISM GER TRI)
B: Gabriella Nordin (SZ)
C: Jo Graham (CrushPod)
D: Anseb Janke (RCP)
A: Anna Embring (SZ)
B: Naomi de Pennington (Twenty24)
C: Marlies Mejias (Twenty24)
D: Linn Björgvik (SZR)
A: none
B: none
C: Leanne Dalley (CrushPod)
D: Kim Johnson (Herd)
This Week's Routes: a Fresh Mix
We've got four fresh routes this week, never raced before in our Tiny Race Series. It's a mix, too, with finishes on dragging climbs, flat sprints, and proper climbs.
Here are photos so you can see the precise location of the custom finish line for race 1: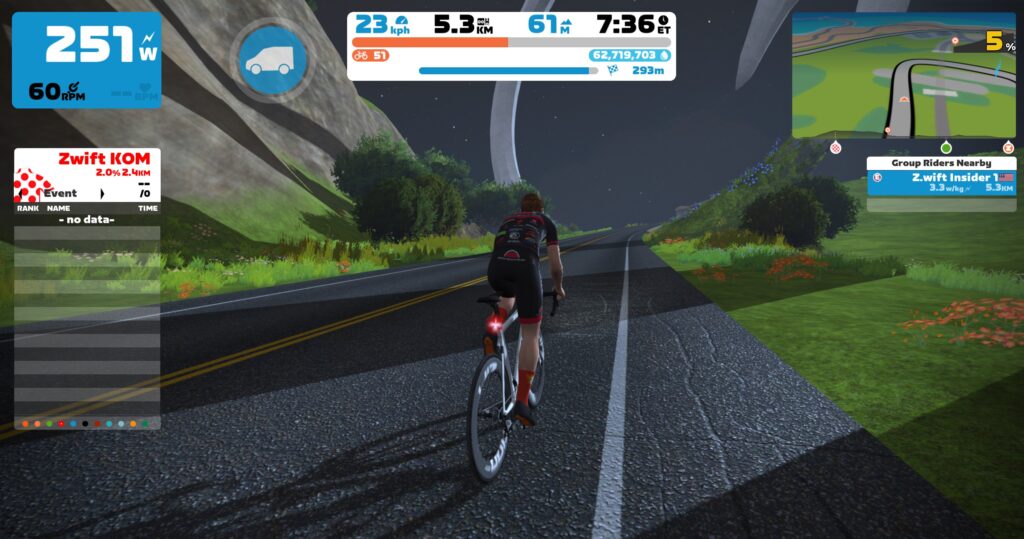 Sign up at zwift.com/events/tag/tinyraces
ZwiftPower Results
Zwift displays preliminary race results in game when you cross the line, but points are computed after all four races finish, with final results on ZwiftPower. (We have to press a ZwiftPower button to compute results manually, so if your rankings don't show up right away, just be patient.)
Riders will earn points based on finish position in each of the 4 Tiny Races. The category winner of each week's series is the rider with the most points across their timezone's 4 races. Here are the links for each timezone's results on ZwiftPower:
Join a Chat & Chill Cooldown
Immediately following each hour's racing, we've scheduled 30-minute "Chat & Chill" events where riders from all categories can spin out their legs together and have some fun chatting about how it all went down. Find them at zwift.com/events/tag/tinyraces.
Questions or Comments
Post below!