Cycling is a funny thing. Sometimes the kilometers just fly by and we can't help but smile and enjoy every minute. Other times each bump in the road feels like a major obstacle and we can't wait to get off the bike. One thing is certain though: fitness isn't built overnight. Like most worthwhile things it requires perseverance: repeated, difficult efforts over an extended period of time.
Perhaps no Zwifter exemplifies perseverance more than Aussie Tim "Bacon" Searle. This Thursday we'll see a first for Zwift when Tim rides his 100,000th kilometer on the Zwift platform. Here's fellow Aussie Shane Miller talking about the monumental achievement, and how you can join Tim in celebrating it:
Tim is the creator and leader of the Aussie Hump Day Ride (AHDR) – the largest group ride on the Zwift Platform. He also leads the Bacon Rolls and PretzHELL rides every week. Couple all that ride leading with the sheer number of kilometers he has ridden on Zwift and it is clear Tim is a key community member we should all be listening to. On the eve of his 100,000 km achievement I wanted to ask Tim a few questions and get to know him a little better.
---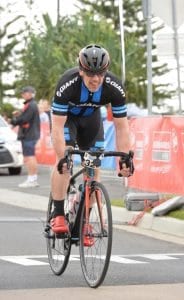 How much riding do you do per year?
I ride around 40,000km a year.  Last year was my biggest riding year to date at 46,000km. 2018 will likely be a touch less (I did a little running too!) but will likely be around 42,000km.
Is it a challenge for you to find the time to put in 23-24 hours/week on a bike, or do you have a lifestyle that makes it work?
I have a family and run a small business. I've found a way to fit my riding into my lifestyle. Generally, my rides are around 75 minutes (40-50km). I ride early in the morning before the family wakes, and straight after work. I do ride a little more on the weekend! I do 100km every day, so I guess it all adds up!
How much of your riding is indoors compared to outdoors?
I'd say around 90% of my riding is done indoors. I do enjoy riding outside and get out every weekend without fail. I have just got my hands on a new Giant Propel that I'm itching to get out on! I find that during the week my time limitations mean that riding outside is impractical, not to mention the occasional dodgy weather (it can happen in Australia!) and traffic, etc.
Some say indoor miles don't count, others say an hour indoors is worth 90 minutes outdoors. You may be more qualified than just about any indoor rider to answer that… what do you think?
There is an argument that 1km on the trainer is easier than outside. I'd say that it might be a little faster, but is no easier. As I spend a fair amount of my Zwifting leading Aussie Hump Day Ride groups which generally have 200+ people on them a lot my time is in the draft, which is obviously a bit quicker than solo outdoor rides (although not as easy as riding in large groups outdoors – you can never stop pedaling!). At the end of the day time in the saddle is still time in the saddle.
You've put in more kilometers on Zwift than literally anyone else in the world, so your experience and opinion carry a lot of weight. Tell me your favorite Zwift memory, and the one new feature you're most hoping for.
My favourite Zwift memory was the 24 hour Team Zwift World Champs event that I participated in last year. We hastily put together a 4 person AHDR Team called "Aussie Battlers" (which says it all!). We were not expecting anything other than a bit of fun. We ended up taking out the event ahead of some very strong teams, despite my total in our Team being the lowest at 400Km.
As far as a new Zwift feature, what I'd like to see most are more Ride Leader tools. I'd guess that around 25% of my km's on Zwift have been done leading groups – it's this social aspect of Zwift that keeps me coming back for more. I'm currently leading over 1200 people per week and rising, and with all the AHDR rides having over 200+ attendees it's getting increasingly difficult to manage.
---
AHDR Bacon's 100,000km Zwift Event Details >