Editor's note: Dave Bibby's "Road to Recovery" series documents his use of Zwift to return to full fitness after a road bike accident in June 2017.
---
Welcome back to my little journey along the 'Road to Recovery'; this is my last post of four. If you have missed any of the story so far you can find it here. We are now very much into the winter training section of the year for us Zwifters in the northern hemisphere. In this update I get to complete my 6wk Beginner FTP builder, take the dreaded FTP test and get closer to the Tron.
Workouts and fun?
If you read my previous post you will know I am close to giving up on the workout program. Those that know me will tell you I don't make a habit of giving up but this did cross my mind for a couple of reasons.
Firstly I found a lot of the workouts almost too easy. The weekly plan included a couple of Foundation sessions which to be brutal where dull and I mean dull. Approximately 70% of the ride is spent at 70% FTP. If you ask a majority of the Zwifters out there this would seem well below what they would normally ride at so it can feel like a bit of a waste of time.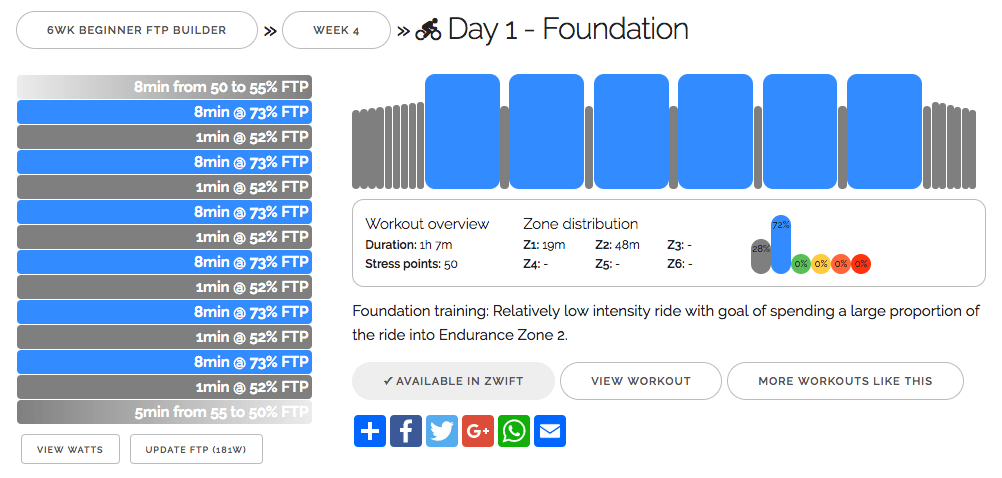 Secondly I miss the interaction with others. I love Zwift, it's a wonderful platform but the biggest attraction for me is riding with others. In this workout mode no sooner are you riding happily in a bunch when the workout informs you to slow down to Zone 1 (50% FTP) and the group you just met are off.
I thought the six weeks might never end but there were some positives. I was starting to feel better in myself both physically and mentally. Nothing in the training manual indicated I could not join other groups occasionally right? I also found some of the workouts to be great fun especially the Intermittent and Tempo. These workouts push you a bit harder and get you hitting high intensity in short bursts.
Once into week 5/6 you then hit some Threshold Development workouts which really start to test your metal. These I found got harder and harder but really gave a sense of achievement.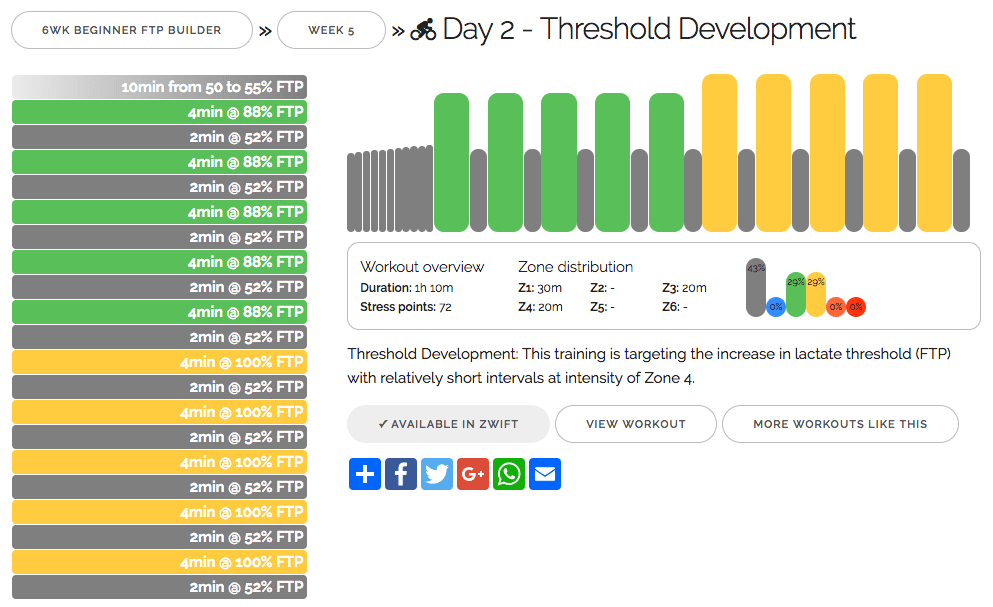 That FTP Test
Well it's all done. The last of the 6wk workouts are complete and I have to say, even though it was sometimes frustrating it actually has improved my fitness and cycling on Zwift. I have also learnt that having the right cadence makes all the difference. I was very much used to slogging away at 70-80 rpm when I really should have been in the 90's.
There are many theories around how to take and manage an FTP test so I did some research and decided to follow Zwift's own supported method.
In short this follows some simple rules around the sections of the test:
0:00 to 10:00: Maintain your tempo – the section should be challenging but sustainable
10:00 to 15:00: Lift your power – add 5 to 10 watts if you can
15:00 to 20:00: Empty the tank – go all in!
I can honestly say this went out the window after the first 10 minutes. I certainly could not raise my wattage or go all in. I did try to build up slowly but once you have reached your desired wattage it's difficult to push any harder. Just to recap, before my accident my FTP was 297; when I got back on the bike it had dropped to 181. I had in the back of my mind a target I wanted to hit and once that target was on the screen as an average it was all I could do to keep it there.
Finally it was over! After all that training I had hit a new FTP of 221 so I had gained 40 watts in 6 weeks. I can honestly say the test nearly killed me but it was so worth it!
After recovering on the sofa later, I reflected on the training program and although I found it tedious in places it was all worth it in the end. I will use some of the workouts to develop my own programs for the future to work on those areas we don't tend to cover on group rides.
My road to recovery has not finished yet. I have yet to venture outside (which my daughter would happily never see me do again!) but need to gain more upper body strength for that. I am being told that this will be a very long process and I am only on the first step.
It's worth reflecting on what Zwift has done for me. It's given me the motivation and drive to better myself. Not only before the accident but now more than ever pushing myself to that next target. It's helped my mind focus and given me purpose rather than sitting on the sofa stewing. There have been many studies supporting the theory that exercise can help mental health and I can only say for myself that it really has got my mind back in the game.
Let's not forget the people on Zwift that have supported be through some very dark times. The community we are all part of has amazing strength to help and support others. Given our love for cycling we are sometimes at risk of injury. I have received amazing support and recommend anyone suffering an injury to reach out to your Zwift community because we have some wonderful people out there.
Back in the Day – ZSUN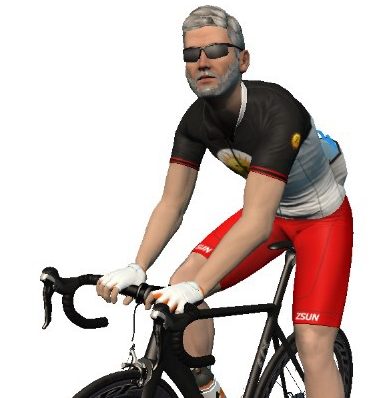 This is fast becoming the reflection part of the blog where I look back at some of the groups and teams I have ridden with. Utimately we all have our favourites that we keep coming back to time after time. For me ZSUN fits that mould.
Back in October 2016 when TPF 2.5 was becoming too much for me to lead on a regular basis due to other commitments, I was fortunate enough to have a few teammates that could cover from time to time. But it was proving a little too difficult to manage.
By this time I had got to know a few fellow Zwifters on Facebook and had a look around at some of the other groups I could ride with. One such group that took my interest was ZSUN led by Stewart Lalieu. ZSUN has a culture of fun and no-one takes themselves too seriously with loads of in-jokes and plenty of banter during the ride. The Facebook group has almost 2,500 members from all over the world and is just about people that want to get into Zwift and enjoy group riding. Stewart with the help of Monica Cross Holmes and Chris Ziggy Moore host events covering most time zones.
ZSUN also has a group called ZSUN Racing. This is a little bit smaller and more personal. I first joined this group to compete in the 2016 Zwift World Championship since the group is aimed at riders that have training targets and goals to reach.
I cannot tell you how much I enjoy riding with these guys. Every member has their own nickname which can be confusing when chatting on Discord or giving ride-ons. We are all great friends on Facebook and like many of my other friends the support I got from ZSUN during my recovery has been immense. Thank you ZSUN.
Tron Update
Now on 90% complete so just around the corner!
My last note will be to say respect to all those leaders and sweepers out there. Zwift would not be the same without your tireless efforts. #RIDEON