Editor's note: this is part 2 in a 3-part series on Tim's Arena Games – London experience. If you're unfamiliar with how the Arena Games work, read part 1 here.
The Arena Games Triathlon powered by Zwift will take place in three major cities across the world in 2022.  By their own definition, the Area games is an innovative esport concept that blends in real life and virtual racing to deliver a new level of the immersive viewing experience.
The first race was hosted on April 9th in Munich, Germany.  This was the second event was hosted on April 23rd in London, UK, while the Grand Final is going to be held on May 7th in Singapore.
The second round of the Arena Games was hosted at the Aquatic Centre, in London's Olympic Park.
The Heats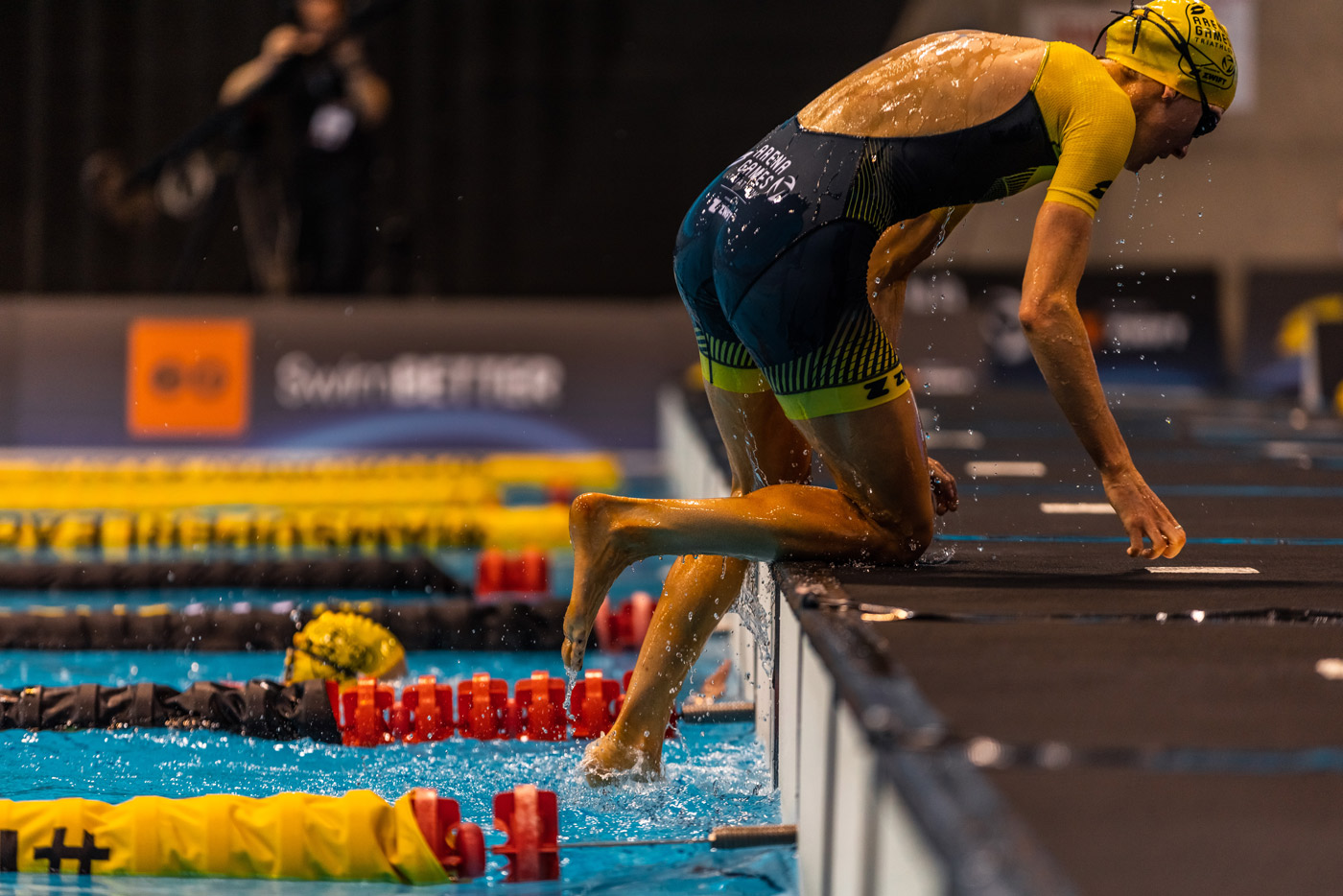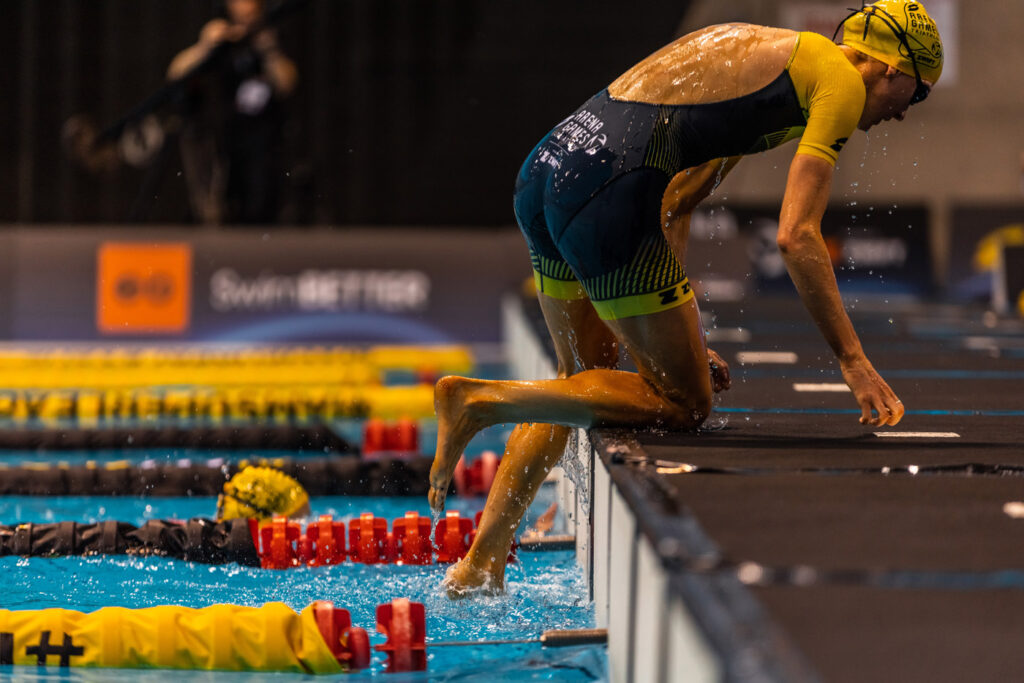 I stood poolside to watch the start of the Women's first heat, which consisted of a swim four lengths of the indoor pool totaling 200 meters, a 4km non-draft Zwift cycling race, and a 1km treadmill run.  The lead from the first stage was taken into the second in a pursuit style event, where the top four would qualify from each heat, along with the fastest two losers.   
I was nervous and I wasn't even competing! It wasn't just me as Hollie Elliott, a British triathlete, jumped the start of the swim, resulting in a five-second penalty. Realising her error, she stopped mid-swim before continuing. 
Britain's Beth Potter, the winner from the Munich Arena Games several weeks earlier, took the first heat. She explained that, "I went hard on the first stage, but always left a bit in the tank."  I asked how she had been able to prepare for a unique event like this, and she explained that "the previous year I prepared with a lot of VO2 work, whilst this year I have just come off a really solid winter and am really aerobic and really strong and my threshold zone is good and that helps because I am able to recover between the stages."
Being sponsored by Garmin, Beth explained that she was familiar with the Tacx Neo used in the bike legs "and it is very useful for my VO2 sessions because I can control it so much."
I asked about tactics for the final and I very much liked her approach, "no plan, just all guns blazing."
Winner of the women's second heat was Jess Learmonth.  I caught up with Jess who explained, "It was good fun and really hard, a bit of a shock to the system."  She went on to say that, "I think the final, I am getting psyched out even thinking about it to be honest, it's so hard."  Jess explained "I don't think there can be any tactics in this, in the final, the person who does the best transitions will win, it's that close.  It's not so much as what you do on the bike or on the run as everyone is so similar, it's literally who is going to get their shoes on the fastest and who will get on the point the quickest.  It's going to boil down to that to be honest." 
Given that conditions within the venue now felt like a sauna, and wishing I was in shorts like many of the crew, I had to ask how Jess was managing with the heat. "I didn't manage it, I remembered to move the fan on the bike but on the treadmill I didn't so after the first run I was absolutely roasting and somebody moved it and made it a lot more bearable. To finish off I asked about recovery, and Jess noted that "I will have a quick spin on the bike and then come back early and do a few bits before we start."
Those who qualified for the finals were: Jess Learmonth, Beth Potter, Sian Rainsley, Zsanett Bragmayer, Kate Waugh, Cassandre Beaugrand, Georgia Taylor-Brown, and Audrey Merle, who took the automatic qualifying spots whilst Anabel Knoll and Petra Kurikova took the fastest losers positions.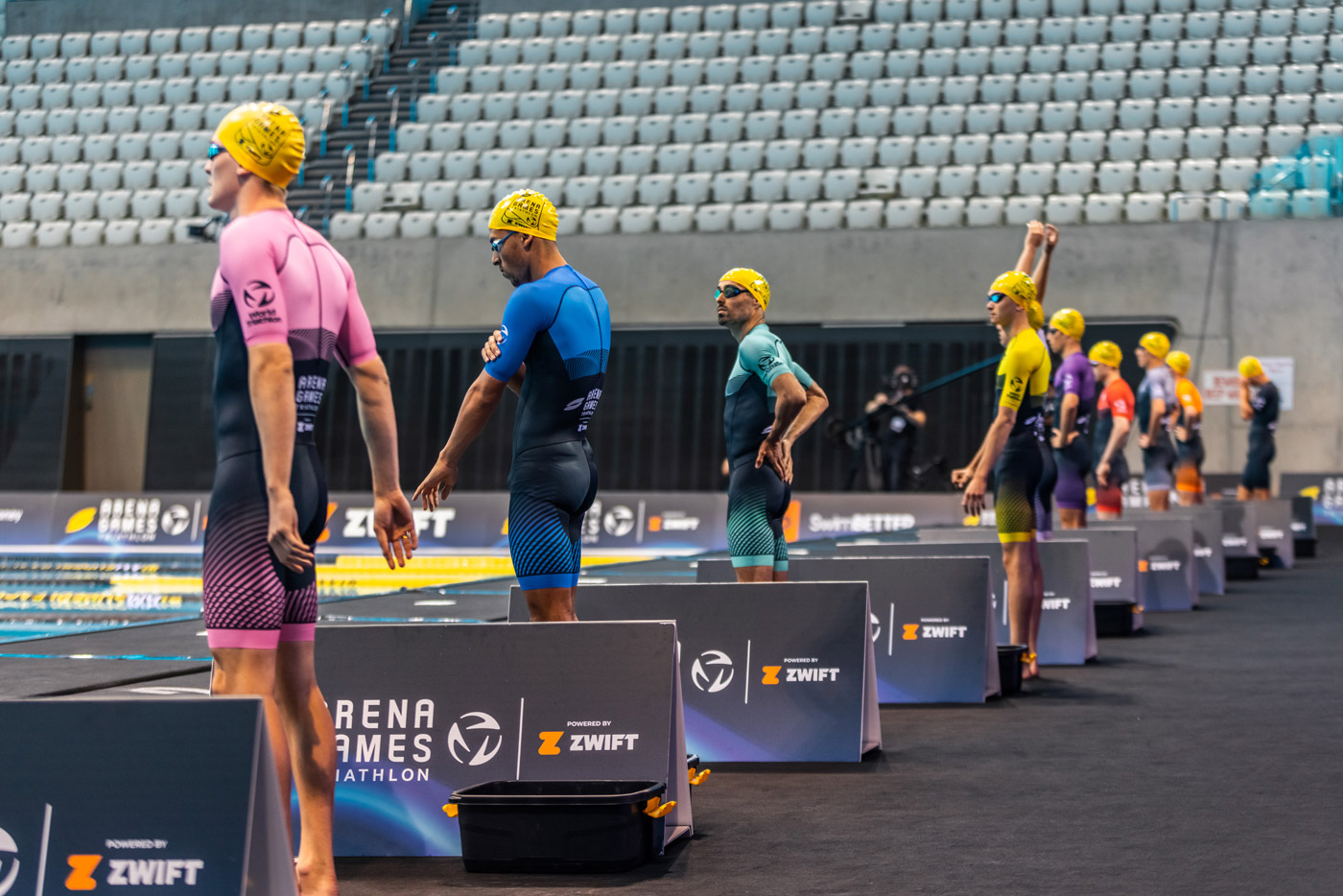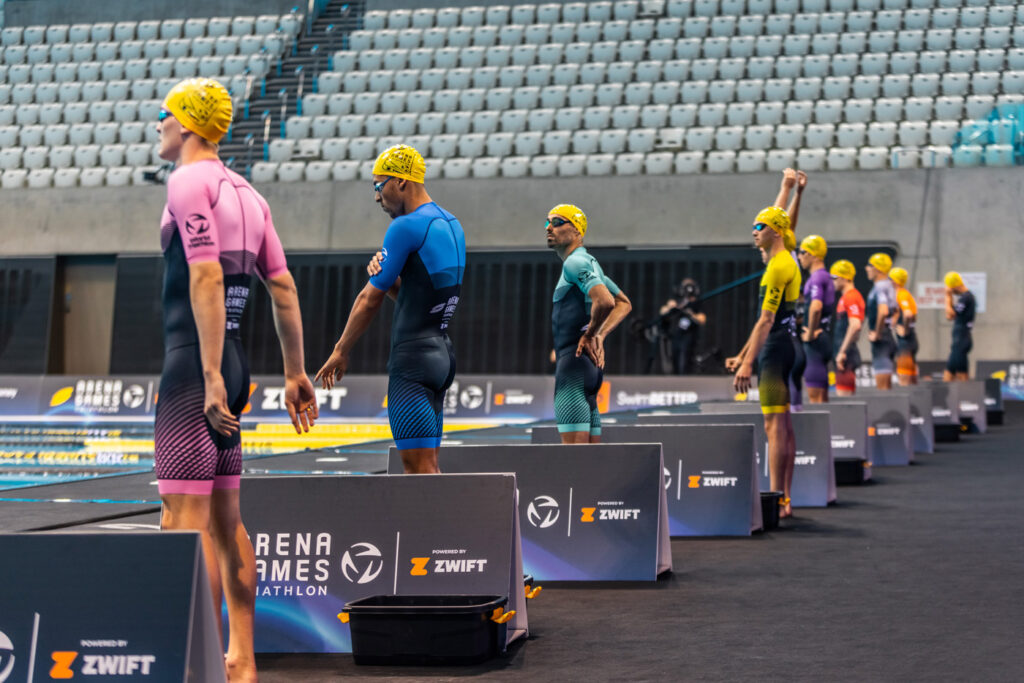 The men's heats were equally as competitive and followed the same format. Britain's Alex Yee took victory and along the way ran a 2:34 kilometre, which is roughly 23kph or 14.5mph.
Australian Max Stapley, who finished second in Munich, took the second heat.
Athletes who qualified for the finals were:  Alex Yee, Justus Nieschlag, Maxime Huber-Moosbrugger, Jeremy Briand, Max Stapley, Nicolo Strada, Takumi Hojo, Gordon Benson, who all qualified by right, and the two fastest loser positions went to Simon Henseleit and Harry Leleu.
I spoke to Portuguese athlete Riccardo Batista, who sadly missed out on qualifying for the final, he explained, "Everything was really hard." He is planning to head to Singapore for the next event and described the experience as "exciting, competing with my idols."
The Final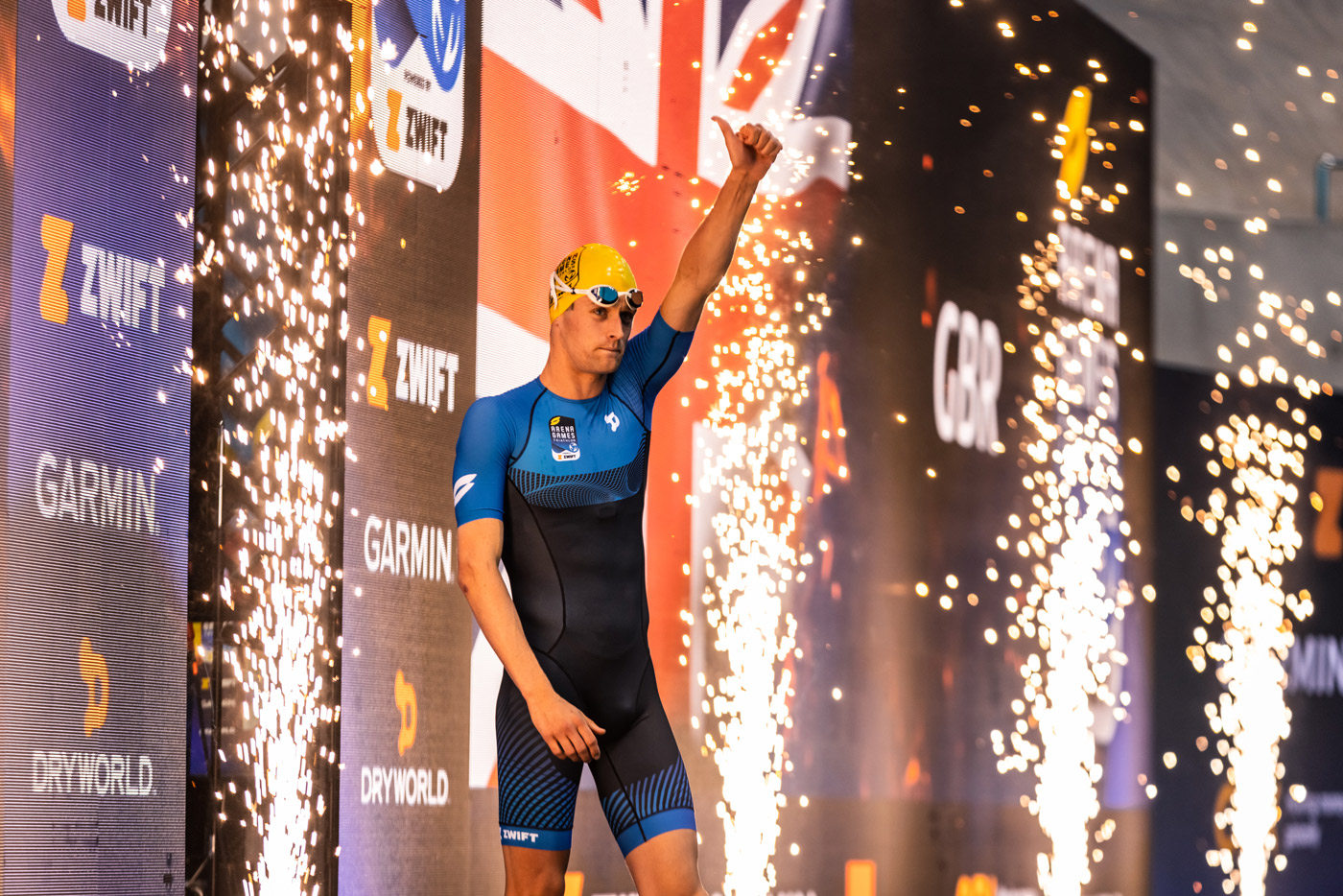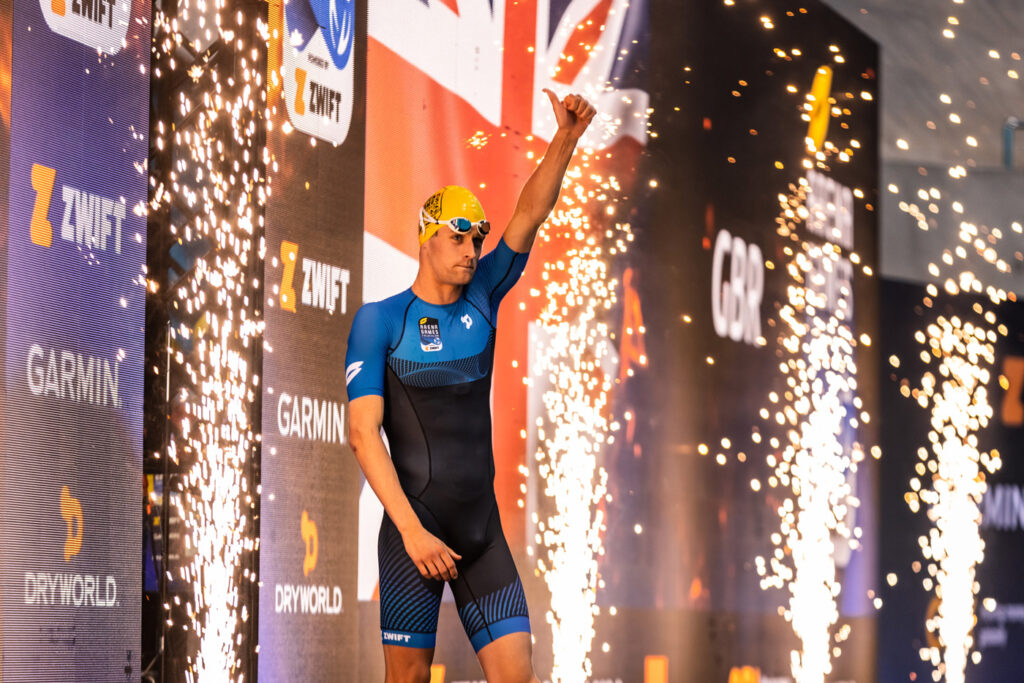 It's fair to say that both Women's and Men's events saw some eye-watering performances in terms of speed and strength and this was with the additional stage, because the final involved three stages.  The first being swim-bike-run, followed by run-bike-swim, then a third stage set up as a pursuit race, with time gaps determined from the previous two stages' cumulative times. 
Both races started with fireworks, quite literally. As the finalists were introduced to the sold-out arena they were treated to a brief pyrotechnic display. This would set the scene for the next explosive encounters!
Women's Race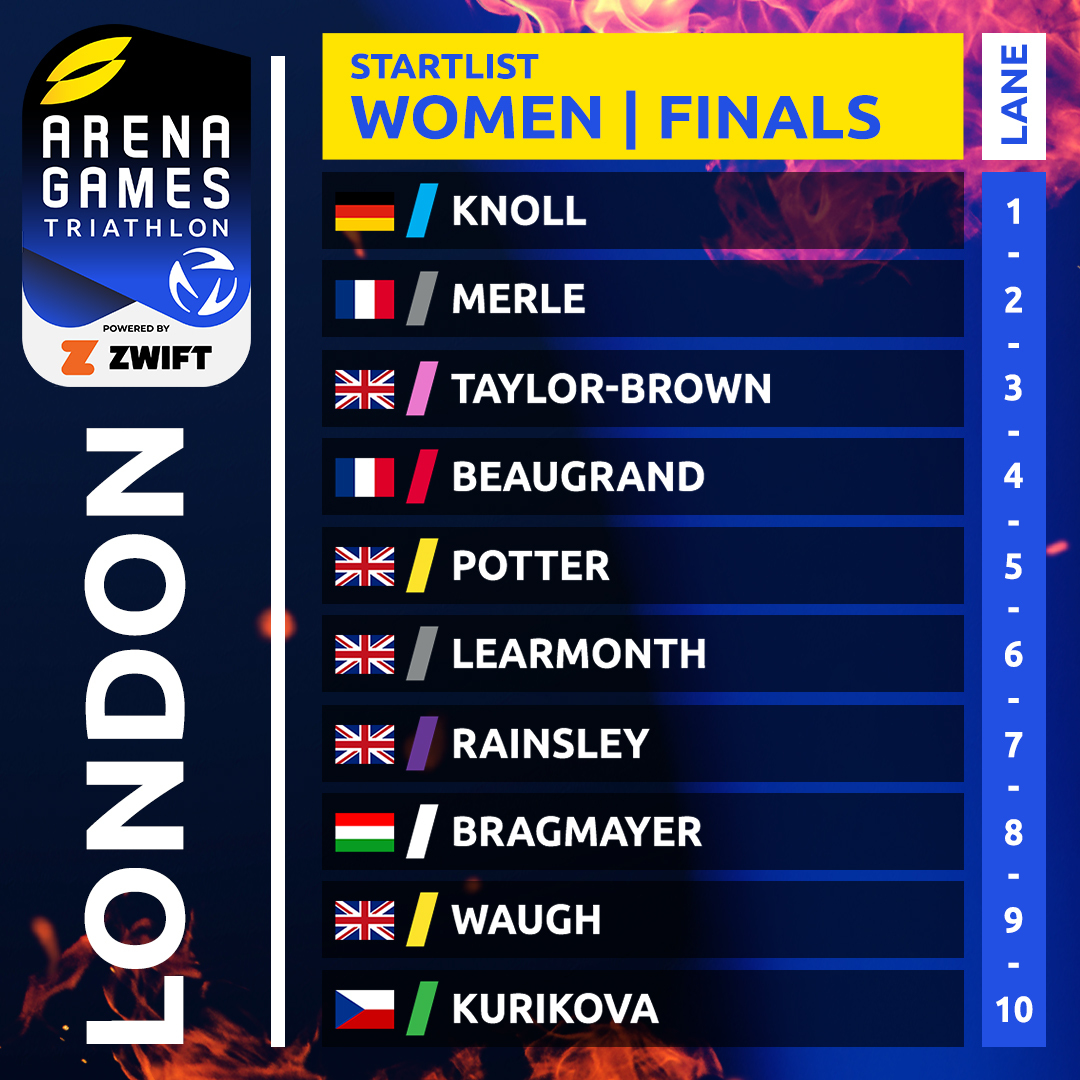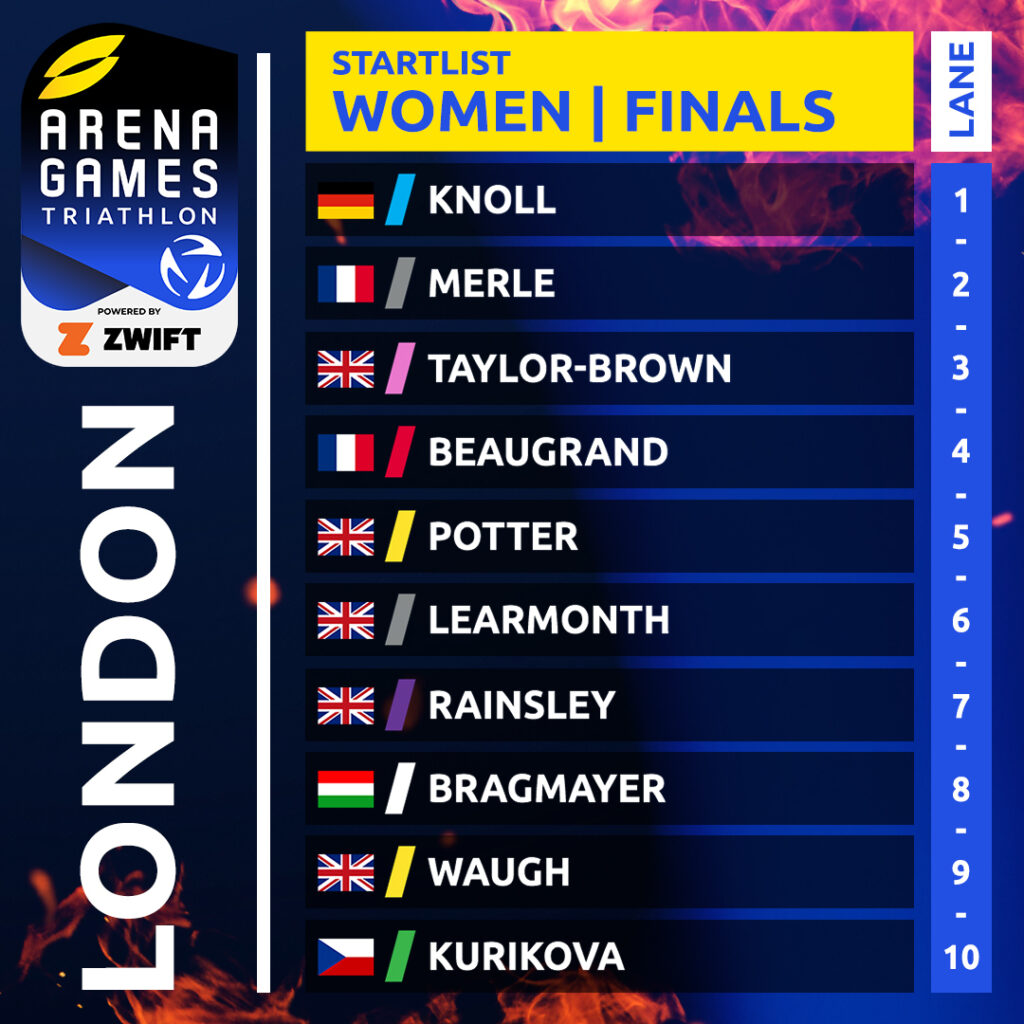 The Women's race was close. Cassandre Beaugrand was first out of the pool, with everyone seconds behind, jostling for position in the transition to the bike, something Jess Learmonth mentioned earlier when noting that the transition would be important.  As the bike was a non-draft event, it was all about power, with Beaugrand putting out at times around 5.5 w/kg, however, it was Beth Potter who took the lead on the bike in the early stage. Learmonth caught Beth and this really turned into a head-to-head.  Beaugrand slipped to 9 seconds behind the dueling British pair.  The margins for error were slight and as Learmonth transitioned to the run she struggled to get her trainers on, which echoed her earlier concerns. Potter took the lead.  This was exciting. 
Then things changed. Potter and Learmonth were running at 18kph, which is over 11mph, but Beaugrand was running closer to 20kph, which is staggeringly fast. Her deficit of nine seconds tumbled in quick time. In the space of 350 metres, Beaugrand had moved into second position and was three seconds off the lead.  We were witnessing world-class running.  With 400 meters remaining in Stage 1, Beaugrand took the lead from Potter. Beaugrand finished in first place in Stage 1 with a lead of 3 seconds over Potter, and Learmonth was third, 17.2 seconds behind.
Stage 2 was completed in an even faster time, with Beaugrand leading each discipline and even extending her lead to 17 seconds over Potter in second, with a 2:45-minute kilometre on the run leg. Learmonth sat in third, two seconds behind Potter. What makes the run even more impressive is that the treadmills have a natural incline thus that was a 2:45-minute kilometre uphill!
Stage 3, the Pursuit, Beaugrand lead from the start, exiting the pool seamlessly and transitioning to the bike without incident, holding her advantage of 17 seconds.  Again during the run she was able to consolidate the win by building on her lead, finishing 32.5 seconds ahead of Potter who took second and Learmonth, who was a further 10 seconds behind in third.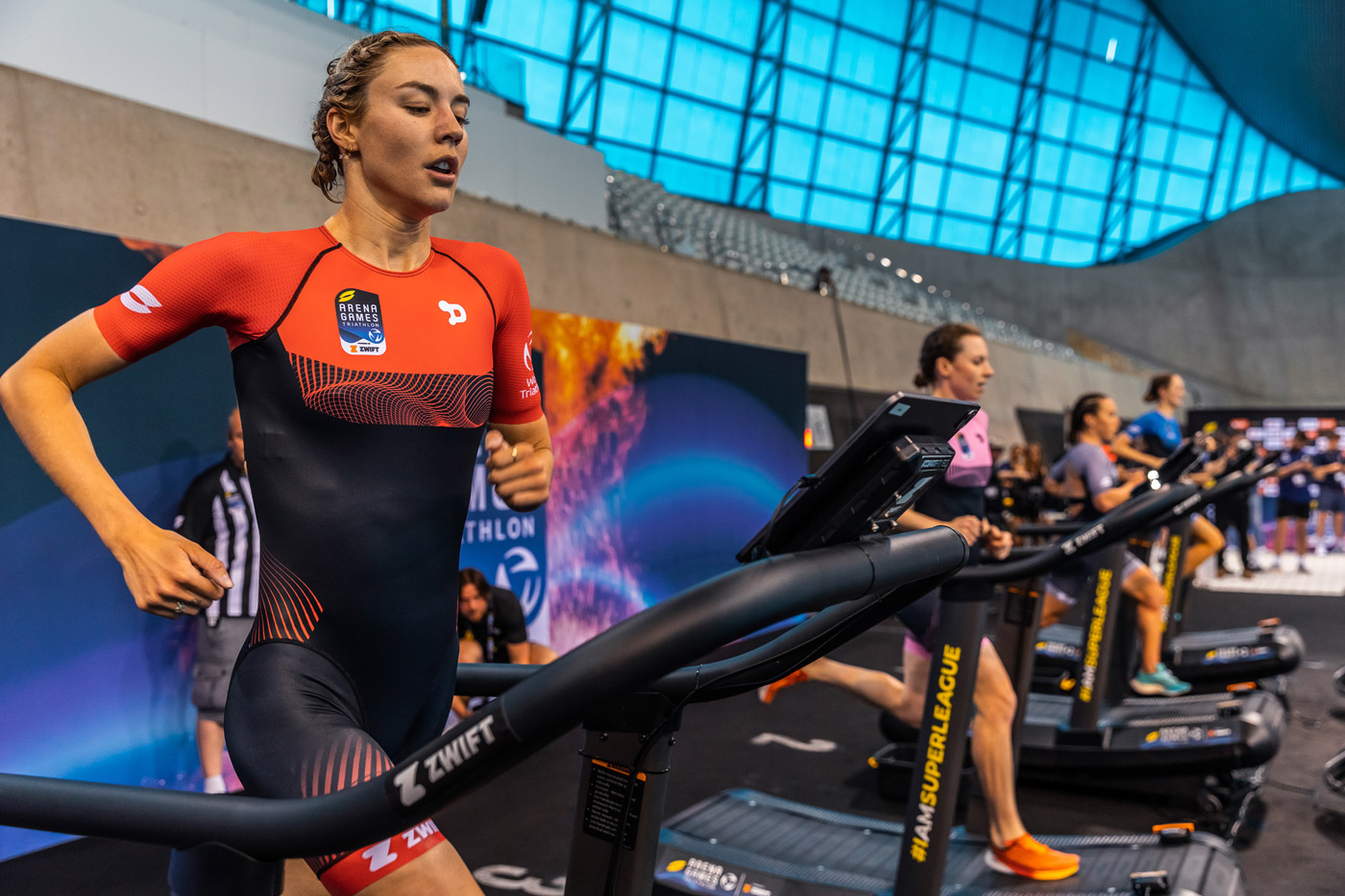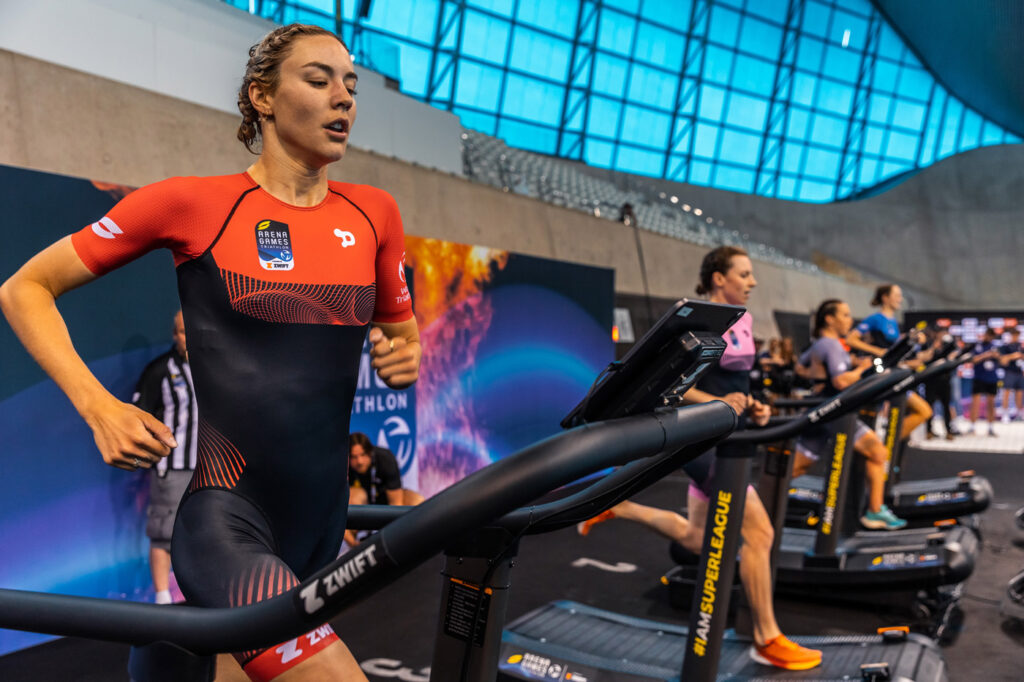 I congratulated Potter who explained that she "didn't feel as good as I did in the morning, it felt hard and Beaugrand was best on the day." Potter was obviously disappointed but I highlighted her stats of being close to 5 w/kg for bike and 20kph for her run. It was an immense performance, but naturally you could sense her disappointment, and she noted that, "I dug in and gave everything I had. That's all you can really ask for." Given the atmosphere, I asked if she could hear the crowd, "Yes, I could hear the crowd and they gave me a good lift."
I enquired what was next and she explained, "back to training and off to Singapore for the final event." And that certainly sets up a spectacular final, with both Beaugrand and Potter well-positioned for the first title of Esports World Triathlon Champion.
Men's Race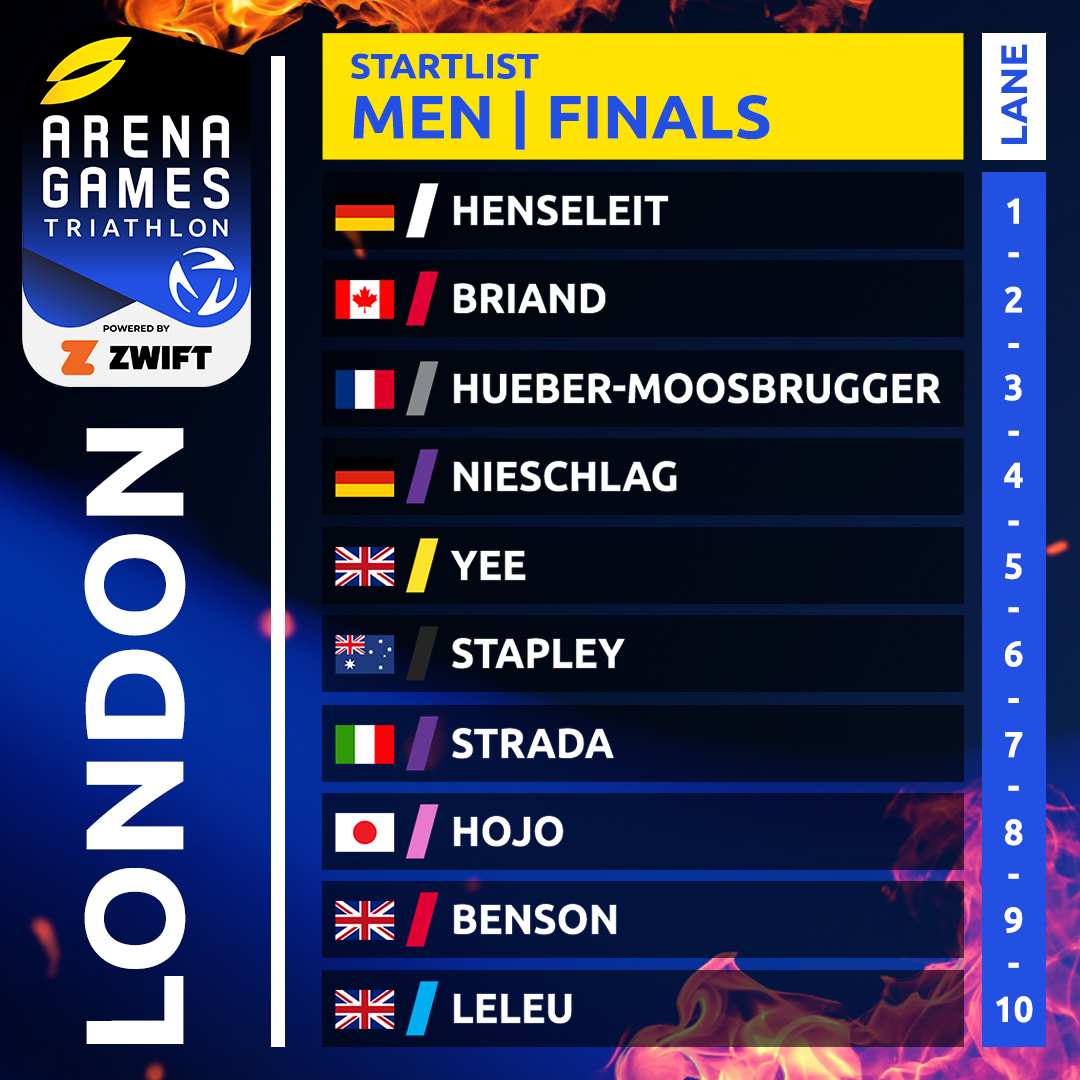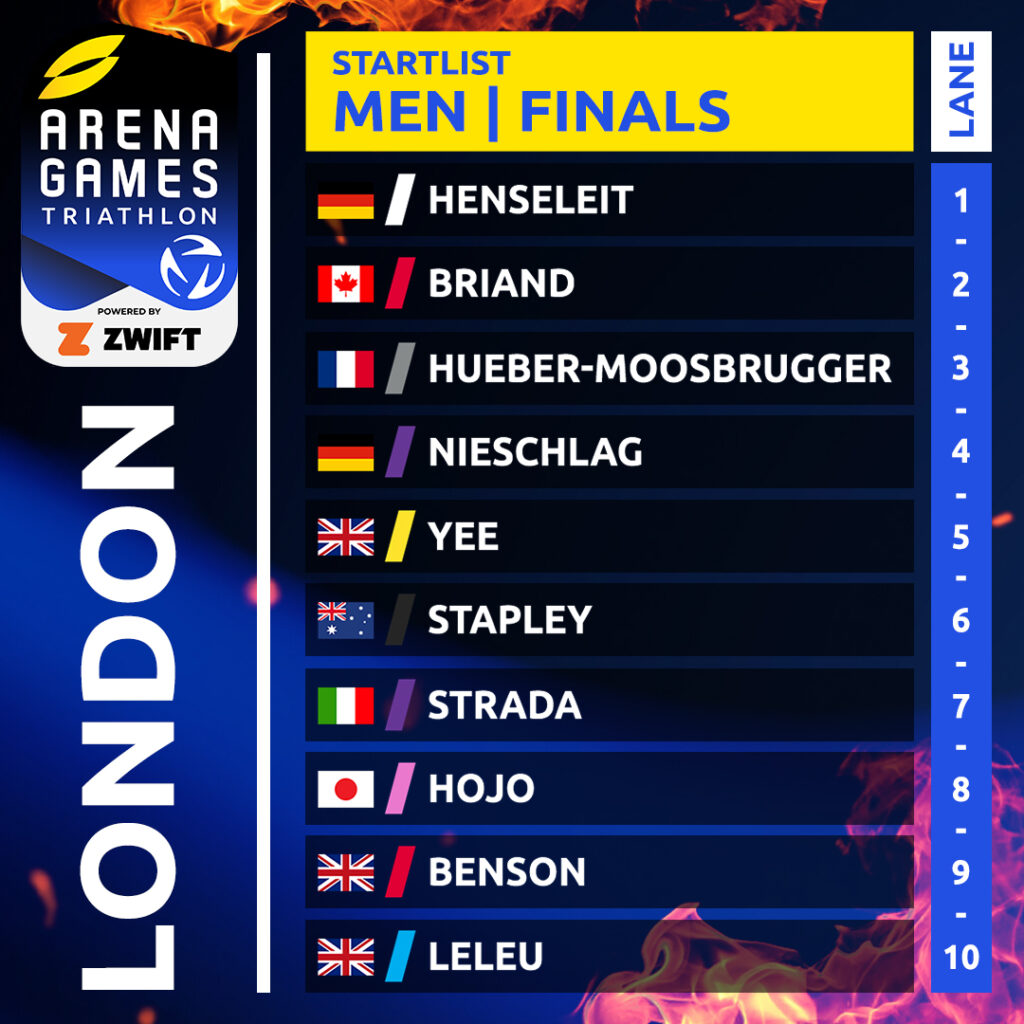 The Men's event was equally as exciting.
Australian Max Stapley was first out of the water, followed immediately by Nicolò Strada, who started pushing over 6 w/kg on the bike.  This was immense and the top positions were separated by a few seconds.  Strada was first off the bike and then it was Stapley, Nieschlag, and Japan's Takumi Hojo in a small group, six seconds behind.  Within several hundred meters of the run Strada's lead had been wiped out as Yee and Nieschlag were running at 21kmph.  Yee was able to hold his pace and clocked a 2:36-minute kilometre to complete Stage 1 three seconds ahead of Justus.
Stage 2 saw Nieschlag lead from the start.  He was first to complete the run, again clocking speeds of 21kmph. Then on the bike he rode away from the field, building a 12.7-second lead from Yee and Strada as they entered the swim, where Nieschlag extended his lead ahead of Yee.
Nieschlag dominated stage 3.  Despite the home crowd cheering Alex Yee on, he couldn't respond to a commanding performance from the German.  As the stage started, he had a 17-second lead which he extended during the swim. On the bike, he edged his advantage to 30 seconds from Alex Yee.  His run was controlled, coming home victorious, 30 seconds ahead of Alex Yee and Nicolò Strada respectively.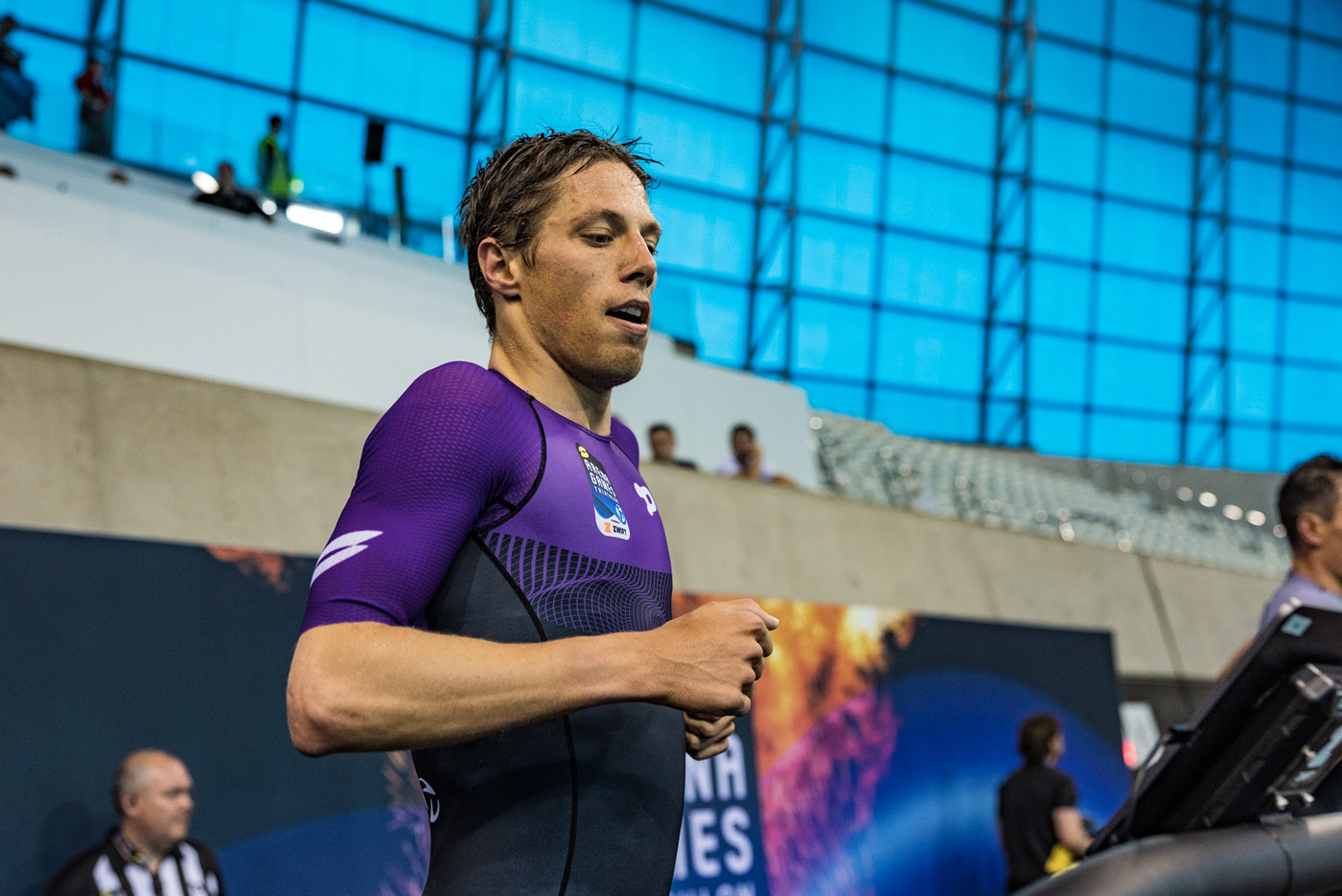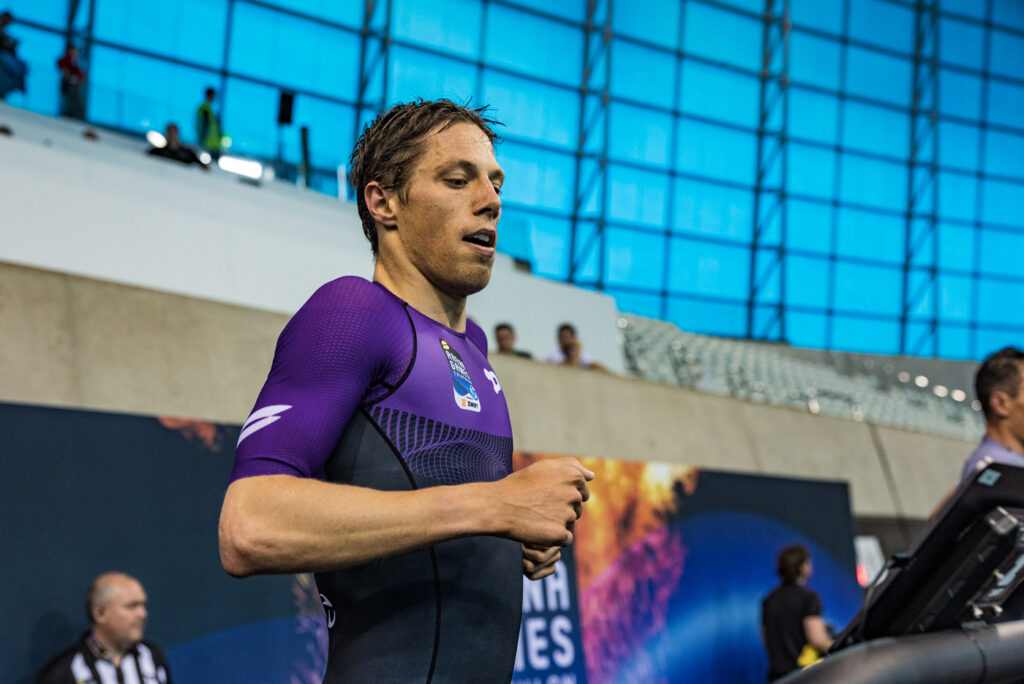 I spoke to Canadian Jeremey Briand, who finished in 8th. He said, "that was a completely different experience.  It's very warm, you feel it especially when running, you feel the heat and it makes you so much more tired."   He explained that, "being from Canada, I train indoors all through winter and this is a good way to transfer that training into a race, but in the heat on the side of the pool, I have never done that before."
Summing Up
A fantastic event, where on the day the strong athletes prevailed. The stats from the event were staggering:
Cassandre Beaugrand swam 2:12. Max Stapley had the fastest with 2:03. 
In cycling, Beth Potter had an average power of 5.2 w/kg on the bike in the first stage.  Jeremy Briand set the highest power with 6.2 w/kg and was 10 seconds faster than anyone else.
Cassandre Beaugrand had the fastest run splits of the day averaging 2.52.  Alex Yee set the fastest run split of the day in 2:34, 7 seconds faster than the record in Munch which was previously 2:41. 
The margins were slender and show that this competition is wide open as the Arena Games heads to Singapore for the Grand Final.