David Allonby (Vision) took the win in the TFC Autumn Race-Nov 4th, making it its 10th straight win. Kleiven (BRT) and Boniface complete the podium for the A's.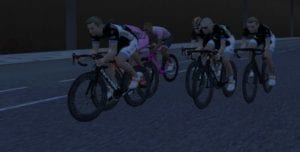 The two laps of London Loop and the mass start didn't scare off the 160 starting racers, but the first climb of Box Hill surely made the peloton break apart. At the KoM point, it's a group of 8 that openned the road : Allonby, Webb (Vision), Kleiven (BRT), Appleby (TFC), Vieira (PTz), Boniface, Gray and Henderson. Out of this group, Appleby and Webb got dropped in the descent, leaving Allonby alone in front of his responsibilities as a super-favorite.
Opportunity Maketh Race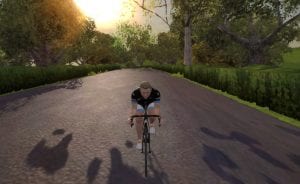 In the second lap, the Vision rider popped out of the group in Traffalgar climb, surprising his companions, then creating an almost immediate 10-second gap. "There was a lot of looking around, no group work, so I went for it as soon as I got the opportunity" explains Allonby. In the chasing group, Kleiven and Vieira were the main chasers, but the PTz rider out of Portugal was soon to be DQed, regarding ZADA rules, leaving the 2nd place to the Norwegian.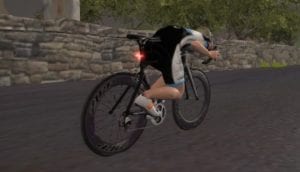 Hanging on in front of the race, David "Debbie" Allonby kept his pace and took some time to appreciate the win, finishing with a 5″ gap over Njal Eivind Kleiven. In the sprint for the last podium spot, Boniface managed to be the fastest over the line against Curtis Gray, 35 seconds after the winner. Penn Henderson took 5th, 1'10" down.
In the TFC Series, Shawn Gray (Team X) keeps the lead, but the BRT team managed a well-placed group shot, taking 2nd, 6th, 9th and 10th in the race. In the B category, Darren Heath (BRT) won the sprint over BJ Afonso (PTz), whereas in the C's, Svein-Erik Vatle (§rytteme) took his 7th win in the Autumn Series. Finally, in the D category, the win goes to Tim McCarthy (TFC).
---
Here is the race commentary from Nathan Guerra.
Check out his Twitch.tv channel >
---
TFC Autumn Race Series – Nov 4th:
A category:
1- D. Allonby (GBR-Vision)
2- N. Kleiven (NOR-BRT)
3- B. Boniface (CAN-U/A)
B category:
1- D. Heath (GBR-BRT)
2- B. Afonso (POR-PTz)
3- L. Butzelaar (NED-U/A)
C category:
1- S. Vatle (NOR-§rytteme)
2- R. Tellefsen (NOR-§rytteme)
3- T. Termont (BEL-BRT)
D category:
1- T. McCarthy (USA-TFC)
2- J. Lupton (GBR-U/A)
3- R. Tverraaen (NOR-§rytterne)
See full race results including rider power, times, and heartrate on ZwiftPower.com >
-the q/l report-