New Bests
My fifth block of structured training with Shayne Gaffney of GC Coaching saw me hit a new high in terms of CTL (fitness), thanks to a combination of challenging workouts and a cycling trip to Girona where I put in 292 miles in 5 days. (More on that Girona trip in another post, coming soon.)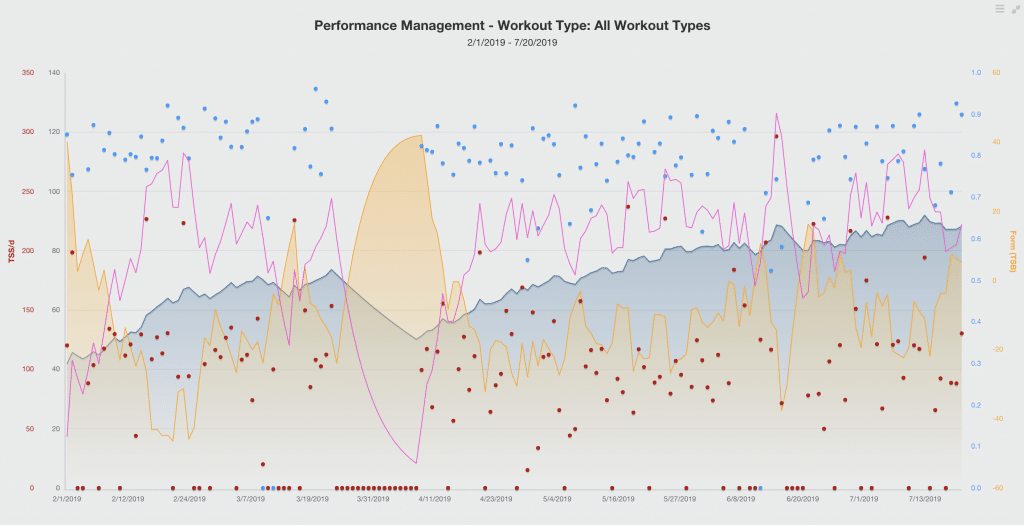 My previous CTL high of 81 (from my previous training block) was bumped up to 91 in this fifth block. Worth noting: for the purposes of this post, I'm actually combining two training blocks into one, running from June 3-July 21.
Coach Shayne has been focusing a lot on boosting my VO2 max, and the report is showing things trending in a good direction there:

Shayne said this about the above report:
March had some data corruption after the update, which is why there are some missing numbers…I am also unsure if I trust the mFTP that month. More importantly though, VO2 Max and other aerobic factors continue to be trending upwards still. Your FTP% of VO2 Max is comfortably in the 84% range, so time to try and boost it up again next block.
Boosting VO2 max next block? That's gonna hurt.
New Power Bests
I did a power test at the end of my regeneration week (the last week of this training block). Shayne's favored power test structure can be seen below (click to enlarge). It's a challenging workout for sure! Beging with a warm up, then do a 1-minute max power test. Recover for 5 minutes, then it's a 5-minute max power test. Recover for 10 minutes, and do you 20-minute max effort.

Shayne even added a chunk of zone 2 riding after the test, which is a real challenge after the power testing. I only managed 30 minutes of zone 2 riding before I had to throw in the towel.
The good news was, my power test showed new bests in every time block! The red sections below are new personal bests on my historic power curve, from the power test workout.

My previous bests (from last block's power testing) were:
1 minute: 576
5 minute: 367
20 minute: 313
This time around my numbers were:
1 minute: 626
5 minute: 370
20 minute: 320
The 1-minute power jump was big, and will help in hanging with hard attacks in races. The 20-minute bump is also welcome and means if I calculate my FTP as 95% of 20-minute power, I'm finally over 300 watts.
The Workouts
Apart from the power testing, there are two different workouts worth discussing in this training block. The first were the "Intensive Aerobic" sessions Shayne had me doing every Thursday:

35 minutes at 280 watts… twice! This workout is intimidating mentally, but one thing that really helped was riding the Road to Sky route so I could be climbing Alpe du Zwift during these long intervals. Sustaining higher wattage for longer periods just feels more natural on a long climb, so the Alpe was perfect.
These intervals are in that "sweet spot" zone where you can achieve the same increases as you would in long zone 2 rides, but in half the time. Great for time-crunched athletes. (Read more on sweet spot vs traditional base training.)
The second workouts worth discussing were the long ones Shayne planned for me most Saturdays:

This workout was basically 70 minutes of zone 2, followed by 85 minutes at 80-90% of FTP, then ending with another zone 2 hour.
I decided to attempt these workouts completely on Zwift, early in the morning, using a combination of group rides, races, and free riding. It worked perfectly!
I would get on the bike around 5:45AM and begin by joining ZSUN's social ride for an hour, which moved along at a solid zone 2 pace for me. Then at 7AM I would hop into The P Race, which is a flatter race (more even effort!) and a little longer than some races, usually running about 75 minutes. I would then finish with a free ride for an hour or so at zone 2.
Doing a race in the middle of a long ride was an interesting experience for sure. My goal was to conserve as much as possible, but also finish with the front pack. Focusing hard on conserving really helped me race smarter, and after a few weeks of this I was able to start putting in some attacks of my own. I also got to know the P Race regulars, which was fun.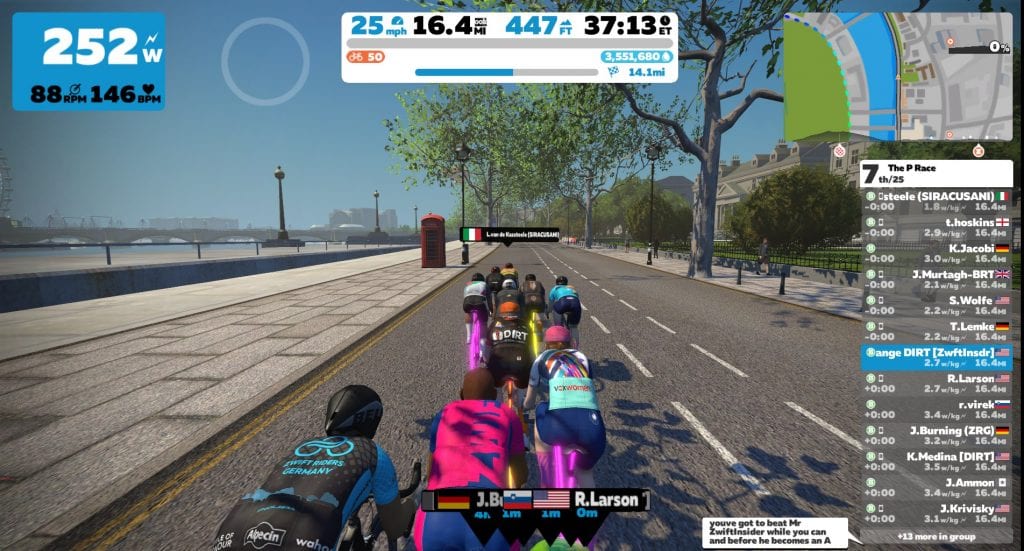 I'm finding it easier and easier to hang with the front pack in a B race, and be competitive in the bunch sprint at the end. Hopefully this winter when the number of riders increases dramatically and the level of competition bumps up I'll find myself able to hang tough in more races, and even go on the offensive a bit.