We all love a good race. You know, the one where it's a real team effort. You bunch up with your teammates from the get-go working together to take turns on the front controlling the fast-paced peloton, shelling out your rivals one by one. You provide support for each other through the struggles of your teammates and surges from that breakaway duo trying to shake things up mid-race. As you approach the finishing line you form a train and provide a lead-out for your strongest sprinter and they give it all they have at the right moment to claim a position on the podium. It's not the individual on the podium, it's the team.
Of course, not every race has such a coordinated story to tell, in fact, you might argue it's a rarity. Most races end up an individual effort in a peloton of riders you don't know and it's more like meeting your partners' friends for the first time: you are a little shy unsure of the correct etiquette, so you just hang on in there as best you can.
In the early days of racing on Zwift the coordinated story was more prominent. Events were few and far between and the user base was much smaller. You got to know your fellow racers and each week got to understand who to look out for to either form a partnership with or sit behind. It was like building a team dynamically, in race, in game. This is how many teams were born and my team (TFC) is a testament to that.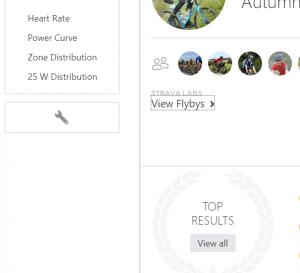 So can we still have that dynamically-developed team? Yes, most of us are members of a team, but how many team members race the same races as you, match your ability and can coordinate with you? How many teams plan their tactics pre-race? Zwift Companion can show you who is planning to turn up, but wouldn't it be cool to see who is most likely to match your ability so you can plan who to watch out for or team up with. Then over time you would develop your own small community of riders of similar ability and (who knows?) even develop a team around your shared abilities.
So how can you spot your perfect racing partner(s)? Strava Labs have developed a tool called Flyby shows you all the riders who have previously completed the same or similar course as yourself.
Once you click the link, it takes you into a screen that shows you the list of riders from which you can play back the activity, showing the proximity of these riders around you. What you need to pay attention to are the numbers next to each name under the 4 letters F, C, S, D which stand for:
Following: The riders you follow
Correlation: How closely the rider matched your speed
Spatial Correlation: How closely the rider matched your route
Distance: How far each rider has ridden.
The important columns are S and C, since they tell you how closely the rider matched your speed and course. You can use the list to sort the athletes to the ones that are the closest match to your ability.
Example 1
So take this video for example. This is an early TFC race that both myself and Eric Schlange (Zwift Insider's editor) raced in. You'll notice that our S and C scores are in the late 90's and the bunch is packed together. We raced together, as expected, through the entire race. Even when David pulled away, we worked together to bring him back which led to an all-out sprint at the end of the race. Team TFC didn't exist then, but at this point we knew each other's ability, had raced together many times and dynamically teamed up to bring him back.
Example 2
Now take a recent race. Nick and Rob have very close correlations and you can see that they pull away as a duo and hold a pretty constant gap to the end of the race. Andrew and Fred can't match their surge and eventually split up themselves. At this point Fred maintains the same gap on Andrew to the end of the race.
What if Andrew and Fred knew they each had very similar abilities? It would be in their best interests to form an alliance and work together to close the gap on Nick and Rob. What if they knew more riders that they could coordinate with?
I link this now to Eric's post about utilizing discord more to build that dynamic, in game, in race team. If we were armed with more knowledge about our fellow racers we could dynamically and tactically form an alliance for mutual gain, and who knows… we may start to develop very tactical teams in the future which could make racing an even more exciting prospect!
Why not watch back your races and see if you spot riders with close correlations to your efforts. You might just spot one or two names that always have a correlation score above 90.
How else can we learn more about our fellow racers' abilities? Drop a message below with your suggestions.