This week Zwift announced Spring Training – a weekly workout series featuring "6 effective, efficient, achievable workouts that perfectly complement your indoor and outdoor training."
The series begins April 17 and runs through May 31. Zwift says, "These workouts were built to push you and help you realize your fitness potential —so whether you're a seasoned pro or kickstarting your fitness journey, you will surely see a fitness boost! Because Indoor Work = Outdoor Results."
How to Register
If you want to finish the series and earn the achievement badge, start by registering. Just click the Spring Training banner on your homescreen, then click "Register":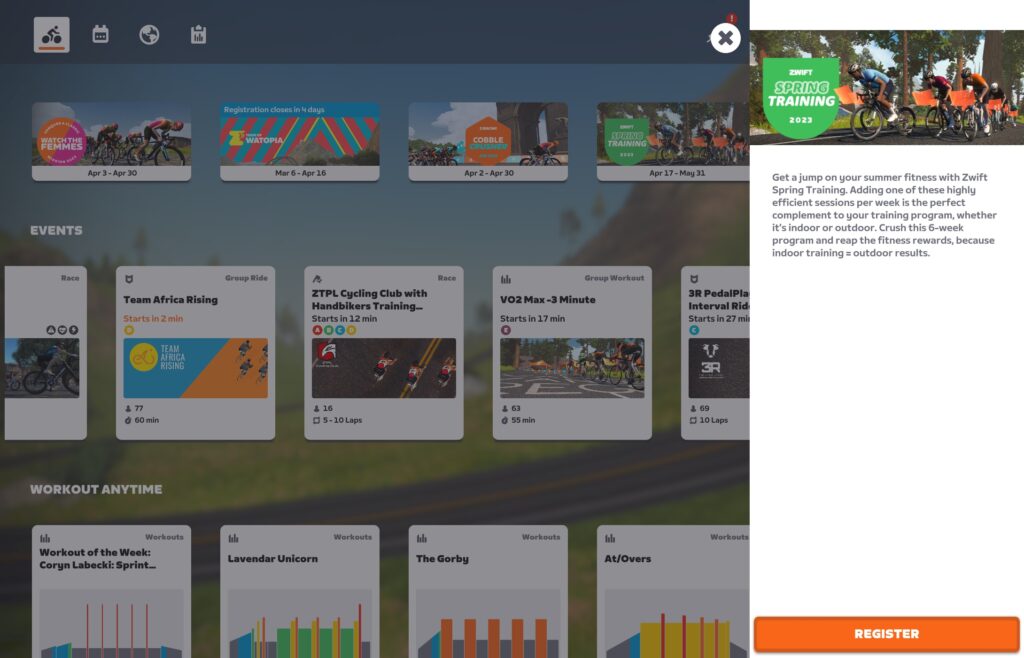 Workout Details & Schedule
Group workout events are scheduled hourly each week. (See the list of upcoming events at zwift.com/events/series/zwift-spring-training-2023.) You can also complete the workouts on your own as on-demand workouts.
April 17-23: Aerobic Rev Up (40 min)

It's time to rev up your aerobic system for some upcoming intensity! In Stage 1, you'll complete 20 minutes of "work." The "work" is split into 2 x 10-minute segments, with 2 x 1-minute surges in each block. You got this!
April 24-30: FTP Booster (40 min)

Stage 2 is all about boosting your ability to ride harder for longer. This workout quickly builds fitness by mixing a tough but controlled effort with 15-second bursts of intensity. Get ready to feel the burn!
May 1-7: Hairpin Wizard (44 min)

Want to get better at short accelerations? Surgey climbs, covering attacks, accelerating out of corners—Stage 3 is here to prepare you to tackle them with ease. This session consists of 2 x 16-minute tempo efforts with a 30-second surge every 3.5 minutes. By incorporating 30-second high-intensity efforts into tempo blocks, you'll improve your ability to work aerobically for longer periods of time.
May 8-14: Over, Under, and Beyond! (50 min)

Stage 4 is on with one of our favorite workout styles: over-unders! Over-under workouts provide a serious fitness boost by teaching the body to tolerate and clear lactic acid buildup. Your legs might be sizzling, but know that you're making some profound, positive changes!
May 15-21: VO2 Blast (43 min)

Alright, alright. Stage 5 is here to test your mettle, so before you proceed, take a deep breath and get ready to push your limits. This workout consists of 6 (3 minutes on, 2 minutes off) intervals that progressively get harder.
VO2 max intervals like these are one of the best ways to develop the ability to go harder for longer with less fatigue. But these gains come with a price—some seriously hard sets. Get after it!
May 22-28: Final Send (45 min)

Get ready: Stage 6 lives up to its name! In the Final Send, you'll work to better your sprint. You can improve your power output and overall speed by training the body to produce energy anaerobically—and this is precisely what stage 6 does. But, similar to VO2 sets, sprint training is no walk in the park. Be ready to suffer in the final stage—your summer self will thank you for the fitness!
Make-Up Days May 29-31
If you missed one or more workouts but want to make sure you complete all six stages, there are 3 make-up days scheduled at the end of the series. During this time, stages will rotate every 30 minutes.
On-Demand Workouts
If you can't fit a group workout into your schedule, or just prefer to do the workout on your own, all Spring Training workouts are available as "on-demand" workouts from the workout folder. Completing the workout as an on-demand workout counts as completing the stage.
Earn the Badge
Finish all six stages and earn the Spring Training 2023 badge: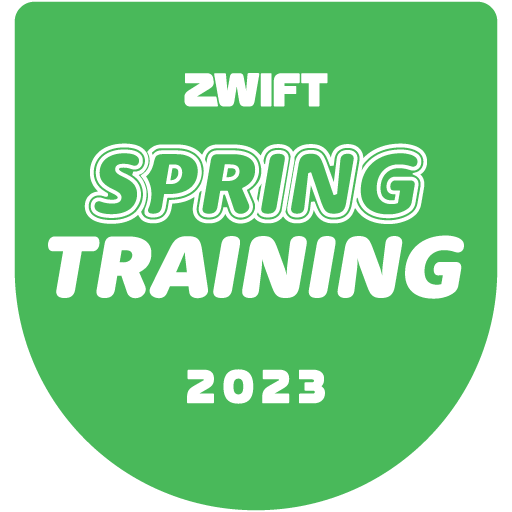 Learn More
See all upcoming events and other details at zwift.com/events/series/zwift-spring-training-2023
Questions or Comments?
Post below!