Tacx Flow Smart
Wheel On Trainer

The Flow Smart is Tacx's budget wheel-on offering, aiming for the lowest price point possible in a fully smart/interactive trainer.
Key Specs
MSRP: $369.99 USD
Accuracy: +-5%
Flywheel: 3.5lb
Max Wattage: 800 W
Max Incline: 6%
Overall Rating

3.8 stars
based on 38 reviews
Easy setup
92%
Accurate power
13%
Realistic inertia
3%
Well-built
39%
Helpful support
0%
Portable/storable
74%
Quiet
21%
Budget-friendly
97%
A fantastic entry-level trainer from Paul Rayner September 29, 2020 


I bought my Tacx Smart Flow second-hand on Facebook for £110 (when new ones were selling for £160) and I don't think there's a cheaper way to get on Zwift with a two-way trainer.
This lets you feel the gradients for a really low price and, when that's the case, I don't see why anyone should consider using a speed sensor or one-way smart trainer instead of this.
No, it isn't perfect, but it's great for the price and I'm happy with it. Don't worry about the power "limit" of 800W - I'm a keen cyclist (top of Cat. C in Zwift) and I've only ever hit 800W twice in the 9 months I've had the trainer, and this was on flat-out mega-sprints. If you're using this to get onto Zwift for fun, or for just getting fit, it'll do the job nicely.
This trainer has got me and my girlfriend hooked on Zwift and given us the chance to see what's worth paying more for. We're looking to upgrade now, to a wheel-on trainer which will hopefully have more realistic inertia and be quieter, which means there may well be another second-hand Smart Flow on Facebook soon. There will be plenty of other people doing the same as us so if you're starting out, I recommend you keep an eye out for one of these at a good price.

Budget-friendly
Least expensive true smart trainer from Dominik September 29, 2020 


The TACX FLOW SMART is the least expensive true smart trainer in most countries. It has full smart trainer connectivity and can control the incline and resistance based on what apps like Zwift transmit.
Setup and use are easy and straightforward.
The noise is moderate and can be decreased significantly by using a trainer tyre.
Overall, the Tacx Flow Smart is a great trainer for the money and one of the few options for those who want to have a first look into the world of indoor cycling without breaking the bank.
Only support / product description could be more helpful and accurate. The product description states only bikes with a rear fork width of 130 to 135mm are suitable, however in reality frames with a rear fork width of up to 145mm fit comfortably.

Easy setup Portable/storable Budget-friendly

Good for those on a budget from Paulwf September 29, 2020 


Great budget trainer to allow realistic training.b Built to a price, the plastics are quite fragile. Folds small so can fit into a cupboard
For me the power read high, I got a big surprise when I changed to a Direto

Easy setup Portable/storable Budget-friendly
Good Economical Value from FabVaill September 28, 2020 


It's a good way to enter on the connected smart trainer market
Power is accurate enough and easy to use
The drawback is mainly due to the fact that the tyre will colapse pretty soon if you don't use a dedicated tyre

Easy setup Accurate power Portable/storable Budget-friendly

Only on low budget from Rzemieniec September 27, 2020 


The biggest advantage of Flow is it's price, and it ends there...
Owned for a season...
My overheated during longer sessions and had to construct additional cooling system for roller
Over time roller start "cracking"
I heard that something was upgraded by Tacx (differrent roller material)
Better to extend budget and go for Wahoo Snap (like I did) of reach for Direct Drive

Easy setup Portable/storable Budget-friendly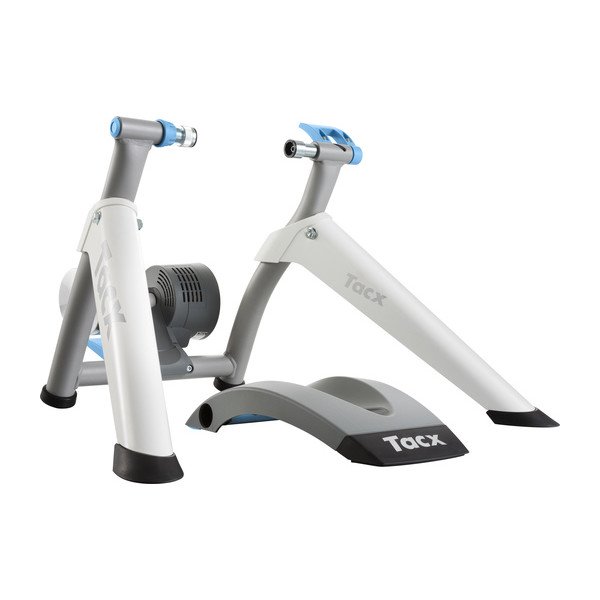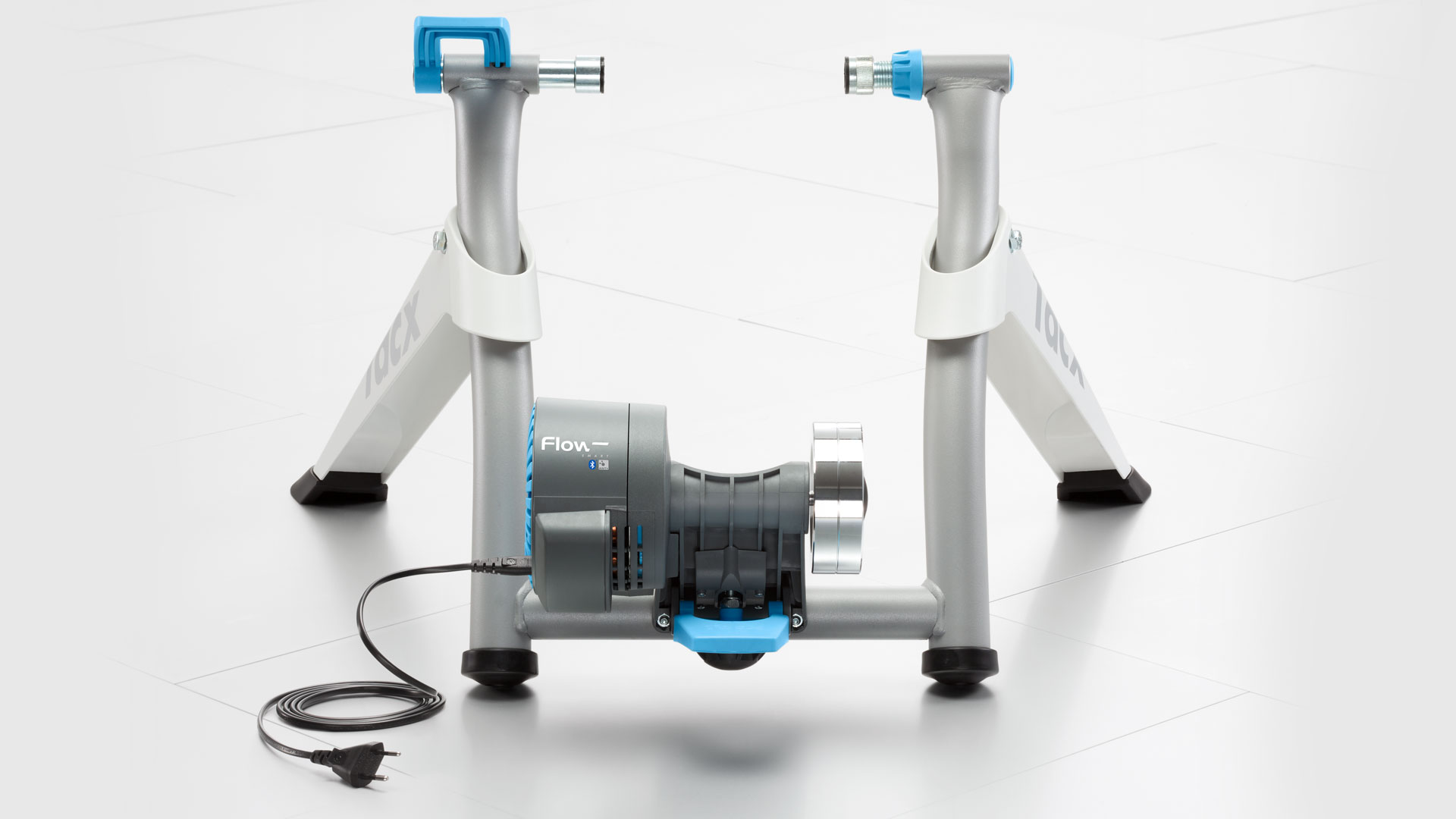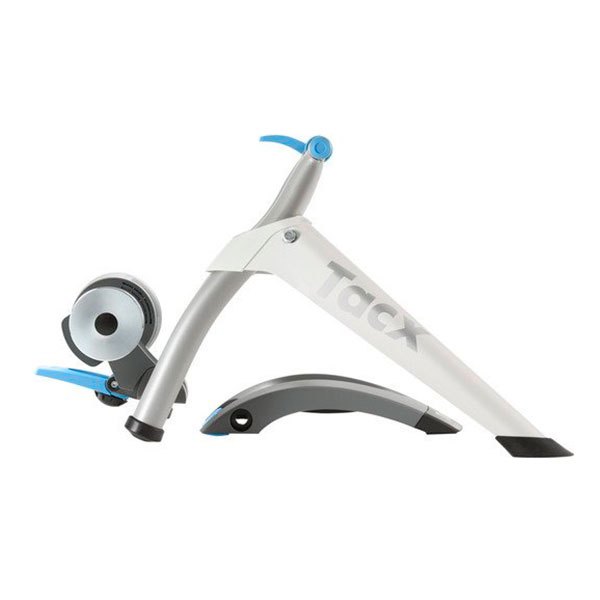 More Tacx Flow Smart Reviews
Own this trainer? Post a review!
A fantastic entry-level trainer from Paul Rayner September 29, 2020 


I bought my Tacx Smart Flow second-hand on Facebook for £110 (when new ones were selling for £160) and I don't think there's a cheaper way to get on Zwift with a two-way trainer.
This lets you feel the gradients for a really low price and, when that's the case, I don't see why anyone should consider using a speed sensor or one-way smart trainer instead of this.
No, it isn't perfect, but it's great for the price and I'm happy with it. Don't worry about the power "limit" of 800W - I'm a keen cyclist (top of Cat. C in Zwift) and I've only ever hit 800W twice in the 9 months I've had the trainer, and this was on flat-out mega-sprints. If you're using this to get onto Zwift for fun, or for just getting fit, it'll do the job nicely.
This trainer has got me and my girlfriend hooked on Zwift and given us the chance to see what's worth paying more for. We're looking to upgrade now, to a wheel-on trainer which will hopefully have more realistic inertia and be quieter, which means there may well be another second-hand Smart Flow on Facebook soon. There will be plenty of other people doing the same as us so if you're starting out, I recommend you keep an eye out for one of these at a good price.

Budget-friendly
Least expensive true smart trainer from Dominik September 29, 2020 


The TACX FLOW SMART is the least expensive true smart trainer in most countries. It has full smart trainer connectivity and can control the incline and resistance based on what apps like Zwift transmit.
Setup and use are easy and straightforward.
The noise is moderate and can be decreased significantly by using a trainer tyre.
Overall, the Tacx Flow Smart is a great trainer for the money and one of the few options for those who want to have a first look into the world of indoor cycling without breaking the bank.
Only support / product description could be more helpful and accurate. The product description states only bikes with a rear fork width of 130 to 135mm are suitable, however in reality frames with a rear fork width of up to 145mm fit comfortably.

Easy setup Portable/storable Budget-friendly

Good for those on a budget from Paulwf September 29, 2020 


Great budget trainer to allow realistic training.b Built to a price, the plastics are quite fragile. Folds small so can fit into a cupboard
For me the power read high, I got a big surprise when I changed to a Direto

Easy setup Portable/storable Budget-friendly
Good Economical Value from FabVaill September 28, 2020 


It's a good way to enter on the connected smart trainer market
Power is accurate enough and easy to use
The drawback is mainly due to the fact that the tyre will colapse pretty soon if you don't use a dedicated tyre

Easy setup Accurate power Portable/storable Budget-friendly

Only on low budget from Rzemieniec September 27, 2020 


The biggest advantage of Flow is it's price, and it ends there...
Owned for a season...
My overheated during longer sessions and had to construct additional cooling system for roller
Over time roller start "cracking"
I heard that something was upgraded by Tacx (differrent roller material)
Better to extend budget and go for Wahoo Snap (like I did) of reach for Direct Drive

Easy setup Portable/storable Budget-friendly
Not bad for the price from sussexrider September 26, 2020 
Easy setup Portable/storable Budget-friendly
Good budget trainer from Maria September 25, 2020 


I bought my Tacx Smart Flow early in januari this year and have ridden 6,400 Zwift-kilometers.

It is easy to setup and connect to Zwift. I have the version including a ANT+ dongle and use the trainer with a PC Windows 10 and Companion app (Android). The 800W is enough for my "low-watt-legs" but for a stronger rider I recommend a better trainer. The max incline is only 6% so you will not get the right feeling when riding Ven-Top and the other steep routes but you will get tired anyway.

I not sure about the accurancy of the power. When I ride steeper routes in Zwift (Bologna, Alpe d´Zwift or Ven-top) I get very high watts. On flat and hilly routes the power is more realistic when I compare my effort on the trainer with the effort on my outdoor bike with a 4iiii left crank.

At first I had a creaking sound. I recommend some grease on the quick release lever and the trainer frame /legs.

Cons:
ERG-mode, up-hills and sprints has a delay.
Over-heating when riding steep long climbs (high resistance and low cadence). A red flash, no power and the avatar stops.

Easy setup Well-built Portable/storable Budget-friendly
Good one to start as a light rider from Jose September 24, 2020 


You get what you paid for. I own one for more than a year and it has been stable. Please use a special trainer tyre from Tacx and make sure you calibrate once and remember the psi to have consistency. A few months ago I added a dualsided crank power meter and noticed that there is a decent gap between 5% accurancy to 1%.
I would recommend this trainer for anyone that wants to try zwifting and does not want to break the bank. Also it's light o move around if you don' have a dedicated paincave like the pro's.

Easy setup Portable/storable Budget-friendly
Does what I need, sweat and keeps me in very good physical shape. from ACB September 24, 2020 


I bought mine on ebay refurbished. I am very happy with the Flow Smart trainer. I can sweat, improve my cardio and resistance. I can train after everyone is asleep. Would like that could simulate an incline bigger than 6% but still it is very good to put my legs working. It's a bit noisy, even after have changed my rear tire for a tacx trainer tire. For an occasional user is more than enough to do some races on zwift.

Easy setup Well-built Portable/storable Budget-friendly
Good budget trainer from Ozzy5629 September 24, 2020 


So I brought mine refurbished. But has done its job well. Easy to connect and set up. Yes lacks accuracy off other models. But if your short on cash and wanting a reliable trainer that can provide training and races then this isn't a bad option.

Easy setup Portable/storable Budget-friendly
Solid Beginner Trainer from Squintroscopist September 24, 2020 


Great for beginners, was initially very quiet but some noise has developed after about a year of use. After warranty support wasn't great, but not terrible either. Still working after 3 years of on/off (mainly off) use.

Easy setup Portable/storable Quiet Budget-friendly

The basic from vargapali September 24, 2020 


The basic smart trainer, for those who don't want to spend a fortune for some interactive ride. Definitely not for precision warriors, but a good enough starter kit

Easy setup Portable/storable Budget-friendly
Perfect for beginners from nathan September 24, 2020 


The Tacx Flow Smart trainer is a great wheel-on trainer for beginners of indoor training. It's really easy to set up and get working with Zwift. It's perfect for me as a beginner as I didn't want to spend loads of money on a trainer and then find out that it wasn't for me. It can handle up to 800 Watts of power with a max incline of 6%.

Great value for money for a beginner trainer.

Easy setup Well-built Portable/storable

Tacx Flow smart from Topiary September 23, 2020 


A on okay entry level trainer, but there is a large delay between the hill changing on zwift and the resistance changing on the trainer so can put you off a little bit. As it's a wheel on trainer the accuracy is also iffy

Easy setup Portable/storable Budget-friendly
Tacx Flow Smart from digiscape September 23, 2020 


Surprisingly good for a budget unit. It may not match more expensive trainers for power/incline but as an entry level option to get started on Zwift I've had no complaints at all.

I'd love to upgrade to a direct drive but this works well enough that I can't justify the expense until this one fails.

Easy setup Budget-friendly
Tacx Flow Smart Purchase from Dagan September 21, 2020 


I purchased this trainer at the start of the new year and have logged over 1,700 miles in Zwift with it. It was affordable, easy to setup, and much quieter than I expected based on other reviews I had seen before purchasing. Three things I would recommend in starting to use this trainer - 1) If setting up on a carpeted floor, put down a worthless rug and raise the two front props up a half inch to insure ground clearance (I used two thin books of equal thickness), 2) Place a strong fan directly behind the trainer to help cool the unit on harder, longer uphill sections where resistance will increase, and 3) Keep your rear tire at or below 65-75PSI because the resistance roller can tend to apply too much pressure if you are used to airing up at 80PSA+. I have had two small flats because of this, but don't view it as a fault of the machine but of over airing my tires for use.

Great product at a great price! Would strongly recommend.

Easy setup Well-built Quiet Budget-friendly
Does the job from ajmpharma September 18, 2020 


I bought this trainer on sale 4 years ago when we moved from Australia (nice winter weather) to Chicago, USA (WTF? OMG it is so cold even when it is sunny, and why is there salt everywhere?!?) to be able to train inside on Zwift. It is light & portable (a bonus for apartment living) plus i can adjust it for QR rear wheels and also thru-axle (using Robert Axle Project hardwear). It only goes up to 800w and 6% but that's ok for my level of fitness/training. On steeper climbs you don't get the simulation but just go slower. The calibration is fairly easy and firmwear updates periodically. If you are looking for a good value budget smart trainer, this is a good choice.

Easy setup Well-built Portable/storable Quiet Budget-friendly

Review after 2 yrs of Tacx Flow Smart from saracco.giorgio September 17, 2020 


The calibration is quite a pain and the Tacx app is not at all friendly, they could improve it quite a bit.

Apart from this, it's a solid trainer for its price and delivers.

Portable/storable Budget-friendly

Good budget trainer, you get what you pay for from Ritchey September 16, 2020 


It is one of the cheapest (if not the cheapest one) smart trainers on the market. The setup is quite easy. You also get the front wheel raiser included. It is rather loud (especially with higher cadences and wheel velocity). You can decrease the noise quite noticeably by using the special blue tyre. But even with this, you get some dirt coming from your rear wheel. The wattage is rather low. I thought, that 800 W will be sufficient, but it isn't. Especially when using Zwift and other apps, you can climb 6 % at most (with 100% trainer difficulty setting). Any slope higher than 6 % will seem the same. When sprinting or climbing vigorously the trainer tends to "walk" a bit, so you might even ride your front wheel off the raiser and you mat will get wavy. Otherwise it's rather stable, but I don't recommend stretching your back from side to side as you will fall over (believe me, I have been there). 🙂

Easy setup Portable/storable Budget-friendly
Great Starter Smart Trainer from DownSideUp September 12, 2020 
Easy setup Well-built Portable/storable Quiet Budget-friendly
Excellent beginner trainer from ThunderHawk September 11, 2020 


The Tacx Flow Smart was my intro to smart trainers and I'd recommend it for beginners. It comes with a riser block and ant+ dingle, is easy to setup and simple to use; calibrate it for your desired tyre pressure and you're good to go every time.

Easy setup Well-built Portable/storable Budget-friendly
Great value trainer. Do you need more? from eddysfatnephew September 10, 2020 


Bought three years ago for under £200 and used with Zwift. It's a doddle to set up with the one caveat that getting the right contact force with the tyre takes a bit of fiddling. Swapping from one bike to another with minutely different tyre size is therefore less easy than it could be. Use a trainer tyre - you won't regret it - better contact (no slipping on roller), quieter, cleaner (road tyres disintegrate!)
Is the power measured accurately? - don't know, but it's consistent, so I'm working harder when it reads 340W than when it reads 300W. Resistance changes quickly (though I bet others change quicker) in response to undulations in your virtual world. Maximum resistance hasn't been an issue for me. I believe that a decent sprinter might want more than the Tacx Flow can give, but for your average amateur, there's plenty.
Incline simulation tops out at 6% but the Flow compensates for higher gradients by slowing your avatar down - this is the real world equivalent of giving you a very low gear to spin and can be compensated for by selecting a higher gear on your trainer bike to force yourself to grind.
Tacx Flow needs a power source and it communicates via Ant+ and Bluetooth. I settled on an extension lead to get a Bluetooth dongle close to the back wheel and that solved my Bluetooth dropouts. Were the dropouts the fault of the trainer or the computer it was talking to? Don't know - but they don't happen any more.
Bottom line - this is one of the cheapest smart trainers on the market and it seems to be everything I need.

Easy setup Portable/storable Quiet Budget-friendly
Perfect trainer to begin having fun when it rains from luca.dona.91 September 9, 2020 


bought before the covid's lockdown. made nearly 1k in 1month. it was the first time on a trainer and i had really funny moments on zwift with my friends. i don't care much about watt and accurate data so i'm not able to give a feedback on that.
remember to buy the correct adaptor from tacx if you have a thru axle bike.

only problem is overheating. when pushing hard or more than 30minutes the trainer stops to sync with the pc and your avatar/training stops. solved the problem with a fan to move air

Easy setup Portable/storable Budget-friendly

Decent budget option from AFS1987 September 9, 2020 


This is a pretty decent entry level smart trainer at a considerably lower price than most other others. It is a wheel on trainer, and so is fairly noisy when in use. Very easy to assemble and set up - calibration through the Tacx trainer app is pretty straightforward and just requires that you accelerate then stop pedalling, and tighten/ loosen the pressure on the rear wheel as a result. Provided you maintain the same tyre pressure you won't find that you need to calibrate frequently.

Power output seems fairly accurate - have compared to Giant Power Pro meter and the results are similar enough. Of course, if you compare to a more expensive trainer you're not going to get the same maximum power output or realistic slope, but for the price point it represents a good value way to experience Zwift with a smart trainer.

Easy setup Budget-friendly
Best entry level BLE/Ant+ interactive trainer in the market from nrapiera September 9, 2020 


If you're going for an entry level smart trainer to enjoy bike simulation at home, you can either look for the Elite Digital Smart B+ or his blueish Tacx counterpart : The Tacx Flow Smart.
In this battle of blue and red, the Tacx Flow Smart wins by allowing both Bluetooth LE and Ant+ connection. It is also easier to carry by using the Tacx Skyliner front wheel support.
Of course, as of any wheel-on smart trainer, power and accuracy are very limited but if you are like me, an amateur with a small body, you will rarely go beyond 800 watts for long.
The accuracy and lack of reactivity however can be an issue if you are doing intervals or races. I have noticed some lags or important delays in ERG Mode. The cadence sensor often takes a long time to adjust or will stay inaccurate during the whole ride which also impact the power output so consider using an external sensor instead if you can afford it.
For the gradient simulation, it's ok. I've learned that if you go over the 6% limit, Zwift will estimate your speed and most of the time you'll end up very slow.
Finally, the Tacx app for calibrating your trainer will fail a lot of times and having to pedal up to 30km/h 3 to 4 times is very annoying especially when you haven't warmed up yet. I've found that the best workaround is to calibrate once and keep your tire pressure at the same level each time so you don't have to use the app as often.
To conclude, any "smart" trainer is way better than a "dummy" trainer. It will open a whole new world of cycling for you and the experience is something to go for. I use mine with a left side 4iiii powermeter and cadence sensor.

Easy setup Well-built Portable/storable Budget-friendly
Tacx Flow Smart from AlexThomp September 9, 2020 


Great Value for money, good entry into the smart trainer world.

Budget-friendly

Cheap, but needed maintenance from JeroenZ September 8, 2020 


All the features to be able to use Zwift (and other platforms) for a relatively low price. Unfortunately my bearings failed one month after the 2 year warranty period, but luckily I could replace them myself. Not the most accurate power with the wheel-on setup offcourse but for the money spent it does what it needs to do!

Easy setup Portable/storable Budget-friendly
Does the job from sheldonbrown September 8, 2020 


I've been pleased with this trainer.
It is the cheapest smart trainer out there and I was worried it wouldn't work well at all, however it works pretty well. It does take a couple of beats to respond to effort changes, which you have to learn how to anticipate. It is really portable, so if you need to move a trainer around a lot, not having the huge flywheel is a plus. The wattage seems very consistent and accurate if you keep your tire pressure in a range.
The major downside of it is that it is noisy. During Covid, I rode this quite a bit in my back garden and I was concerned that it made an annoying noise for my neighbors, particularly when I was getting my 100KM badge.

Easy setup Accurate power Well-built Portable/storable Budget-friendly
Great entry smart trainer from dc September 8, 2020 


The Tacx Flow Smart is a great entry level smart trainer.
I have had mine for 4 years now and not had any issues with it at all.
It hooks up to zwift no trouble but only has a 5% max gradient. That's a little noticeable on the steeper climbs and can feel a bit like cheating (although zwift does slow you down)

It is a little on the noisy side too but honestly I don't think you could do better for the money.

Easy setup Accurate power Well-built Portable/storable Budget-friendly
Good entry level smart trainer from NigeJ September 8, 2020 


This is a great entry level wheel on smart trainer. Easy to set up, and Tacx software allows you to calibrate it easily for correct tension. Downsides - the screws on the body can come a little loose, which makes it go noisy, but a quick tighten sorts it out. Additionally, you need to keep on top of tyre pressure and wheel/trainer tension or you can get wheel slippage. All in all though, a great way to get into smart turbo trainers.

Easy setup Accurate power Portable/storable Quiet Budget-friendly
Tacx Flow T2240 from JamesR September 8, 2020 


A great smart trainer for those on a budget (cost me £180 new October 2018). A couple of things to note are:

1) It only simulates gradients up to 6% (after which, Zwift compensates at it would a standard turbo trainer).
2) Max power is 800 watts (though I don't think I've even touched power that high, never mind a sustained effort at that pace).
3) It can overheat during long sustained high power efforts, at which point it releases all of its resistance. I assumed that it was simply losing Bluetooth signal whilst this was happening, but further research in the forums showed that overheating was an issue with this model. However, I now ride with another fan on the floor pointing directly at the trainer and the overheating hasn't occurred since.

Overall, I would totally recommend this trainer if your budget can't reach much higher. It really makes the Zwifting experience so much better than a standard turbo trainer.

Easy setup Accurate power Realistic inertiaWell-built Budget-friendly

A Good Beginner's Trainer from Grez September 8, 2020 


Initially, I wanted a quick "on trainer" and a quick "off trainer" solution, and this unit does that very well. By this I mean the bike could easily and quickly be put on the trainer or quickly taken off. The back wheel remains on the bike to use this trainer.
It offers a resistance of 6 degrees and max out at 932w (which is surely close to my max output). I realized pretty quickly that 6 degrees are not close to enough to truly enjoy the reality of climbing Mont du Zwift and many other climbs available. The nice thing about it is that I didn't need to shift so much but I realise that is not REALLY an advantage but rather a false advantage.

Also on a longer climb, the first time I tried my hand at Mont du Zwift, about half way up my avatar just stopped biking and the resistance in my trainer disappeared. I was a sweaty pissed off mess as I was going for less than 55 minutes (I heard that was good) and the trainer was overheating. I quickly found a small fan to cool down the device and I still use it this way now anytime I train.

I love that this trainer helped me discover the beautiful world that is virtual training but I have surpassed what it is able to offer. I would certainly suggest this trainer to anyone who is looking for an affordable option to start and that isn't as competitive (or addicted) to biking than I am!

Easy setup Well-built Quiet Budget-friendly
Great for getting started from Sean September 8, 2020 


I got this as a Christmas present last year to improve my fitness and start using Zwift as an alternative to riding in the city, which has poor bicycle infrastructure. It was extremely easy to set up and start using and has been a great way to get started with indoor training and being part of the Zwift community. It is generally pretty quiet (about as loud as my small floor fan). My only complaint is that it can be fairly unresponsive/slow to adjust to workouts in ERG mode. I think this is a great smart trainer, especially for the price, for those looking to dip their toes into Zwift and indoor training.

Easy setup Well-built Portable/storable Quiet Budget-friendly
Tacx Flow Smart from Sparkie September 4, 2020 


It has always worked for me but it does have it's restrictions, it has a maximum of 6% gradient and maximum wattage of around 800w. For a wheel-on trainer, it can be a little noisy but mine is in the garage so it isn't an issue for me. The Tacx Flow transmits data on both ANT+ & Bluetooth Smart, as well as allowing interactive resistance control across both ANT+ & Bluetooth Smart, and has ERG. By applying resistance control, apps can simulate climbs as well as set specific wattage targets. As an entry-level trainer, I have never had too many issues and would recommend it.

Easy setup Well-built Portable/storable Budget-friendly

Great budget trainer with limitations from SamDCFC September 3, 2020 


The TacX Flow is a good starter trainer; everything you need and easy setup, reliable connections and decent feel for the price. Limited on gradient simulation but still enough to give a relatively realistic indoor ride. Only downside I've found is it seems to overheat when ridden hard in higher ambient temperatures. A small fan pointed at the flywheel seems to prevent this if needed.

Easy setup Budget-friendly
Reliable but with limitations from Matt September 3, 2020 


It's a cheap but reliable machine - I have used mine for about 12000km on Zwift and has hardly missed a beat. It's not quiet but is pretty portable and robust. The power data is variable when compared with my pedal based power meter but for steady efforts not bad considering the budget. You get what you pay for, but in this case that's pretty good considering!

Easy setup Portable/storable Budget-friendly
Great zwift starter from Clubber August 27, 2020 


As a relatively cheap (£180) trainer, the Flow is a great way to get into zwift. Yes, it's limited in terms of maximum gradient (8%) that it'll simulate but it still does what it needs to, is consistent (with regular calibration) and gives the feel of real riding in terms of changing resistance.

The one downside is that my first one went pop (literally) after just over a year. Halfords were excellent and replaced it with no issue though.

Easy setup Well-built Budget-friendly

Flow ri duh from neil.glessner August 27, 2020 


It's a smart trainer for cheap. It works, it's not accurate, it requires a wheel, it's loud. But the price is right and I've had it for years. Dropouts aren't a problem after using a USB extension. I'm secretly hoping it dies soon so that I can upgrade to a wheel off trainer.

Easy setup Budget-friendly