STAC Zero Halcyon
Wheel On Trainer

The interactive version of the Stac Zero, the Halcyon was truly a unique product in the trainer world due to its "no touch" approach to resistance.
The team and tech behind the innovative STAC trainers have been moved over to 4iiii to product the Fliiiight trainer.
Key Specs
MSRP: $749.99 USD
Accuracy: +-2%
Max Wattage: 1200 W
Max Incline: 7%
Where to Buy
This trainer is no longer in production, but you may find a good deal on used or old stock.
More Details
Brand:

STAC

Year Released: 2018 (No longer in production)
Axle Compatibility: 130mm/135mm quick release
Requires Calibration
Weight: 11kg
Communication: ANT+ Bluetooth
Cassette Included: No
Physical Dimensions: 81x64x41cm (open), 48x53x35cm (folded)
Overall Rating

3.8 stars
based on 4 reviews
Quiet and capable from orthancstone September 18, 2020 


I originally started with the STAC Zero, which I had backed on Kickstarter and used until the Halycon addition was offered as an upgrade option.

In both cases, I found the base unit easy to set up and get started on. The one quirk to beware of is the wheel requirements, as you will not want a wheel that has certain elements that can mess with the magnetic resistance (such as steel pins). I solved this problem by purchasing a specific wheel to use on the trainer.

The main selling point of this unit has always been the silent operation, and let's be clear: It crushes it on silence. The only noise you'll be dealing with will be your fan and your drive-train (hope it's clean, else you'll know it needs some love).

The automated resistance provided by the Halycon is quite impressive, albeit slow to register with Zwift at times. Any interval training you do with short, 10-15 second, changes are rough to pull off effectively. Despite that, I found the Halycon a good training companion for ERG-based workouts (which I tend to focus on for triathlon training). I never traveled with the unit, but I could envision it as a capable unit to take with you to an event should you need it for warm-ups.

The main downside to the unit is that the road feel is just not there, even with weights applied properly. That wasn't a terrible compromise for my personal use, but other users might not appreciate it at the price of the unit.

Given the advancement of trainers over the years, including the release of the next generation Halycon (aka the 4iiii Fliiiight), I would probably argue this trainer is outdated. That being said, if you could find one on the cheap in the secondary market, it could be a good purchase, especially if the silent operation of the trainer is a major plus for your needs.

Easy setup Well-built Helpful support Portable/storable Quiet

Convenient and inexpensive but rubs too much from Steve September 10, 2020 


I bought this trainer on clearance for about half off the original retail price. Overall I think it's a pretty good trainer for that price but it rubs on the rear wheel too much, especially with high wattage efforts.

Easy setup Portable/storable Quiet Budget-friendly
Quiet and reliable from beverly.frans September 10, 2020 


Bit of a faff setting up the wheel weights, but if you use a separate wheel, not a big deal to move bike on and off the trainer. Erg mode is great but the feel isn't super when using higher trainer difficulty settings. Extremely durable and reliable trainer. Power is always consistent and trustworthy at least in the range I ride in up to 700W, but generally much, much less. This could be a great deal if you found a used one.

Accurate power Well-built Portable/storable Quiet Budget-friendly
Great mid-level trainer, but no longer supported… from Rosco P. Coltrane September 8, 2020 


This was a best of show product in 2018, and a unique spin for a wheel-on trainer (pun intended). Silent except for drivetrain noise, and exceptionally portable if you couldn't leave it up. Also runs on rechargable battery, allowing it to be used off the mains at say, a warm-up for a race. The actuators for the magnets were a little iffy in the release product, but the STAC technical staff were exceptional. However, since the purchase by 4iiii's, there is no longer support for this product. 4iiii claim they will be selling a replacement magnet array that can be mounted on the Halcyon, however nothing has been made available for close to a year now.

Accurate power Helpful support Portable/storable Quiet Budget-friendly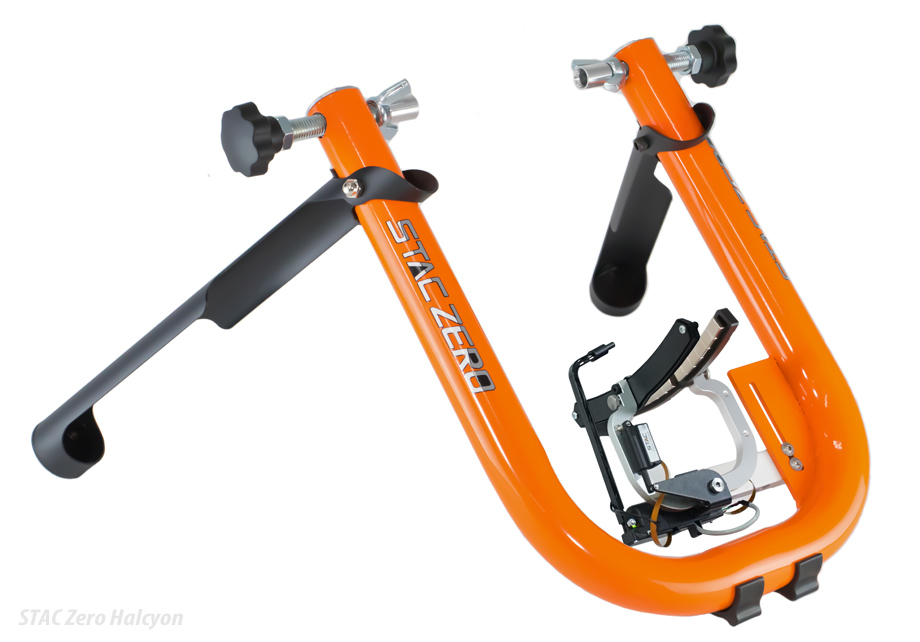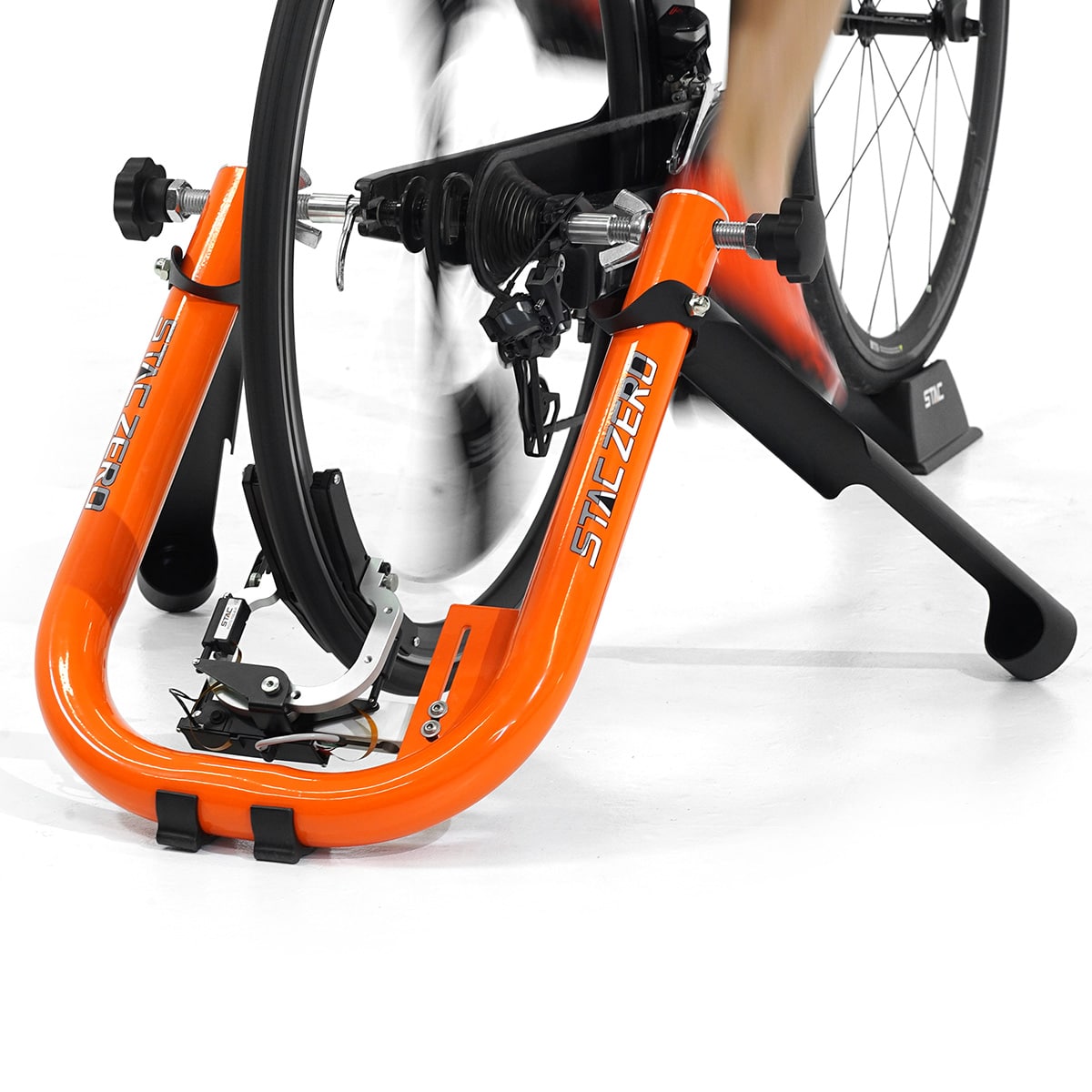 More STAC Zero Halcyon Reviews
Own this trainer? Post a review!
Quiet and capable from orthancstone September 18, 2020 


I originally started with the STAC Zero, which I had backed on Kickstarter and used until the Halycon addition was offered as an upgrade option.

In both cases, I found the base unit easy to set up and get started on. The one quirk to beware of is the wheel requirements, as you will not want a wheel that has certain elements that can mess with the magnetic resistance (such as steel pins). I solved this problem by purchasing a specific wheel to use on the trainer.

The main selling point of this unit has always been the silent operation, and let's be clear: It crushes it on silence. The only noise you'll be dealing with will be your fan and your drive-train (hope it's clean, else you'll know it needs some love).

The automated resistance provided by the Halycon is quite impressive, albeit slow to register with Zwift at times. Any interval training you do with short, 10-15 second, changes are rough to pull off effectively. Despite that, I found the Halycon a good training companion for ERG-based workouts (which I tend to focus on for triathlon training). I never traveled with the unit, but I could envision it as a capable unit to take with you to an event should you need it for warm-ups.

The main downside to the unit is that the road feel is just not there, even with weights applied properly. That wasn't a terrible compromise for my personal use, but other users might not appreciate it at the price of the unit.

Given the advancement of trainers over the years, including the release of the next generation Halycon (aka the 4iiii Fliiiight), I would probably argue this trainer is outdated. That being said, if you could find one on the cheap in the secondary market, it could be a good purchase, especially if the silent operation of the trainer is a major plus for your needs.

Easy setup Well-built Helpful support Portable/storable Quiet

Convenient and inexpensive but rubs too much from Steve September 10, 2020 


I bought this trainer on clearance for about half off the original retail price. Overall I think it's a pretty good trainer for that price but it rubs on the rear wheel too much, especially with high wattage efforts.

Easy setup Portable/storable Quiet Budget-friendly
Quiet and reliable from beverly.frans September 10, 2020 


Bit of a faff setting up the wheel weights, but if you use a separate wheel, not a big deal to move bike on and off the trainer. Erg mode is great but the feel isn't super when using higher trainer difficulty settings. Extremely durable and reliable trainer. Power is always consistent and trustworthy at least in the range I ride in up to 700W, but generally much, much less. This could be a great deal if you found a used one.

Accurate power Well-built Portable/storable Quiet Budget-friendly
Great mid-level trainer, but no longer supported… from Rosco P. Coltrane September 8, 2020 


This was a best of show product in 2018, and a unique spin for a wheel-on trainer (pun intended). Silent except for drivetrain noise, and exceptionally portable if you couldn't leave it up. Also runs on rechargable battery, allowing it to be used off the mains at say, a warm-up for a race. The actuators for the magnets were a little iffy in the release product, but the STAC technical staff were exceptional. However, since the purchase by 4iiii's, there is no longer support for this product. 4iiii claim they will be selling a replacement magnet array that can be mounted on the Halcyon, however nothing has been made available for close to a year now.

Accurate power Helpful support Portable/storable Quiet Budget-friendly