Saris H2
Direct Drive Trainer

The H2 began life under the CycleOps brand, but was rebranded under the Saris name when Saris decided to consolidate some of its brands. The H2 is no longer in production, since it has been replaced by the H3.
Key Specs
MSRP: $999.99 USD
Accuracy: +-2%
Flywheel: 20lb
Max Wattage: 2000 W
Max Incline: 20%
Where to Buy
This trainer is no longer in production, but you may find a good deal on used or old stock.
More Details
Brand:

Saris

Year Released: 2018 (No longer in production)
Axle Compatibility: 130/135mm quick release, 12x142 and 12x148 thru-axle
Requires Calibration
Weight: 21.3kg
Cadence: Built in
Communication: ANT+ and Bluetooth
Overall Rating

4.4 stars
based on 13 reviews
Easy setup
85%
Accurate power
92%
Realistic inertia
69%
Well-built
85%
Helpful support
46%
Portable/storable
46%
Quiet
38%
Budget-friendly
8%
+/- 2% from Samuel1 November 15, 2021 


Hey guys - Just letting you know that you have posted the incorrect power accuracy data. Saris has relased it as +/-2% not your states 3.
Love this trainer. Rock solid and high recommend to all.

Accurate power

It was good until it wasn't from DK September 29, 2020 


The H2 is heavy, so it stays put and feels like it's built well. It is louder than many of its competitors, however, it didn't really bother me. It responded well to grade changes in Zwift. Unfortunately, my H2 only made it about 10 months before it developed a loud thumping noise. After several calls to support and a trip back to the factory, Saris ultimately replaced under warranty.

Since people tend to like the H2, I'm fairly certain I was just unlucky.

Easy setup Accurate power
Saris (formerly CycleOps) H2 from Oneriver September 16, 2020 


I graduated from a Wahoo Kickr SNAP wheel on to the Sarus H2 direct drive trainer. What a difference. My only comment is the trainer is noisier than I expected. Overall, it provides a more realistic ride in relation to whatever Zwift game, ride, workout I am in. It has more metrics than my SNAP too. Overall, I am happy and am not pining away to upgrade. I wouldn't call the trainer portable/storable as it is heavy. But I checked that box, as it would be fairly simple to move it into a corner if I wanted to clear out my pain cave.

Easy setup Accurate power Realistic inertiaWell-built Portable/storable
Great trainer that is not totally quiet from cmcneese September 16, 2020 


This has the best "road feel" of any trainer I have tried. The flywheel gives such a smooth feel in Zwift rides as well as workouts (Zwift and TR) that it makes workouts a dream. The only negative to the flywheel is the spindown to recovery wattage from high power efforts, but it is great in every other way.

Easy setup Accurate power Realistic inertiaWell-built Helpful support
A long-term companion for enthusiasts from eschlange September 14, 2020 


My wife and I have been using a Hammer 2 for almost two years now. Both of us are around level 40 on Zwift, which if you do the math, it means we've ridden a fair amount. This trainer has provided everything we've needed for training and races, and we've seen the results transferred to outdoor riding as well (especially on the local climbs).

We even had a problem where the internal belt (if that's what it's called...) snapped after the first year, so the trainer lost all resistance and any measure of power. We took it to the local shop where we bought it and Saris sent a brand new trainer to replace the old one, even when we would've been happy to have it repaired.

Admittedly, that was a big pro while living in the US. We didn't even have to pay for shipping, which would've been quite an expense for such a heavy object. Unfortunately, I have my suspicions that the belt snapping would've been way harder to fix in other countries, especially where customer support is considered a favor and not a right of the consumer, and also because I doubt Saris would provide a replacement part if they don't even have a diagnose by a certified technician (they wouldn't provide the part in the US either, which is why they replaced the whole product).

Now, that one experience notwithstanding, the trainer is easy to setup, accurate, sturdy, and it remains steady in all of my sprints, which have reached 1,000 watts a few times and I've never felt in danger of falling to the sides. The CycleOps app that was used 2 years ago to update the firmware was unintuitive, but was replaced with an easier to use Saris app since. Also, various firmware updates have fixed issues with the response of the resistance, which was especially noticeable when the rollercoaster of Titans Grove was released.

As with many electronic products, I just wish they would put more care into the design of the power supply, which is pretty big. Also, the actual cable that you plug to the trainer is easily removable, which can be a problem if you have kids or dogs running around, or even a clumsy spouse! Hopefully trainer manufacturers implement a locking mechanism in the future.

Finally, note that I purchased the Hammer 2 as the H3 was being released, so I got it at a discount because it was the last unit. The salesman tried and tried to convince me that the improved accuracy of the H3 would make all the difference, but I knew better (I think the difference is something like from 3% to 2% of accuracy). It might be a few decibels more quiet too, but none of that matters when you have to turn one or two fans to control your temperature. With that in mind, I've seen two years of announcements by different manufacturers go by, and nothing has convinced me yet that it would be a game changer, except perhaps the M1 platform, which is not even a trainer per se.

All in all, this purchase was a little scary when we made it, because it was a little over our budget, but in hindisght, it has been one of the gratest investments for our health, as the bringer of increased cycling power and decreased body mass. You just have to hop in and use it.

Easy setup Accurate power Well-built Helpful support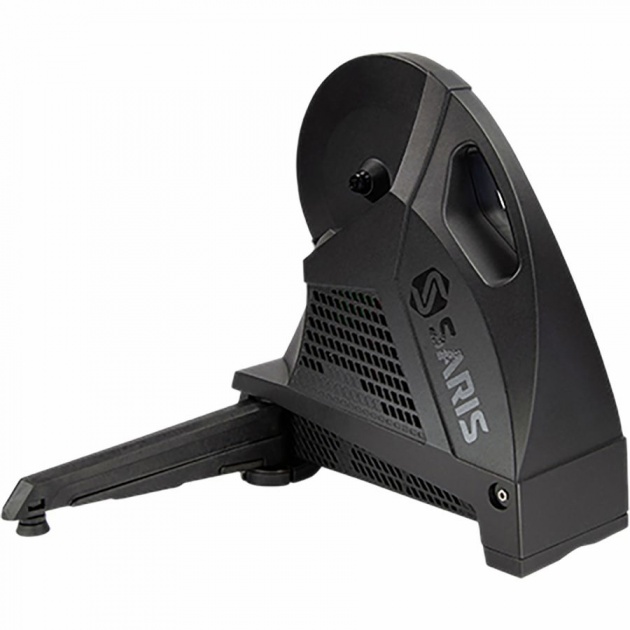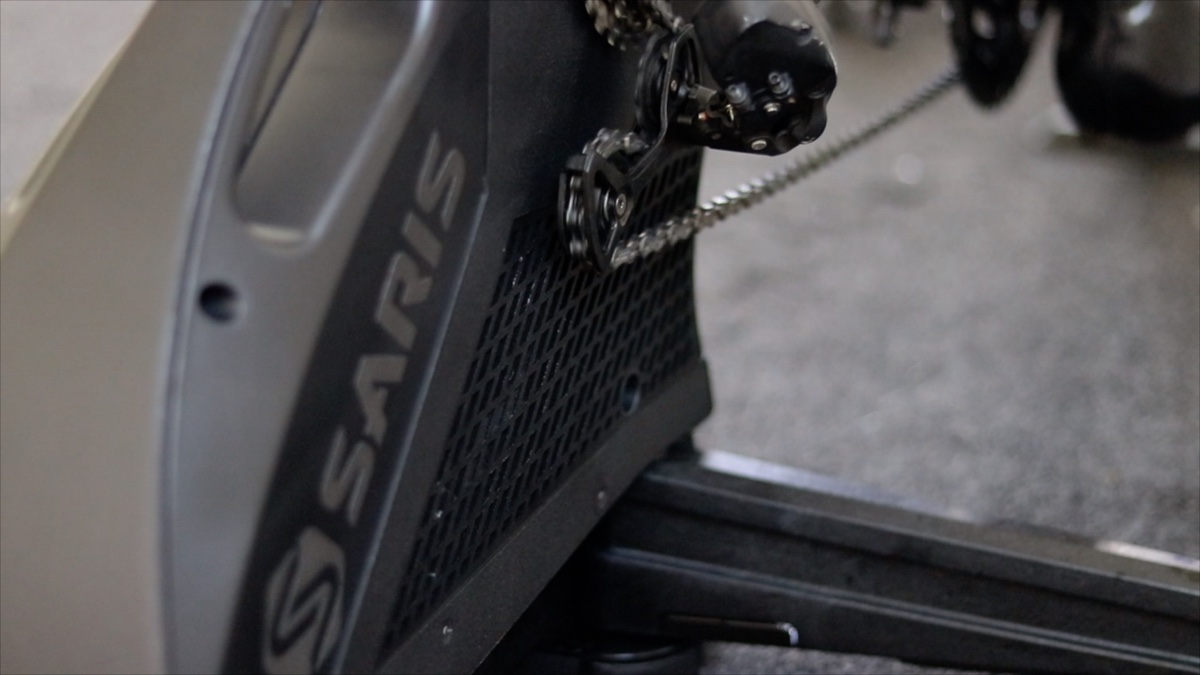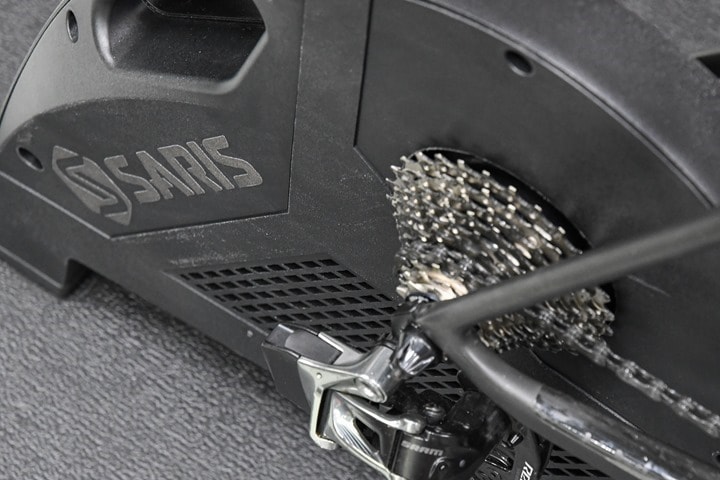 Own this trainer? Post a review!
+/- 2% from Samuel1 November 15, 2021 


Hey guys - Just letting you know that you have posted the incorrect power accuracy data. Saris has relased it as +/-2% not your states 3.
Love this trainer. Rock solid and high recommend to all.

Accurate power

It was good until it wasn't from DK September 29, 2020 


The H2 is heavy, so it stays put and feels like it's built well. It is louder than many of its competitors, however, it didn't really bother me. It responded well to grade changes in Zwift. Unfortunately, my H2 only made it about 10 months before it developed a loud thumping noise. After several calls to support and a trip back to the factory, Saris ultimately replaced under warranty.

Since people tend to like the H2, I'm fairly certain I was just unlucky.

Easy setup Accurate power
Saris (formerly CycleOps) H2 from Oneriver September 16, 2020 


I graduated from a Wahoo Kickr SNAP wheel on to the Sarus H2 direct drive trainer. What a difference. My only comment is the trainer is noisier than I expected. Overall, it provides a more realistic ride in relation to whatever Zwift game, ride, workout I am in. It has more metrics than my SNAP too. Overall, I am happy and am not pining away to upgrade. I wouldn't call the trainer portable/storable as it is heavy. But I checked that box, as it would be fairly simple to move it into a corner if I wanted to clear out my pain cave.

Easy setup Accurate power Realistic inertiaWell-built Portable/storable
Great trainer that is not totally quiet from cmcneese September 16, 2020 


This has the best "road feel" of any trainer I have tried. The flywheel gives such a smooth feel in Zwift rides as well as workouts (Zwift and TR) that it makes workouts a dream. The only negative to the flywheel is the spindown to recovery wattage from high power efforts, but it is great in every other way.

Easy setup Accurate power Realistic inertiaWell-built Helpful support
A long-term companion for enthusiasts from eschlange September 14, 2020 


My wife and I have been using a Hammer 2 for almost two years now. Both of us are around level 40 on Zwift, which if you do the math, it means we've ridden a fair amount. This trainer has provided everything we've needed for training and races, and we've seen the results transferred to outdoor riding as well (especially on the local climbs).

We even had a problem where the internal belt (if that's what it's called...) snapped after the first year, so the trainer lost all resistance and any measure of power. We took it to the local shop where we bought it and Saris sent a brand new trainer to replace the old one, even when we would've been happy to have it repaired.

Admittedly, that was a big pro while living in the US. We didn't even have to pay for shipping, which would've been quite an expense for such a heavy object. Unfortunately, I have my suspicions that the belt snapping would've been way harder to fix in other countries, especially where customer support is considered a favor and not a right of the consumer, and also because I doubt Saris would provide a replacement part if they don't even have a diagnose by a certified technician (they wouldn't provide the part in the US either, which is why they replaced the whole product).

Now, that one experience notwithstanding, the trainer is easy to setup, accurate, sturdy, and it remains steady in all of my sprints, which have reached 1,000 watts a few times and I've never felt in danger of falling to the sides. The CycleOps app that was used 2 years ago to update the firmware was unintuitive, but was replaced with an easier to use Saris app since. Also, various firmware updates have fixed issues with the response of the resistance, which was especially noticeable when the rollercoaster of Titans Grove was released.

As with many electronic products, I just wish they would put more care into the design of the power supply, which is pretty big. Also, the actual cable that you plug to the trainer is easily removable, which can be a problem if you have kids or dogs running around, or even a clumsy spouse! Hopefully trainer manufacturers implement a locking mechanism in the future.

Finally, note that I purchased the Hammer 2 as the H3 was being released, so I got it at a discount because it was the last unit. The salesman tried and tried to convince me that the improved accuracy of the H3 would make all the difference, but I knew better (I think the difference is something like from 3% to 2% of accuracy). It might be a few decibels more quiet too, but none of that matters when you have to turn one or two fans to control your temperature. With that in mind, I've seen two years of announcements by different manufacturers go by, and nothing has convinced me yet that it would be a game changer, except perhaps the M1 platform, which is not even a trainer per se.

All in all, this purchase was a little scary when we made it, because it was a little over our budget, but in hindisght, it has been one of the gratest investments for our health, as the bringer of increased cycling power and decreased body mass. You just have to hop in and use it.

Easy setup Accurate power Well-built Helpful support
Tczarnecki saris H2 from Tim September 9, 2020 


Struggled a bit with getting cassette on and only 4 gears or so that dont click badly. Have repeatedly gone over 1200 watts with no issues. Overall a great smart trainer.

Accurate power Realistic inertiaWell-built Portable/storable Quiet Budget-friendly
Saris (CycleOps) H2 good all-rounder smart trainer. from HolyDiver September 9, 2020 


I give 4 stars to this trainer because it is out of compromises except sound noise. It didn't bother you in case if you use headphones, but could disturb a little your natives.
For those who are looking for "silent" trainer it is better to look for recent models.
The big gains this trainer get in ERG mode, only this is short intervals, but this is a common thing for belt driven trainers.
In case if you could get one new and you are on a budget then it is differently a good option for purchase.

Easy setup Accurate power Realistic inertiaWell-built
Saris Hammer from drbll September 9, 2020 


Love this trainer, very smooth and realistic road feel. Stable footprint when you want to get out of the saddle for sprints or climbs. Saris support and parts availability is first rate. I had to replace the belt and it is just like new again.

Easy setup Realistic inertiaWell-built Helpful support Quiet
Saris H2 has been great from JohnPVBFL September 9, 2020 


Purchased my Cyclops (now Saris) H2 about a year and a half ago and have enjoyed being able to continue my training indoors when the outdoor weather is bad. Connecting to my iPad, iPhone and AppleTV has been fairly easy and reliable. Accuracy is good too when compared to my Stages Power meter. Quiet and easy to setup. Would recommend after checking many online reviews. A little pricey but I've been happy with the extra investment over a fluid or roller trainer. Just pop the rear wheel and mount the bike. Great feedback on hills and training in ERG mode.

Easy setup Accurate power Realistic inertiaWell-built Helpful support Portable/storable Quiet
Solid, reliable, not the quietest from Justin September 8, 2020 


I've had my unit for several years now with zero issues. This trainer doesn't self-calibrate, so don't forget to do that every few months, and keep that firmware up to date.

Easy setup Accurate power Well-built Portable/storable
Saris H2 has great customer support from JL September 8, 2020 


Had a couple of issues H2 [belt] H3 [clicking noise]. Customer support quickly handled both. Replacement belt for H2, swapped out H3.

Easy setup Accurate power Realistic inertiaWell-built Helpful support Portable/storable Quiet
Great machine. from riverrts September 4, 2020 


I've had mine for almost a year now. I've had zero issues with it. Connectivity... no problem; overall noise...can easily hold a conversation with someone in the same room; wattage accuracy...seems fairly spot on to me but I'm not using any type of wattage pedal for comparison. The only drawback that I can think of is that this thing is a BEAST ! 50 pounds and that's no lie. Personally it's not a problem for me as my machine never leaves it's platform. If you plan on moving it a lot then you're gonna get a nice upper body workout too.

Easy setup Accurate power Realistic inertiaWell-built Quiet
Great Direct Drive BUT not completely silent from email September 4, 2020 


This is easily one of the best out there. Its heavy, it bites hard on the climbs, it feel great rolling, BUT its not quite silent. IF this one had the newer design it would be a 5 star. It's NOT loud so I wouldnt hesitate grabbing one for a deal. This is a direct drive trainer that can pair power, speed & cadence all in 1 bluetooth connection. To me this trainer feel the best when trainer difficulty is set between 40%-70%. When it's set to 100% it becomes a little too harsh. If you need a trainer with pretty good outdoor feel this is for you. Also it folds up nicely.

Easy setup Accurate power Realistic inertiaWell-built Helpful support Portable/storable