Saris H3
Direct Drive Trainer

The latest model of the Hammer line which began at CycleOps, the H3 is a well-respected trainer that is very competitive at its price point.

Key Specs
MSRP: $999.99 USD
Accuracy: +-2%
Flywheel: 20lb
Max Wattage: 2000 W
Max Incline: 20%

More Details
Brand:

Saris

Year Released: 2019 (In Production)
Axle Compatibility: 130/135mm quick release, 12x142 and 12x148 thru axle
Requires Calibration
Weight: 21.3kg
Cadence: Built-in
Communication: ANT+ and Bluetooth
Cassette Included: No
Physical Dimensions: L*H*W: 31"x18.5"x19.5" (787.4x469.9x495.3 mm)
Overall Rating

4.4 stars
based on 28 reviews
Easy setup
100%
Accurate power
86%
Realistic inertia
79%
Well-built
82%
Helpful support
21%
Portable/storable
50%
Quiet
86%
Budget-friendly
57%
Great Trainer for Zwift from GV3 January 8, 2021 


This is a great trainer for Zwift. It's relatively quiet and easy to setup. The change between quick release and thru axle is also really simple. If I had one complaint it would be that sometimes the connection drops and my avatar in Zwift stops moving (demoralizing on climbs), but that could very well have to do with my ANT+ dongle or Zwift itself. It could also be a combination of the three.

Easy setup Accurate power Realistic inertiaWell-built Helpful support Portable/storable Quiet
Very reactive erg from danchamb October 12, 2020 
Easy setup Accurate power Realistic inertia Portable/storable Quiet Budget-friendly
Saris H3 from robtmitchell September 30, 2020 


We bought 2 (his and her) and had one with some problems and exchanged it thru REI. They have both been working well.

Easy setup Accurate power Well-built Quiet
Excellent Investment! Kicks my ass on the daily! from Awesumsawz September 30, 2020 


First Smart Trainer. I love ERG Mode on this thing. Riding up climbs feels pretty legit. Feels natural enough for me. Power on this is immeasurably more accurate than the dumb trainer setup I had before. I love this trainer.

Easy setup Realistic inertiaWell-built Portable/storable Quiet
Solid trainer from DK September 29, 2020 


I'm pleased with my H3. It's very heavy, so it stays put and suggests a quality build. It responds well to grade changes in Zwift and is incredibly quiet compared to past versions of the Hammer series. I knocked one star off due to a less than ideal support experience, however, to be fair, they did make it right in the end.

Easy setup Accurate power Well-built Quiet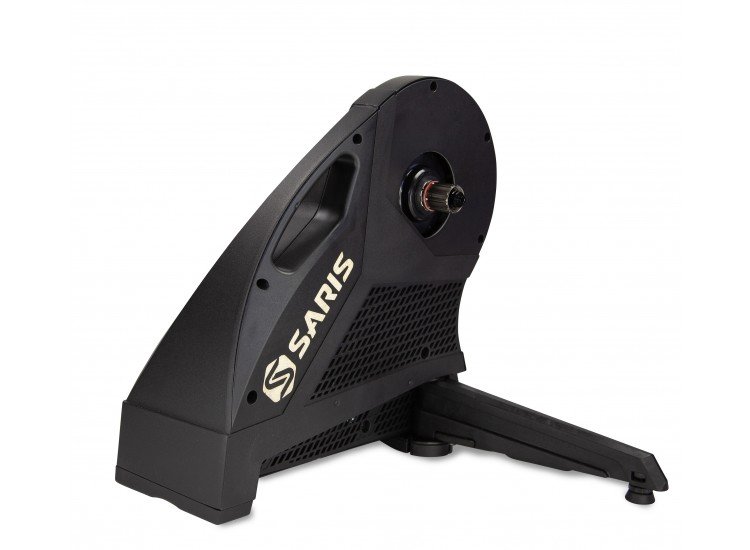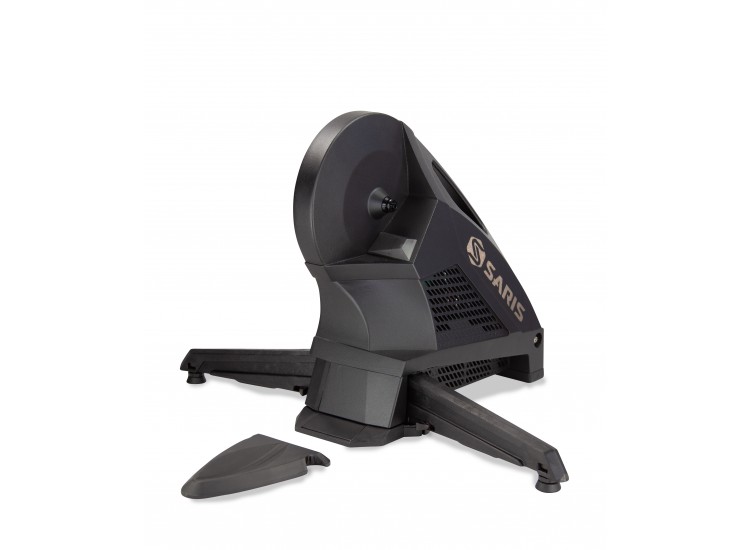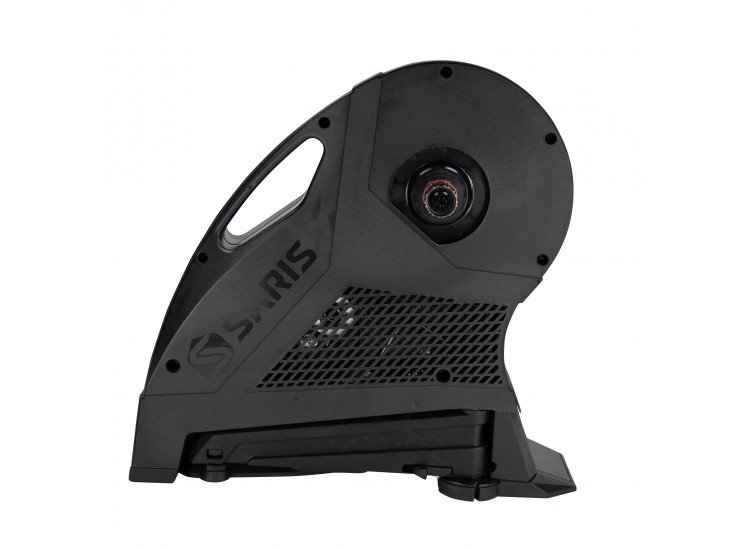 Own this trainer? Post a review!
Great Trainer for Zwift from GV3 January 8, 2021 


This is a great trainer for Zwift. It's relatively quiet and easy to setup. The change between quick release and thru axle is also really simple. If I had one complaint it would be that sometimes the connection drops and my avatar in Zwift stops moving (demoralizing on climbs), but that could very well have to do with my ANT+ dongle or Zwift itself. It could also be a combination of the three.

Easy setup Accurate power Realistic inertiaWell-built Helpful support Portable/storable Quiet
Very reactive erg from danchamb October 12, 2020 
Easy setup Accurate power Realistic inertia Portable/storable Quiet Budget-friendly
Saris H3 from robtmitchell September 30, 2020 


We bought 2 (his and her) and had one with some problems and exchanged it thru REI. They have both been working well.

Easy setup Accurate power Well-built Quiet
Excellent Investment! Kicks my ass on the daily! from Awesumsawz September 30, 2020 


First Smart Trainer. I love ERG Mode on this thing. Riding up climbs feels pretty legit. Feels natural enough for me. Power on this is immeasurably more accurate than the dumb trainer setup I had before. I love this trainer.

Easy setup Realistic inertiaWell-built Portable/storable Quiet
Solid trainer from DK September 29, 2020 


I'm pleased with my H3. It's very heavy, so it stays put and suggests a quality build. It responds well to grade changes in Zwift and is incredibly quiet compared to past versions of the Hammer series. I knocked one star off due to a less than ideal support experience, however, to be fair, they did make it right in the end.

Easy setup Accurate power Well-built Quiet
small price, big performance from blrauh September 28, 2020 


Just for comparison, I upgraded from a Kurt Kinetic Rock and Roll fluid trainer. I ordered and received it within a week. It came with a minimal amount of setup information, no how to book or link or anything. If you were brand new to trainer riding and did not purchase from a LBS that could answer questions, you might have a little problem. That said, it was absolutely amazing how easy it was to set up and connect to Zwift. In order to calibrate and check for software updates you must either purchase the Saris Ble dongle for a pc or Mac, or download the app for Android. The app is not very impressive, but once connected it was simple to update the software and the calibration was simple, not strenuous, and only recommended monthly so doesn't need done often. The way the app is set up it can only be calibrated outside of Zwift, so you have to exit the app to log into Zwift or other trainer software. Garmin watches now can connect easily and sometimes automatically to the trainer as well as Zwift simultaneously. Saris usually has a very good customer service response. During the pandemic, they struggled a bit with the volume of questions they received and when my electric barrel connector broke it did take a couple days to get the correct replacement part ordered, hint, do not use the straight in barrel connector, use the included adapter that snakes it around and connects closer to the machine at 90 degrees. I couldn't believe how quiet it is after hearing how loud the H2 was but is was quieter than the fluid trainer, I actually hear the gears changing much louder than the machine! I am very glad I made this choice over the other 2 top of the line trainers

Easy setup Realistic inertiaWell-built Quiet Budget-friendly
Good trainer, got it a great discount from plewis61 September 26, 2020 


Found this online last year right after Christmas for under $800, which is $200 less than I've seen it anywhere before or since. Called the store skeptical about the price, I was assured it was new and under company warranty. Been putting hundreds of miles a month on it all year and haven't had any problems. This is a very nice upgrade over the Tacx Vortex I was using for the past few years. Very quiet, compared to the Vortex, easy setup, and super sturdy. When I first got it had a question and called Saris and spoke to someone within a few minutes who answered my question. Really good trainer, not sure I'd buy it at $1000, might go with a Wahoo, but for what I paid I'm very pleased.

Easy setup Accurate power Realistic inertiaWell-built Helpful support Portable/storable Quiet Budget-friendly
Race machine from HoldenC September 26, 2020 


Extremely durable and optimal spec for esports racing. A dependable workhorse.

Easy setup Accurate power Well-built Portable/storable Quiet Budget-friendly
Saris h3 from Aaron323 September 26, 2020 


Great trainer. Very sturdy and easy legs to fold away. Heavy and solid unit. 9kg flywheel so provides lots of inertia and road feel. Up there as top 3 with neo and kickr.

Easy setup Accurate power Realistic inertiaWell-built Helpful support Portable/storable Quiet
Great trainer from Buffi September 25, 2020 


Only three words: "I love it!"

Easy setup Accurate power Realistic inertiaWell-built Quiet Budget-friendly
My Saris Hammer H3 review from Santi September 23, 2020 


It is a low price, realistic, accurate and high quality smart trainer. Very quiet, it has never failed me. I have made power comparisons between this smart trainer and a 4iiii powermeter in zwift power, showing similar results.
I am satisfied with this one.

Easy setup Accurate power Realistic inertiaWell-built Quiet Budget-friendly
Saris H3 from Gav116 September 23, 2020 
Easy setup Accurate power Realistic inertiaWell-built Helpful support Portable/storable Quiet Budget-friendly

Saris H3 from C.Hope September 22, 2020 


loved trainer at first, in built cadence is great. Developed a fault, couldn't calibrate via any app and registered power and cadence when freewheeling down hills. Saris customer service was non existent (albeit in the Covid-19 times)

Easy setup Accurate power Realistic inertiaWell-built Quiet
Not the best, but price bumps it a 5 from tydstaples September 16, 2020 


Originally had the CycleOps Hammer, "upgraded" to the H3 this year. The biggest gripe I had with the original Hammer was its tendency to overheat, particularly with low-cadence, high-power, long intervals (i.e. climbing): The resistance mode would switch off, and would no longer be controllable (it would still broadcast). This seems to have been resolved in the H3.

It's a fair bit noisier than other trainers out there, but not overly so (doesn't seem to have gotten quieter since the "H1"). It is "portable" in that it breaks down and sets up easy, but man, is it heavy. Maximum power of 2000w is more than I'd ever need. Maximum gradient is also likely more than I'd ever need (some of those Rouvy routes push 20%+). Easy to set up, never really needs calibration, and power has been accurate when riding with crank-based power meter.

For this price? Can't really ask for much more.

Easy setup Accurate power Well-built Portable/storable Budget-friendly

H3…Ok to Good but needs to be better… from jcbenten September 16, 2020 


-Connects Ant+ & BT easily for Zwift, Fulgaz & Rouvy. The SARIS app via BT on Android is a big fail. Not once...
-Good repeatability and for the most part matches my P1 pedals. Only at the extremes (500+ and 6 times about noise and power supply connector. 0, and I mean ZERO, response.

Easy setup Accurate power Realistic inertia Portable/storable Budget-friendly
Excellent and Solid Saris H3 from djump September 14, 2020 


Love this trainer. It does everything I need performing well in ERG and free-riding around Zwift. It is pretty quiet and has been very consistent. The machine is rock solid, too. The only movement I get is from the 2mm padding I have placed under it squishing around in a sprint.

Easy setup Accurate power Realistic inertiaWell-built Portable/storable Quiet
5-10 Watts lost compare to Pedal/Crank power meter output from dkwinc September 9, 2020 


Not sure if other one like Wahoo have this problem, but 5-10 Watts loss is definitely a problem for me trying to stay with the group when I'm at my limit on the steep hills.

Easy setup Realistic inertiaWell-built Quiet Budget-friendly
Perfect smart trainer from Jose_lal September 9, 2020 
Easy setup Accurate power Realistic inertiaWell-built Quiet Budget-friendly
Saris H3 from Sllim September 9, 2020 


Easy to set up, silent, takes up little space. Love it.

Easy setup Accurate power Realistic inertiaWell-built Helpful support Portable/storable Quiet

Ok… from PoorPossum September 8, 2020 


Pros
- Sturdy construction
- Wide base (no rocking when sprinting hard)
- Generic freehub (not Edco!)

Cons
- Multiple seconds of lag time when responding to incline change
- No premium features such as road feel or descent spin
- The famous 'knocking' sound from the insides (see 'PoorPossum' youtube video about it - https://youtu.be/hFZIvgWyk-c)

Easy setup Accurate power
It just works. from thisisthematt September 8, 2020 


Bought in late 2019 and 10,000kms ridden. Zero maintenance other than firmware updates and calibration. Feels realistic to ride due to the flywheel weight. It's been accurate in a number of environments (inside and garage/outside). Very worth the $999 (US) I paid. The one issue is that it doesn't calibrate well in zwift when using BTE, you need to be on ANT or to use the Saris app.

Easy setup Accurate power Realistic inertiaWell-built Portable/storable
Bike Shop CompuTrainer to Home Based Saris H3 March 2020 from Tim M September 8, 2020 


When the pandemic of early March 2020 blew up across the USA, I was quick to switch from organized group studio Compu-Trainer rides at my local bike shop to cycling workouts from the comfort of my own basement 1st on my old faithful Kurt Kinetic dumb trainer, and then by the end of March to my brand spanking new Saris H3 Hammer Direct Drive Smart Trainer! As expected there was a slight learning curve, more so with the Zwift and companion apps than the trainer itself. In no time at all my cycling buddies and I were back in the saddle riding in places that we had not even considered riding during the structured workouts that were available on the Compu-Trainer system.
Tied together, a smart trainer, cooling fan, fair sized laptop (or in my case 2 BIG screen TVs) a viable communications app where multiple friends can talk real time and the home based smart trainer and system was a God send during this crazy year. Beats the CompuTrainer multi user system hands down, but I do miss the face to face interaction just the same.
As a side note, while cycling outdoors in July 2020, I suffered a very scary and near fatal hemorrhagic pontine infarction aka hemorrhagic brain stem stroke. Aside from walking (A LOT) I have been using my H3 as part of my rehab process. Zwift makes it easy to build workouts and the H3 appears to be spot on when setup in ERG mode. The ability to build these workouts has been a lifesaver (literally) for me! Without a smart trainer this would have never happened.
Looking at the checklist below, the only box that is N/A for me is the "Helpful Support" Box. The setup was so simple and seamless no support was needed.
Only rated a "4" because it is the only smart trainer I have ever used, with the exception of the Compu-Trainers which I would have rated a "2."
Bottom Line I LOVE my H3 Hammer!

Easy setup Accurate power Realistic inertiaWell-built Portable/storable Quiet Budget-friendly
Awesome rock solid trainer! from Supe September 8, 2020 


I used the trainer with Zwift using my Win10 gaming desktop and an iPhone companion app that acts like a "middle man," connecting the trainer to the desktop to my 55" TV (because it's on the same WiFi network). It made the setup rather painless and you can control the software from your iPhone mounted to your handlebars. Smooth, remarkably quiet, and super stable---even when out of the saddle. Simple to calibrate and easy to pair with Zwift. Solid construction and first-rate customer service. Great Made in the USA quality.

Easy setup Accurate power Realistic inertiaWell-built Quiet Budget-friendly
Saris H3 Review from Joe September 8, 2020 


Trainer was easy to set up and was a replacement for a Cycleops Hammer.

The H3 is MUCH quieter than the Hammer.

Went with this unit over the Wahoo Kickr due to price difference.

Easy setup Accurate power Realistic inertia Quiet Budget-friendly
Saris H3 from mgardiner September 8, 2020 


The H3 is by far the most consistent belt-driven direct-drive smart trainer on the market. The trainer's accuracy is stellar, and the ride-feel is one of the best in the industry.

Easy setup Accurate power Realistic inertiaWell-built Helpful support Portable/storable Quiet Budget-friendly

Squeaks and Clicks from getradbill208 September 6, 2020 


Having read many online reviews about the Saris H3 I believed this was a good choice. On 1st use the trainer worked well and connected easily. A few months of use and the pulley squeaks, there is a clicking sound which can be felt through the pedals. If I get of the saddle and climb the clicking/clonking gets worse. Have contacted Saris but still waiting for a reply. Followed online advise ref sanding the large pulls but no change. Works well when it works, seems to have some teething problems or even major defect? Awaiting a fix

Easy setup Quiet
Solid Trainer from Johnny M September 4, 2020 


The Saris H3 is really easy to set up. Once the cassette is installed (Shimano only, although with a clever chain choice I've linked the Shimano cassette to a Campy group set), just pull out the legs and plug in. The H3 immediatel Garmin. Nice real feel when you climb on and give the pedals a push. The only noise was from the cassette and chain. Zero troubles since I bought it 4 months ago - all solid build quality.

Easy setup Accurate power Realistic inertiaWell-built Quiet
Direct drive on a budget from IdentifyAScat1 September 4, 2020 


Great road feel and accurate power.

Terrible customer service. The worst of any brand.

Heavier then most making the portability concept out the window.

Budget friendly for direct drive entry.

Easy setup Accurate power Realistic inertiaWell-built Quiet Budget-friendly