Kinetic Road Machine Smart 2
Wheel On Trainer

Built on Kinetic's rock-solid road machine frame, the Road Machine Smart transmits power numbers but does not control resistance interactively. Rather, riders control the resistance themselves by shifting, just like we did before the days of Zwift and interactive trainers!
Key Specs
MSRP: $399 USD
Flywheel: 6.25lb
Not interactive/controllable
Where to Buy
This trainer is no longer in production, but you may find a good deal on used or old stock.
More Details
Brand:

Kinetic

Year Released: 2018 (No longer in production)
Axle Compatibility: 130/135mm quick release
Requires Calibration
Weight: 13kg
Communication: ANT+ FE-C and Bluetooth
Physical Dimensions: 27" x 27" (68 cm x 68 cm)
Overall Rating

3.8 stars
based on 15 reviews
Easy setup
100%
Accurate power
20%
Realistic inertia
40%
Well-built
80%
Helpful support
13%
Portable/storable
47%
Quiet
33%
Budget-friendly
93%
Kinetic Road Machine 2 from jesselangevin September 30, 2020 


Purchased this trainer when I started Zwifting a couple years ago. Extremely well built and stable, no issues getting out of the saddle to "climb" or sprint. I feel like this trainer will last forever and can take everything I can throw at it. I eventually purchased a pedal based powermeter and started using that for my power reading. The trainer, like any other fluid trainer, does take 10-15 minutes to warm up and be properly calibrated so the numbers are accurate. I found trainer power reading to be quite accurate, until I started doing higher end intervals. I find the inaccuracies do start to be exaggerated beyond the couple % I see at lower watts.

I like the trainer combined with a pedal power meter so I have consistent readings between indoor and outside, but this trainer did work for a winter without any complaints from me.

Easy setup Realistic inertiaWell-built Budget-friendly
Kinetic Road Machine Smart provides a great low cost option to Zwifting from Bbones September 27, 2020 


This has been a great entry level trainer to get me into the world of Zwift. It's smooth and well built. Can be taken down and set up quickly. Calibration is easy with the Kinetic app. Connects easily by Bluetooth to my iMac. One of the best built fluid trainers on the market.

Easy setup Accurate power Realistic inertiaWell-built Portable/storable Quiet Budget-friendly
Good Entry Level Trainer from Craig September 25, 2020 


I enjoy using this trainer to help me get into shape and wanted something that was not more expensive than my road bike (Trek 1000 purchased in 2007). I cannot vouch for power accuracy, but I am also not trying to win any Zwift races 🙂 The customer service with Kinetic has been fantastic with the two minor issues I have had in the 3 years that I have owned this trainer.

Easy setup Helpful support Budget-friendly
It's hard to go wrong getting started with one of these. from Wik September 24, 2020 


While not exactly a "smart" trainer, the sensor that can be purchased separately and attached to any regular Kinetic Road Machine or Rock and Roll is fairly accurate (as can be seen in online videos, including GP Lamas video on the inRide sensor.) But after the Power Meter aspect of this trainer, it more resembles a nice dumb trainer, and it is just that!

And the real beauty of this trainer, is the price. In Canada it can be a little harder to locate equipment, but Road Machines last forever, so plenty of people are selling old ones used at great deals, another 65CAD for the inRide sensor and you got a budget smart trainer that is in my experience, much more accurate than any dumb trainer paired with a cadence and speed sensor.

To be fully transparent, Kinetic's inRide sensor is effectively taking the speed of the trainer and using that to calculate power, but they've really dialed it in.

If you're looking to get started with Zwift, these trainers are built well and get the job done well. No this isn't going to hold up to other smart trainers if you have the budget for a trainer that is actually fully smart with controlled resistance, but with up to 1500w resistance, it really is hard to beat for the money.

Easy setup Accurate power Well-built Quiet Budget-friendly
Budget Dumb Trainer with Power Meter from cappy September 22, 2020 


I do not have a power meter on my bike and had to pick a budget option. This trainer works as advertised and I have not had any trouble with it whatsoever. Calibrating it through the kinetic app is super simple and takes no time at all. I would highly suggest calibrating it before each use.

Easy setup Well-built Portable/storable Budget-friendly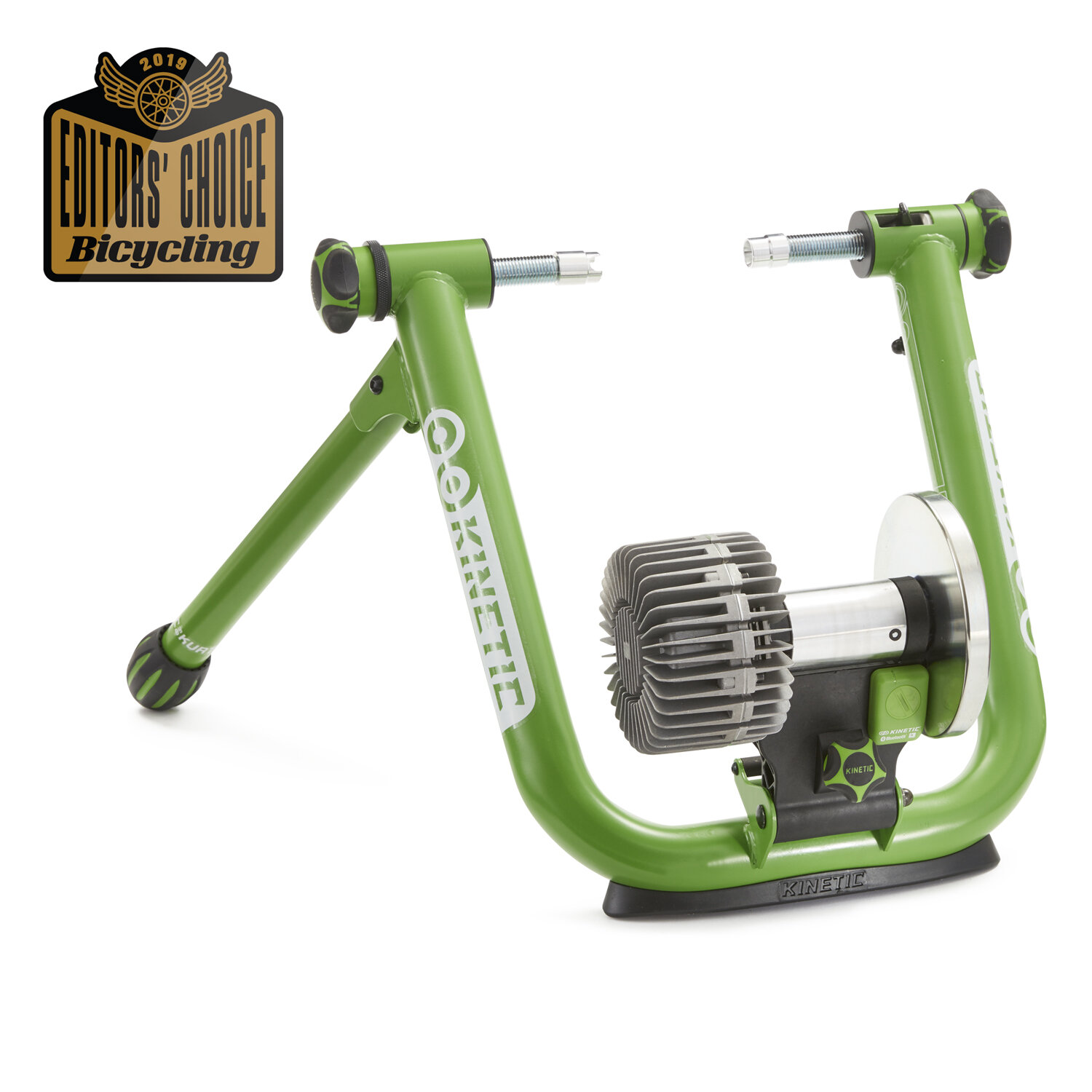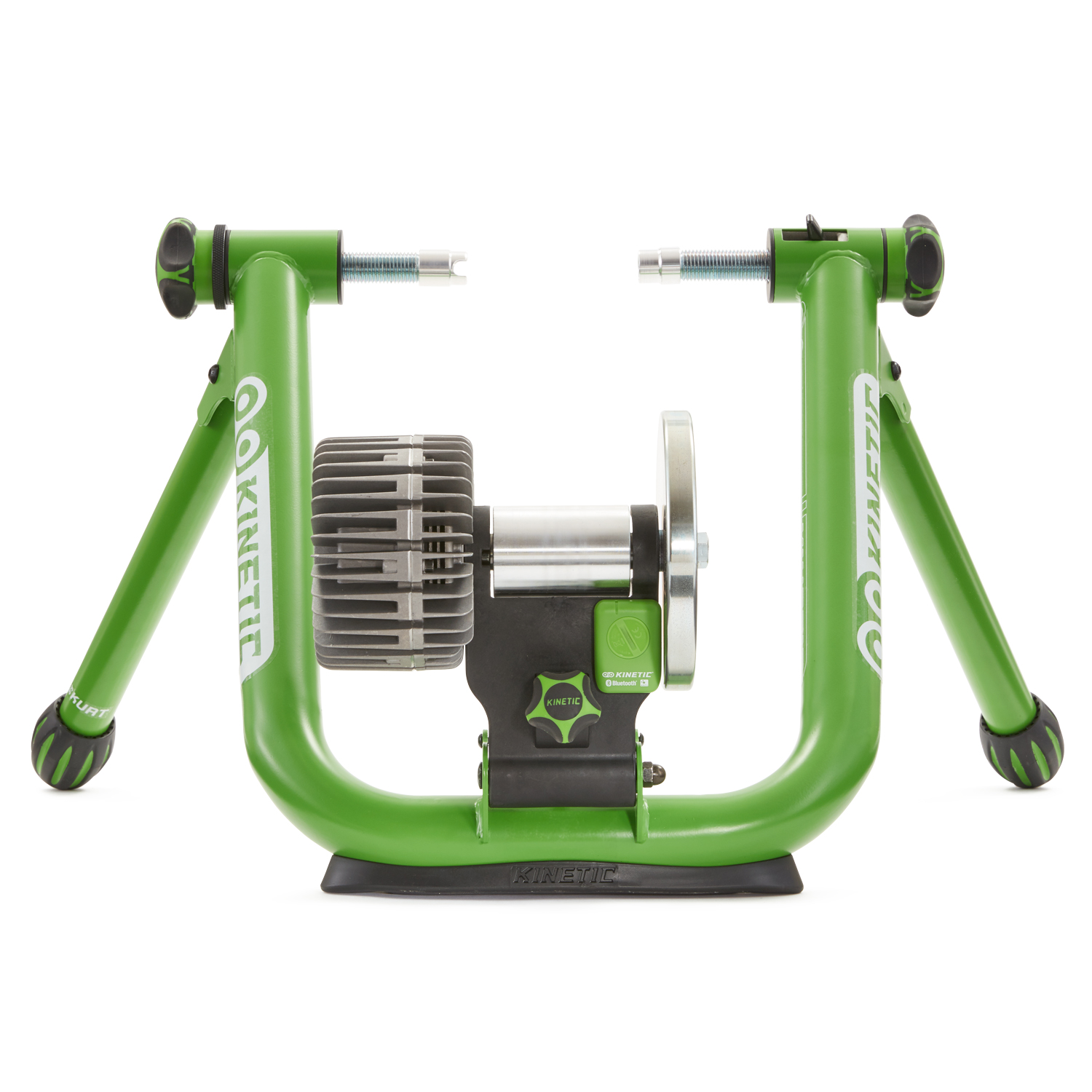 More Kinetic Road Machine Smart 2 Reviews
Own this trainer? Post a review!
Kinetic Road Machine 2 from jesselangevin September 30, 2020 


Purchased this trainer when I started Zwifting a couple years ago. Extremely well built and stable, no issues getting out of the saddle to "climb" or sprint. I feel like this trainer will last forever and can take everything I can throw at it. I eventually purchased a pedal based powermeter and started using that for my power reading. The trainer, like any other fluid trainer, does take 10-15 minutes to warm up and be properly calibrated so the numbers are accurate. I found trainer power reading to be quite accurate, until I started doing higher end intervals. I find the inaccuracies do start to be exaggerated beyond the couple % I see at lower watts.

I like the trainer combined with a pedal power meter so I have consistent readings between indoor and outside, but this trainer did work for a winter without any complaints from me.

Easy setup Realistic inertiaWell-built Budget-friendly
Kinetic Road Machine Smart provides a great low cost option to Zwifting from Bbones September 27, 2020 


This has been a great entry level trainer to get me into the world of Zwift. It's smooth and well built. Can be taken down and set up quickly. Calibration is easy with the Kinetic app. Connects easily by Bluetooth to my iMac. One of the best built fluid trainers on the market.

Easy setup Accurate power Realistic inertiaWell-built Portable/storable Quiet Budget-friendly
Good Entry Level Trainer from Craig September 25, 2020 


I enjoy using this trainer to help me get into shape and wanted something that was not more expensive than my road bike (Trek 1000 purchased in 2007). I cannot vouch for power accuracy, but I am also not trying to win any Zwift races 🙂 The customer service with Kinetic has been fantastic with the two minor issues I have had in the 3 years that I have owned this trainer.

Easy setup Helpful support Budget-friendly
It's hard to go wrong getting started with one of these. from Wik September 24, 2020 


While not exactly a "smart" trainer, the sensor that can be purchased separately and attached to any regular Kinetic Road Machine or Rock and Roll is fairly accurate (as can be seen in online videos, including GP Lamas video on the inRide sensor.) But after the Power Meter aspect of this trainer, it more resembles a nice dumb trainer, and it is just that!

And the real beauty of this trainer, is the price. In Canada it can be a little harder to locate equipment, but Road Machines last forever, so plenty of people are selling old ones used at great deals, another 65CAD for the inRide sensor and you got a budget smart trainer that is in my experience, much more accurate than any dumb trainer paired with a cadence and speed sensor.

To be fully transparent, Kinetic's inRide sensor is effectively taking the speed of the trainer and using that to calculate power, but they've really dialed it in.

If you're looking to get started with Zwift, these trainers are built well and get the job done well. No this isn't going to hold up to other smart trainers if you have the budget for a trainer that is actually fully smart with controlled resistance, but with up to 1500w resistance, it really is hard to beat for the money.

Easy setup Accurate power Well-built Quiet Budget-friendly
Budget Dumb Trainer with Power Meter from cappy September 22, 2020 


I do not have a power meter on my bike and had to pick a budget option. This trainer works as advertised and I have not had any trouble with it whatsoever. Calibrating it through the kinetic app is super simple and takes no time at all. I would highly suggest calibrating it before each use.

Easy setup Well-built Portable/storable Budget-friendly

Great entry level trainer but reads high from Bmac September 21, 2020 


Great entry level trainer, it reads about 30-60 watts high. I currently still use this trainer with a 4iiii power meter.

Easy setup

A Great Entry to Online Training from TKonvalin September 18, 2020 


If a direct drive is not in your budget you may want to look at the Kinetic Road Machine Smart 2 trainer. Now this is not smart in that it adjust resistance to match, say, Zwift or some other programs course profile. But it is smart in that it offers power and thus more accurate than simply allowing a program to estimate power from speed and cadence and other factors.

One issue I did find was that there was a lag in the power as you wind up the rear wheel roller. On a regular training workout this is not really an issue but if you ride in a group or race it can be troublesome. The issue is that the lag allows others to jump away and even though you may react immediately the power is not so you will get left for a bit. You may catch back on but then what I have found is that then the issue is your power may then be high and when you slow down to stop from over shooting the pack the power take time to go down and the suddenly you are off the front. This leads to a sort of pendulum effect that depending on a race or group ride can be very frustrating.

As I started with this is a great starter uint and if you can afford it I would suggest a rear wheel direct drive. But, if not then it is better to deal with the power issues of a rear wheel unit than not be able to train at all indoors. Again on rides where you are on your own or in a ride that is constant it works just fine.

I did end u getting a stages power meter and found the power numbers to be pretty similar but with the Stages it is far more responsive.

Check your budget and with most things buy what you can best afford and then just figure at some time you will probably want to upgrade.

Easy setup Portable/storable Budget-friendly

Portable, inexpensive, clever smart upgrade that doesn't do much from A. Marcu September 18, 2020 


It was my first "smart" trainer, because I was a poor college student. I started with a used one I bought from Craigslist for $75. Some time later I added the large flywheel which dramatically improved the ride feel. A year or two later, I bought the little smart plug and the Garmin Cadence/Speed sensors; that was awesome enough to use with Zwift and get solid use of the Kinetic mobile training app. I used this for 18 months while I saved up to pull the trigger on the Tacx NEO to replace this. Best decision ever. However, I kept the Kinetic for all these years. It's really portable, much lighter, and great for friends or guests to use alongside me. Today there are likely better choices, but I definitely got my money's worth.

Easy setup Well-built Portable/storable Budget-friendly
Affordable and reliable from gdean September 16, 2020 


As an entry-level trainer the Kinetic can't be beat. Ours has been in use almost daily for several years without issue. Just occasionally change the battery on the device that reads the power (2032 battery, same as many devices and sensors) and calibrate using the Kinetic app. The unit is quiet, with the right tires, and smooth. Resistance doesn't change on this model. To produce more watts on a hill you need to shift up a gear and push harder, which takes some getting used to. The few times I've had a power-meter equipped bike on the Kinetic the power readings seemed close. You also need to connect the trainer to Zwift through the Companion App. The few connectivity issues we've experienced were usually related to wifi problems.

Easy setup Well-built Budget-friendly
Best "Standard" trainer on the market from cmcneese September 16, 2020 


This trainer should be the first trainer people look at when they can't afford a mid-level smart-controlled trainer. It is reasonably quite, dead stable, feels great for a wheel-on trainer, and reliable to a fault. Buy one and you will never need another "dumb" trainer.

I suggest even keeping this as a reliable backup and better travel option once people finally upgrade to a smart-controlled trainer. We've seen enough issues with smart trainers, that having this as your backup is TOTALLY worth the space.

Easy setup Realistic inertiaWell-built Helpful support Portable/storable Quiet Budget-friendly

KK Road Machine from Coova September 11, 2020 


It's a rock-solid wheel-on trainer, the Zwift Zpower curve is a reasonable estimate, but I've found a 25-30W difference in my numbers now I have a crank-based power meter fitted. It's a great beginner to intermediate unit if you have a power meter on your bike. You won't out ride the flywheel and the resistance is excellent.

Easy setup Well-built Budget-friendly

A great fluid-resistance trainer, not so smart from Mousse September 10, 2020 


Was the best fluid trainer a few years ago before real smart trainers started to hit the market.
I have used it with the add-on freewheel to get a better road feel and that was fantastic.

Fluid based trainers, and this one in particular, does a great job to augment the resistance the faster we go, but has the inconvenient of not being reactive to terrain changes when zwifting (aka resistance increase when going up a hill). It makes a good cheap starter trainer for zwift or a great alternative for people not training with computers, if bought second hand.

Easy setup Realistic inertiaWell-built Portable/storable Quiet Budget-friendly
Great for endurance training from dirkdierickx September 10, 2020 


Great price, great build quality and very, very silent. The setup can be a little fiddly as you need to set up the roller against your tire, make sure the pressure in your tire is setup good and there is no wheel slip. However once you've got that done, it's a very nice trainer if you want to do steady endurance training (for example the SST trainings). The trainer is less suited for events or races (except time trails).
The things is that sudden surges in power are not measured well/correctly, however steady powerlevels are pretty accurate (compared with what powermeter reports), so it suits to those use-cases more.

Easy setup Well-built Portable/storable Quiet Budget-friendly
Kurt Kinetic Road Machine Smart from jasonanthonysmith87 September 8, 2020 


These trainers have been around for a long time, and will likely be around for a lot longer. Realistic road feel, bulletproof, and you can always find one second hand for a good deal. If you are just getting into training indoors, start with the Road Machine.

Fun trick - any road machine can be turned into a "Smart" trainer (ie. can send power data to a device) by buying a Kurt Kinetic inRide pod from your LBS. They haven't changed the fluid unit, and the inRide pod is essentially a bluetooth speed sensor. All you need to do is get your bike on the trainer, use the Kinetic Fit app (free) to do a spindown calibration to calibrate your power numbers, and you're ready to Zwift!

Easy setup Realistic inertiaWell-built Budget-friendly
Quality Entry Level Trainer from T Nitty September 6, 2020 


This is not a review for the newer R1 or any "controllable" Kinetic trainers.

Kinetic trainers are known for their dependability and power accuracy. The fluid resistance, while not controllable, is very realistic. A heavier "pro" flywheel is also available. Cadence can be a bit erratic compared to a dedicated cadence sensor. The inRide sensor Bluetooth connection is very reliable. I use Zwift on Apple TV, iPhone (Zwift companion app), iPad, and MacBook Pro with no issues.

Power accuracy requires consistent tire PSI, trainer tightening, and spin down calibration using the Kinetic Fitness app.

Easy setup Accurate power Realistic inertiaWell-built Budget-friendly