CycleOps Hammer
Direct Drive Trainer

CycleOps was a little late to the smart trainer game, but when they entered it with the Hammer in mid-2016, they made waves! This model was updated to the H2 in 2018 and later rebranded under the Saris name.
Key Specs
MSRP: $1199.99 USD
Accuracy: +-3%
Flywheel: 20lb
Max Wattage: 2000 W
Max Incline: 20%
Where to Buy
This trainer is no longer in production, but you may find a good deal on used or old stock.
More Details
Brand:

Saris

Year Released: 2017 (No longer in production)
Axle Compatibility: 130/135mm quick release, 12x142 and 12x148 thru-axle
Requires Calibration
Weight: 20.3kg
Cadence: Built In
Communication: ANT+ and Bluetooth
Physical Dimensions: 31" x 19.5" (78 cm x 49 cm)
Overall Rating

4.3 stars
based on 28 reviews
Easy setup
86%
Accurate power
86%
Realistic inertia
82%
Well-built
86%
Helpful support
39%
Portable/storable
32%
Quiet
14%
Budget-friendly
29%
Original version but still a very good trainer from Ricky Dee October 1, 2020 


I bought this turbo just as the H2 was about to be released so got it at a good price. I'm glad I did because it's lasted superbly, and I don't feel I'm missing out on anything by not upgrading ("road-feel" is perhaps the only nice-to-have that's missing).

It has a realistic inertia feel, and the power output matches my powermeter. Gradients feel realistic, although there is sometimes a small lag during rapid gradient changes (the rollers in Crit City for example), or at the end of an ERG workout segment it will hold on to the higher wattage for a second or two longer which (to my later regret) results in some choice words being shouted at an inanimate object.

With that said about the ERG segments, during the "Classics" workout series where sections were measured in seconds rather than minutes, the Hammer handled this far better than a friends Elite Directo which struggled to keep up with the constant & rapid changes of power.

It's very stable, even when I forget to fold out the second leg after I've tucked it out the way if I've had to tidy up the garage for a while.

Grumbles, however minor, include the power cable/socket which looks like a weak point, and more relevantly as there is power button on the turbo itself, if it goes to sleep (e.g. you login to Zwift, then take too long to get your bidons etc ready), then the only option is to pull the power cable out and back in again because it won't "wake" by itself.

"Quiet" is relative with turbo trainers, but this one is quiet enough. It did get noisy for a while (a grinding sound from the internals most noticable as you freewheeled to a stop) and I feared it was dying, but some belt condtioner spray from a car shop solved this easily.

Overall, although you can't buy these new anymore, a secondhand one would make a very good choice for those not wanted to spend a fortune on a new one.

Easy setup Accurate power Realistic inertia Budget-friendly
Solid, but not outstanding from jmpatenaude September 30, 2020 


Generally speaking, I find the Hammer provides accurate power with smooth, realistic transitions in resistance when climbing or going through rolling terrain and is reasonably priced for a direct drive trainer.

It's fairly quiet, and is solidly built - I am stable on the bike, even when out of the saddle. That weight does make it less easy to move - the stabilizer legs fold in for a narrow storage profile, but it's heavy enough that I wouldn't want to have to move it regularly.

Initial setup is a little tougher than some trainers, since you have to install the cassette (which is not included) yourself, and installation requires specialized tools like a chain wrench. Once it's installed the calibration software is pretty straightforward to use.

The Hammer still occasionally has connection issues with Zwift, particularly on workouts where the ERG can be inconsistent, though I'm not sure whether that lies with the trainer or with Zwift. I ride 6 days a week, and probably have connection issues 2-3 times a month.

All in, while it's probably not the top of the line, I'm happy with the Hammer, and for those who want to get a reliable, accurate direct drive trainer and spend a little less, it's a good choice.

Accurate power Realistic inertiaWell-built Helpful support Budget-friendly
Awesome Trainer from Berns September 24, 2020 


I really like the trainer. It has a very realistic feel to it. I have some issues with Ant+, but not sure if it is the trainer or my computer that has the problem.

Easy setup Realistic inertiaWell-built
Really Like this Trainer from Coode September 24, 2020 


This smart trainer works really well and has fairly easy setup, it occasionally disconnects itself from Zwift but other than that it works great.

Easy setup Accurate power Realistic inertiaWell-built
Great Trainer from Barney September 22, 2020 


Only thing is the belt gets really loud when the unit ages - but car belt conditioned when sprayed on and wiped (carefully) works a treat -
Also had overheating issues with this unit when there was room temp was above 25c (fix was get fan to blow directly on trainer)

Easy setup Accurate power Realistic inertiaWell-built Helpful support Portable/storable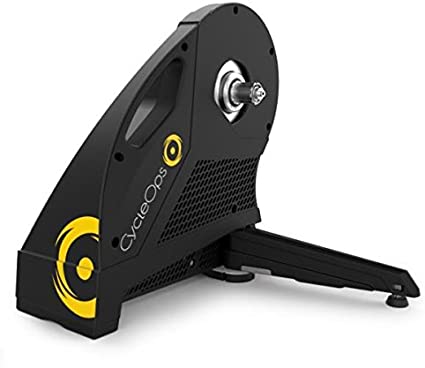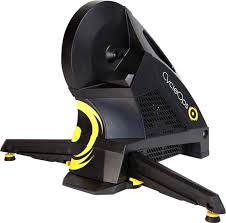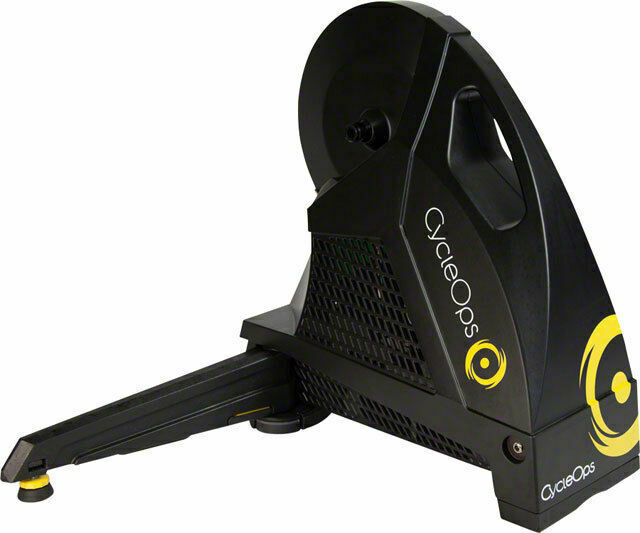 More CycleOps Hammer Reviews
Own this trainer? Post a review!
Original version but still a very good trainer from Ricky Dee October 1, 2020 


I bought this turbo just as the H2 was about to be released so got it at a good price. I'm glad I did because it's lasted superbly, and I don't feel I'm missing out on anything by not upgrading ("road-feel" is perhaps the only nice-to-have that's missing).

It has a realistic inertia feel, and the power output matches my powermeter. Gradients feel realistic, although there is sometimes a small lag during rapid gradient changes (the rollers in Crit City for example), or at the end of an ERG workout segment it will hold on to the higher wattage for a second or two longer which (to my later regret) results in some choice words being shouted at an inanimate object.

With that said about the ERG segments, during the "Classics" workout series where sections were measured in seconds rather than minutes, the Hammer handled this far better than a friends Elite Directo which struggled to keep up with the constant & rapid changes of power.

It's very stable, even when I forget to fold out the second leg after I've tucked it out the way if I've had to tidy up the garage for a while.

Grumbles, however minor, include the power cable/socket which looks like a weak point, and more relevantly as there is power button on the turbo itself, if it goes to sleep (e.g. you login to Zwift, then take too long to get your bidons etc ready), then the only option is to pull the power cable out and back in again because it won't "wake" by itself.

"Quiet" is relative with turbo trainers, but this one is quiet enough. It did get noisy for a while (a grinding sound from the internals most noticable as you freewheeled to a stop) and I feared it was dying, but some belt condtioner spray from a car shop solved this easily.

Overall, although you can't buy these new anymore, a secondhand one would make a very good choice for those not wanted to spend a fortune on a new one.

Easy setup Accurate power Realistic inertia Budget-friendly
Solid, but not outstanding from jmpatenaude September 30, 2020 


Generally speaking, I find the Hammer provides accurate power with smooth, realistic transitions in resistance when climbing or going through rolling terrain and is reasonably priced for a direct drive trainer.

It's fairly quiet, and is solidly built - I am stable on the bike, even when out of the saddle. That weight does make it less easy to move - the stabilizer legs fold in for a narrow storage profile, but it's heavy enough that I wouldn't want to have to move it regularly.

Initial setup is a little tougher than some trainers, since you have to install the cassette (which is not included) yourself, and installation requires specialized tools like a chain wrench. Once it's installed the calibration software is pretty straightforward to use.

The Hammer still occasionally has connection issues with Zwift, particularly on workouts where the ERG can be inconsistent, though I'm not sure whether that lies with the trainer or with Zwift. I ride 6 days a week, and probably have connection issues 2-3 times a month.

All in, while it's probably not the top of the line, I'm happy with the Hammer, and for those who want to get a reliable, accurate direct drive trainer and spend a little less, it's a good choice.

Accurate power Realistic inertiaWell-built Helpful support Budget-friendly
Awesome Trainer from Berns September 24, 2020 


I really like the trainer. It has a very realistic feel to it. I have some issues with Ant+, but not sure if it is the trainer or my computer that has the problem.

Easy setup Realistic inertiaWell-built
Really Like this Trainer from Coode September 24, 2020 


This smart trainer works really well and has fairly easy setup, it occasionally disconnects itself from Zwift but other than that it works great.

Easy setup Accurate power Realistic inertiaWell-built
Great Trainer from Barney September 22, 2020 


Only thing is the belt gets really loud when the unit ages - but car belt conditioned when sprayed on and wiped (carefully) works a treat -
Also had overheating issues with this unit when there was room temp was above 25c (fix was get fan to blow directly on trainer)

Easy setup Accurate power Realistic inertiaWell-built Helpful support Portable/storable
Solid, reliable, noisy from Rsp8 September 21, 2020 


I've owned the Hammer since it was a 3 horse race between it and the original Tacx Neo or the Wahoo Kickr v2. I'm happy with the choice I've made, it's still going strong and has given very little trouble. Extremely rarely I'll get a 'lock' on to a certain wattage and just sit there which requires unplugging and rebooting, it's happened probably 3 times in hundreds of rides.
Maintenance is easy, I've replaced the belt and sprayed the new one with belt conditioner which quietens it down a bit, and put some more grease in the free hub, but it is still a noisy unit by today's standards.
Weak points? The whole unit is either 'over-engineered' or 'a bit home made' depending on which way you look at it. The power connector especially is a real weak point and easily damaged if you are careless (later models changed it). The benefit is that you can easily disassemble it for maintenance if required.
Of late, Saris's customer service seems to be getting a bit of a bad reputation for lack of responsiveness. Maybe it's just the 2020 phenomenon, or maybe there are issues with company structure and resources, I'd think hard about a replacement for this reason (but given the involvement of Garmin in Tacx I'd probably replace with a Wahoo).

Easy setup Accurate power Realistic inertiaWell-built
Hammer review from kc5qqn September 16, 2020 


Immediate connection and good feeling on acceleration.

Easy setup Accurate power Realistic inertiaWell-built
Still going! from Coach Christian September 12, 2020 


This is a first generation Hammer and it is still going strong. Admittedly, until this year I didn't do the majority of my rides on it, but since March, it's been in use nearly every day and for a 3 year old smart trainer, it works like a dream.

Easy setup Realistic inertia
Still not tempted to upgrade after 3 yrs of use from Liam September 10, 2020 


A few years ago I originally chose this trainer for the heavy flywheel and ever since, have been really happy with the 'feel' of this trainer. After trying a couple of friends' newer Elite trainers recently, they just don't offer the same feeling of rolling along at a given speed with the same convincing feeling of inertia.

Connectivity options are still current in 2020 (ble and ant+), and updating the firmware and performing the occasional spin down calibration is easier than ever with the relatively new Saris app.

A couple of years ago I would have taken a star or two off my rating for some bluetooth dropout issues in Zwift along with some difficulty re-connecting without quitting and restarting the app. Subsequent trainer firmware updates, bluetooth drivers and zwift updates have fixed this issue and thankfully it has been quite some time since I have encountered those connectivity issues.

Physically, the trainer has been solid, with no maintenance issues coming up with well over 10000km of use. It's a little noisier than I would prefer (including a very noisy freehub), but not bad enough to list as a con (just that there are quieter options now available).

I'd suggest that this is still a very decent trainer in 2020 for someone looking in the second hand market.

Easy setup Accurate power Realistic inertiaWell-built
Hammer Time from David September 10, 2020 


Quiet, easily applies grade changes to resistance, easy to maintain and accurate power data

Easy setup Accurate power Well-built Helpful support Portable/storable Quiet
Miles of smiles from Sdponte September 9, 2020 


Nearing Zwift level 50 with this singular trainer. Wore out a bike derailleur, a couple of cassettes, numerous firmware updates... The trainer is still performing like a workhorse.

Easy setup Accurate power Realistic inertiaWell-built Helpful support Portable/storable Quiet
CycleOps Hammer Review from PeteW September 9, 2020 


I've been fairly impressed with the Hammer. Got it three years ago and it is still running fine. It is nosier than some other brands but don't really find it a problem. Does make a couple of weird clunking sounds every so often but that go when you change gear. Power and cadence seem pretty accurate. Hills really hills like in the virtual worlds!

Easy setup Accurate power Realistic inertiaWell-built Helpful support Portable/storable
2 year review of CyclOps Hammer from Henry H September 9, 2020 


Generally very pleased with how this trainer has worked. I have used it 3-4 times per week for 2 years. Initially I had some problems with power drop outs, but after a bit of 'trial an error' with bug fixes it now works fine. Very occasionally the power will 'stick'....... i.e. it carries on at the same power, regardless of how hard I'm pedalling (but this happens only about once in 50 or so rides).
I have compared the power from the trainer with Assioma power meter pedals & it seems to be very close.

Easy setup Accurate power Realistic inertiaWell-built

CycleOps Hammer review from treddi September 8, 2020 


Heavy, prone to rusting, noisy, slow reaction to Zwift game, accurate

Accurate power
CycleOps Hammer from JonL September 8, 2020 


I give this trainer a 5 star rating, it's the original Hammer model, great if you are looking for one on used market. I have over 20,000 miles on Zwift on this Trainer. Never an issue, and still running strong. Great firmware support from Saris App with updates and trainer calibration tool. Longevity I think is a great review of any product and I've had this trainer since 2018, with as stated 20,000 miles of riding and racing on Zwift.

Easy setup Well-built Helpful support Budget-friendly
Cycleops Hammer from ctgivens September 8, 2020 


The Cycleops Hammer has been a very solid trainer for me.

Accurate power Well-built
Cycleops Hammer from pquirkpgh September 8, 2020 


Great trainer, they replaced the electrical cord after one year, it would drop rides. The cord and not easy calibration are the only issues I have had in 2 years.

Easy setup Accurate power Realistic inertiaWell-built Helpful support Budget-friendly
Hammer Time from p602900 September 8, 2020 


I have one of the original CycleOps Hammer trainers. They are now sold under the Saris label and are 3rd generation Hammer III, the main difference being a more silent belt drive over the chain drive that my Hammer has. I never noticed my Hammer was noisy. After 3 years, I have yet to experience even a glitch in the operation of this smart trainer. I use mine mainly during the winter, but there is over 3,000 miles on it. I use it primarily on Zwift, but I have tried Rouvy as well. I highly recommend this product. I think it is reasonably priced at $999.99 MSRP.

Easy setup Accurate power Realistic inertiaWell-built Helpful support Portable/storable Quiet Budget-friendly
Love my trainer from Steven September 8, 2020 


Easy to set up, quite, seamless connection via bluetooth,

Easy setup Accurate power Realistic inertiaWell-built Quiet
Best road feel from Scott September 8, 2020 


Of all the trainers I own (Kickr 2017, Neo, Hammer) I use the Hammer more than any of them for one simple reason, feel. With the extremely heavy flywheel, the Hammer has the best inertia, which is hard to explain unless one is able to ride the others. It's also extremely stable when sprinting on it compared to a Kickr. I would give this 5 stars but the cadence sensor is not accurate, it underreads usually by 10 rpms, it is also a bit louder than I would like, on par with the early versions of the KICKR.

Easy setup Realistic inertiaWell-built Helpful support
Excellent trainer from SSF September 8, 2020 


Purchased new as a discounted older model to the H1. A heavy unit but works great with no issues in well over 2 years of almost daily use and installed on a SBC "Rocker Plate".

Easy setup Accurate power Realistic inertiaWell-built Helpful support Portable/storable Budget-friendly
Smart trainer thats practical, reliable and good value for money from P Staps September 8, 2020 
Easy setup Accurate power Realistic inertiaWell-built Portable/storable Budget-friendly

CycleOps Hammer Review from Joe September 8, 2020 


Setting up the trainer was easy enough and has a good real world feel to it. That said, it was loud. So much so that I sold it on ebay and bought a Saris H3.

Easy setup Accurate power Realistic inertiaWell-built Budget-friendly
Hammer review from Ed September 8, 2020 


Lots of noise.

Easy setup Accurate power Realistic inertiaWell-built
CycleOps Hammer Love Hate Relationship from Cstew1 September 8, 2020 


I've had my Hammer for 3 years now. When I first got it, I had a hard time getting it to update the firmware. You had to do it through a convoluted process using Rouvy software. It has gotten better now that there is an app. Still not great. The Hammer's power block wire had a short in it that gave me problems and I had to buy a new one. It's loud and seems to have become louder over time. I think I have 3K miles on it now. It does replicate grades well and the resistance changes are quick and responsive. It's done the job and it's the only smart trainer that I have any experience with. I'm not certain if I would upgrade to another Saris product in the future.

Accurate power Realistic inertia

CycleOps Hammer from Jimmyc September 8, 2020 
Easy setup Accurate power Well-built Helpful support Portable/storable
The original, a bit noisy but very good from Nick September 4, 2020 


We have two direct-drive smart trainers in the house, an original CycleOps Hammer, H1 if you will, and a Kickr Core. A his and hers - well that's how it began at least. The Hammer is built like a tank, has a massive 20lb flywheel that provides excellent road feel and really hits its power numbers smoothly in ERG mode, significantly so in the small chainring although you can overdrive ERG mode in the big ring when sprint efforts are called for, the flywheel is tough to slow when it gets going.

The Hammer is louder than the Core, you can hear the noise difference but it still pails in comparison to our 20" floor mounted fans.

I have tested its power accuracy against a Quarq and a 4iiii left side crank arm. I have not been able to test all three simultaneously but Quarq vs Hammer and 4iiii vs Hammer each resulted in power numbers that were within the manufacturer specification of 3%, I actually observed less than 2% difference. In those tests the power meters were zero offset after a 10 minute warmup and the Hammer received a spindown calibration.

With respect to spindown calibration, I have to do that through a separate Saris app, I can't initiate it through an Apple TV when using Zwift. A bit of an inconvenience but it doesn't need to be done particularly often. The Hammer is mostly connected to the aforementioned Apple TV using BTLE. It provides power and cadence data but its one caveat is that cadence data could be more robust - it is fine for steady riding but can get a bit choppy with significant changes. The trainer is obviously controlled by Zwift through the Apple TV using BTLE. We have also connected it using Ant+ and had no issues.

As noted at the beginning, the Hammer was a his and the Core was a hers. I'm the cyclist, my wife rides Zwift for fitness. She decided that she prefers the inertia of the Hammer and took over my trainer. The boss spoke - happy wife, happy life!

If I had to choose between the Hammer and the Core my nod would be to the Hammer especially if no power meter is available. Its inertia is better and I don't get power drift that I tend to experience on the Core. One thing I do like about the Core is that I can control it with my crank-based power meters. I might be able to do that with the Hammer too but I have been kicked to the Kickr!

Easy setup Accurate power Realistic inertiaWell-built Portable/storable
Hammer H1 review from rogerio September 4, 2020 


I train 8 hours ir more per week in it for more than 3 years without any maintenance!

Easy setup Accurate power Realistic inertiaWell-built