A new Kickstarter project has been making the rounds in Zwift groups lately – the Shift Smart Trainer. Here's how creator Steven Booysen describes it:
"A smart device for your Peloton, unlocking the world of Zwift with automatic resistance changes. No modifications, no cables, no fuss."
Cyclists and spin enthusiasts alike know that Peloton is a big deal in the world of spinning. with over 3 million paying subscribers, 1 million+ Peloton Bikes sold, 1,800 employees, and a market value of ~$30 billion. And while the Peloton Bike costs a pretty penny, it doesn't connect directly to Zwift. The Shift Smart Trainer aims to change that. Here's the intro video:
How Does It Work?
The Shift sends and receives Bluetooth signals and easily mounts onto your Peloton Bike (or the new Bike+), automatically controlling the big red resistance knob. Zwift sees Shift as a smart trainer, so it sends incline data to Shift, which then increases your resistance to match the incline.
Since Shift knows which resistance setting you're on, it can use calibration data and known Peloton Bike power curves to transmit estimated power numbers back to Zwift. Viola! A "smart trainer" unlike any smart trainer you've seen before!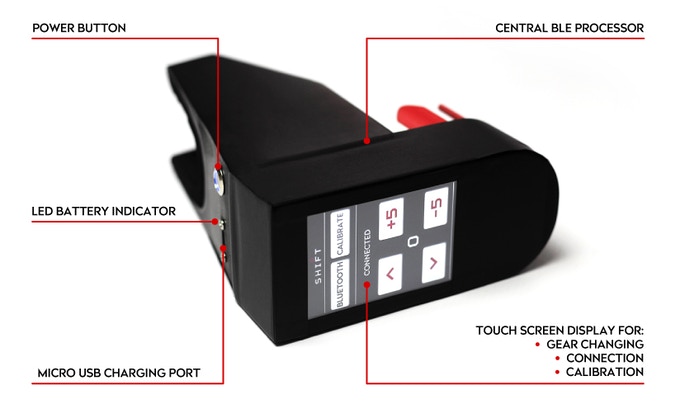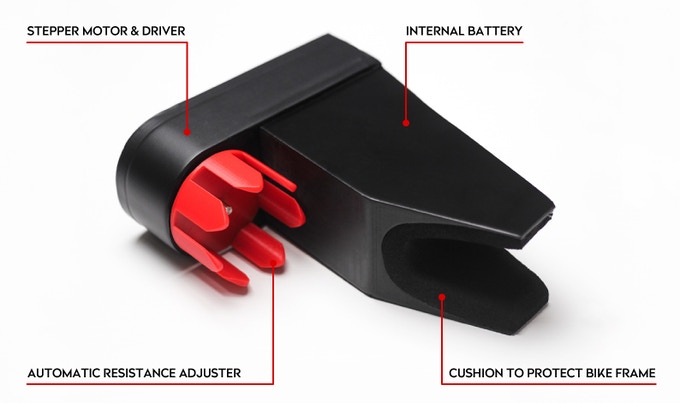 It also supports ERG mode.
A separate cadence sensor is required, mounted easily enough on your shoe or crank arm.
What About Shifting/Gearing?
The Shift doesn't just turn up the resistance to simulate hills – it has an integrated touch screen so you can easily tap to virtually "shift" your bike, changing resistance as if you're changing gears.
Accuracy
Shift's documentation says, "To ensure you have a consistent experience across Peloton and Zwift we have built our digital power curve (see above) to mimic Peloton's power curve. We expect a power accuracy of ~10%, which is identical to the accuracy disclosed by Peloton."
10% accuracy isn't very impressive against top-rated smart trainers boasting 1-2% accuracy. But 10% is the same accuracy Peloton delivers on its own platform, so perhaps Peloton users won't be too fussed about it. (Picky riders could always invest in a set of power pedals to get super-accurate power while enjoying the automatic resistance changes of the Shift.)
Pricing
Early supporters of the Kickstarter campaign can get Shift for £160 (~$213). Standard price is £200 ($267).
Final Thoughts
Zwift CEO Eric Min has said in interviews that they don't view Peloton as competition, because their products and target audiences are very different. And while that's somewhat true, it's also true that there is plenty of overlap between the two company's offerings. The Shift is born from that overlap.
Many Zwifters already own Peloton Bikes – in fact, a fair number of cycling families have both a Zwift and Peloton setup. By the looks of it, Shift could provide the most engaging Zwift experience available yet for Peloton Bike users. But is that something Peloton owners are interested in? Or is this a solution to a problem that doesn't really exist?
With only $13,100 pledged toward the $256,337 "all or nothing" goal (deadline Jan 17, 2021) it may just be that there aren't enough Peloton Bike owners interested in Zwifting to get this project off the ground. We'll know soon enough.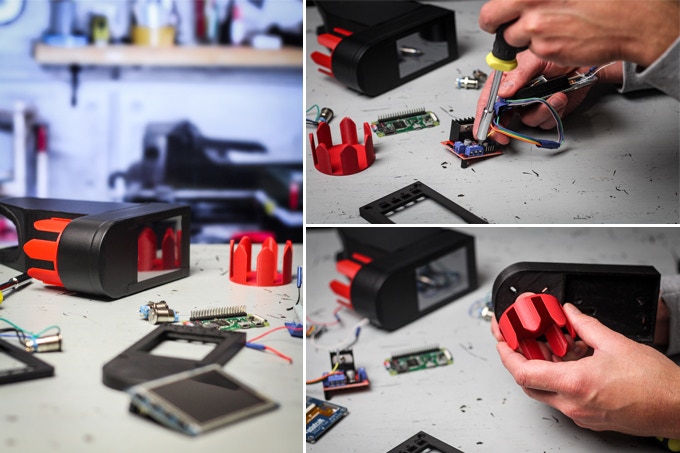 Your Thoughts
Does the Shift Smart Trainer appeal to you? What are your thoughts? Share below!