If you look around the Zwift Riders Facebook group it won't take long to find several posts from people announcing their latest accomplishments: FTP increases, long rides completed, Tron bike procurement and so on. But not everyone likes to fly their own flag, so we're here joining a growing number of Zwifters to fly the flag of a certain lady Zwifter who was going to silently hit a pretty big milestone in a matter of days!
Sharron Yaxley, affectionately known as "The Mink" is about to hit the 100,000km mark on Zwift! The first woman to ever hit it, with only 8 men getting the milestone before her.
A Little Background
Born and raised in Tasmania, the island state of Australia, 57-year-old Sharron was not what you'd call athletic or a cyclist. Between being raised without encouragement to be athletic, her full-time job as an accountant, and raising 4 children all very close in age there wasn't much time to take care of herself.

Three of her kids all accomplished national level athletic status, and the fourth got himself a PhD. It seems they were well on their way to successful lives when Sharron found more time to take care of her own health. Sharron started road riding but found the climate on her island to be fickle. A friend told her to Google "Zwift" four years ago, and the rest is history!
Zwifting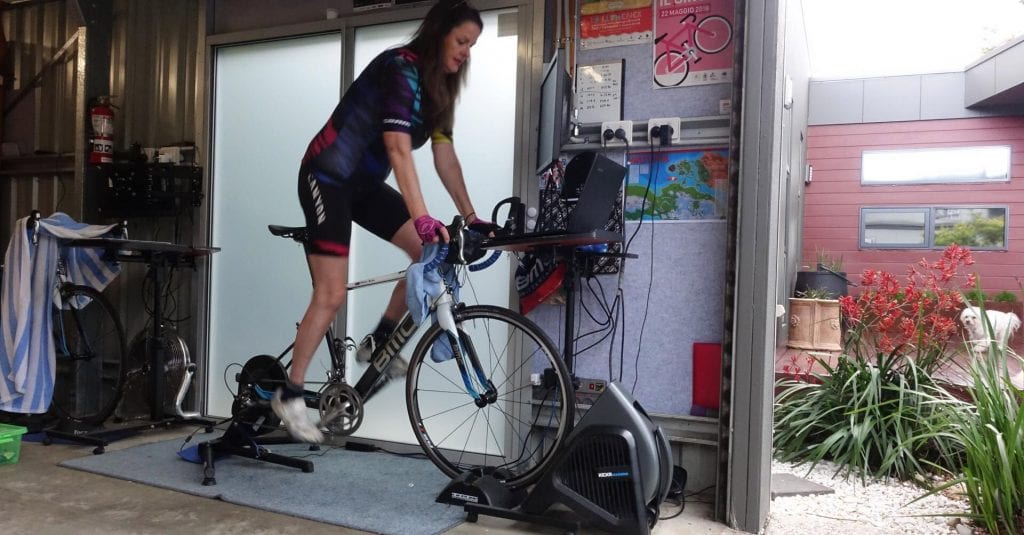 On a typical day you'll find Sharron popping out of bed at 4:45am, grabbing a cup of much-needed coffee and heading to Zwift in her garage. She rides her oldest and first touring bike, a BMC GFC01 set up on a Wahoo Kickr until it's time to get ready for work, usually around 8am. That's a ~3-hour ride every morning, riding up to 100km every day!
After work she does a stretching program, except on Wednesdays when she hops back on in the evening to lead the Crikey Down Under ride. This event is a bit of a fun cat-and-mouse sort of ride, be sure to join her on it! Saturdays are her endurance days where she'll ride around 150-200km, up to 12 hours or more. Because of the circumstances of COVID-19 she's careful not to deplete her immune system these days, adding that ride-recovery takes longer the older you get.
Sharron laughingly said that when she first started on Zwift she couldn't keep up with anyone. Her first event was ZWOZ (out of Western Australia) where she kept getting dropped, after which the ride leader gave her some tips on drafting. She intentionally practiced the tips by jumping into the drafts of groups that would ride by. She got better and was able to hold on in the events longer and longer.
As Sharron continued on Zwift she has found it a great place to push herself without fear of cars, dogs, intersections, and weather. She mostly prefers riding in Watopia. Her favorite rides are endurance or interval-based. Zwift has also been a great tool for her to train for IRL cycling tours, a new passion of hers.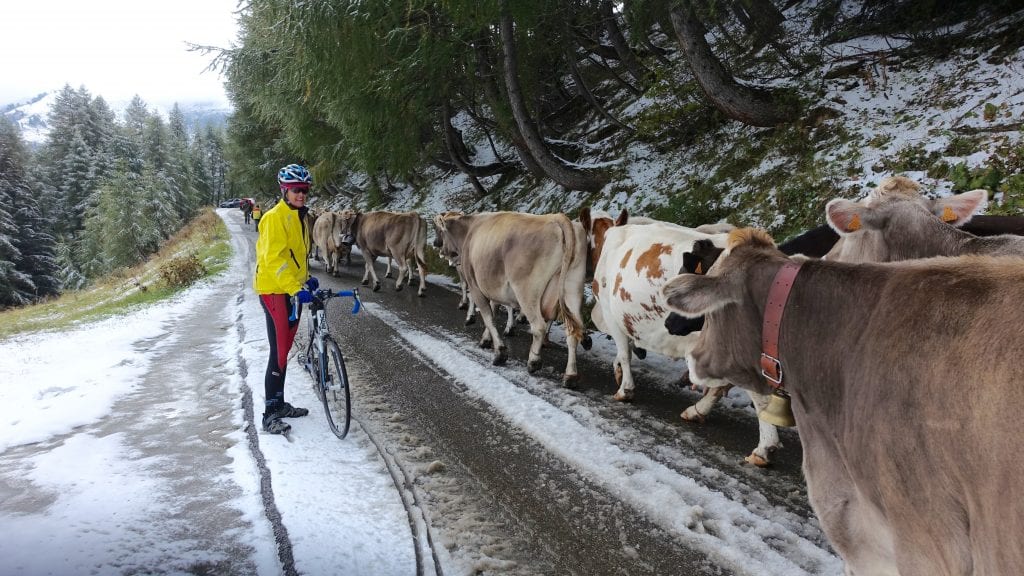 IRL Rides
Last year Sharron took a trip where she rode with others across 8 countries in Europe, for a distance of 3300km. She's also done Lands End to John O'Groats (~1700km), London to Venice (2200km), and Bordeaux to Barcelona, to name a few.
One of her more epic rides was 1150km she did solo over 10 days. It was a round-trip from Aukland to Cape Reinga, New Zealand. She had mapped it out meticulously, had a tracker beacon and booked accommodations. The night before she left a Kiwi friend sent her a message, "You can't go that way — too dangerous." That threw her, but apparently not enough. She still went. On Day 2 Cyclone Hola swept through her mapped-out ride, winds expected at 150 km/h. She had no plan B so pressed on. The winds weren't as bad as anticipated, but the rain was almost too much. She made it to the end of the route and found that she had far more tenacity and depth of strength than she could have ever guessed.

An Amazing Indoor Feat
A few years ago Sharron competed in a 24-hour team challenge on Zwift, and quit 17 hours in, physically and mentally drained. She was determined to one day do the entire challenge and found the timing was right this last August 19th. It was a day when her husband Tony was going to be away and she'd just finished leading the 100km Mink Centurion (now called Endurance 101). She was feeling fit and strong and thought, "Well, it's now or never."
As she rode, without telling anyone her goal, she found she was almost never alone. She likens it to the scene in Forrest Gump where he runs across America and people just kind of appear and run with him for portions of it. She ended up riding a total of 836km (only 15 of which she guesstimates she rode alone)!
As she continually added distance people started noticing and would pop on to say hi, or would send her a note of encouragement on Facebook at 3am. It touched her heart. It was at that point that she found such encouragement and support from the TBR Club that she decided she must officially join them! When she finished the 24 hours she cried–both from physical and mental exhaustion, as well as being touched by the generosity of other Zwifters.
Community on Zwift
Sharron is yet another Zwifter who has found that Zwift isn't just a great training platform but also a place to find real lifelong friends. She fondly speaks of Miroslav (Mirek) Horak, a Zwifter from the Czech Republic that she loves like a brother. She and Tony have stayed with Mirek and his family and plan to see them again in the coming years.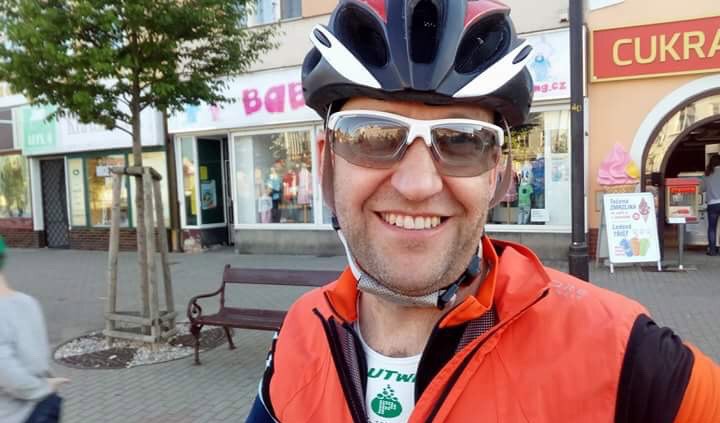 Sharron also mentions a cohort of Zwift friends in New Zealand and the UK, all of whom are on her bucket list to visit in real life.
The Zwift Community is also where Sharron got her nickname "The Mink." When she first started on Zwift she was a part of the SAS Team. Having given animal nicknames to other Zwifters she nearly ended up being called "The Armadillo." After googling other options she found the Mink: short, sharp and furry! The name stuck and since then she's championed IRL minks who are sadly farmed for their fur and eyelashes (she adds: ladies, please do not purchase genuine mink eyelashes!)
A Keto Diet
Some have heard that Sharron is on a keto diet even as an endurance cyclist and there are a few outspoken ones who give her grief over it. Sharron has found that while it doesn't work for everyone it works for her. She has severe knee issues that came on after a grass skiing accident years ago. More recently she was told she wouldn't be able to ride more than 5km at a time due to her knee issues. She works really hard to keep inflammation down and a keto diet is one way of doing that. Her 100,000km on Zwift is pretty great proof of that!
As an example of her way of fueling, on her 24-hour ride she had: veggie soup, cheese and feta muffins, fat bombs, plenty of cheese, and a whole meal with Atlantic salmon and veggies. Her favorite meal on that ride was the soup as it was easy to digest and perfect for a warm middle of the night meal.
Hitting the 100,000km mark
If you want to follow Sharron as she hits 100,000km follow her on Zwift, or check out the Facebook page set up in her honor: Mink Hits 100,000km.
She has graciously allowed us to follow this journey and plans to hit her mark on Friday, April 10 around 3:30pm AEST. A special Zwift event has been set up so we can all join Sharron as she hits this milestone!
Ride On, Sharron! As we know you will!