The Spin and Sprint (SAS) Cycle Club is a team of Zwifters based in Australia and led by Col Brown from Campbelltown, NSW. The club motto, "We Spinneth, We Sprinteth & We Taketh the Pith" is Col's quirky tribute to Monty Python, and a hint that there is a lot of banter during their group rides. As Col says, "That's what makes it so much fun, it also makes the kilometers go by faster!"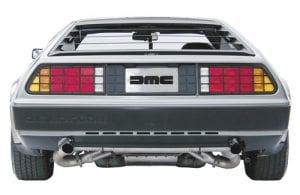 On Friday, October 20, a group of SAS riders got together for a rare outdoor group ride, taking part in the 12-hour Endure for a Cure event. Their goal was to raise $10,000 (AUD) but to date they have raised $33,150.00 (AUD). Awesome job!
The 23-strong team was supported by their sponsor Nick Holden, who brought a DeLorean along to entertain the kids. See ride photos and more here >
SAS has already begun preparations for the next Race 4th May 2018 (Star Wars Day).
Interested in joining SAS on some of their Zwift rides? Check out their ride schedule at spinandsprint.cc, and/or join their Facebook group.