Thanks to two years of Covid craziness we haven't seen many new hardware products in the Zwift space (think trainers, power meters, and pain cave accessories). But today Wahoo made some waves by releasing not one, but two new products. Let's dig into the details…
Wahoo KICKR ROLLR Smart Roller
The Wahoo KICKR ROLLR is a smart roller system, but perhaps not quite what you think of when you think "smart roller":
Your front wheel is locked in (not spinning), so this isn't a "full bike" roller but rather what Wahoo calls a "dual roller" design. This makes it easier to hop on and ride without worrying about the inevitable roller crash, but it also means you don't get the more realistic outdoor feel provided by "full" rollers, which are a great way to work on pedaling smoothness and your ability to hold a line.
The ROLLR has no built-in power meter (it's smart… but not that smart). Rollers simply aren't good at accurately detecting power, so Wahoo didn't even attempt it. Instead, they let the ROLLR pair to your power meter, and the ROLLR then re-broadcasts your power meter's numbers as its own. This is "smart" – but the ROLLR is also smart because it broadcasts speed and its resistance is controllable, allowing it to simulate hills or work in ERG mode when paired to a power meter.
Product Gallery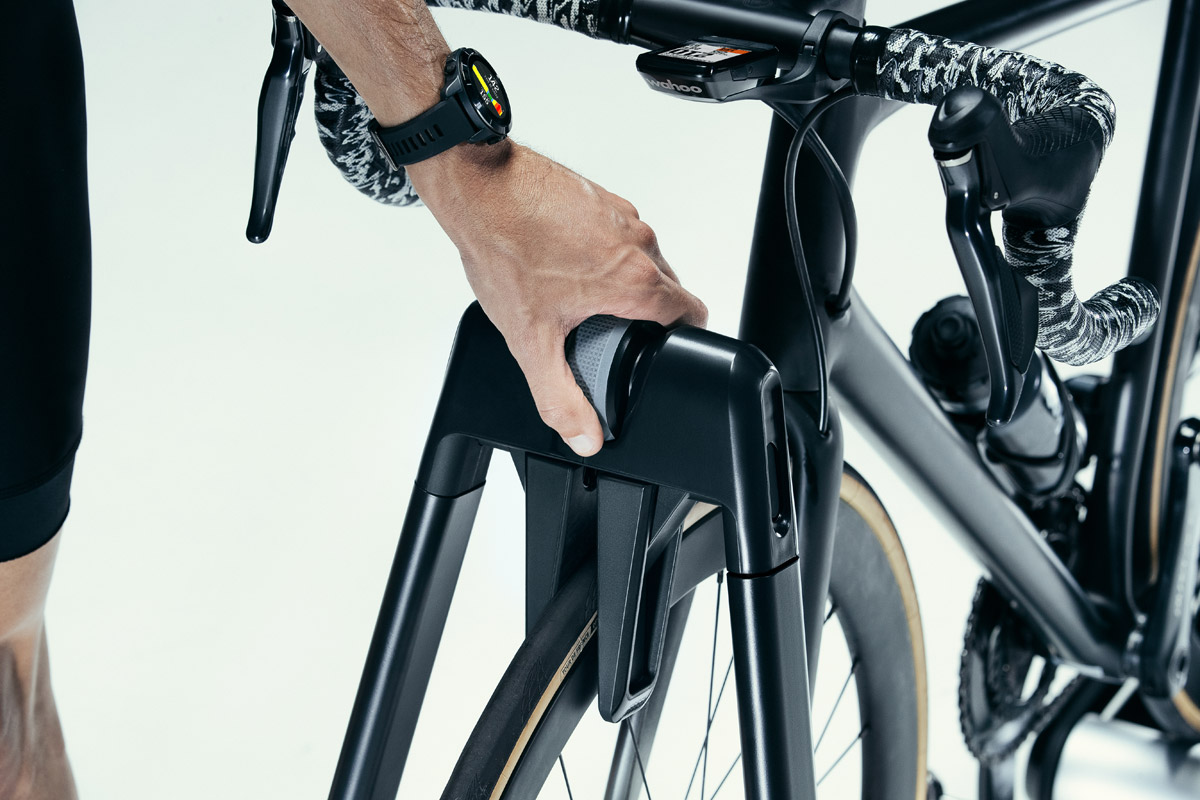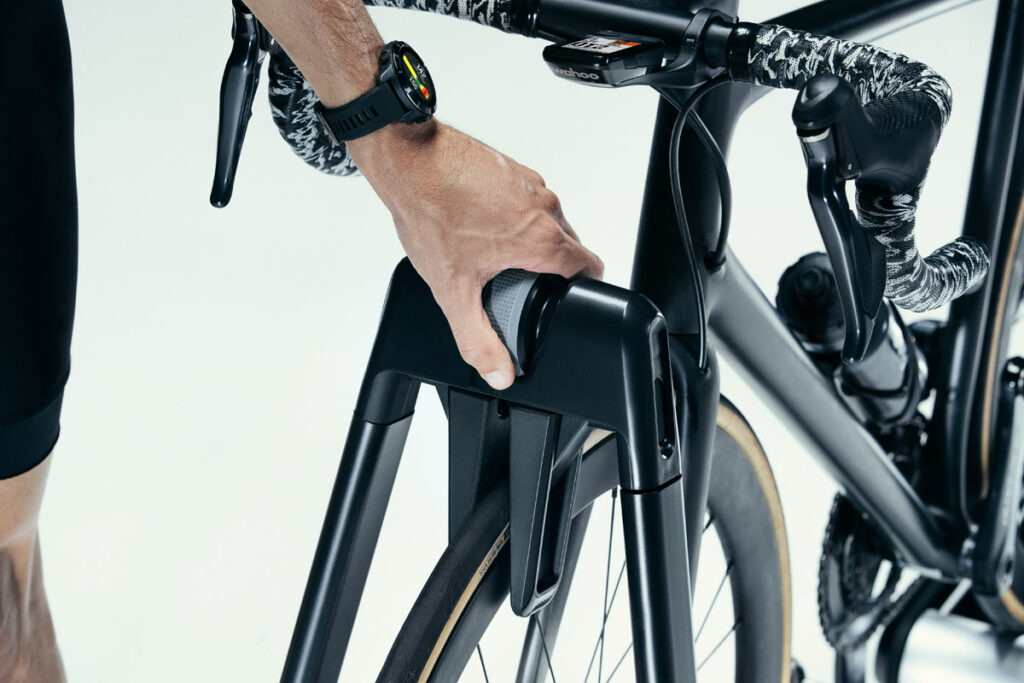 Technical Specifications
Connectivity: ANT+ FEC, Bluetooth, Direct Connect

Speed/distance are metrics are always available, but power and cadence require an external power meter
When used with a power meter, resistance is controllable via external apps like Zwift for simulation and ERG mode. Without a power meter the ROLLS delivers constant resistance.

Maximum Power Output: 1500W
Resistance type: magnetic
Accuracy: +/- 1% of external power meter
Weight: 50 lbs/22.6 kgs
Dimensions:

Width: 31.25″/79.5 cm (front end)
Height: 34″/86.5 cm
Length: 57.5″-65″/146-165 cm (wheelbase)

Max user weight: 250 lbs/113 kgs
Flywheel weight: 10.5 lbs/4.8 kgs
MSRP: $799US (buy at Wahoo.com), or $1399US with POWRLINK ZERO single-sided bundle
Placing your bike on the ROLLR is a quick and easy operation. Additionally, the ROLLR is easily adjustable via a quick-release wheelbase clamp so it can accommodate a wide range of frame and tire sizes. So this product may be a good fit for Zwifters who don't want to take their bike apart to put it on a trainer, or households with multiple riders who want a single setup that can easily accommodate multiple bikes.
It's also a handy product for use in pre-race warmups (think track cyclists and pro riders, where we've already seen this product being used).
Expert Reviews
We've just received a KICKR ROLLR to test and review, but until that happens, here are today's review videos from GPLama and DC Rainmaker:
Wahoo POWRLINK ZERO Pedals
When Wahoo announced its acquisition of Speedplay back in September 2019, everyone assumed that Speedplay-style power meter pedals would be coming soon. And indeed they were, with reviewers like Shane Miller getting his own set of power meter pedals to test around a year ago. Unfortunately, supply chain issues have stopped Wahoo from releasing the product to its full audience until today.
The Wahoo POWRLINK ZERO pedals are available in both single and dual-sided versions, and their arrival means there are three quality power meter pedals available on the market today: Garmin Vector 3, Favero Assioma, and the POWRLINK ZERO.
Product Gallery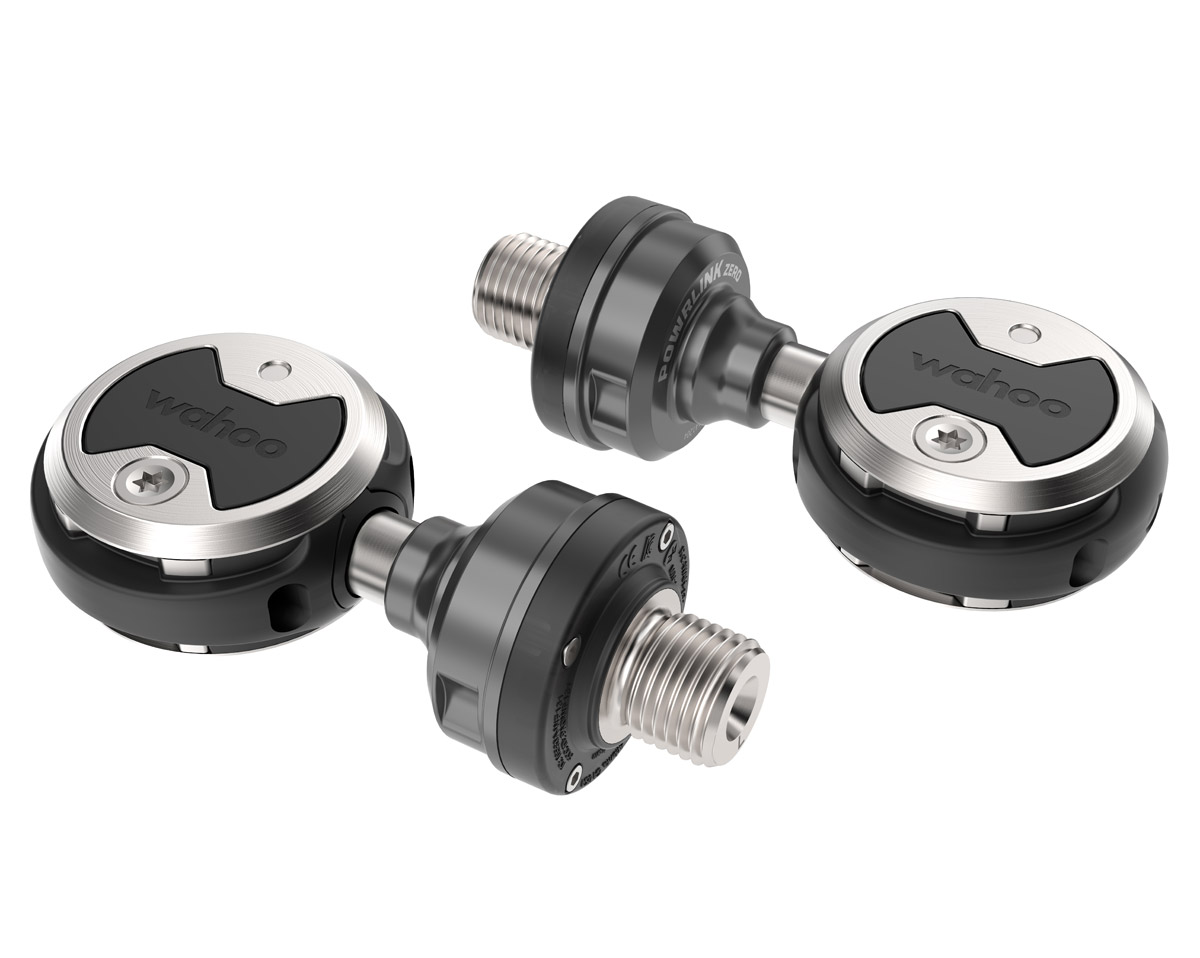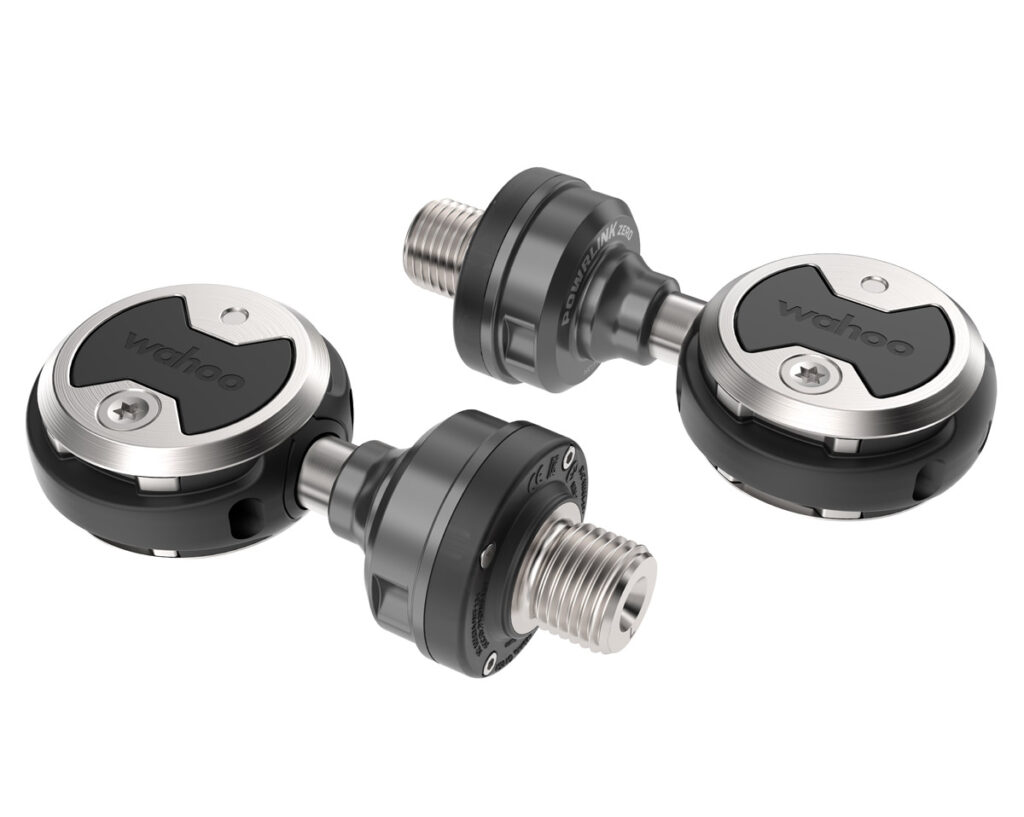 Technical Specifications
Connectivity: multiple Bluetooth (up to 3 connections) and ANT+

Broadcasts power and cadence

Power accuracy: +/- 1%
Cleat compatability: Speedplay standard (included) or easy tension (sold separately)
Battery type: rechargeable lithium ion
Battery life: 75+ hours
Weight: 276g (dual-sided), 250g (single-sided)
Dimensions: 3.9″x2″x2″/99mm x 51mm x 51mm
MSRP: $999US (dual-sided, buy at Wahoo.com) $649 (single-sided, buy at Wahoo.com)
The pedals have built-in temperature compensation as well as auto-zero, so you don't have to mess around with calibration. Early reviews show the pedals to be very accurate and reliable, so if you're a Speedplay lover looking for a pedal-based power meter, your solution has (finally) arrived.
Expert Reviews
We've just received a set of POWRLINK pedals to test and review, but until that happens, here are some long-term review videos from GPLama and DC Rainmaker:
Your Thoughts
Share below!