Editor's note: Jordan Cheyne's "The Open Pro" series details his experiences with high-level Zwift training as a rider in the pro Continental ranks. You can read his past posts here.
---
An Unusual Start
In my last article I was bemoaning the fact that I missed an early season race due to bad weather and cancelled flights. It was a first for me in my cycling career and an odd and unnerving experience. I felt a similar disruption in my mental game when the Stage 1 time trial of the Redlands Bicycle Classic was called off due to snow. I had put a lot of preparation into my time trial this early season in an effort to get back on top of a discipline that I have excelled at in the past. I suffered through a miserable day in the Tour of Gila TT with a chest infection and I was eager to give Redlands' high altitude Big Bear time trial a red-hot crack. And then it was gone. "On to the next one" goes the tired sports cliché and so it was on a long, boring snow day in Redlands.
Stage One
The next day bore even more potential for the team and me with a mountain top finish among the apple orchards atop the slopes of Yucaipa's Oak Glen climb. I did a mental reset and I think I played a strong, aggressive hand all day but my body just wasn't right. With an extra off day before the race, I think I didn't do quite enough to keep my body "open" and in rhythm physiologically and I came into the stage over-fresh. By the time we got to the final kilometers of the stage all I could muster was 13th place, fighting myself all the way. My teammate James suffered a similar outcome and finished just ahead in 10th. It was a stage we could have won, but sometimes these days just don't come together. Those "perfect opportunity stages" are a brutal combination of pressure, anticipation and physical strain that will expose the cracks in your preparation no matter how small. I have certainly gotten better in these situations but there is still work to do. My conversation with myself while staring at the bedroom ceiling was the same as the one I had the night before "on to the next one".
Stage Two
In the early stages of the next one things started to turn around in rapid order. The Highland circuit is a tight and torrid 90km stage featuring 20 laps each finishing up a leg stretching 2 minute climb with gradients up to 16%. My legs responded perfectly to the dose of fatigue from Stage 1 and I was active in breakaways for the first two thirds of the race. In the past, the anaerobic demands and the technical nature of Highland have sapped me after a few laps, but I felt better as the laps wore on in 100-degree heat. The garage heat sessions wrapped in winter clothes and hot baths I performed the previous week paid a few dividends when it counted.
As a team, we rallied the troops and put our collective might behind a field sprint for James who has a wicked kick in uphill sprints. As we screamed through the corners on the final lap I found myself at the front of the race with James right on my wheel and a stretched and fractured peloton clamoring behind. We made our move with less than a km to go and I launched James into the final pitches of the climb with everything I had with a small gap to the other contenders. He gutted it out for 3rd place while I limped up and lost over a minute in 300m. That was a job well done.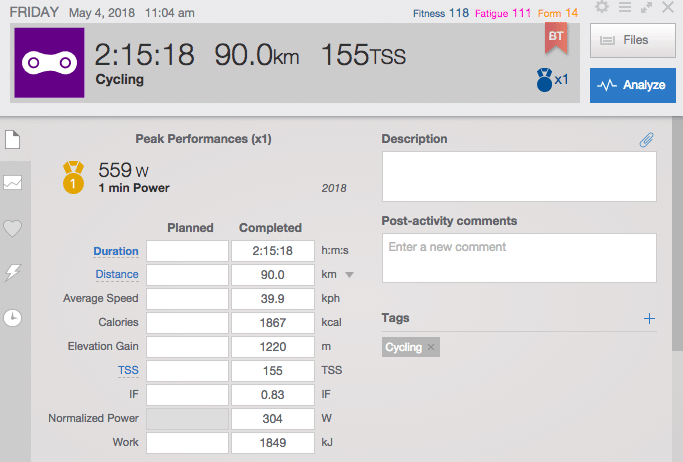 Stage Three
My ability to position and execute on Highland reaffirmed some confidence I had building in my bike handling and pack positioning this season. Historically crits and technical races have been a weakness of mine due to a combination of low top end power and woeful "bike driving". I made addressing this weakness a real priority after some frustrating and costly mistakes in 2015 and 2016.
I have been pushing my technical skills on the mountain bike since then and trying to be really mindful in tough race situations to look for good technique. I have also found a penchant for driving simulator games on my Playstation. I play those games hard, go for the inside line, and block my opponents in the rearview mirror. It sounds far fetched but I think all those laps around Monaco in my virtual Ferrari paid dividends on the bike.
The Stage 3 Redlands Criterium was a dream in more ways than one. I couldn't believe how easy it suddenly felt to ride at the front, cover moves and help our fast men do their thing. In 2014 I spent 60 minutes and about 2 or 3 seconds clutching to the back of this crit, sprinting out of every corner and covering just enough ground to finish the required two thirds of the race duration and make time cut. Four years later, I found myself sprinting out of every corner again, but this time leading my team at the front through the bell lap. I pulled off exhausted and peeked around the remaining 5 or 6 corners to see the finale unfold. To my great satisfaction, my teammate Sam Bassetti railed the final bends to punch open a gap and sprint home for the victory with fellow Elevate-KHS sprinter Scott Law right behind in a 1-2 finish. It doesn't get any better than that.
Stage Four
On Sunday it was time for the final, iconic stage of Redlands: the grueling and highly technical Sunset Loop. Our team goal was to cover the often successful breakaway of the day and if that didn't succeed, rally around an in form Sam to allow him a shot at the reduced bunch sprint after 152 km and 2000m plus of punchy climbing. For the first time in my career, Sunset went exactly as planned. I patiently waited for the race to hit its stride and hopped aboard the breakaway bus with about 90km remaining. We kept a steady clip but never quite snapped the elastic to the motivated peloton and with 1 lap remaining I was joined my Sam, James and the rest of the tattered main group. The closing kilometers were a nervous, lactate soaked affair and ultimately the win slipped out of our grasp with Holowesko's Brendam Rhim escaping for the solo victory. Sam sprinted home to a fine 3rd place and we executed just about as well as we could have in the circumstances. Mistakes happen at lightning speed in bike racing and sometimes no reasonable amount of team strength will fix them.
We rode strong, rode together and Sam was a cold blooded closer and you can't ask for too much more than that. That sentiment sums up our week at Redlands pretty perfectly. You can't win em all but 4 podiums and a stage win were just rewards for the best team performance I have ever been a part of.