This week Zwift officially launched a worldwide referral program, making it easy for Zwifters to refer their friends to the platform and receive a small reward for doing so.
Referral Basics
Zwift calls it "Give a month, get a month." The big idea is, if you refer a friend and they sign up through your referral link, they'll get a full month of free Zwift (instead of the standard 14-day trial).
Then once they sign up and become a paying customer, you get a free month of Zwift!
How to Refer a Friend
Referring a friend is as simple as sharing your unique referral link.
To find that link in Zwift Companion, go to More>Refer a Friend. You may also find it online by visiting zwift.com/referrals and logging into your Zwift account.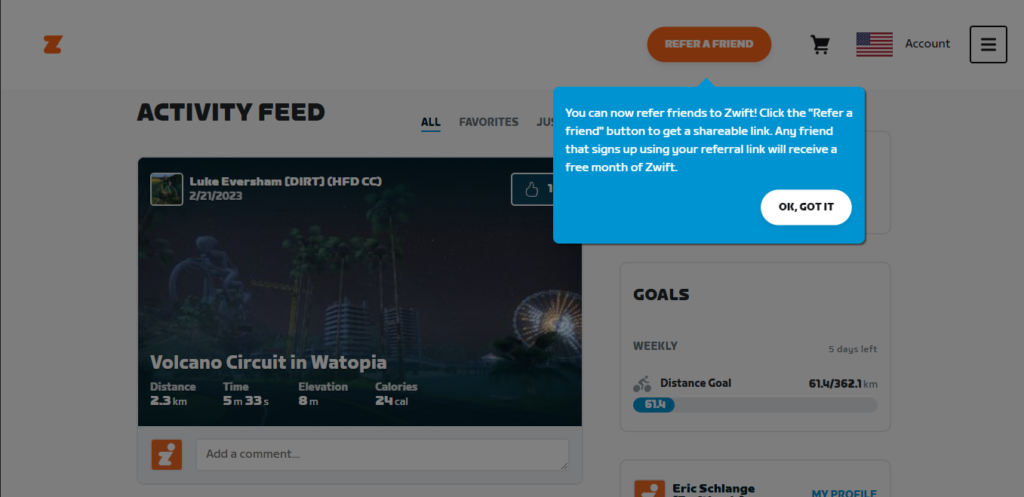 Once you have your link, share it with your friend(s)! (To really go the extra mile, help them get set up on Zwift and make sure their experience is a great one. Because the more happy Zwifters we have, the better the overall platform will become.)
You will receive a confirmation email when a friend creates a Zwift account through your link, and another email if your friend becomes a paying Zwifter.
Limitations
5 Per Year
You are limited to 5 free months from referrals per calendar year. You can tell if you've hit your referral limit by checking out the Referrals tab on your account page.
Note for Apple and Direct Debit Subscribers
If you currently pay your Zwift subscription through your Apple App Store or iTunes, or you pay via Direct Debit (an option for some EU-based Zwifters), Zwift cannot automatically grant your free month when you refer a friend. Free months will still be stored in your account, but they can't be applied because Zwift isn't able to edit your Apple or Direct Debit subscription.
In this case, to receive your free month(s) you must change your Zwift payment method from an Apple/Direct Debit subscription to paying Zwift directly via credit card or Paypal. See "Switching Membership Payment Type" for more info.
Questions or Comments?
Share below!