It's a good day when you get an email from Zwift with the subject "A VIP invite to test our latest feature!" And that's exactly what happened to me on June 23rd, as ZwiftHQ's Wes Salmon sent out an email to myself and thousands of my closest friends with an invite to try FutureWorks Boost Mode in a race.
I had raced a Club Jarvis-only boost mode event back on May 5th, but Zwift was now expanding the testing to "long time members of our race community," so the number of riders would be much greater. And the races this time around were longer than my previous 12-mile Boost Mode effort – this time we were doing 10 laps of Watopia's Volcano Circuit. Over 27 miles!
Warmup
The race wasn't until 11am, so I had a nice bowl of oatmeal for breakfast, got some work done, then chewed two pieces of caffeine gum and rubbed some PR lotion on the legs as race time drew near. I got in a solid 25-minute warmup on Tick Tock, ramping my heart rate up to 160bpm and putting in a few small efforts. Then it was time to head for the pens.

The Setup
Upon clicking to join the event I was greeted with the Boost Mode setup screen. This explained nicely how boost mode works. Simply put: you get to choose your boost type. You have to charge the boost with your own watts. Then you can use the boost to increase your watts for a set period of time. Simple enough!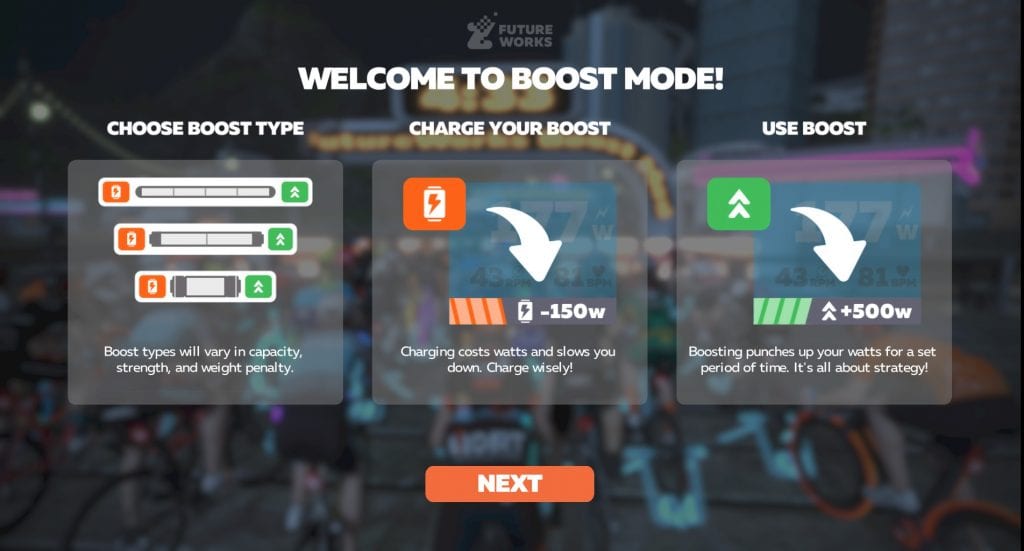 On the next screen is where you make The Big Decision. Do you go for "Efficient" which only adds 11 pounds to your weight, but also only boosts you by 50 watts? Or go with "Power Burst" for a 500 watt boost, even if it adds 22 pounds? Then there's "Balanced" which sits in between the two.
I really wanted to try Power Burst – it would be amazing in a final sprint, assuming I could reach the button to activate it! But I went Balanced instead. Blame the middle child in me. Or perhaps my terror at the thought of adding 22 pounds (that would return me close to my "pre-cyclist" weight.) But really, +50 watts just didn't seem substantial enough, and only 5 seconds of 500 watts didn't feel long enough. So Balanced it was.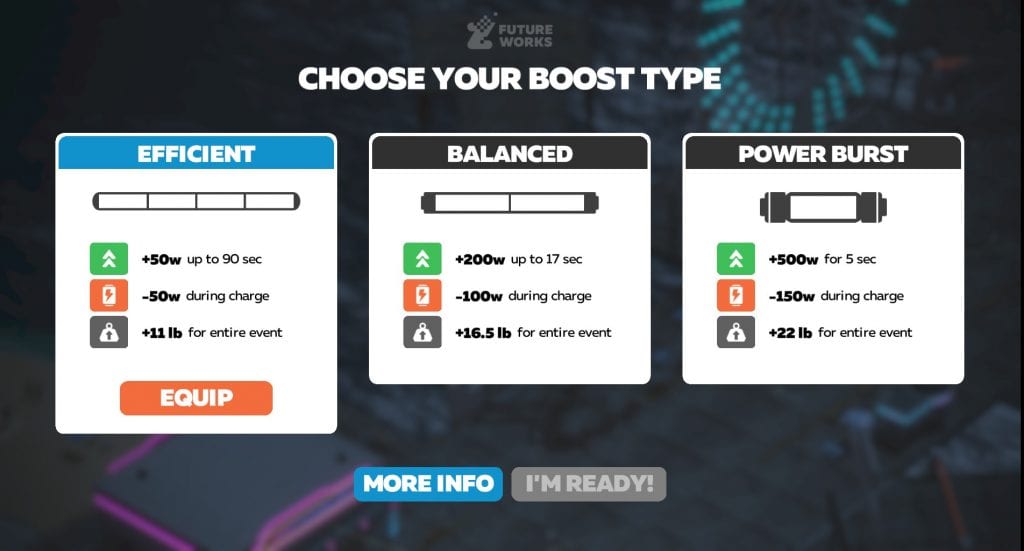 The Start
Once I selected my boost and clicked "I'm Ready" I was taken to the start pens. My screen still included an option to change my boost, which is available until the event begins. And everyone was chatting about Boost Mode. "Which one did you pick?" (As if I would ever divulge such secrets!) I queued up my Zwift playlist, P.O.D. began playing "Set it off", and the clock hit 0. Let's race!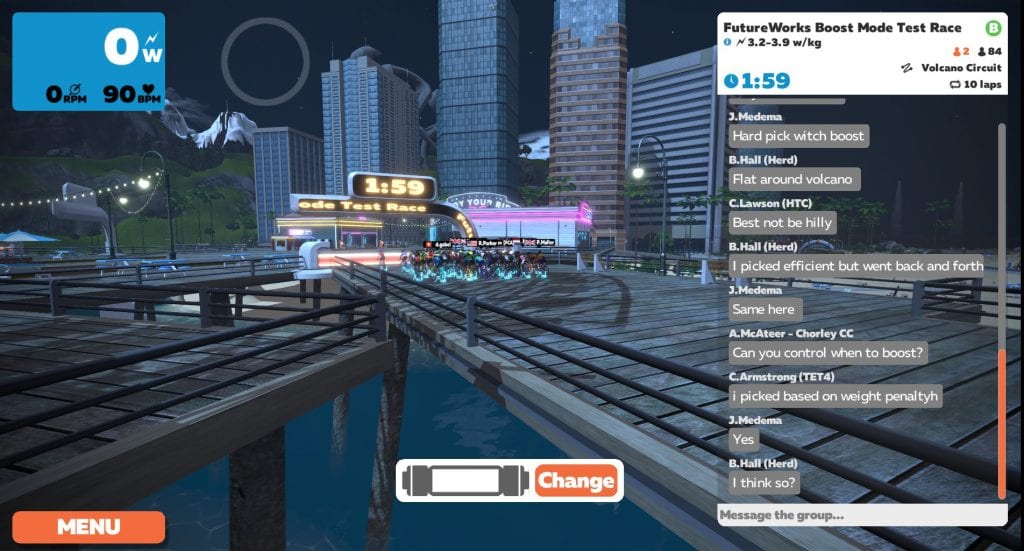 340 watts for 2-1/2 minutes got me onto the Volcano Circuit in the front pack. Our group of 91 was shrinking fast, but the pace wasn't too wild. In fact, I felt good enough to charge booth of my boost "cells" before we even hit the Circuit, which meant I was fully charged and ready to blast off when the time was right: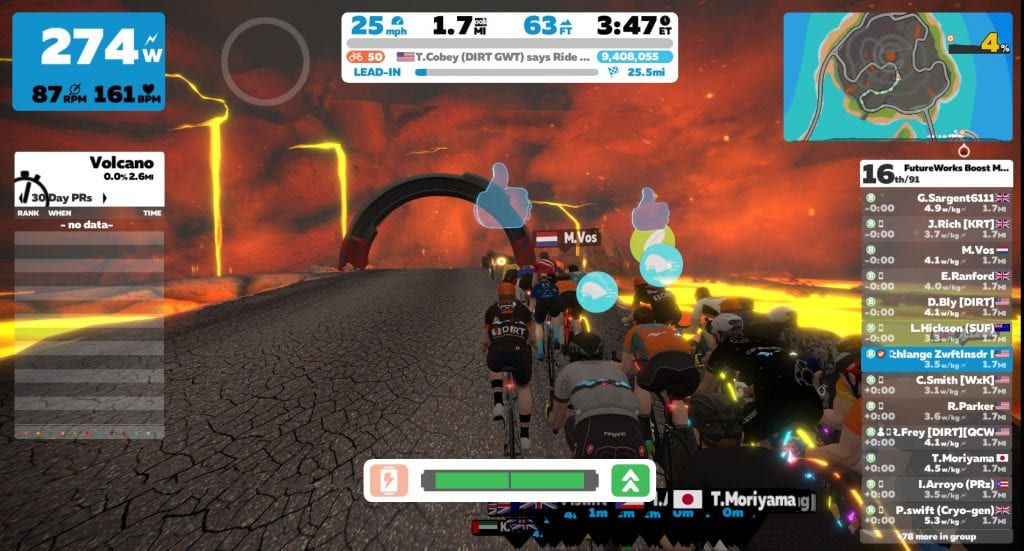 I used my first boost just after the kicker which takes you back into the Volcano. The pack was stretching out (it always does!) so I figured a little boost would help me get back into position a little easier. And it did! Although the 200-watt boost only lasted 8.5 seconds, it sure was noticeable.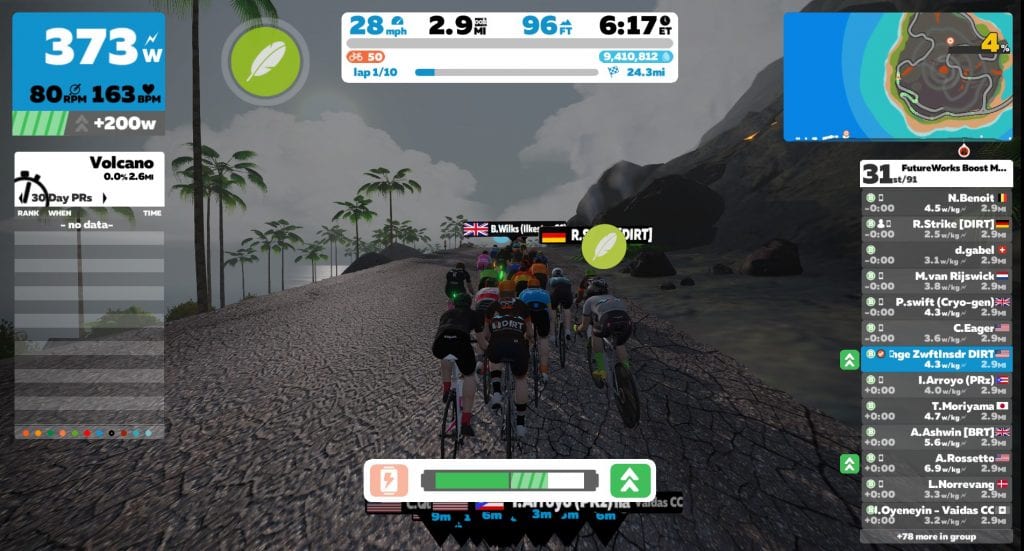 Boosting Like a Boss
After traveling through the Volcano Circuit banner to complete our first lap, we hit the down ramp out of the Volcano. I hit the button to charge my boost there, because it makes sense to charge your boost on the easiest parts of the course. My "Balanced" boost required an extra 100 watts to charge, but that wasn't a big deal on the descent where I normally almost soft-pedal to stay off the front of the pack.
One thing I noticed right away, though, was that my boosts took a long time to charge. I knew that each cell gave an 8.5-second boost, but my charge felt like it was taking 3x that long! While Wes at ZwiftHQ has told me there's a slight "charging tax" for a boost, this was way beyond that. (I chatted with Wes after the race, and he discovered a bug in the event configuration which caused this.)
A few laps in, I used a boost to attack at a random flat point just to see how far I could get off the front. It worked like a charm! Unfortunately, nobody followed, so I was soon absorbed by the blob.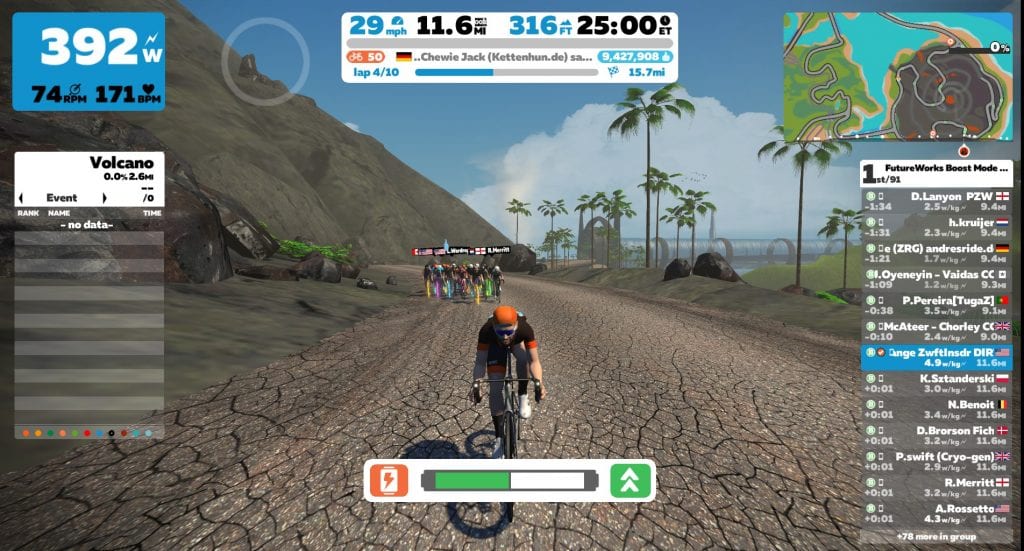 I soon found a rhythm – recharge my boost on the descent out of the Volcano, use it on the kicker back into the Volcano. It made my overall effort on each circuit much more even, which meant it all felt easier.
Our B pack was moving along at a decent clip, but it wasn't so bad that I was on the rivet. That's a fun place to be in a race, because it lets you put in little attacks on the front or chase others who are doing the same.
I'm not sure if we just had a slightly weaker field for this race, or if everyone was just having fun testing out boost mode. But there definitely seemed to be a more casual "feel" to the peloton. By lap 8 only 26 riders remained in the front pack, and the joking began: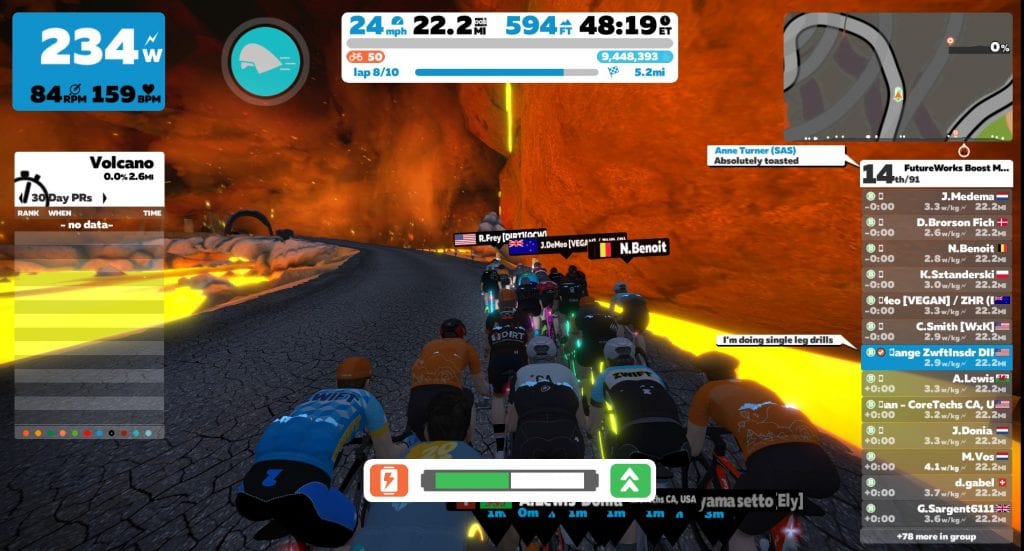 The Finish
I scored an aero powerup at the 8th lap banner and elected to keep it until the finish line. My goal was to have both boost cells charged going into the final stretch, so I could activate both while also using the aero powerup.
My one fear was that someone would put in a big attack on the final kicker up into the Volcano, and I would need to use a boost there to stay in contact. If that happened, it would mean recharging in the heated final minutes of the last lap, or going into the last sprint with only one boost. Neither option was a good one, so I made sure I moved to the front of the pack before the little kicker, then put in a good dig to maintain a good position. Whew! All good. Fully charged.
Now it was just a question of sitting in as much as possible, then jumping at the right time. But when was the right time? Just after we passed the turn to the glass bridge (0.7 miles to go), I noticed we had a couple of riders up the road who we would be catching in seconds. Confusion… and a bit of a draft slingshot. Other riders had the same idea, and before I could jump Moriyama, and Goodman had activated their boosts, and Hall and Vos had jumped as well!
I bumped up my watts to grab their wheels, then as we came back together I clicked to activate my first boost, bumping up my wattage as well in hopes of catching the front rider's wheel. I got there, then clicked the second boost and activated my aero powerup just as we entered the Volcano. I was going too early, but I had a lot of momentum and was hoping to break the elastic and solo to glory with an epic sprint!
I shifted into high gear, got out of the saddle, and went all-in. Have I ever even raced the Circuit in this direction? How long is this sprint? It was long. Hall was on my tail and closing, and I was grunting and groaning, going all-in. Pain is temporary. Hall came around at the last second, and I thought he had pipped me at the line with a perfectly-timed sprint. But the results screen popped up, and here's what I saw: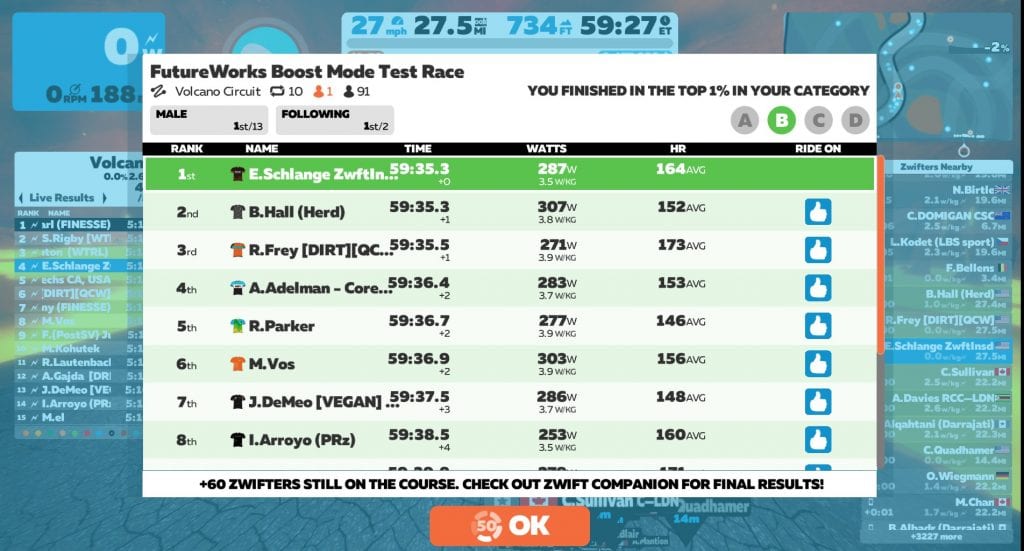 Hurray! A rare win… by just one hundredth of a second. Well done Bryan Hall! DIRT teammate Ryan Frey took a close third.
See my activity on Zwift >
See my activity on Strava >
See race results on ZwiftPower >
I recorded this race, so you could see boost mode in action. Enjoy!
Takeaways
This was my second boost mode race (read about my first here). A lot of my takeaway thoughts from this event experience mirror the first: I think boost mode will be really popular once it's released, because it adds an interesting new dimension to the race, allowing you to be more strategic in how you dose your efforts. Boost mode basically lets you "exaggerate" the typical racer approach of "conserve all you can, so you've got legs when you need them." Boost mode is just a very straightforward, visual way to save up watts so you can use them when you need them.
I do think the Companion interface could be improved – the buttons to charge and use a boost are small and right next to each other, which can lead to accidentally pushing the wrong one.
But overall, I'm bullish on the boost. Hope to see it soon out of FutureWorks and in the wild!
Questions or Comments?
Share below!