Today is a big day for me.
In order for me to tell this story we need to go back a little over 5 years ago.
It is May 2015. I have not long completed the Paris-Roubaix sportive and I am in the shape of my life.
Then I get a cold. It doesn't get better; in fact, it gets worse. A lot worse, so I went to the doctor who diagnosed flu. It wasn't flu and 2 days later I was in hospital at death's door with Pneumonia. Pneumonia that got better really quickly with IV antibiotics. There were blood tests… so many blood tests. I was Neutropenic (Low white blood cells) but that was it. They sent me home and there were more blood tests and I was still Neutropenic.
So they did a bone marrow biopsy. I will spare you the details of how this is done but suffice to say it isn't fun.
A few days later I got a phone call from one of the Consultant Haematologists. Could I pop in and see them? "Sure," I said. Could I come now? Oh, and bring my wife and bring an overnight bag.
With a request like that you know that when you get there you are not going to like what you hear.
"I'm very sorry to tell you that you have Acute Lymphoblastic Leukaemia."
My world stopped turning. I was 43 years old, I had a wonderful wife and an amazing 4 year old son and I was dying.
ALL is the type of Leukaemia that kids get and has a 90% cure rate in kids. Sadly this is not the case in adults. It is highly aggressive and only 4 in every 10 people diagnosed make it to 1 year.
I needed that overnight bag for the next 3 weeks as I was started on chemo. I was put on massive doses of steroids and my weight skyrocketed from 80kg to 110kg.
The chemo wipes you out, but I tried to keep as active as I could even if it was just a short walk to the end of my road. They completely stopped the steroids one day and for a week it felt like someone had turned up gravity.
I had 3 rounds of chemo over 3 months with "drug holidays" in between. Chemo is poison. There is no other way to describe it. It is designed to kill the cancer but it also kills a lot of other cells. I was sick… a lot!
But still I tried to keep active. I bought a turbo trainer. It wasn't smart and wouldn't work with the newly released Zwift. I could only manage 15-minute rides watching a line move up a graph, but I needed to be in the best shape I could be for what was to come. My Dad came over from the US to visit and we walked up Mynedd Machen; my local hill. I fell asleep at the top I was so tired.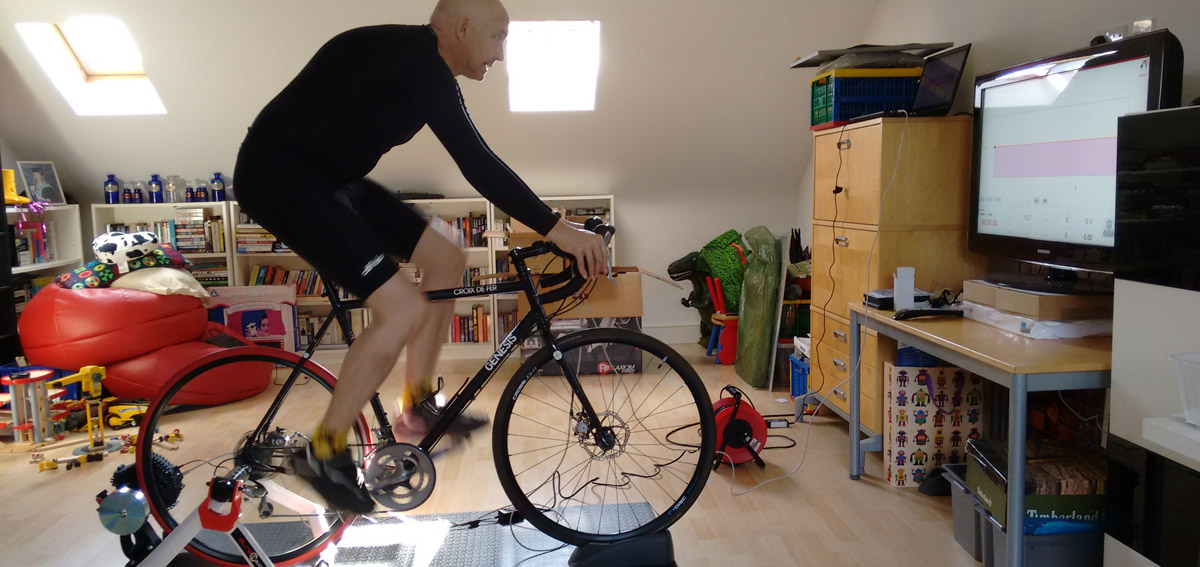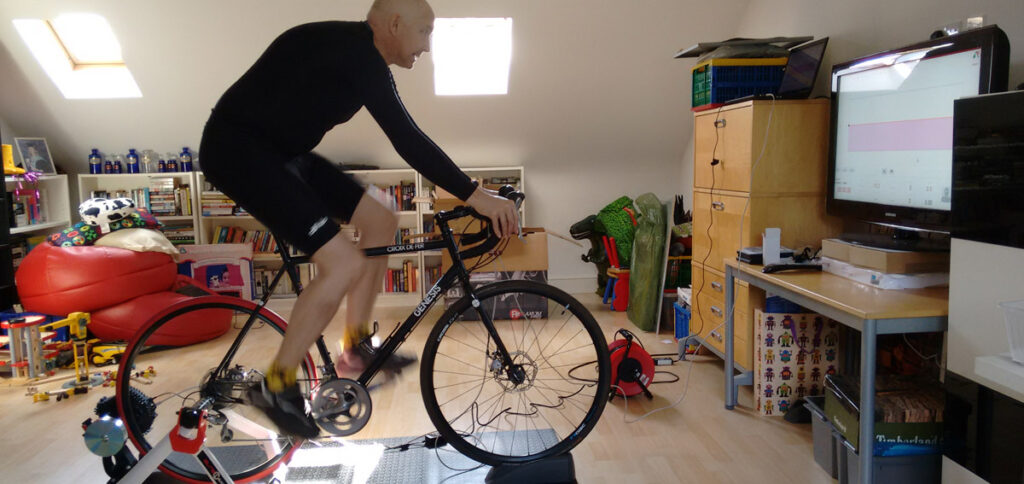 I received more bags of blood than US Postal. You can feel each drop entering your system and your energy levels increase like Popeye eating spinach.
It was decided that my best chance of survival was a bone marrow transplant (BMT) and the search for a donor was started. There are 2 types of BMT, a Reduced Intensity which involves more chemo and then the transplant and a Full Intensity which involves more chemo, total body irradiation, and then the transplant.
The full intensity isn't offered to people over 40 as it is considered too hard to recover from. I was now 44 and well over that hill but I was fit before I was diagnosed. Really fit. Paris-Roubaix fit. They thought I could survive the treatment and the recovery as a result of the fitness cycling had given me and so I was offered the Full Intensity Transplant. It was the easiest decision I ever made. When world experts in a field tell you what they think the best option is for you, you would be an idiot to go any other way.
I kept walking and cycling and eating. I followed all the rules and kept as healthy as possible and then after a 3-week treatment holiday I went in to hospital.
I had 2 days of incredibly harsh chemo designed to kill off as much of my own bone marrow as possible and then I had 8 treatments of total body irradiation over 4 days to kill off the rest. Then I went in to isolation in a tiny hospital room with a sink and a commode.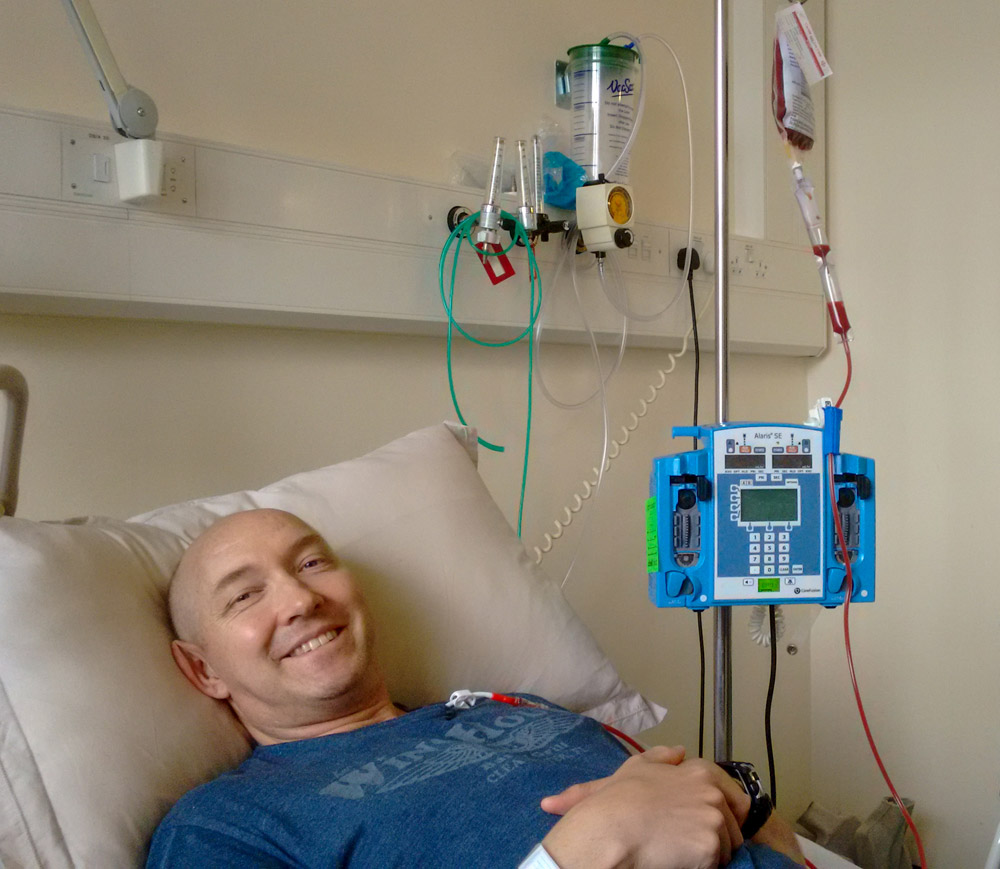 The following day I received my bone marrow transplant. My donor was a 23-year-old German man whose name I don't know to this day but to whom I will forever have a debt of gratitude.
I was in isolation for 12 days and was fed via a tube through my nose to my stomach as the effects of the treatment raged through my body. Once my cell counts started to rise I was allowed out of isolation and then after another week, I went home to start the long road to recovery and eventually to the start line.
I could barely eat, I was sick many times a day, and once the effects of the radiation hit I could only manage to walk down the stairs in my house to sit on the sofa for the day and then be helped back up to bed at night.
I gradually started to get stronger. I could walk to the end of the road. Then I managed 1 km, then 2. Eventually, I was strong enough to get back on the bike. I bought a cheap smart trainer and signed up for Zwift. 11 months after my transplant I did my first ride on Zwift. I managed 20 minutes at 178 watts. I rode 7km. It felt like a marathon.
I started riding 3 or 4 times a week. My FTP started to creep up but I wasn't really using Zwift to its full potential. I was just riding aimlessly, concentrating on elapsed time rather than anything else. I had a few setbacks with infections that kept me off the bike for months at a time. But I stuck with it. I started riding outdoors again.
Last year was when I really started using Zwift properly. I did some group rides, started doing workouts and almost 4 years after my transplant I entered my first race. The route was the Volcano After Party and I was 3rd in the Cs. I was also absolutely destroyed. It was so much harder than I had expected and I certainly wasn't prepared enough. I continued doing the occasional race, but mainly concentrated on longer group rides to get my aerobic base up. Last year I also rode Paris-Roubaix again having used Zwift as a major training tool.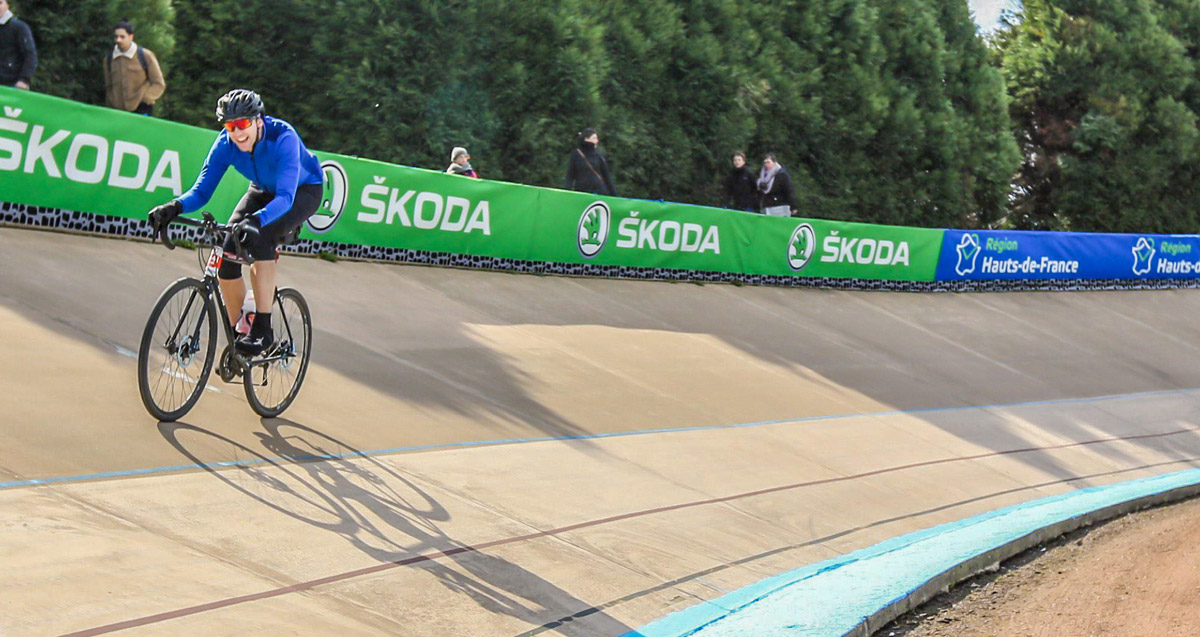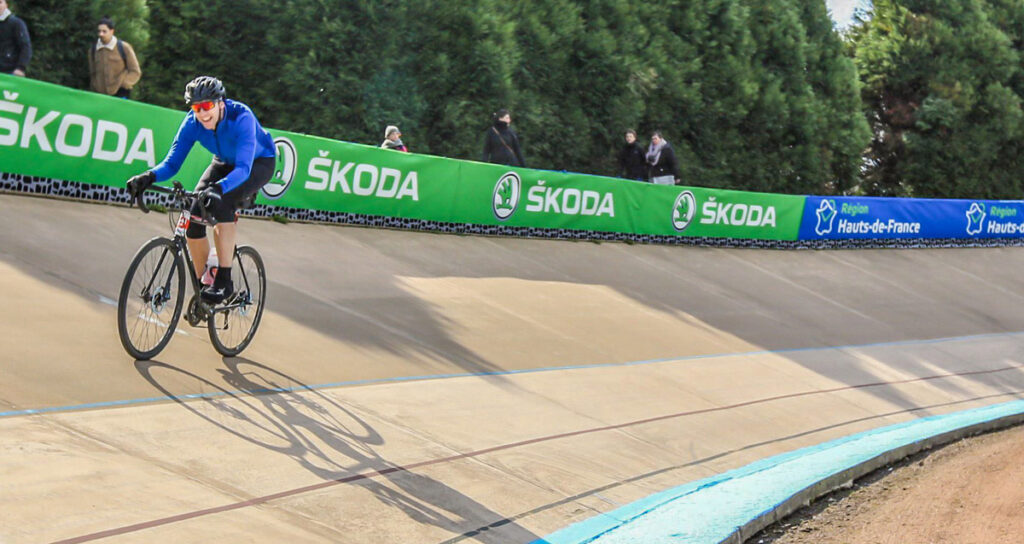 I entered the British Transplant Games for the first time and then Covid happened and it was canceled. As luck would have it I had been introduced online to a couple of other transplant cyclists and I joined a couple of Facebook groups. We started to organise Meet Ups and then we created a team and started to enter the occasional race and the awesome WTRL TTT. This group of guys and girls was my lifeline during lockdown. The team spirit and support was incredible. We raced the Virtual Tour de France amongst ourselves over the summer and then lockdown ended and we could ride outside again and take advantage of the better weather.
All through this I was getting stronger and faster. My FTP crept up and my weight dropped.
I kept Zwifting as well and racing most weeks. Then along came the Zwift Racing League (ZRL). I was desperate to be involved but we didn't have enough Transplant Cyclists of the same category to enter. So I joined the mighty ZSUN Racing. They are amazing. Really well organised and super supportive. I have raced the first 2 races in the ZRL for my assigned team and am also a minor part of a very strong TTT team as well.
Which brings us to today.
Today is the 5th anniversary of my transplant.
It is the day that I am officially classed as cured and cycling and Zwift have played a huge part in every part of that journey.
Today is the day I won my race.