Have you ever wondered what a Zwift race would be like if it mimicked an outdoor road race in real life? Due to a bug in one of last week's races, I found out.
(For a little background on me: I race in Cat B and am really into race ranking. I've come to find my favorite race of the week is the Oh My Crit! Double Race and it just so happens this latest one was 2 laps on my favorite Zwift course, Innsbruckring. Little did I know I was about to have THE experience with this one.)
The Warmup
I did my normal warmup for these Thursday races:
Get the kids in front of the TV so they don't bug me.
Hop on the bike with 10 minutes to spare.
Pedal 5 strokes and realize I have to go to the bathroom.
Walk past my wife, who is in a work video call, in my bike shorts and no shirt. I'm a trophy husband so she doesn't mind.
Impersonate a horse by click-clacking through the house in my bike shoes.
Return to the bike with a solid 6 minutes before race time.
Yeah; I'm a pro.
Since it's my favorite race, I'm well aware I only race against Cat B racers. On this race day, I got in the pens and saw a few A+ Zwifters I knew. What? Not good. I considered dropping out of the race and hopping into the A group to see if I could get a better ranking but thankfully, I didn't. The A's took off from our pen one minute before us. Crisis averted.
The Start
The race started and I immediately noticed a weird anomaly on the screen: I could ONLY see Cat D racers and myself. Within a couple minutes, those Cat D racers disappeared and I could only see myself. What was going on? We were going REALLY slow and about 3 minutes into the race it was confirmed by someone else: none of us could see other racers' power or position. I realized this was going to be like a real-life bike race (except this time, I'd be racing with better hair). Check out the screenshot:

The Middle
This is where things got interesting. During the first time up the Leg Snapper, a guy I had raced against a few times, Gregg O'Malley, blasted past everyone and opened up a gap. I knew he was a high-ranked Zwift Cat B racer and really good tactically, but I still figured he would get chased down. It was weird though, because our pace remained pretty slow. He ended up holding the lead for four minutes and we caught him just before the start/finish line on the first lap. But it showed me something: normally breaks like that only last a short time but Gregg had stayed away for a long time. The field was hesitant because the racers couldn't see what others were doing and decided to let the gap remain further out than normal.
I immediately hopped on the Zwift Companion DM's and messaged Gregg, hoping he remembered me, and asked, "Do you want to start a break?" His response was, "We can try, but I was getting nowhere when I was off the front before!"
Here is a picture of Gregg and I at that moment:
It was on. We sent a couple of messages back and forth resulting in him messaging me with, "We are gonna have to go hard up the hill" to which I responded, "I will go all out". I knew he was stronger than me so I figured I could go all out without fear of dropping him. I just hoped he wouldn't drop me.
The Finish
We reached the Leg Snapper on Lap 2. Gregg and I hammered up and built about a 30-meter gap on the field. I was banking on the fact that the field couldn't see the gap or our W/kg. One thing I didn't think about was that we also couldn't see how far back the field was, so it was a scary few minutes trying to make sure we stayed away. So we just kept the pressure on as much as we could the rest of the race, switching out pulls. (Ok, so maybe "switching out" is a bit generous. Maybe Gregg was leading 90% of the time but… who's counting?) If you want to see the attack check out 22:22 on my video.
With about a minute left, I received this message from Gregg: "I'm too ***** tired to sprint now so just make sure you can take it." A better person than me would have argued, but I just took the win, which also was my first official Zwift win along with the chance to get a photo of results before everyone else finished!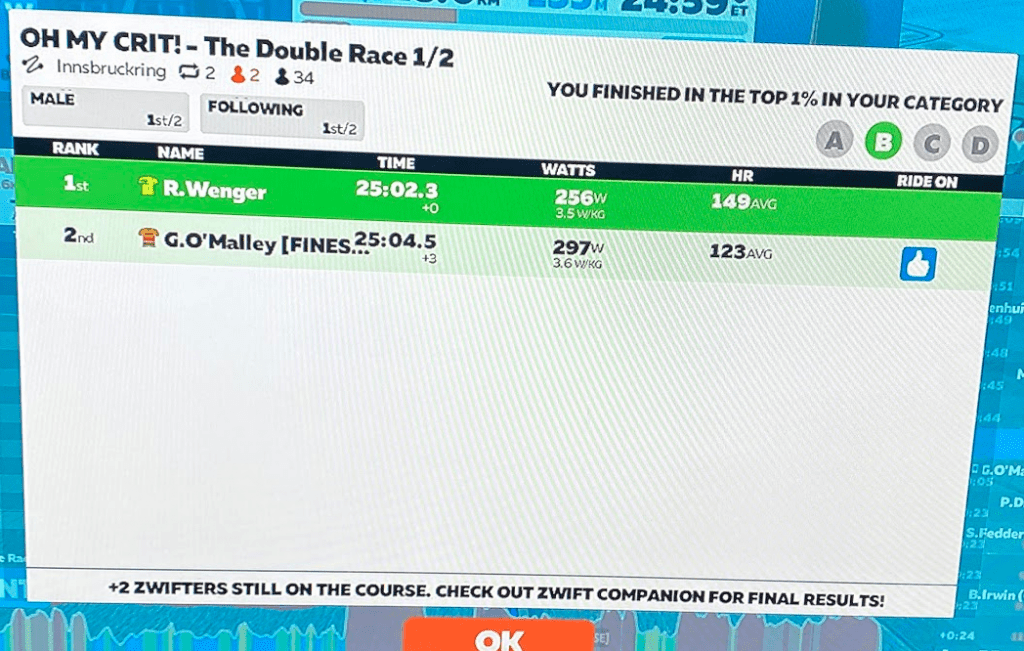 Watch the race video
Takeaways
Friends in High Places: Find those people who impress you and learn from them. I had raced against Gregg 3-4 times. The first time we raced, I couldn't believe how low he kept his power relative to everyone else. I had messaged him a few times after we raced to tell him good job. (He had beaten me every time.) When I see him in a race now, I do everything I can to analyze how he is racing and try to emulate him.
Work Together: Oh man was it fun working together. Eric has mentioned this a lot in his How the Race Was Won/Lost articles, but working with another person to execute tactics was way better than I expected.
Remove the Right-Hand Bar: If Zwift wants to encourage breakaways, race organizers should be given the option to remove the right-hand bar for races. No places, no power numbers, no time gaps. I found this way of racing really enjoyable (and contrary to what my wife says, not just because I won). And yes I do bore my wife with stories about my Zwift races.
Your Thoughts
What do you think about the idea of Zwift giving race organizers the option to remove the right-hand bar? Have you ever worked with another Zwifter to make a break? Share your stories and thoughts in the comments below!