This is not the typical "rub some PR lotion on the legs and chew some caffeine gum" story. This is not even a story about my own race. This is a story about how I watched Ed Laverack win a race in a sprint after weeks of preparation.
Like most people during these last few months, I needed to find a way to spend my time during the lockdown. One thing I did watch Zwift races. Because it's far easier than participating myself!
Intro to Ed
One of the riders that stood out from those races was the current British hill climbing champion Ed Laverack. The guy weighs less than my left leg, yet somehow manages to produce more power than the average 90kg rider. The result is a rider who can ride at almost 7 W/kg for 20 minutes. Combine that with a willingness to attack in almost every race and you have a recipe for an attractive racer. Deadly on the hills, but able to keep a chasing pack behind him for quite some time even in a flat race.
It's something that Zwift Community Live commentators Nathan Guerra and Dave Towle have noticed as well. They even introduced a new verb – "laveracking a group" – attacking so hard that the whole group splits apart and only the strongest survive.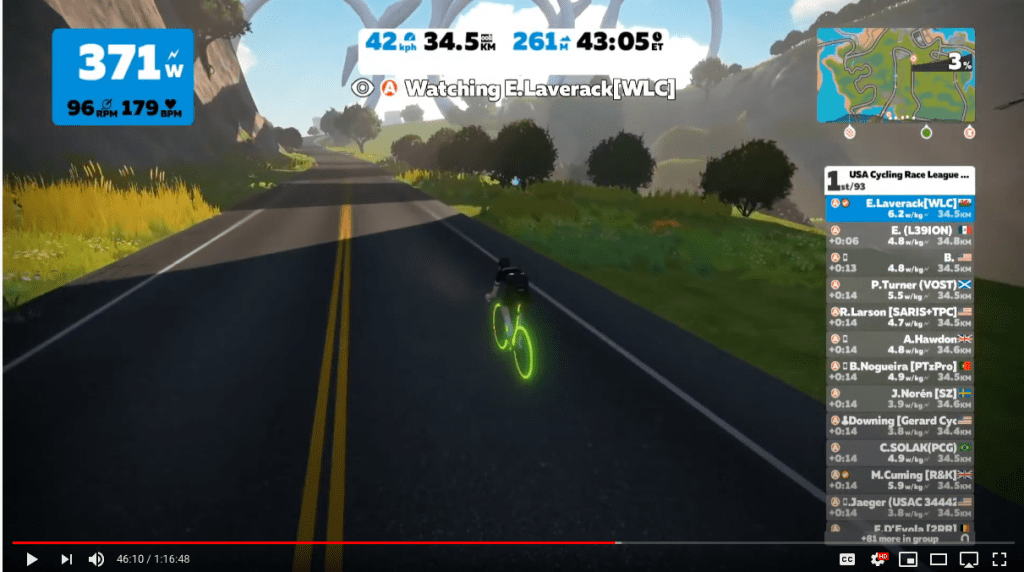 Now that in itself is not so unique. What makes Ed interesting are his live streams, and more particularly his interaction with viewers. He is really good at explaining why he races like he does (for example, attacking in impossible places) and after each race, he does a post-race analysis where he goes over the numbers and answers questions popping up in the chat.
Planning to Sprint
A few weeks ago, after yet another race full of attacks only to get beaten in the sprint, he started with a plan. He would work on his sprint with dedicated training sessions and races that suited him less but were almost certain to end in a sprint. The training sessions or workouts had the goal of improving his 5-10-15 second power, the races were needed to get the timing and sprint tactics right.
Session after session his followers could see him working on his sprint, going together over the power numbers and seeing the improvements. The chat during the races is filled with people who race on Zwift, and we all shared tips and experiences on how to do a good sprint on Zwift on that particular finish. A perfect example how both sides (the streamer and the audience) could learn from each other.
And this week the training paid off. Ed entered a Crit City, 8-lap race. A short 20-minute race on an almost pan flat course. Totally not his kind of race (normally he uses the first 20 minutes as warm-up). After a race of sitting in, keeping in touch with the front of the group and making sure he had an aero power-up it was time for the sprint.
And what a glorious sprint it was. The timing was near perfect. Waiting long enough to go yet staying in close contact with the front. Activating his aero power-up so that it would last until the finish, but not a second longer. And high power to finish it all off. (Watch the race in the video above.)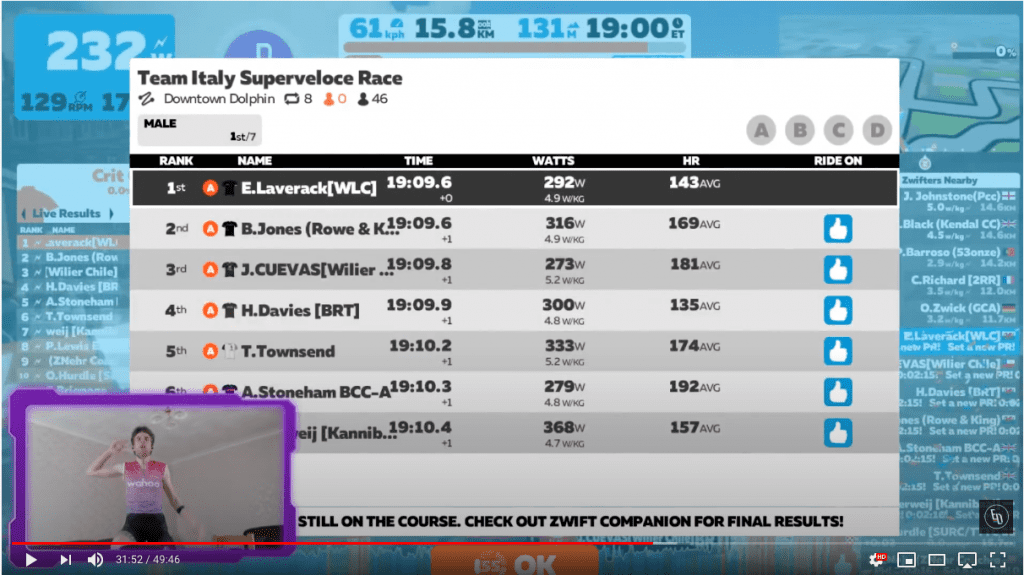 It was a close finish, with the top 3 finishing within 0.2 seconds of each other. But Ed Laverack came out as the winner. In the last second before the line, his aero powerup made the difference and he went from 3rd position to 1st. The climber who almost never wins a climbing race on Zwift had won a crit race in a sprint! If he can do similar sprints after a hilly (outdoor) race, he will win many more races this season.
So, if you're bored or don't know what to do, I strongly suggest to go to his Youtube channel to watch some of his races or training sessions and learn from his approach to training on Zwift. Depending on which videos you watch, you might also get some nutrition advice or simply witness the suffering behind his Zwift attacks first hand.
Disclaimer: I don't know Ed personally, nor did he ask me to write this. It's just my way of saying thank you for a fair number of hours of entertainment he provided to me during these past few months.