It was Wednesday, and my legs were fresh. That meant it was time to seek out a race I could treat as an interval workout! Scrolling through the Companion app I stumbled across the Herd's "Bullseye Points Race". Seeing it reminded me that I'd raced and won a Bullseye Points Race over a year ago – and had sworn to race it again, because it was so much fun! But I had never returned, since I rarely race on Wednesdays.
It was scheduled for 11am, which slotted in perfectly between Zoom meetings.
The details of the race said it was on 12 laps of Crit City's Downtown Dolphin route. Each category would start at separate times, but all categories would be visible on course. Interesting! And this was a points race, where riders received points for their finishing order across the line each lap. 50 for 1st, 49 for 2nd, etc. And this was the first race in a 9-week series, where the overall point scorer is crowned the victor.
Warmup
I chewed two pieces of caffeine gum about an hour before the event, rubbed PR lotion on the legs before kitting up, then jumped in with the C Cadence roadies for a quick 20-minute warmup. Soon enough it was time to head to the Crit City pens. Let's race!
The Start
I wasn't sure how tough the start would be, but I assumed it wouldn't be too bad since (1) there were only 19 riders signed up and (2) riders would be saving their legs for the sprints.
I was right – the start was pretty tame, and we settled into a rhythm, barely even attacking up the first brick climb. Everyone was keeping their powder dry for that first sprint. Smart.
The Sprints
We descended the twisty rollers, and I sat near the front of the pack, waiting to start my first sprint until I saw someone else go. That happened right at the hairpin, so I started hammering, staying seated and giving it all I had. I crossed the line in 2nd place just behind S.Dring – and we had gapped the group by over 10 meters. A good start!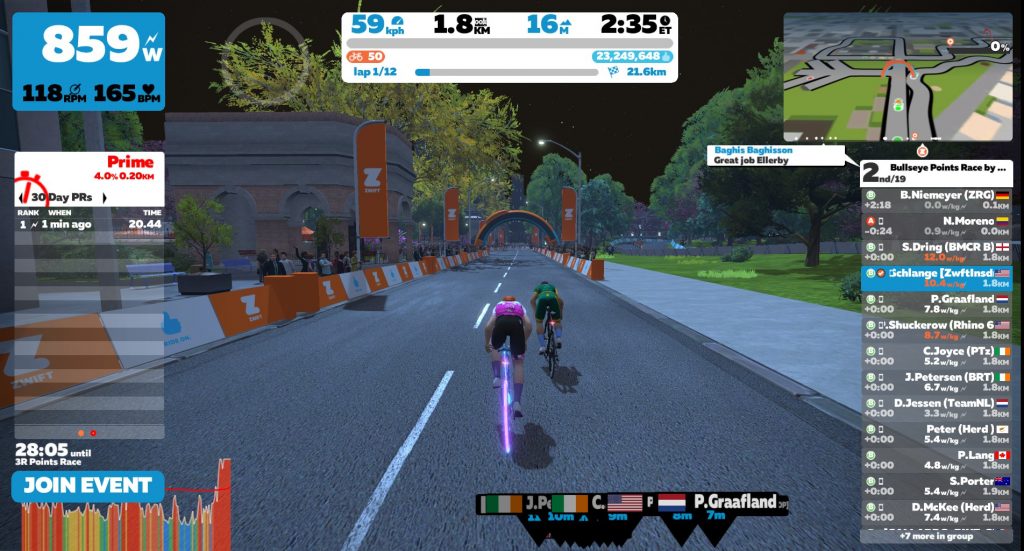 Immediately after the sprint everyone sat up and rode tempo. I averaged around 265W from the end of the sprint to the start of the next one, and this pattern would repeat itself each lap.
Without walking you through the details of the race, here's how all 12 sprints shook out for me:
Sprint 1: no powerup, 2nd place (no points, because the first lap doesn't award points in ZwiftPower)
Sprint 2: drafting powerup, 2nd place (49 points)
Sprint 3: aero powerup, 1st place (50 points)
Sprint 4: no powerup, 4th place (47 points)
Sprint 5: drafting powerup, 2nd place (49 points)
Sprint 6: drafting powerup, 1st place (50 points)
Sprint 7: no powerup, 5th place (46 points)
Sprint 8: aero powerup, 1st place (50 points)
Sprint 9: drafting powerup, 1st place (50 points)
Sprint 10: drafting powerup, 3rd place (48 points)
Sprint 11: drafting powerup, 2nd place (49 points)
Sprint 12 (Final Lap): feather powerup, 2nd place (98 points)
Total: 586 points out of a possible 600
The Finish
On the final lap, one rider (S.Porter) jumped well before the brick climb and put in a really solid effort to create and maintain a gap. Nobody chased his wheel, and I wasn't about to put in the work to pull the pack up to him, because I didn't think he had anywhere near enough points to beat me. Better to keep my legs fresh so I could (hopefully) outsprint the pack around me which held my closest competition.
I had a feather powerup (my first of the race) – pretty useless in this points format! I used it on the brick climb and put in a bit of a dig to see if I could create a gap, but that didn't work. I quickly switched back to conservation mode, saving my legs for the final seconds.
And in those final seconds I started my sprint early, trying to surprise the pack by not waiting for someone else to go. Surprisingly, I stayed away from the other 5 riders, crossing the line in 2nd being S.Porter.
After the race, organizer James Bailey from the Herd team messaged me on Facebook with congratulations. I had won the points race!
Watch the highlight reel (all 12 sprints):
See ride on Zwift.com >
See activity on Strava >
See race results on ZwiftPower >
Takeaways
Based on how high I had finished in each sprint, I actually thought I had won the race by a good margin – because I didn't notice any rider who was consistently beating me. Little did I know, I only won by 7 points! A couple of weak sprints or a pack finish from me and someone else could have easily been atop the podium.
Somehow I hadn't noticed 2nd place P.Graafland turning in consistently strong sprint results. So that's my lesson from this race – pay more attention to the riders who are sprinting strong. I had been watching S.Dring because I knew he was strong, but that was the only name I was watching closely. (Don't ask me why – I have no idea!)
I've been working on seated sprints lately, at higher cadences. They're really working well for me. So almost all of my sprints today were seated. My next goal is to integrate higher cadence into my standing sprints. This could get interesting!
I also learned from race organizer James that the final lap's sprint is actually worth double points. Good to know for future races! This isn't written anywhere in the event description – James explained that it's a big pain getting event descriptions updated by Zwift HQ, when he has to manually submit a help ticket for each event's change. (A note for ZHQ – give event managers access to edit their descriptions please!)
Also interesting to note that, although we all sprinted on the first lap, nobody was awarded points for that sprint by ZwiftPower. Presumably because that first lap isn't a full lap, since the start pens put you on course after the lap banner?
The points format is a super fun change from the typical Zwift scratch race format. It requires different strategies, different strengths, and with a sprint on every short lap, it's actually a great "sprinterval" workout. I highly recommend trying out one of these races if you're into sprinting, looking to do some repeats, or just want a change from the typical Zwift race. Wednesdays at 11am and 5pm PDT. 8 weeks left in the series!
Your Thoughts
Have you tried a Bullseye Points Race (or other race) on Zwift? Share your experience below!