I've written quite a few race recaps in this "How the Race Was Lost" series, but today's takes a novel approach: combining my perspective with that of a teammate who raced the same event.
Mike Lister is a B like myself, although he's ranked significantly higher (1,536 to my 3,030). He's a level 36 Zwifter who rides on Team DIRT (as I do) and has over 140 races in his ZwiftPower profile.
We didn't plan to do this article, but when we happened to choose the same race and finish in very different places, the idea came together. Call it serendipity! The P Race: 2 laps of Watopia's Waistband, with double draft engaged. Let's race!
Warmup
I woke up at 6am and went through my standard race prep: weighing in, kitting up, a piece of caffeine gum and some PR lotion on the legs. Then I opened up Zwift and scrolled down the list of active Watopia riders until I found one Michael Knudsen, who I knew was out on Tempus Fugit in the middle of a 24-hour record attempt. He was trying to ride 1000 km in 24 hours, while also fundraising for medical expenses for a friend's son. 1000 km in 24 hours is no joke, and he needed the help of other Zwifters to ride along and lend him a good draft.

So I joined Michael's group for about half an hour, clocking in around 13 miles with a few sprints in their to break the ice. Mike Lister hopped in and rode with me, so we warmed up together in the desert.
The Start
Our B category had 131 riders – quite a large field! And I knew from glancing at ZwiftPower and riding in recent races that we had a fair amount of riders who were, let's say, "undercategorized." Given the very flat course, I knew we'd see a steady, hard pace from the beginning as the strongest riders went to the front and pushed watts to string out the group and create a selection. My plan was to race as conservatively as possible so I had as much left in the legs for the final desert sprint.
As it turns out, I didn't have any choice but to sit in, because the pack was flying. Someone at the front was pushing the pace, and it was all I could do to maintain a position as a tailgunner in the front pack!
Mike shared my experience, saying "Being a long race I planned on trying to sit in on the flats to conserve energy which was just as well as the race went off like a rocket. Checking out the segments after the race showed I achieved a PB for Fuego Flats Forward although my power output wasn't over the top."
Subscribe to our newsletter
Our starting group averaged just under 30 mph on Fuego Flats, and by the time we hit the short rise into the redwoods the front was whittled down to around 60 riders. This is where the next major selection of the race occurred. Mike says:
"As we approached the incline out of the desert I moved up the pack to give myself a bit of breathing room to glide through the pack. As we went up and over the pack split into two large groups with a 6-second gap in between. I expected the groups to coalesce back into one super blob but whether it was the determination of the front of the race or the effect of the double draft, this didn't happen, leaving a leading group of around 30 riders."
Unfortunately, I was caught on the wrong side of this split as the pack hammered its way over the top and down through the redwoods. A stupid mistake, because I know the group always strings out and riders get dropped in this section. But some combination of my legs not feeling strong and my brain not thinking quickly led to the screenshot below, which no racer wants to see: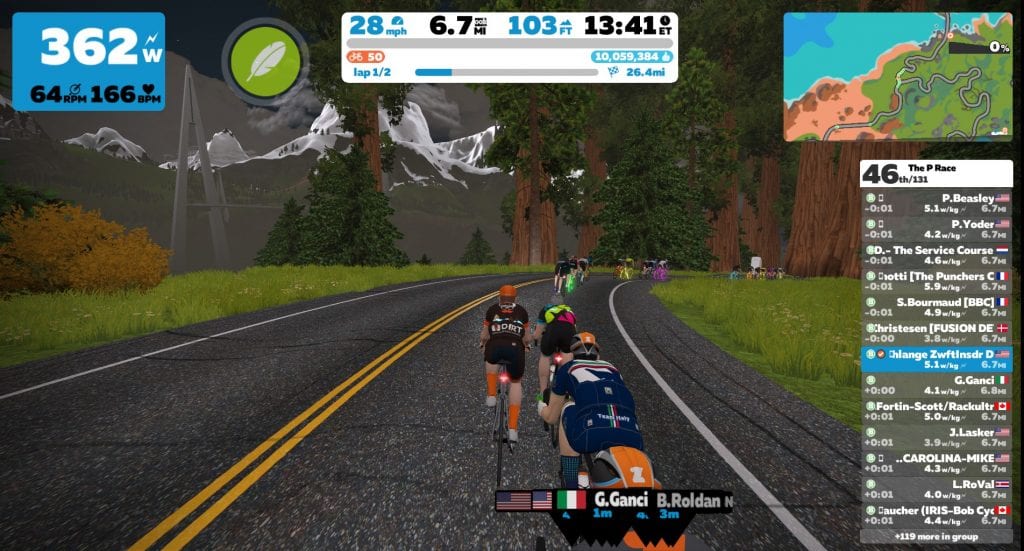 That's a strung-out pack right there, and that's a gap that we would not close down. Race over for me – I was now in the chase group!
The Middle
The miles flew by, and up the road, the effort required to hang with the front group began to wear on Mike as he worked to complete his first lap of Watopia's Waistband:
"As we went through the switchbacks, Italian village and Volcano my legs were starting to suffer. My participation in the DIRT Sprintalooza the day before was fun but might not have been the best preparation. The speed was so high I took a minute off my Waistband PB, which I'd set in January in a single lap DADurday race. However, today I had a second lap to go!"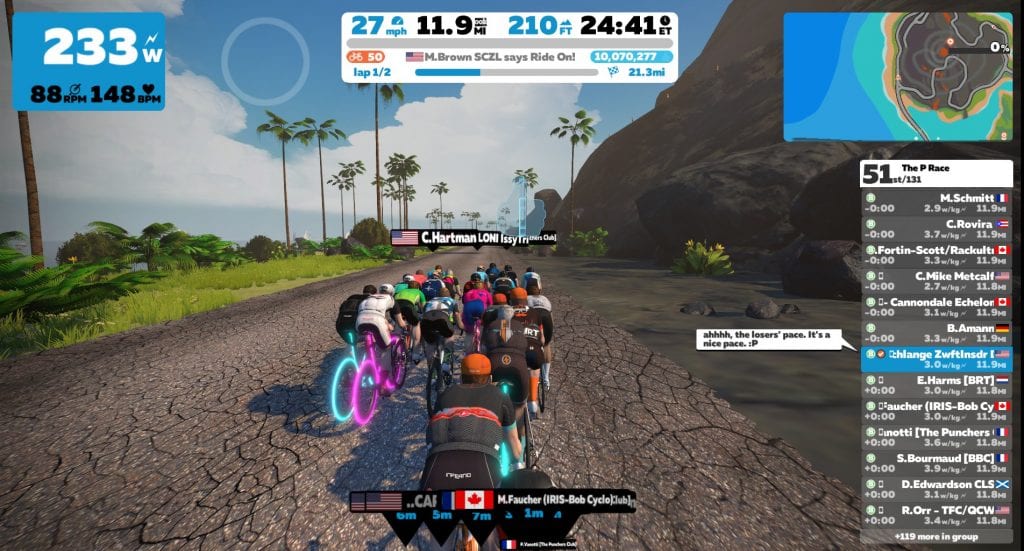 The middle portion of my race wasn't particularly interesting – we settled into a more doable pace, and our group of 15 or so slowly grew as we gobbled up riders who were being dropped from the front of the race in ones and twos. (With double draft enabled it's nearly impossible for a group of 1-3 riders to stay away from a group of 10 or more.)
On Mike's second lap he succumbed to the group's high pace:
"As we headed back into the desert I managed a bit of respite in the pack but soon the terrain started rolling again and riders started to drop off the back. Unfortunately, as we entered the Italian Village for the second time I found myself at the back of the group and a gap formed a couple of riders ahead of me and we lost contact with the front. I kicked myself for not being further up the pack, but in reality, I was suffering and that was the real reason I was at the back of the pack. I did attempt a half-hearted sprint to try and get back on but even a 4-second gap was too much for me. "
I stayed off the front of our chase group, except for one little dig on the climb snaking up from the fishing village in our second lap. My legs just didn't have it today, but I decided to make it a "race within the race," pretending like my group was the front group and I needed to conserve for the final sprint.
The End

Mike's ending would come 2 minutes sooner than mine, and although he was no longer with the front group, he was happy with his race so far. "A top 20 finish from 131 entrants was in the cards which I was pretty happy with considering it was my first race over 40 km in 6 months." Mike would finish in 17th according to the in-game results, but 8th according to ZwiftPower.
My chase group had swelled to around 25 riders by the time we turned off of Ocean Boulevard and hit the long drag up to the desert finish line. The wattage ramped up a bit, but the pace was still very doable. I sat in, riding near the front but out of the wind, planning to grab onto the wheel of whoever jumped first! (Without a powerup to help I didn't fancy my chances at a longer attack.) My plan worked well, and only one rider from our group finished ahead of me. 36th place in-game, 18th on ZwiftPower.
See my activity on Strava >
See my activity on Zwift >
See Mike's activity on Zwift >
See race results on ZwiftPower >
Takeaways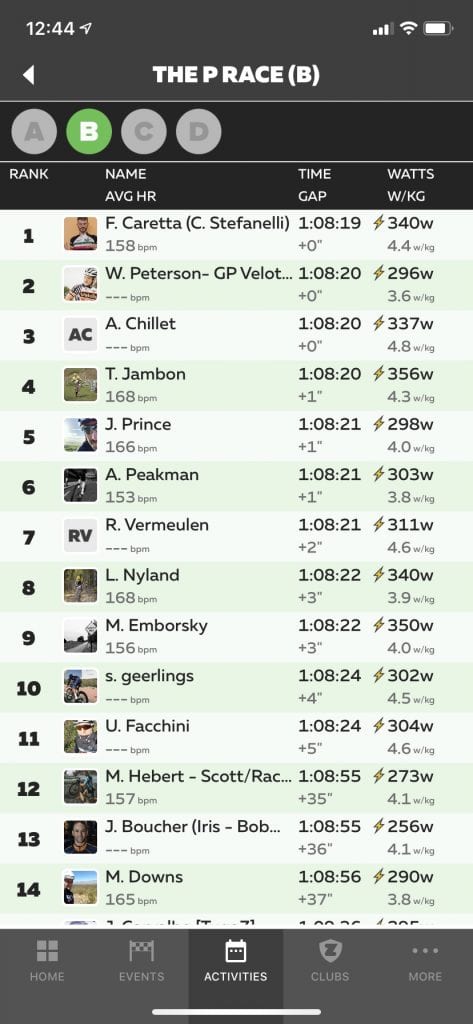 I've ridden the P race many times over the last year, since it fits nicely into my Saturday morning routine of riding 60-80 miles with a longer race effort somewhere in the middle. It's interesting to compare the data between this P race and those I've done in the past. Same route, but more riders – and more sandbaggers!
Even without sandbaggers, as a general rule in Zwift races, overall speeds increase as pack size increases. But this race also had some significant sandbagging going on: check out the power numbers from the front finishers!
I'm looking forward to Zwift's new anti-sandbagging green cones to begin doing their work in community races soon.
My other takeaway from this race was a lesson I apparently needed to re-learn: that I can't tailgun into an attack section and expect to come out of it in touch with the front group. I have to force myself to get closer to the front before these sections begin, so I avoid the gaps which will open and I can stay in touch even if I drift back a bit in the group.
What About You?
Have you ever lost a race due to ill-advised tailgunning? Have you noticed that Zwift pelotons have swollen in size and increased in pace lately? Share your thoughts below!