In the past few weeks I've found myself racing the 7:30AM PDT Team DRAFT Thursday Race, which happens across 12 laps of Downtown Dolphin in Crit City. Two strong B racers (Oliver Chi and Derek Rush) have been there for the past few weeks, and the three of us have taken several podiums in the past three weeks.
So this week I decided I'd try to coordinate some teamwork with Oli and Derek, to make the race even more fun and interesting. We didn't quite stick to our original plan, but the final result was good! Here's the story…
The Warmup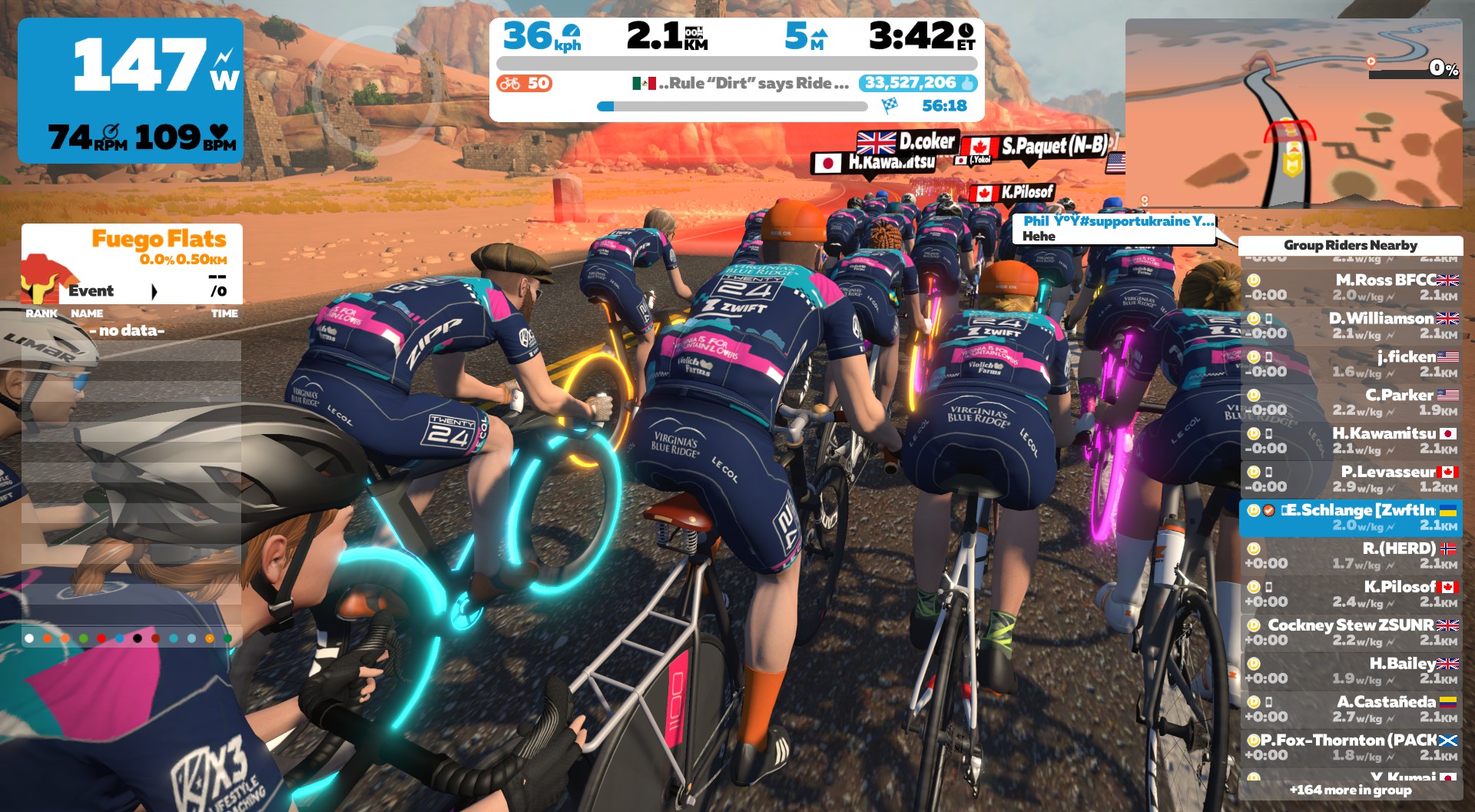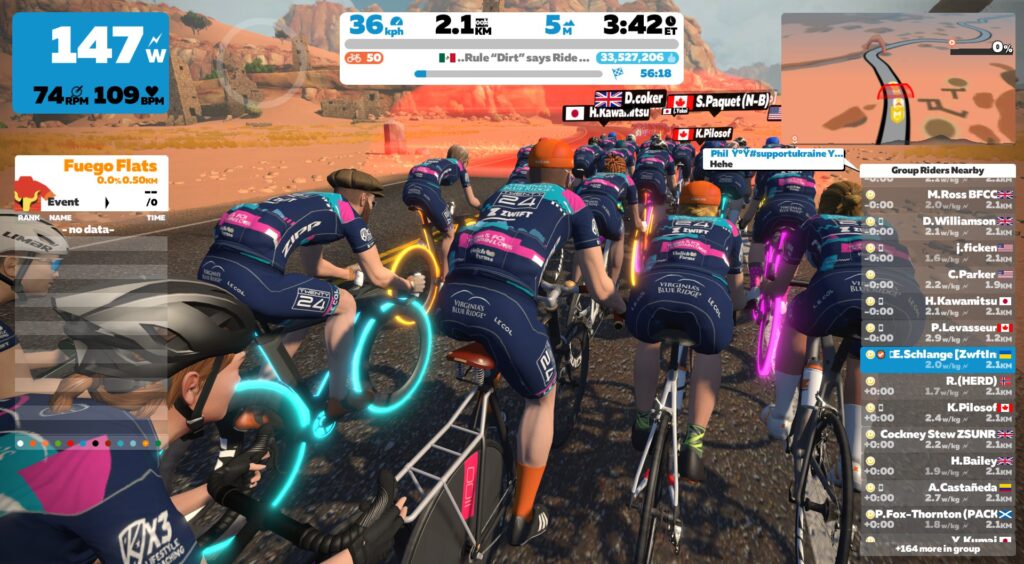 Lately my Thursdays have started with the 6am Team Twenty24 "Road to Paris" ride – an easy, chatty hour with a couple hundred folks led by multiple world record holder Amanda Coker. Always a fun time, then I spin my legs for another 30 minutes before heading over to Crit City.
Just before heading to Crit City I saw Oli show up just behind me in Watopia. I already knew he and Derek Rush were signed up for the race, and I'd been thinking of asking if they wanted to work together this week to make it interesting. So I asked Oli. He was in. Another rider nearby "overheard" us – Michal Nowakowski from Race3R. He asked if he could join us – which of course is always a yes. The more the merrier!
Then I headed for the Crit City start pens, where I PMd Derek to see if he was in. He said yes, although his legs weren't great today (or so he said).
I messaged all three riders while we sat in the pens. "Attack on the false flat just after the start banner on laps 4, 8, and 12". Everyone was in. Let's see what happens!
Attack #1 – A Bit Messy
The B category had 36 riders, and the race started like most cat-enforced B races in Crit City – a bit of a push for the first part of lap 1, then things settle down substantially with no sandbaggers to push the pace. My "team" just sat in, paying no attention to a solo rider or two going off the front. We had our plan.
As we started lap 4, Michal jumped hard off the front, initiating the attack. He was a bit early, jumping while we were still on flat ground, before the false flat section began. But I chased his wheel anyway, and the two of us got a 5s gap on the group. Oli missed the jump and tried to come across, but couldn't grab our wheels, so he eased back into the pack. Derek was nowhere to be seen, having missed the move.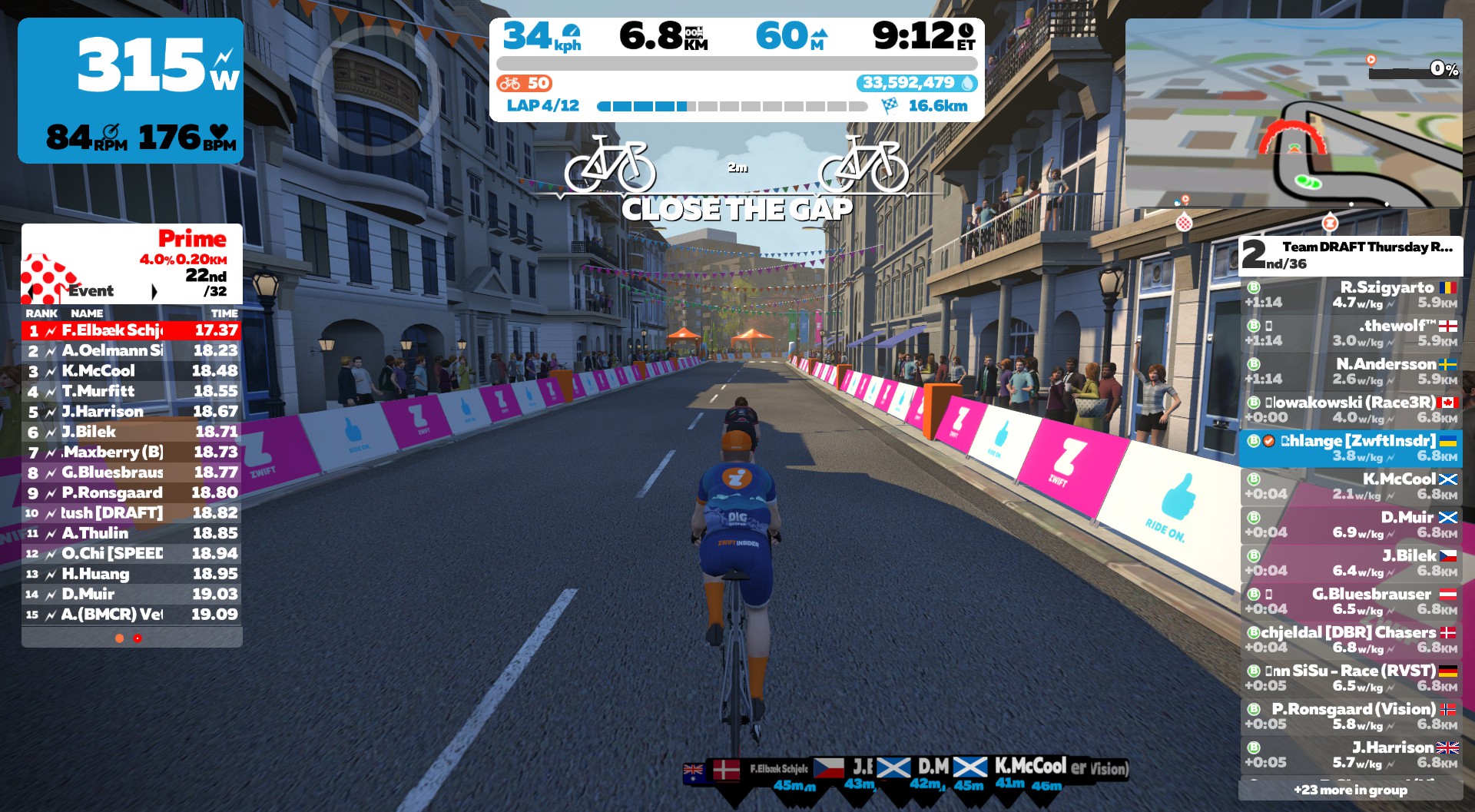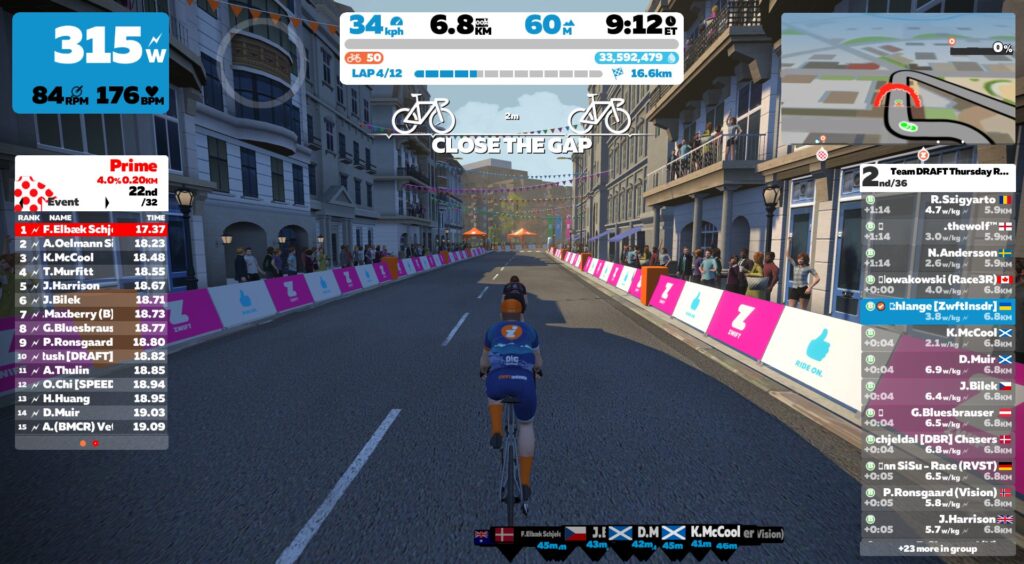 So much for our first attack! The good news is, we could only improve from this point.
Attack #2 – Where To Attack?
As we recovered for a few laps, I decided to change the plan a bit and have us attack on the brick climb for lap 8, to see if it would work better.
Picking a time to attack is sort of an art form. Generally speaking, attacking on uphills is smart, because that's where gaps form the quickest. Because that's how physics work!
Think of it this way: if you bump up your wattage 200W above your competition for 30 seconds on a climb, you'll create a bigger gap than if you're 200W above on flat ground.
The problem with attacking on the hills is, everyone expects it. So they're already bumping their power up, and watching for attacks. And that brings us to the other half of choosing when to attack – the element of surprise. I had chosen the false flat as our attack location because it wouldn't be unexpected. But now I wanted to try the bricks, to see if we could put more hurt into the pack with a climbing attack.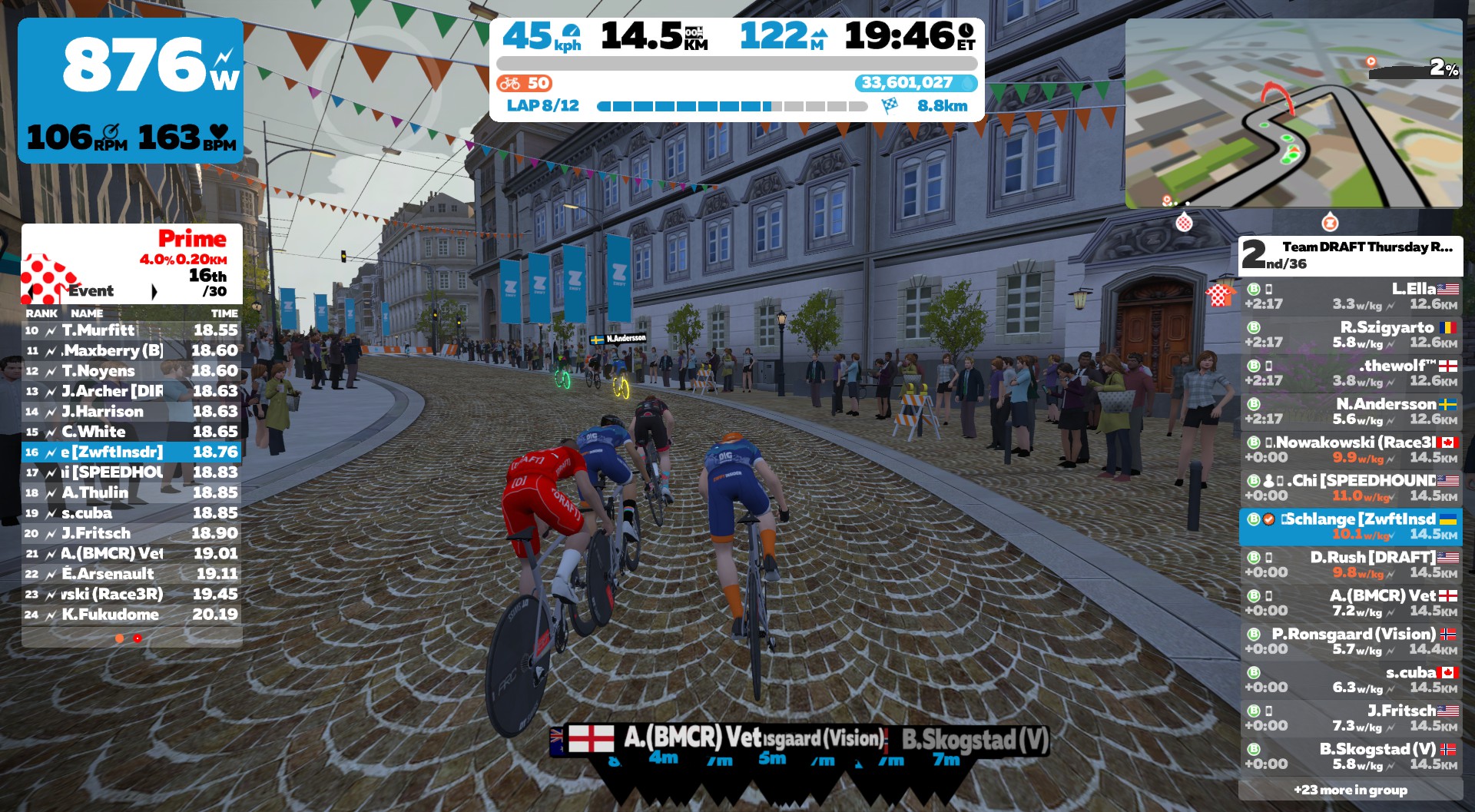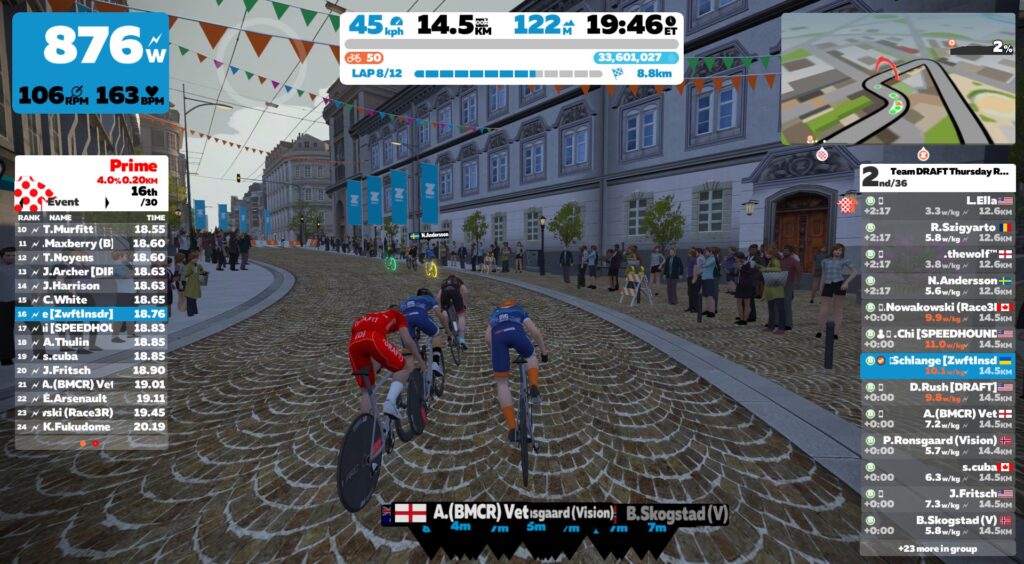 I messaged the other three riders so we all knew the plan. And this time, we executed it perfectly, jumping hard on the bricks and staying away until just after the start/finish banner. This attack did some real damage, whittling down the front pack from 25 riders to 10. Progress!
Attack #3 – Finishing Fireworks
Michal messaged asking if I wanted him to attack early on the last lap, forcing the pack to chase him while we sat in and waited to initiate a followup attack. Great idea!
I messaged the other three, letting them know the plan. Michal would be the sacrificial lamb early into the final lap, and if everything went well we would attack on the bricks, slingshotting past Michal and dropping other riders. Then it was just a question of whether we could stay away to the finish.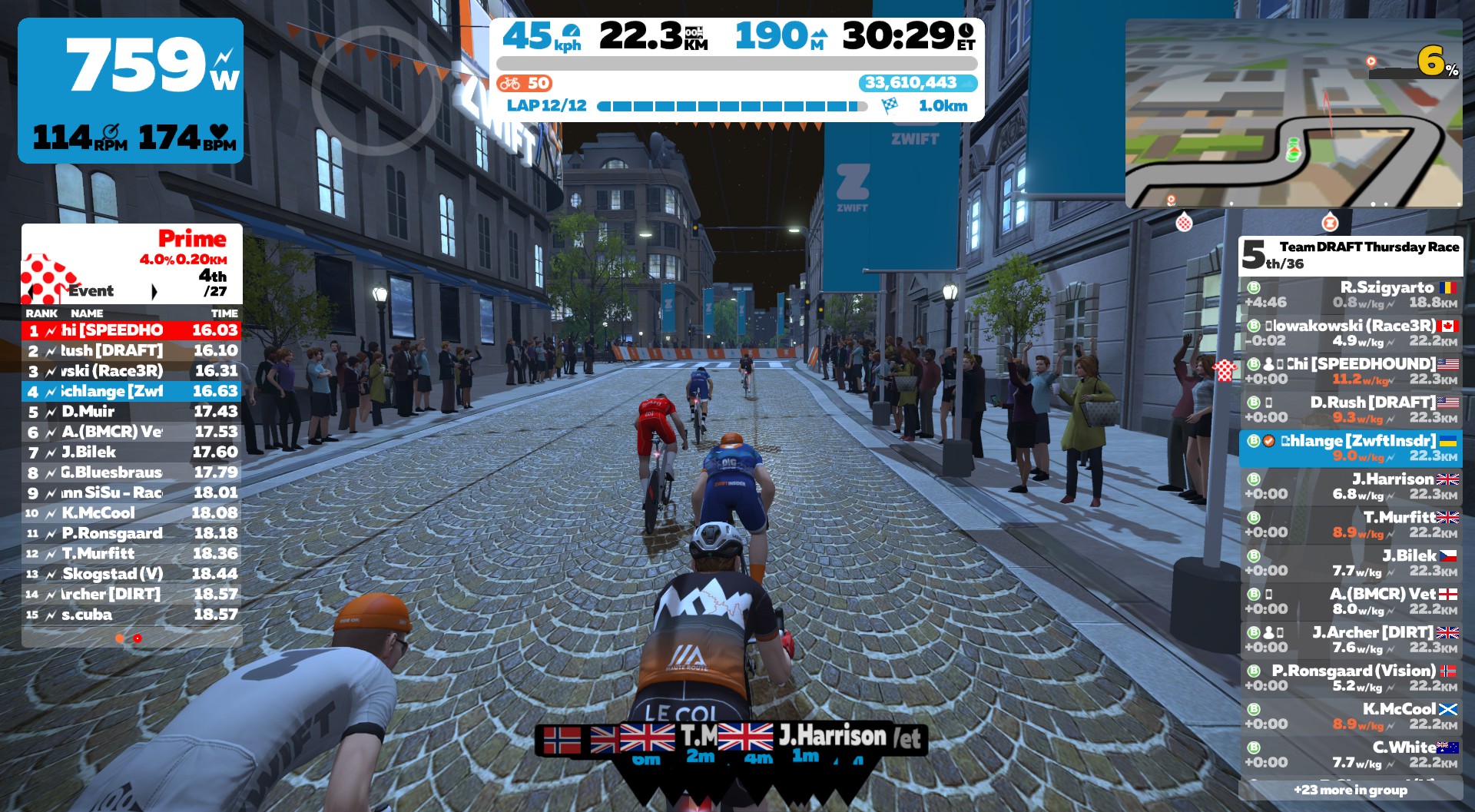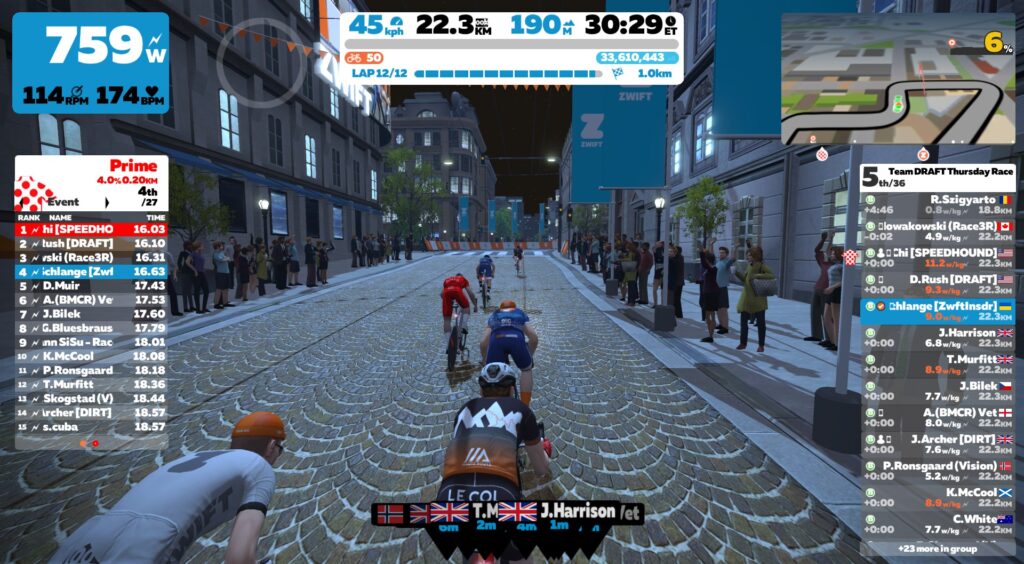 Michal jumped hard, getting a gap of a few seconds on the pack. Another strong rider (Harrison) followed him, and I let him go, sitting in the wheels of the pack as they chased.
Then we hit the bricks and Derek, Oli, and I jumped hard. We flew past Michael and Harrison on the bricks, and I could tell we were moving fast (despite no powerups in the race to help us out).
There was just one problem: the other riders had anticipated the attack. Because there's always a hard push on the bricks on the final lap of Crit City! As Michal messaged "gogogo!" I eased, knowing I didn't have the legs to stay off the front to the finish. Our attack had dropped another 5 riders from the group, but we still had a pack of 10 sprinting to the finish.
I grabbed a quick breather before the final sprint, then it was time to go all in. Head down, I gave it all I had – but I didn't have much. Looking up as I crossed the line I could see Derek crossing in 1st, Oli just behind me, and two riders ahead of me (Haslund and Harrison).
Then the results popped up, showing me in 3rd, with Harrison nowhere to be found. Odd.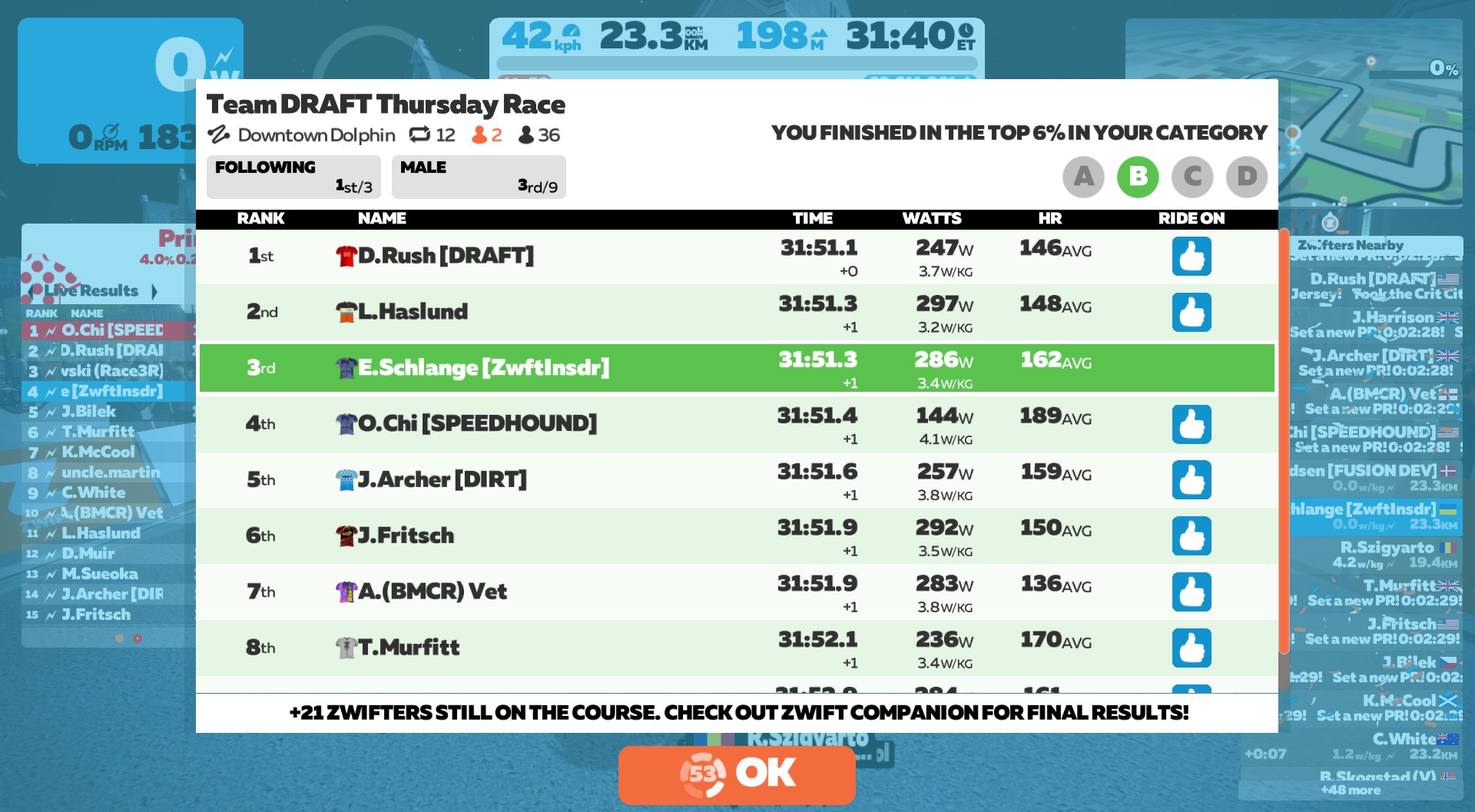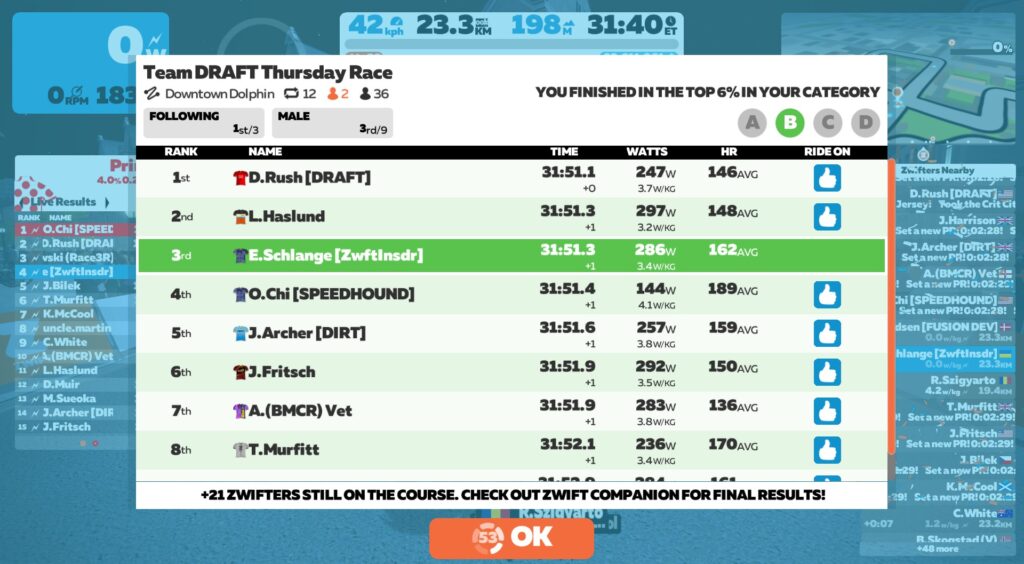 See activity on Strava >
See ride on Zwift.com >
See results on ZwiftPower >
Watch my race video:
Result Wackiness
When I pulled up the results in the Companion app, Harrison was listed in 2nd place, moving me to 4th and Oli to 5th. So the first bit of weirdness is that Harrison didn't even show up in the results list on my screen, but did show up in the results list in Companion. Oli said he saw the same thing.
But the second bit of wackiness is that on ZwiftPower, Harrison was DQ because he's classified as an A based on ZwiftPower's standard categories.
Here's the problem: this race used Category Enforcement. So if Harrison was allowed to race as a B based on Zwift's new Category Enforcement setup… should he be DQ on ZwiftPower? Of course not.
Race Organizers – Change Your ZwiftPower Settings To Support Category Enforcement
The basic problem here is that the organizer of this race (presumably Team DRAFT) hasn't changed the event's ZwiftPower settings so it will play nicely with Zwift's new Category Enforcement scheme. It's an easy fix, though:


Race organizers: if your race uses Category Enforcement, you need to change the "Categories" option for the event to "No category enforcement". This will ensure riders don't get automatically removed from results when their ZwiftPower category is higher than the category they race (which is what happened to Harrison).
Takeaways
It was a lot of fun working with a small impromptu team to make the race interesting. Our team of four made a big impact on the race, and got a good result with Derek taking 1st and myself and Oli placing high as well (where we actually placed depends on where you look). Sure, I didn't win – but that wasn't really the point. With one of my "teammates" taking the win, I consider this a victory.
A group of four can make a big impact on a race of this size (36 starters) but when you get up to 100 starters or more, you need more riders in order to make a big impact, because your attacks have to be sustained long enough for the pack to really work to catch. It's that working hard to catch that creates gaps and selections, putting hurt in the legs and reducing the size of the front group.
Next-level teamwork would be picking a protected rider (your strongest sprinter). They could sit in on the early attacks, just making sure they stay with the front pack as other riders work to chase back your team attacks. Then go with the team on the final attack, sitting in the wheels for a leadout and waiting to launch until the perfect time.
Could our final attack have been tweaked to be more effective? Perhaps. Attacking in the same place one lap earlier may have whittled down the pack just as much, but left us with more recovery time for the final sprint.
One final thought: having powerups in the race would allow for even more interesting team dynamics and tactics – in my opinion it's a bummer this race doesn't use them.
Feature Request: Group Messaging
Based on today's experience, it would be really nice if Zwift could implement some group messaging functionality into Companion, for times like this. It sure would have been easier to communicate with my squad if I only had to send 1 message instead of 3 every time we needed to chat!
But that's a pretty fringe feature request, I suppose. So I won't hold my breath.
Your Thoughts
Have you ever seen teamwork produce a good result in Crit City? Have you ever created an impromptu team of non-teammates? Share your story below!