I've never had such a clear race plan as I did going into this week's Zwift Racing League event. After putting together the course recon several days earlier, I knew everything hinged on getting over the first climb in touch with the front ~30 riders. And everyone else knew this, too. So I knew the flat lead-in would be fast, and the 5-minute effort up the first climb would be an all-out brawl.
Here's how it unfolded for me.
The Warmup
As usual, I chewed a two pieces of caffeine gum and rubbed PR lotion on the legs, giving my body a bit of an edge since I knew today's effort would be a maximal one.
Then I joined C. Cadence and her posse for a warmup on Tempus Fugit. Her pace is generally perfect for a race warmup for me – I can get me legs spun up to speed sitting in the group, then ride off the front for my 30-60 second warmup efforts, getting my heart rate up to 160bpm a few times before the real work begins.
Things weren't looking good for me. As I put in the hard, short warmup efforts, I could tell the legs weren't feeling great. Apparently I hadn't quite recovered adequately from a decently climby outdoor ride on Saturday.
As soon as the notice popped up to join the event, I clicked so I could get a place close to the front in the start pens. I was looking for every advantage I could get! Then I exited the game and rejoined Coco for several more miles before it was time to head to the start pens for real.
The Start (and End?)
The clock hit zero, and we jumped out onto the roads of Central Park. The pace was high (no Zwift race starts easy!) but not crazy. Not yet.
As we neared the start of the first climb I moved to the front – a time-honored trick used by cyclists on climbs! Starting near the front lets you slowly drift back through the bunch, finishing the climb still in touch with the pack but near the back, having put in less effort than those who maintained their position.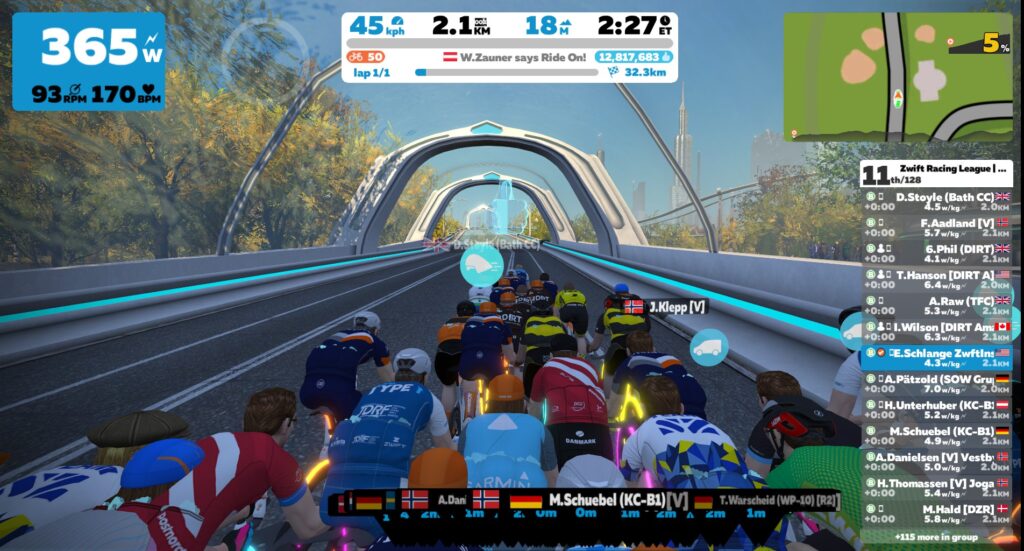 But I didn't drift back slowly. Instead, the pack swarmed around me, and I went from 10th to 60th in 15 seconds. I stood up and hammered on the flat section partway up, but by the time we passed the actual KOM start line (2 minutes into the climb) I was in 83rd place. Brutal!
I put in another final dig on the steepest section just before the KOM banner, moving up to 70th place. There was a 4s gap to a line of riders just up the road, but I didn't have anything left to chase them down! Then Zwift added insult to injury, giving me a feather powerup at the top of the climb.
And that was it: the race start was 7-1/2 minutes at 360W (a new personal best for me) and I was dropped from the front. The actual climb section lasted 5 minutes, and I averaged 371W for that portion.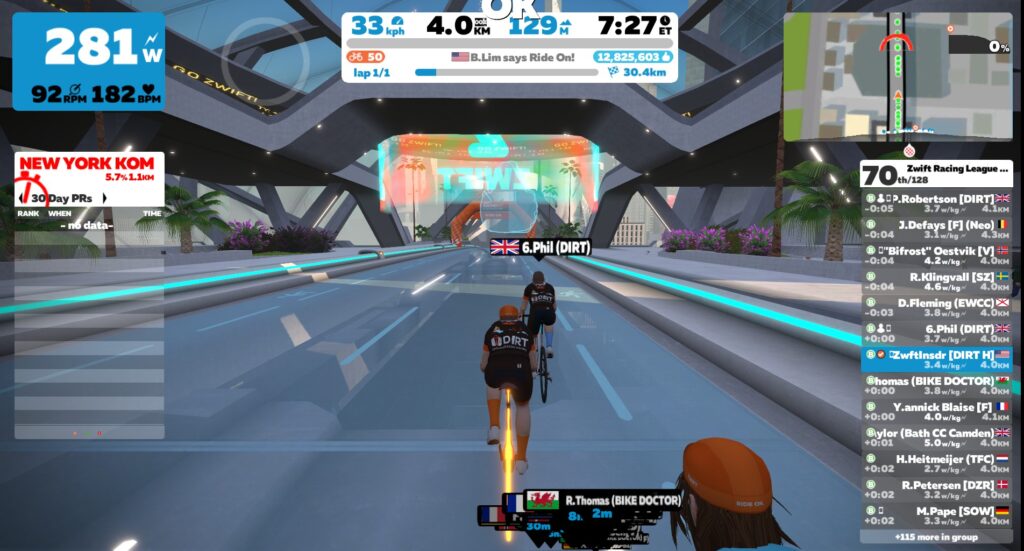 A group of riders caught me from behind, including my teammate Alex – but none of us had the legs to push hard enough to catch the group up the road. The gap went out to 7 seconds, then 10. Soon enough the groups ahead coalesced into two packs, with mine being the third.
The Middle
This is where I lost the mental battle. But maybe that's not the best way to say it.
I had already resigned myself to the fact that I had very little chance of making it over the top with the front group. So I made my decision ahead of time: with only the front 30 riders earning extra points, I had decided that I'd give my legs a break and not push hard if I didn't make it over the first KOM in a good position.
And that's where I was. We weren't catching the group ahead, so I just sat in the wheels. And when we hit the second little climb the group accelerated, and I just dropped off the back. Why not? I'd earn the same one point for my team no matter where I finished, and this way I could have fresh legs to race on Thursday.
In a typical Zwift scratch race, I keep pushing to the end, fighting for places. But ZRL's points structure makes it hard to turn myself inside out in order to finish 60th, when I'll get the same points as 90th place. That's not a criticism of ZRL (although some have implored ZRL to extend the extra points down to 60th place or so). Rather, it's just an explanation of what motivates (and demotivates) me as a racer. It may be the same for you – or not.
The (Actual) End
I came over the top of the last KOM in 96th place out of 128. In the final kilometers after that climb I pushed the pace just a bit, working to catch riders up the road. We ended up with a group of 4, sprinting for 91-94th place (ha)! I almost took 91st, but got pipped by B Lambert of TT1 at the line.
See ride on Zwift.com >
See ride on Strava >
See race results on ZwiftPower >
Watch my race video:
Team Result
Only one member of my team (DIRTy Beasts Hellhounds) finished in the points – Scott Olsen finished 24th (well done, sir!).
The rest of us earned just the single finishing point. That gave us a 16th-place finish for this race – our worst showing yet in this inaugural Zwift Racing League season. This drops us down to 11th place overall (out of 22 teams). But we plan to claw back a few places in next week's TTT!
Takeaways
No big news here – this race was the perfect illustration of how my w/kg in the 1-5 minute range is my biggest weakness as a rider. I've got the punch to keep speed up on steep climbs of a minute or two, but anything over that and I really struggle, especially against a strong field like we're seeing each week in ZRL.
Could I have raced this any better, perhaps staying in touch with that second group up the road? Maybe. Maybe if my legs were just a bit fresher, maybe if I'd pushed harder at key points on the climbs, maybe if I had a feather powerup, I could have clawed back those crucial 4 seconds and gotten over the top on the wheel of that second pack.
But even if I managed that, I wouldn't have made it over the second KOM in the top 30. Looking at finish times and groups, best-case scenario has me finishing around 40th place. Close, but no cigar!
Your Thoughts
Did you race Everything Bagel on Tuesday? How did it go for you? Share below!