A few days ago we saw a Facebook post from one Tyler Frazier of Cincinnati, OH ("Hello from Ohio!"). He told a story that deserves to be shared. It's a story about not taking yourself too seriously. And it's a story of true love, Zwift-style. Perfect for Valentine's Day!
This past week my beautiful 5 months pregnant wife, who ran the Boston Marathon a little more than 4 months pregnant with our first, expressed her frustration about not riding her trainer as fast as she used to.

In all my father of one wisdom I said, "Well it's not like you're trying to ride super hard or anything." Fast forward to today and my sister (who is a Home Economics teacher) gave my wife this 6-month, 15-pound pregnancy empathy vest and I have to ride in it for at least the next few days and run at least 2 miles in it a couple times… so here goes nothing.
Tyler began sharing his experiences, complete with photos. Here he is, riding "pregnant" on Zwift:
Initial reaction: Sucks pretty bad for the lower back and grabbing the handle/drop bars really pinches my man parts.
This isn't surprising, of course. Any woman who's been pregnant knows that just about everything becomes more challenging, especially in those later months! Here's what Tyler's wife had to say about her experiences combining endurance training with pregnancy: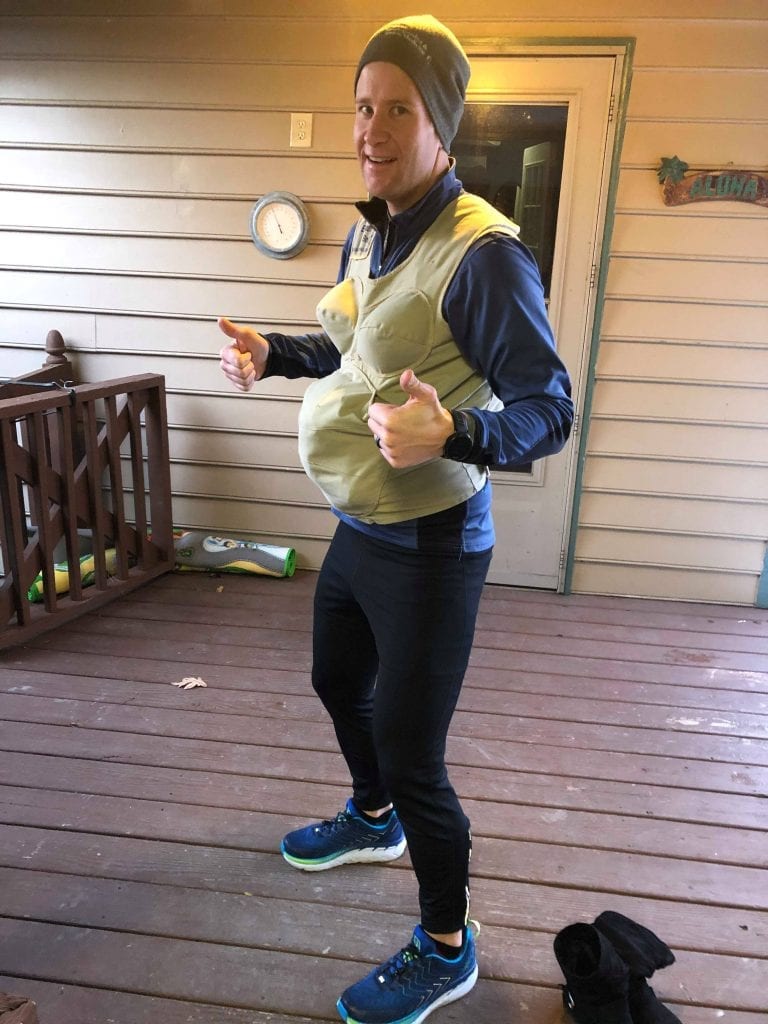 Being an endurance athlete means it's important to me to be as active as possible during my pregnancy. Just being active in general while pregnant is truly a blessing, but it's also extremely humbling. I fatigue much easier, I'm unable to generate the same power or maintain anywhere close to the same speed as what my 'normal' is when not pregnant. Plus, my ever-increasing belly size is making it more uncomfortable by the day to get down on my aero bars and work to hold that position.
Tyler went for a run and posted another update:
Update as of 7:30am… running is worse than cycling on a trainer. Kudos to all the moms out there staying active through pregnancy, and just carrying children in their bodies in general, this junk is hard.
Kudos to you, Tyler, and your better half as well. Here's hoping you survive your empathy vest experience, and best wishes for a safe and smooth pregnancy and delivery of baby #2. Ride/run on to both of you!
Here are a few more pics from Tyler: