Zwift station, pain cave, "the kitchen": Zwifters set up in all kinds of locations to get their fix.
Here at Zwift Insider we love to see those setups. Here's a selection we've been sent this month.
First up is Bill in Des Moines, USA, who says:
"Our pain cave includes a his and hers setup, so my wife and I can both ride together even in the virtual world. Powered by two custom built computers enabling us to enjoy 4K at ultra detail projected to a 120″ wall for me and a 42" 4K display for my wife. Trainers are Wahoo Kickrs, Wahoo trainer desks, and we both have a massive [amazon_textlink asin='B000E5S4MW' text='Vornado' template='ProductLink' store='zwif-20′ marketplace='US' link_id='c553a0a0-db78-11e7-abf1-9bf7fe56d78d'] and [amazon_textlink asin='B006O6FA22′ text='Stanley fan' template='ProductLink' store='zwif-20′ marketplace='US' link_id='de5b1936-db78-11e7-97a6-95b62c127ee4′] to keep us cool. Controls and BT sensors through the iPhone app, and Pandora to rock some tunes."
Seems they're a Trek house too. By the look of things, Bill's music through those large speakers should win out over his wife's. Let's hope they have similar tastes!
---
Next up from rural south Georgia, USA we have Team Moose.
Can you spot anything unusual in these photos?
We didn't notice first, but the eagle-eyed will have spotted something odd about the location of that Tacx Neo. That's right, it's at the front of the bike. *double-take* WHA?! Looking more closely at the fist bump photo, it appears Team Moose are all about recumbents. We suppose the Cruzbike jerseys should have been a clue!
"The words 'pain cave' and 'suffer' are not used around here. The Team Moose Playground is all about fun."
It certainly looks laid back, but as we all know, Type 2 fun is only fun after the fact. It's horrible at the time. Hello, FTP test!
---
Now to Welsh Wales. Haverfordwest in Pembrokeshire to be precise, from where Steve sends us a photo of his "cockpit".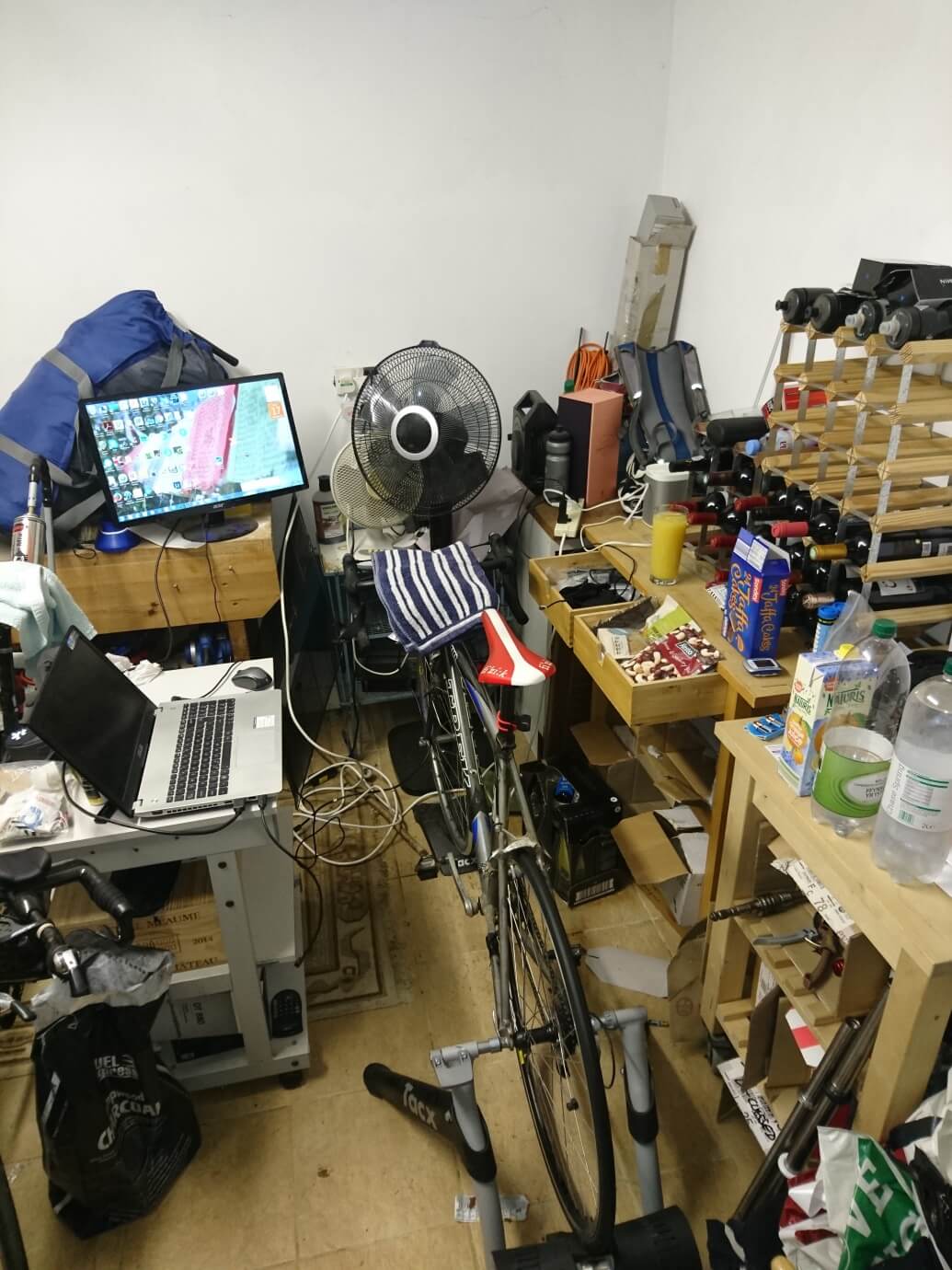 Steve tells us that this arrangement has everything he'd need with arm's reach. Jaffa Cakes: check! Keyboard: check! Towel: check! Secateurs: or are they mole grips? Either way… ouch!
Steve draws special attention to his very practical combination wine and bidon rack. He tells us the photo was taken at the end of his recent 14-hour Type 1 fundraising marathon, and it was full at the start. All we can say is it's a good thing he wasn't on rollers!
---
Michael, up next, didn't tell us where he's from. We've scoured these photos of his living room for clues, but have drawn a blank.
Michael speaks of "the luxury of Zwifting in comfort" and those leather chairs certainly look like inviting places to crash after a hard effort.
We also particularly like the hack/bodge to hold that 55″ screen in place: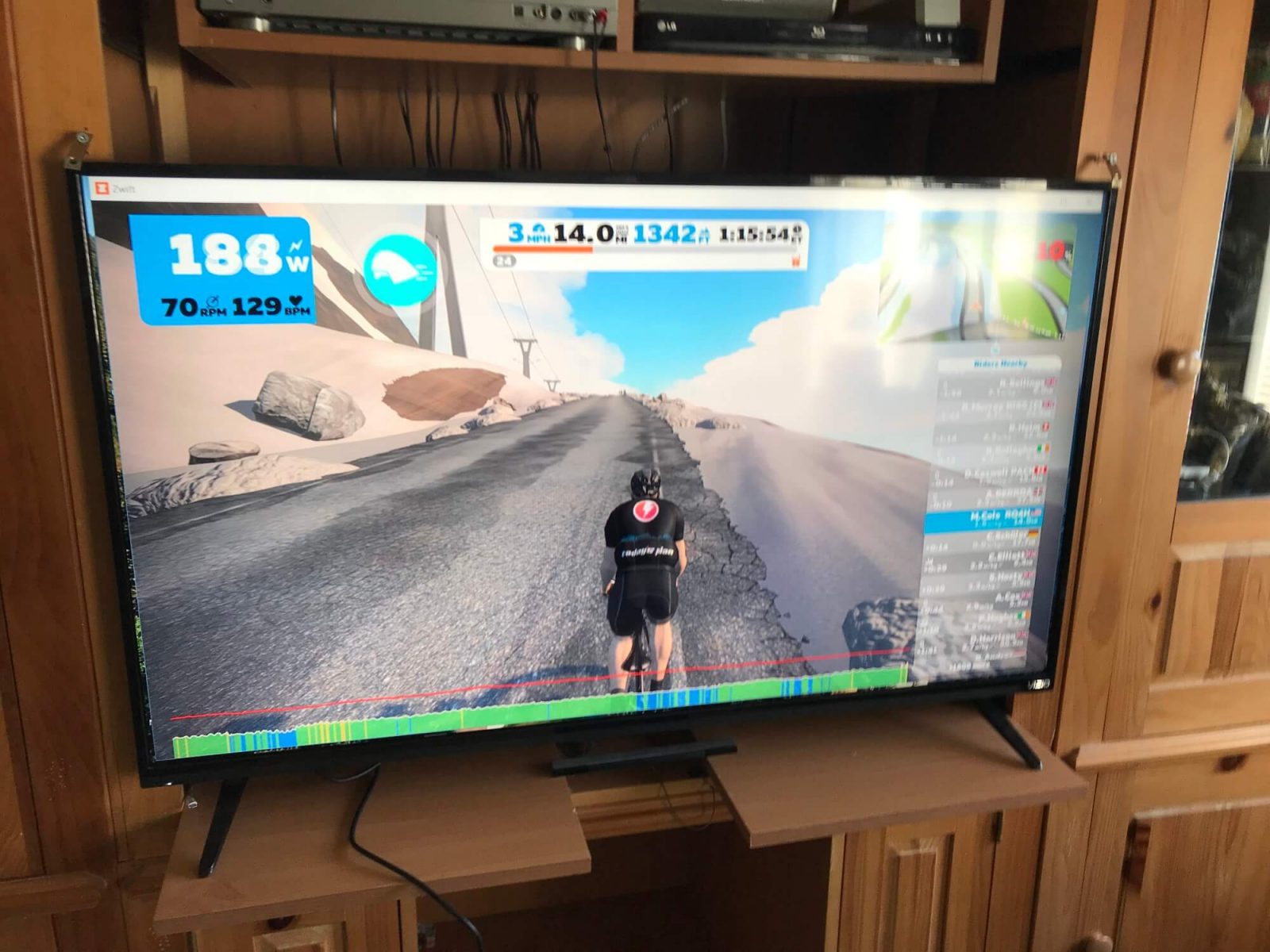 Dolby surround sound adds to the luxury, and the large windows mean he's practically riding outside in the fresh air!
---
Finally, from Carrollton (Dallas County), Texas writes Joe.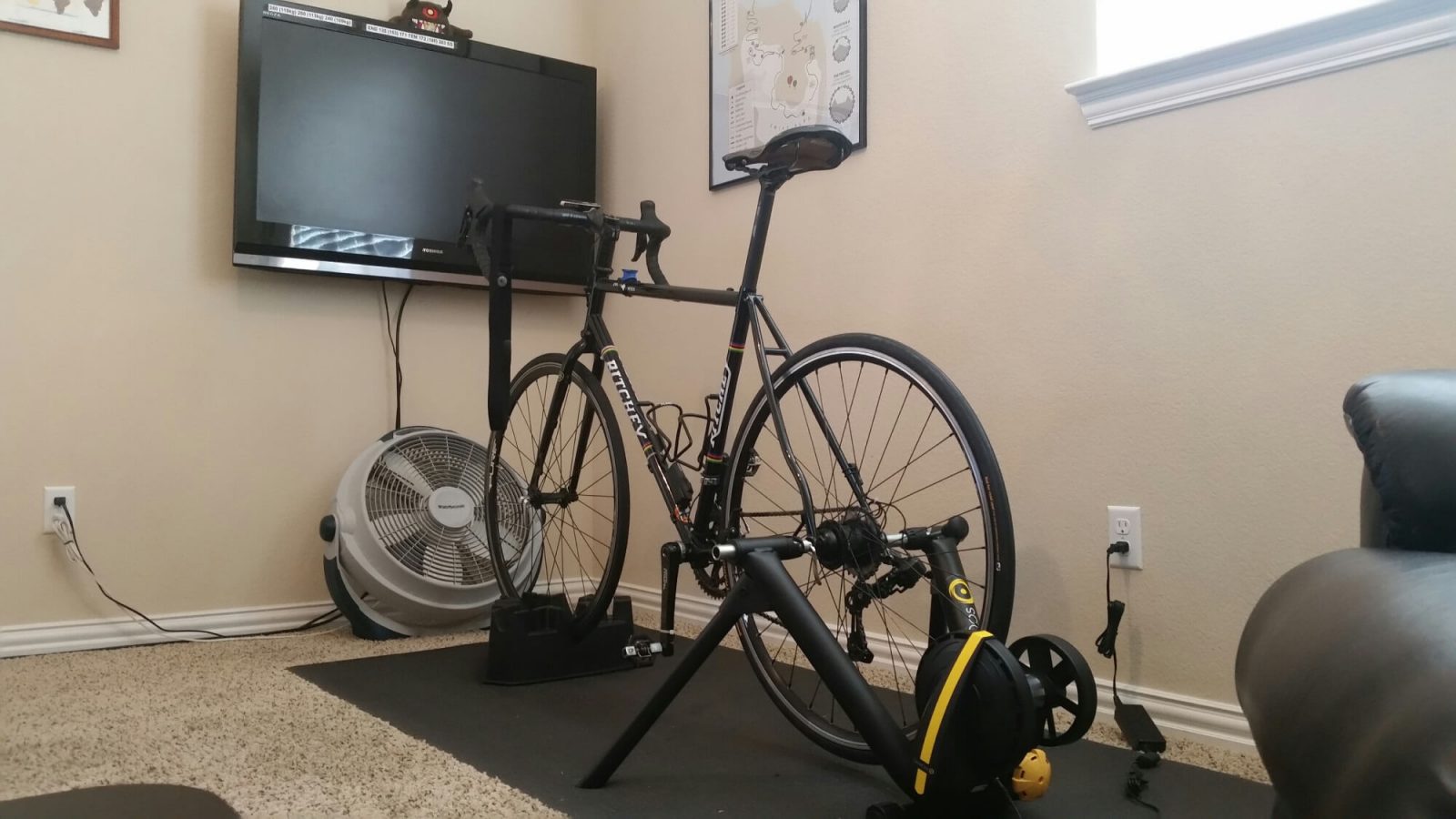 Joe rides in his study. As well as the floor fan we see in the photo, he has a ceiling fan above. Describing his setup, Joe says:
"My trainer is a CycleOps Magnus and the bike is a spare frame with an old Di2 groupset without the brakes installed. The rear wheel has a Powertap hub which I use for power, instead of the trainer. The Quad Lock mount on the top tube allows me to access Zwift Companion on my mobile phone and I use an old Garmin Edge 1000 to monitor my setup and other metrics. However, everything is connect to a Windows PC with an ANT+ USB dongle."
Crank Brothers Candy 1 pedals too, unless we're very much mistaken. We're happy to see the Watopia map on the wall. Surely de rigueur for any well-dressed Zwift station.
Joe says he's looking forward to seeing other Zwifters' setups. And so are we!
If you'd like to share yours with the world, please get in touch! Send a photo or two or three to [email protected]. Please include a first name, rough location (town, country) and some words about what makes your Zwift setup special to you or anything you'd like to talk about. We'll share a selection of them in future articles.