The first rule of MyWhoosh Club is … don't talk about MyWhoosh Club. The second rule of MyWhoosh Club is … well, you know the drill.
MyWhoosh is a Zwift alternative that is quietly gaining attention thanks to its races with huge payouts. Next up is a seven-race series with a payout of $1 million dollars. But we don't talk about that.
This weekend also features the 2023 UCI Zwift e-racing World Championships for, like, a fake jersey and €8,000. Some podcasts have insights and analysis of who's going to win the new three-race format, but you know that isn't Nowhere Fast. We are probably funnier though.
Finally, RGT has dipped its toe into the world of steering. Nowhere Fast Tech Correspondent Mike Swart gave it a try and reports back on how it compares to his trusty Sterzo.
If you're looking for a vintage Nowhere Fast that's "funny," "entertaining," and "not very rigorous," this is definitely one worth cranking during your next trainer ride. 
About the Podcast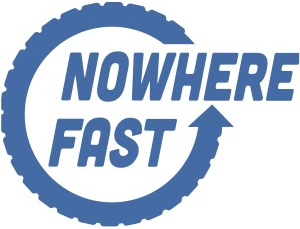 Nowhere Fast is a member of the Wide Angle Podium network. To support this podcast and help cover the money we are not winning by racing on MyWhoosh, head to wideanglepodium.com to become a member of the network and support what we do.
Follow Mike on Twitter at @mikeswart and Zach at @TheShoeStar.