Following my previous article about Nopinz, I was intrigued about their "Club Shop" offering, which is where Nopinz facilitate the design and manufacturing of your own personalised cycling apparel and host it in their "Club Shop" for purchase. The reason this feature sparked an interest is because my Mountain Massif events include an in-game kit that can be unlocked by completing an event and I thought it would be fun to be able to have this in real life to wear and make it available to all, with my own Mountain Massif Zwift Club members being particularly interested.
So I reached out to Nopinz who were delighted to assist me in my mission of bringing my in-game virtual kit to life.
This two-part special article documents firstly the design process and secondly, the manufacturing. Perhaps this will inspire others to consider doing the same. (It's worth noting that Race3R already have their kit manufactured by Nopinz and utilise the "Club Shop" facility.)
About the "Club Shop"
If you have been part of a cycling club, you may have had the opportunity to purchase the team's cycling kit. In years past it often fell to one individual to collate the orders, make sure the order minimum was met, collect the funds to pay, order, and then distribute the kit once it arrives. In summary there is a lot of what we colloquially call "faffing about" – especially for the person who has the unenviable task of co-ordinating such an undertaking.
Then add into the mix that often there are only certain times of the year that kit could be ordered, referred to as "kit windows", making this already challenging undertaking that much more a logistical headache. And then if you are unlucky enough to have an accident outside the "kit window" and rip your nice club jersey or shorts, you are either forced to wear mismatching kit or leave it hanging in your wardrobe.
These key issues are what the Nopinz "Club Shop" addresses.
With Nopinz's offering there is:
No kit window
No minimum orders
Kit is delivered to you individually worldwide
Shop open 24/7
This offering is unique and made possible because the kit is manufactured on-site in their UK-based factory in Barnstaple, Devon.
This setup is ideally suited for catering for the indoor cycling community because it allows you to purchase your team's kit, regardless of your geographical location, and if you lose a matching sock in the wash or you need a replacement clothing item, you can simply go to the shop and re-order and get it delivered to wherever you are in the world. Simple.
Club Setup Process
The first step to creating my in real-life kit was to go to Nopinz's website, specifically to their "Club Shop" where I then clicked the Join Club Nopinz link. It is here that I paid the £100 setup fee which covers having my own dedicated shop, hosted on their website, which can be password protected to control access.
Design Process
The second step was where I was contacted by a member of the Nopinz Design Team named Toby. This initial contact was via e-mail and having already had a jersey design produced, my brief to Toby was simple "take my virtual kit and re-create it in real life."
As Nopinz explains, "there is no limit to the number of iterations that can be made during the design process." And "the design team will continue to work with you until you are completely happy with your new kit design." Therefore, if you are starting from a blank canvas, the team will work with you to achieve something you are happy with.
Fortunately, I didn't have a blank canvas and sent over various images of my virtual Mountain Massif jersey and my own mock-ups. The only difference between the virtual jersey and the IRL version is that I have included the logos of the brands I linked with, which form part of the event's history. When designing my virtual jersey, I was very conscious of what could be visible onscreen and consequently the name "Mountain Massif" was omitted, as the lettering would have been too small and blurred, however, the in real life jersey gave me the opportunity to change this.
Following this initial email exchange, a brief conversation over the telephone to clarify some points was had with Toby and soon after, version 1 of the design was produced.
Version 1 Review
It was hard not to be impressed when I saw the first version. I was not expecting to see all variations of design to suit the different kit that is available. It was important to let my excitement subside before undertaking a full review and it was during this process that I noticed several details that needed to be discussed and amended. These were:
Socks – the banding design on the socks needed adjusting to follow the same order on the shorts
Bib shorts – the logo was missing.
Design – lacking white on the shoulders as per the virtual jersey.
Points 1 and 2 were easily fixed but point 3 required some discussion.
It transpired that due to the construction of the different jerseys and the seam placing in particular, this was the cleanest look and a diagram was sent explaining this. I asked to see an amended version where the white was continued to the neck and this was supplied, but ultimately, I was not happy with the look since you could see the joining seams. Version 1 as presented was best.
I was told however that the Superlight eco jersey with its different shoulder construction replicated my virtual jersey exactly. I was presented with a design. This was pleasing and meant that I could have the exact jersey I wanted and all the other offerings such as the skinsuit.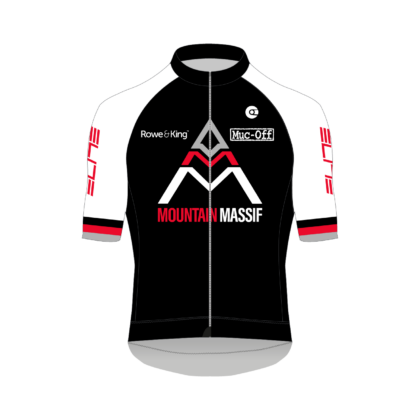 Version 2
Within hours, version 2 of the design with the required amendments was made and sent for me to proof and approve.
Before signing off on the design, I asked to see what the bib shorts would look like with the name "Mountain Massif" across the bottom, instead of the logo. I am conscious that many of the pro teams have the brand name here, but I have steered away from this because it felt inappropriate to have the name "Mountain Massif" in that area of the clothing.
Again, a mock-up was produced but we agreed that the logo looked best. I then proceeded to approve the design.
It really was that simple.
Colour Swatches
Colour samples for the printed design were emailed to me, with recommendations. To be thorough, I requested physical copies to see what they would look like. I find that colours on screen can be deceptively different to when printed on fabric, and I wanted to be sure on the shade of red that was going to be used.
The dilemma I faced involved the selection between two different reds, Pantone Red 185C and Pantone Red 186C. It was recommended the more vibrant Pantone Red 185C, and upon seeing the sample (which arrived within a day or two) I agreed with Toby, my designer.
Final Approval and Club Shop Creation
Within hours of confirming the colour palette, I was sent the final version to sign off using Docu-sign. With sign-off confirmed, I got an email from Toby outlining that it would take a week for my "Club Shop" to be created.
And just like the refined design process, within a week, my "Mountain Massif Club Shop" was live.
The added bonus is that access can be password protected, so only club members can procure your clothing. This is an excellent feature, especially if you want to control the launch, as all that is required is either removing the password protection facility or providing people with the password to access your Club Shop.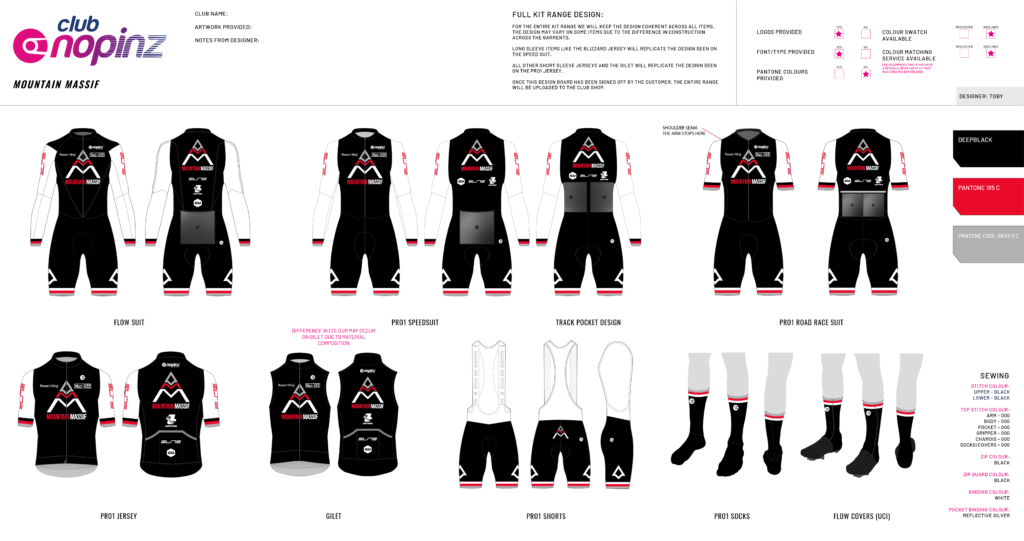 The Club Shop
When I viewed the Club Shop, I was absolutely amazed at what is on offer. There is every possible item of cycling clothing imaginable, with the exception of gloves. My personal favourite was the Superlight Jersey, as it directly mirrors the jersey found in Zwift. You can even have skinsuits custom-made to measure.
Three more items took my fancy. First was the Endurance Running Singlet. As someone who has clocked up their fair share of miles on the road, including 6 marathons, this resonated, so should you partake in the odd run, in addition to your cycling, there is a suitable item of clothing to wear.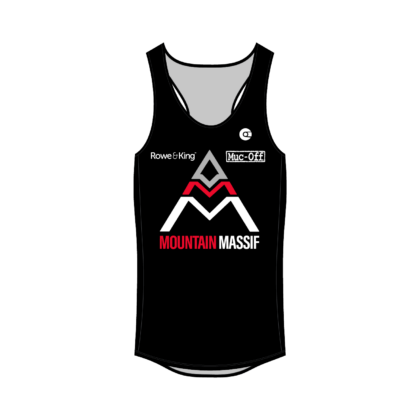 The second and third items are hat related, there is the standard baseball cap and then the beanie. Affordable, practical items that can be used every day that offer a connection to something you are part of and pretty exclusive.
So, it was time to order the items and wait for them to be produced. With a 40 working day lead time, I filled my cart with my selected items which were the Superlight Jersey, Pro-1 Bib Shorts and Pro-1 Socks.
Ordering the items was simple: just select the item, which then takes you to a screen where you can select your sizing and add it to your cart. As you would expect, there are detailed Size Charts to reference to ensure you get the correct fit.
Overall, I am delighted with my Club Shop. It was simple and easy, like the entire design process had been!
Summing Up
The design process with Nopinz was straightforward and above all, fun. I enjoyed the dialogue with my assigned designer Toby as we exchanged ideas and discussed colour fabric swatches. Whenever questions were asked, full and detailed responses were quickly provided, ensuring we were literally on the same page with decisions made.
The simplicity of the process and the fact that Nopinz has this extremely refined means that you don't have to be an expert in any of this. They provide the end-to-end service and walk you through each step at a pace comfortable to you. The level of (customer) service provided was faultless and extremely professional.
Furthermore, this is a very cost-affordable way for a team to get kit designed and manufactured. Yes, there are some initial setup costs to pay, but the value you get, in my opinion, is worth every penny.
If you are part of a cycling team on Zwift, why wouldn't you use Nopinz to bring your in-game jersey to life if you have one? If you don't have an in-game jersey, but are part of a team that regularly races together, why not get customised items designed to wear when racing?
With my order now placed, in part 2 of this series I will cover the manufacturing of jersey, documenting the work that goes into bringing my Zwift jersey to life!
Questions or Comments?
Post below!