I have always been meticulous when it comes to maintaining my bikes, in part because they are worth more than my car, but also because I spend so many hours in the saddle. It's important for cyclists to make sure all components are well maintained so there are fewer unexpected mechanical issues when we are miles away from home. (Because even despite our best efforts, surprise mechanical issues will arise, like the gear cable failure I had when undertaking a Zwift Gran Fondo earlier this year.)
The reality is, when you cycle on Zwift you put a lot of stress on some components of the bike. After my experience finishing the Gran Fondo with just two gears, you can bet I have been paying closer attention to maintaining my bike and the components!
There are lots of cleaning products on the market, but I have been particularly impressed with the range of products offered by Muc-Off, and over the last 6 months have spent a small fortune using their products exclusively, to keep my bikes clean and happy.
It's quite easy to spend a small fortune because Muc-Off is effectively a one-stop-shop for bike products that are designed to clean, protect and optimise your bike and components.
In today's post I'll highlight a few items that may be of benefit in the field of cleaning, protecting, and optimising your Zwifting bike.
However, before that, the history of Muc-Off makes for fascinating reading. It's worth understanding the company's background in cycling and how it has grown into the big brand it now is.
A History of Muc-Off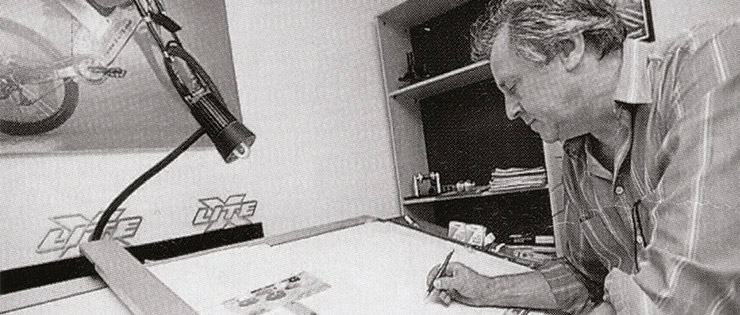 The origins of the company date back to 1991. In 1991 Rex and Marilyn Trimnell got things started with X-Lite UK, designing and manufacturing the world's first twin crown bicycle fork and the world's lightest bar ends. Rex was frustrated at the length of time it took to clean his bike so investigated surfactant technologies and created a perfectly pink cleaner to care for his kit.
Work continued on his product and in 1994 Muc-Off's cleaning product was born. It was eco-friendly, highly effective, and didn't damage delicate finishes or components. In summary, it was wholly unlike the other viable option at the time, which was washing up liquid that contained lots of salt, leading to corrosion of bike components.
By the start of the year 2000, when most people were worrying about the non-existent Y2K computer bug, Muc-Off was focussing on more pressing matters, like diversifying their MTB-centric business and branched out into motorcycles. In 2000 Muc-Off made its first range of motorcycle care products.
A car care range followed in 2003, and in 2008 a new biodegradable range of eco-friendly bike lubes was launched. Their evolution continued in 2010 when Muc-Off entered the world of Formula 1 by becoming an official supplier to Sahara Force India.
2014 was an important year for the company when they became the official supplier to Team Sky. This marked the beginning of a very exciting partnership and saw the birth of the Hydrodynamic Chain Lube (more on that later in the article).
Ensuring the company didn't stray too far from their MTB heritage, in 2015 Muc-Off became the official cleaning partner to Atherton racing, one of the biggest teams in the downhill series.
Muc-Off supported Sir Bradley Wiggins in his attempt at the hour record. Muc-Off started by speed grading over 40 Shimano Dura-Ace chains on specialist Muc-Off lab equipment. They were able to select the very fastest, most efficient chains to then be deep cleaned and treated with a groundbreaking new formula. This state-of-the-art formula and treatment process pushed the boundaries of chain lube innovation and was designed specifically to keep friction to an absolute bare minimum. A highly advanced new military-grade additive, along with some cutting edge extreme pressure additives were added to create an incredibly fast chain lube treatment. Armed with this new advancement, Sir Bradley Wiggins rode a distance of 54.526km (33.88 miles), setting a new World Record.
In 2015 Muc-Off won their first Tour de France with Team Sky using their Hydrodynamic Chain Lube, which was followed up in 2016, 2017, and 2018.
With the evolution of e-bikes, Muc-Off developed a range to suit and in 2018 launched the world's first eBike-specific range of products including a tyre sealant that became their most successful launch.
Most recently, in response to COVID, Muc-Off pivoted to create a full antibacterial range to help combat the pandemic.
Cleaning Products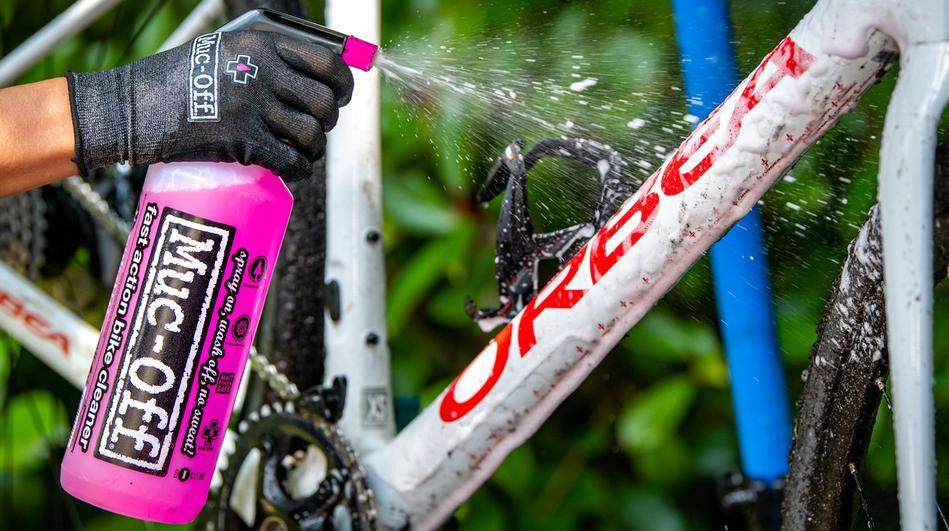 As I found out through my experience, it's more important to regularly maintain your bike when using it for Zwift. The salt generated from the intense sessions can corrode the components without you realising, until it's too late. I experienced this with my headset bearings rusting, which was as a result of sweat from the handlebars seeping into the bearings. I now clean my bike on a regular basis to avoid costly repairs and apply Muc-Off's Sweat Protect product (more on that later).
To clean my bike, I opt for the Nano Tech Bike Cleaner. The Nano Technology breaks down dirt and grime at a molecular level so it is easier to clean. You can literally see the grime dissolve in front of your eyes! As Muc-Off states, "It's the most effective cleaner out there, and it doesn't even need any of those nasty, dangerous acids or chemicals. In fact, our perfectly pink cleaner is biodegradable, free from acids, CFC's and solvents, and it's alkaline based so you can clean away with a guilt-free conscience. It's safe on all surfaces, and it's even disc brake rotor and pad friendly."
To speed up the process of cleaning your bike, if you aren't interested in using the old technique of a "bucket and sponge", Muc-Off offer a bike-specific Pressure Washer range where the Nano Tech Bike Cleaner can be sprayed directly on the bike using a specially-designed pressure washer. I've not used one of these but I caught up with Muc-Off's Steve Fearn who explained in more detail…
Muc-Off designed a specific cleaning attachment, referred to as a lance, which has been designed to be bearing and suspension friendly. In their own words "The lance creates a wider fan of water than a typical pressure washer lance. This means that there's less likelihood of causing any damage to delicate bearings, suspension components and paint finishes."
There is an adjustable Snow Foam Lance allows you to apply Muc-Off Bike Cleaner, Concentrate, or Snow Foam onto the surface of the bike by simple screwing any of these three bottles directly onto the Snow Foam Lance. There's no need to mix with any additional water. The pressure washer will mix water and detergent automatically to the desired dilution you've set by adjusting the dial.
Basically, if you are thinking of buying a pressure washer to clean your bike, get one of these because the cleaning lances have a softer touch that prevents any likelihood of damaging your bike. Bonus: they're 30% off this weekend!
As you can imagine, Muc-Off offer a full range of appropriate brushes to clean your bike and specific components, including the drivetrain, in addition, they offer appropriate microfiber cleaning cloths.  The most cost effective way is to purchase them in a kit, such as the Bike Care Essential Kit.   They also sell a specific Indoor Training Kit which contains their Antibacterial Cleaner that kills 99.99% of germs and Sweat Protect to stop rust and corrosion.    
Protection Products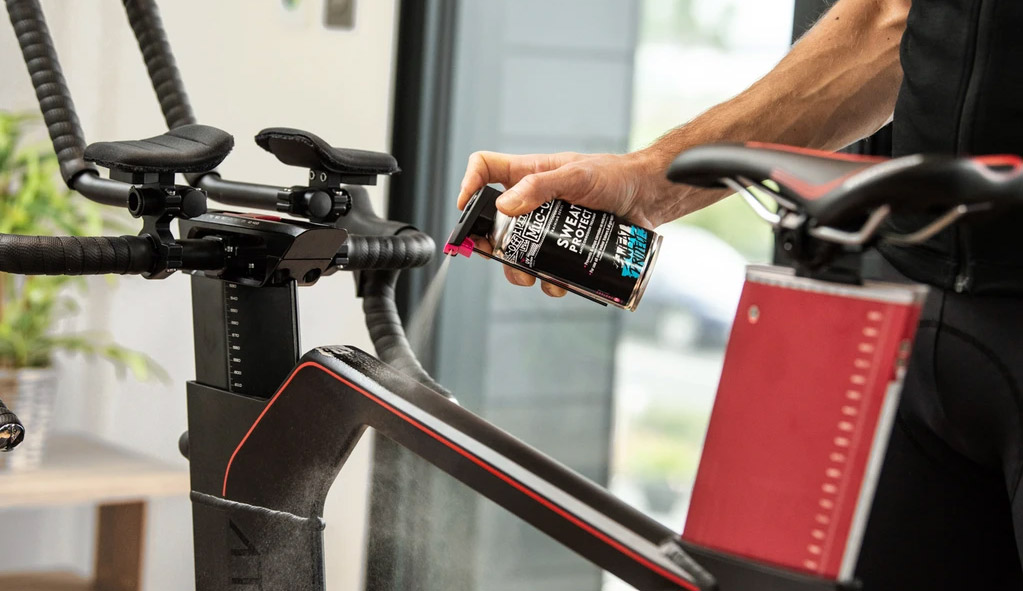 Muc-Off's second area of expertise is in the field of protecting the bike, because it's simply not enough just to clean your bike. To protect your bike Muc-Off have created Bike Protect, which is badged as "ultimate liquid bicycle protection." This spray, which is applied after cleaning your bike, is designed to be applied on your drivetrain to disperse moisture before applying lubrication to the chain. Furthermore, it leaves a non-sticky protective layer on your frame, drive chain, metal parts, and paintwork which is designed to prevent dirt adhesion.
For the ultimate protection, Muc-Off have got a product called Miracle Shine, which is applied immediately after cleaning your bike. This is a high quality polish and protectant that provides a shine to your frame. It contains Carnauba Wax which will make the water bead and disperse, it also removes imperfections and fills minor scratches. If you are wanting to give your bike a complete overhaul, then you can't go far wrong with applying Miracle Shine and giving it that "new bike look."
With the increase in indoor cycling, Muc-Off realised the need to protect the components from heavy salt corrosion from sweat. As a result they developed Sweat Protect. This product "uses anti-corrosion additives to protect your bike against rust, driving out the moisture." I apply this spray frequently, directly after cleaning my bike. This is done to prevent having to replace my headset bearings, which proved quite costly.
The key features of this product are:
For use on all indoor trainers and all gym equipment
Prevents and stops corrosion on metal surfaces
Penetrates and protects
Non-drying film
Rust preventing/anti corrosion
Dissolves rust
Protection lasts up to 3 months
What I have learned is that it is simply not enough just to clean your bike. You have to undertake a level of aftercare to ensure that the components are protected, because the salt from your workout causes rust and the salty crust can make removing components more challenging. In my case, when removing the cable guide for the rear brake, some of the paint flaked away from my carbon frame, resulting in a costly repair – hence why I now use the Sweat Protect spray.
Optimisation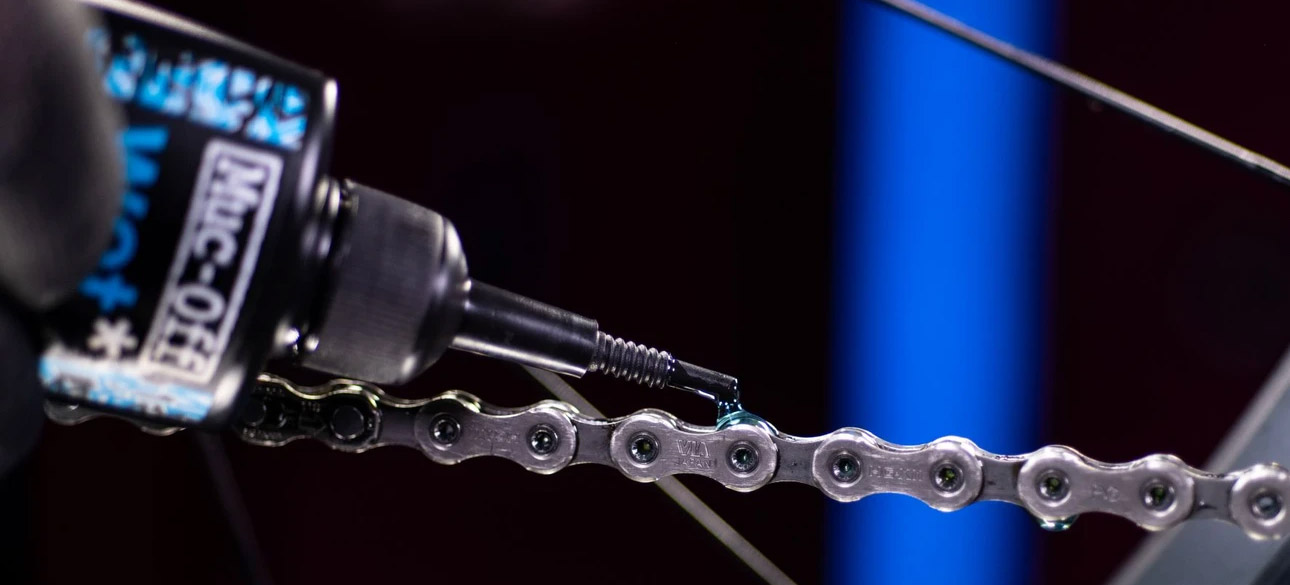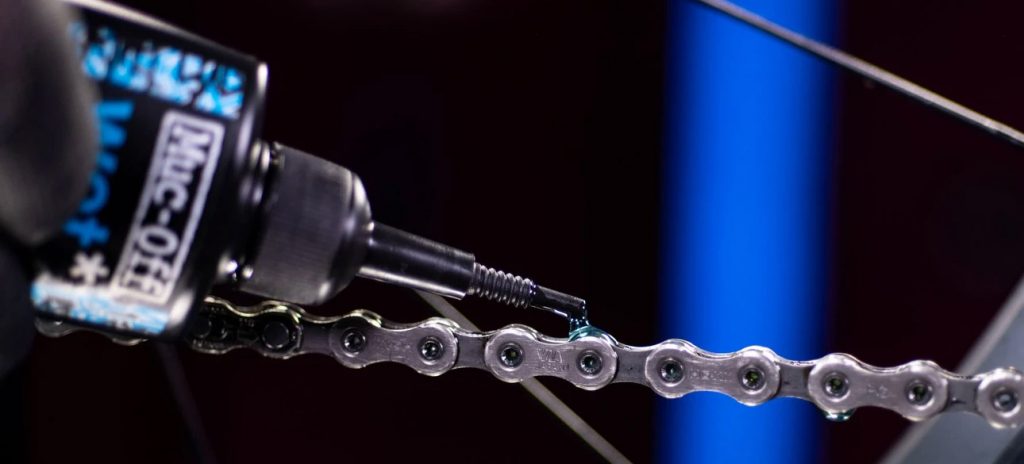 The key insight which I want to share that I gained from talking to Steve was that optimisation of your components, particularly your chain, is vital for those marginal gains we are all seeking.
Steve explained that they have devised a chain called the NTC Nanotube Chain, which has savings of over 10 watts against Ceramic Speed's Shimano Dura-Ace UFO Chain. In performance terms, this means that the NTC will give you a gain of 3 miles over a 112- mile Ironman bike stage, calculated using the average time of 6 hours and 25 minutes!
However, the downside is that comes at a price: £109 to be exact. The science behind the chain is worthy of a read in itself, via Muc-Off's own brochure.
You don't have to spend big money to achieve some marginal gains. Muc-Off's popular Hydrodynamic Chain Lube was created by their research team in collaboration with Team Sky (former professional cycling team). This is a highly advanced bicycle chain lubricant. It also doesn't pick up dirt, dust and debris. What this means is "it is a high strength film forming lubricant which prevents metal to metal contact to ensure peak performance, even under the most extreme workloads." Basically, it makes your chain smoother, so you can go faster.
Hydrodynamic Chain Lube is used on Zwift by the Canyon eSports Team, which consistently place at the head of the field in the top-tier Zwift Racing League. In fact, Muc-Off realised the growth potential of Zwift and support the Canyon eSports team with the products that I have outlined.
Summing up
Muc-Off are my "go-to" product for cleaning and protecting my bike. They offer a complete range of items, at varying price points. You can spend as little, or as much as you want. But the clear message is that you have to clean your bike and take extra care if you don't want to incur big expenditure after excessive use.

For those on a budget, I would recommend:
For those who want to spend a little bit more and are looking for those extra few watts, I would recommend:
My rationale with purchasing these products is that, as I learnt the hard way, it is better to pay for quality cleaning products than to replace failed components. Ultimately if it's good enough for Canyon eSports and Team Sky, it's good enough for me.
A Note About Links In This Post
After reaching out to Muc-Off about putting together this article, they set up Zwift Insider with an affiliate agreement so the site receives a small commission on any sales through links in this post.
Questions or Comments?
Share below!