Let's Talk Community
While I believe that Zwift is the world's top indoor cycling (and running) simulator, I also believe its greatest strength is the Zwift community. Consider that:
Community members organize and lead many regular Zwift rides and nearly all Zwift races
The community built and maintains key Zwift tools such as ZwiftPower, ZwiftGPS and Zwift Riders on Facebook
Zwifters provide the valuable feedback which helps squish bugs and push Zwift features forward
Social connections keep many people in cycling, and it's no different indoors
Zwift's best advertising is done by Zwifters. In my experience, non-Zwifters don't "get it" until a Zwifter explains it to them. Enthusiastic Zwifters pull in more Zwifters.
There are many things Zwift is already doing to build the social side of the platform:
Supporting in-game messaging, favorite riders, etc
Allowing volunteer-organized events
Supporting community projects like ZwiftPower, Zwiftcast, ZwiftInsider, etc
Upgrading their own support forums
Engaging people actively in social media
But here's a key piece that is still missing: voice interaction.
Let's Talk, Community!
I know Zwift toyed with this idea over a year ago, but ran into difficulties with implementation. And I get that–figuring out how to let Zwifters talk to each other without negatively impacting other Zwifters' experience is no easy task.
While we wait for Zwift to figure out how to make it work seamlessly in-game, perhaps the community needs to embrace and push a standard to bring voice chat into the realm of the "normal Zwift experience." That's why I'm writing this post. Because the Zwift community already has a simple tool at their fingertips to engage Zwifters with voice interaction: Discord.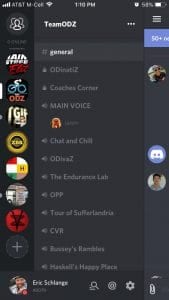 It's a relatively simple app. It's free. And it works great–all you need is a smart phone with some earbuds. But we aren't using it enough! In fact, I've joined several group rides lately which include a Discord channel link in the event description… but no one on the ride is logged into the channel. Bummer.
I love using Discord, especially on longer rides. Wagner's Wagon is a metric century ride led by Justin Wagner of TeamODZ every Thursday morning at 4:15AM Pacific time. This ride typically has several folks signed into Discord (including Justin), and it's the voice chat that makes the miles fly by. Zwift is an entirely different experience when you can talk and joke with others. It's like riding outside, but without the wind in your ears!
So this is my call to all Zwifters: let's embrace Discord. Ride organizers: set up a channel and share the invite link. Riders: install Discord and use it on group rides. Let's make this happen!
Want to try Discord? Here's a quick tutorial covering using Discord on Zwift.
We've created a Zwift Insider server for any and all to use. Here's the invite link: https://discord.gg/ceTPdDt