Zwift is hosting an epic Mountain Time Trial up the Epic KOM inspired by the drama of Stage 20 of the 2020 edition of the Tour de France.
(Stage 20 is where Tadej Pogačar outclimbed his fellow countryman Primož Roglič, winning the iTT stage while simultaneously ripping the yellow jersey off Roglič's shoulders and winning the Tour de France.)
The event is called Monday's Mountain Massif TT, and it's my own personal brainchild. It happens this Monday, March 29 at 8 pm, CET… here are the details.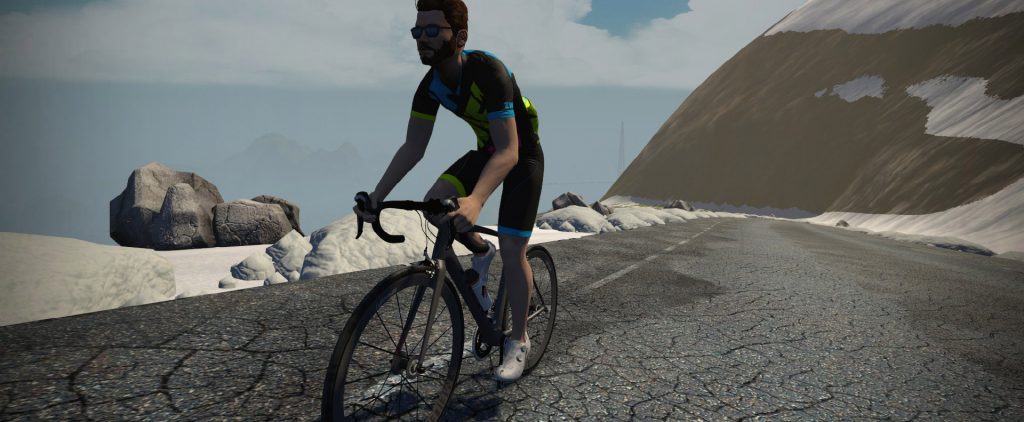 Event Details
The event is super unique. It is a 12.2km Mountain Time Trial on a shortened version of Watopia's Mountain 8 route. Riders will race up the reverse of the Epic KOM, finishing at the Radio Tower!
Equipment selection is crucial. With a short flat section from the pens before the start of the climb, do you opt for a full TT setup before switching to a Climbing setup? Or do you opt for an all-rounder setup? Your choices will dictate your result.
With no draft and no power ups, "It's just you against the clock and the mountain."
There will be the standard A-D categories, including E, exclusively for Women and all will start at the same time. Heart Rate monitors are required for official results, which will be on Zwift Power, with a winner for each category.
This event is a pilot and if it receives positive feedback and is well attended, then Zwift will look to run this in a regular, weekly slot.
You can join the event at zwift.com/events/view/1933915
The description of the event from the Companion app is as follows:
What do you get if you cross a mountain race and a time trial? An absolutely intense, but highly unique event that will test the ability of any rider.
This is the chance to push yourself beyond your perceived limits and do something that you haven't done before. This is a unique event.
To time trial up a mountain will take absolute discipline and requires you to pace the ride as well as employ tactics. Do you opt for a TT bike to the base of the climb before changing to a lightweight climbing setup? Do you opt for a lightweight setup from the start? Only you can decide and the decision you make will impact your results.
If you are not interested in racing for the victory, treat this event as a 20 minute FTP test. Generate a consistently high power for 20 minutes and boost your ratings in Zwift Power.
This race is unique and offers something for all.
My thoughts on the event
I think this will be an extremely exciting event, and pacing is going to be critical for success. Go too hard on the lower slopes and that last kilometer to the Radio Tower will be torture. But that is part of the fun: getting the pacing and tactics right means the strongest riders might not win.
I am already looking forward to the event. It will certainly be a new experience, as I have never done a Mountain TT before! As the organizer, I've reached out to many people who I have been fortunate enough to engage with while writing Zwift Insider articles. I can share that Olympic Gold Medal winner and current triple jump World Record holder Jonathan Edwards has confirmed he will take part, actually making this his first race on Zwift (read my interview with him). Former pro cyclists and Grand Tour Mountain Stage winners Andy and Frank Schleck have been invited, with Frank confirming he will attend (his response being a classic "Ouch, this is gonna hurt!") I reached out to Ed Laverack, British Hill Climbing Champion to invite him along and his response was "I'm due a 20min test!" (For us mortals, it will take longer than 20 minutes!)
Hope to see you there!