I can't even begin to describe my friend's face when I told him I was not going to be able to attend a lunch because I planned to spend 12-13 hours riding the slopes of Alpe du Zwift trying to complete a vEveresting with 100+ others attempting the same in all parts of the world… and that I had been preparing that challenge for three months.
I said it with such enthusiasm and pride that I thought he would be very supportive and happy for me.
It was as if I could physically see my words going into his auditory channel and being translated into meaning in his brain, and the reply came: "Come on mate, you are going to spend your entire day on the virtual thingy? It's just a game, you are taking it way too seriously. You are never going to be Pogacar."
I am a pacifist. I hate violence. But at that moment I had some kind of empathy for Hannibal Lecter in the Silence of the Lambs. Let me explain…
My Zwift practices aren't any different than in anything else in my life. I Zwift with the same passion and commitment I put into everything I do. And the way each of us expresses our passion translates into different behaviors as unique as our fingerprints. In my case it translates into preparation, rationalization, reading, discovering, exchanging, debating, laughing, getting involved in the community of people having the same hobby as me: Zwifting. 
My wife summarized it perfectly: "you enjoy being maniculous with the things you like". "Maniculous" standing for something in between manic and meticulous. She says it in a positive way, celebrating that trait in me. And she is 100% right. I officially declare I am a proud maniculous Zwifter! 
Call me the king of nerds, I enjoy crunching useless data, seeking correlations to help me understand how things work and improve. This same drive made me cease believing in Santa Claus when I was five, acknowledge I was hopelessly bald at the age of 25, and finally admit the earth is not flat when I was 32 (only joking, of course. I still believe that the earth is flat 😃). 
I find pleasure in getting better at the things I do. At work, on a bike, when I cook, or in any other activity. It gives me a sense of purpose. I am not saying my way is better or worse than any other way. It is just my way of getting the most out of my time on this flat earth.
And I think you can be serious without taking yourself seriously. The same way I don't believe I am going to be the next three-star Michelin chef when I manicously prepare all the ingredients of a recipe, I don't believe I am going to be the next Pogacar when I: 
Spend hours analyzing my Training Peaks stats
Debate endlessly and vigorously on the appropriate virtual bike to choose for the next race
Remove the cassette of my set up to manicously clean it centimeter by centimeter
Debate with Amanda, the name I gave to my smart trainer, on the most controversial Zwift topics. (By the way, she is way too smart and wins the argument 90% of the time.)
Click "Join Event" at the very same second it appears on the screen to be in the first row at the start of the race. Might be useless and ridiculous but makes me feel I already have won over the others!
Go through a two page checklist before any Zwift session (remember how miserable you felt when you forgot the towel 15 minutes into a workout and there was nobody at home you could shout at to bring it to you?) 
Curse when I don't get the most useful powerup in the last arch before the arrival of a race. What?! A truck again while I have the Lutscher to climb?!
Compare second by second the power data of my many devices to check they are properly calibrated. I am sorry, no matter what the device makers say, 1% difference is not acceptable.
Arrange most of my days to be sure that I will be able to do my workout. 
Scrutinize my Watopia map or my Zwift Hub circuit profile before a race. I have printed and organized all the circuits of all the worlds and races of the game (see image below), with the Zwifthub profile on one side, and the route description or recon on the other. OK, OK, on this one I would understand if you call me "freaking weirdo".
Spend tons of money on the latest Zwift accessory I cannot live without even though I did not know it existed minutes before.
Reorganize, during breakfast, the order my Spotify playlist so it fits with the cadence of the workout I will do in the evening while I know I will eventually skip them to listen to the same 20 songs again and again.
Spend hours analyzing the ZwiftPower profiles of my opponents in the Zwift Racing League, creating sometimes contradictory feelings of envy and pride.
Read and watch any source of information available on Zwift and materials. Any. Reviews and comparisons of any gear related to Zwift, analysis of any race, detailed scrutiny of the update logs of the app, dystopian metaphysical investigations on the patterns of migration and reproduction of the dinosaurs in Watopia. ANYTHING!!!!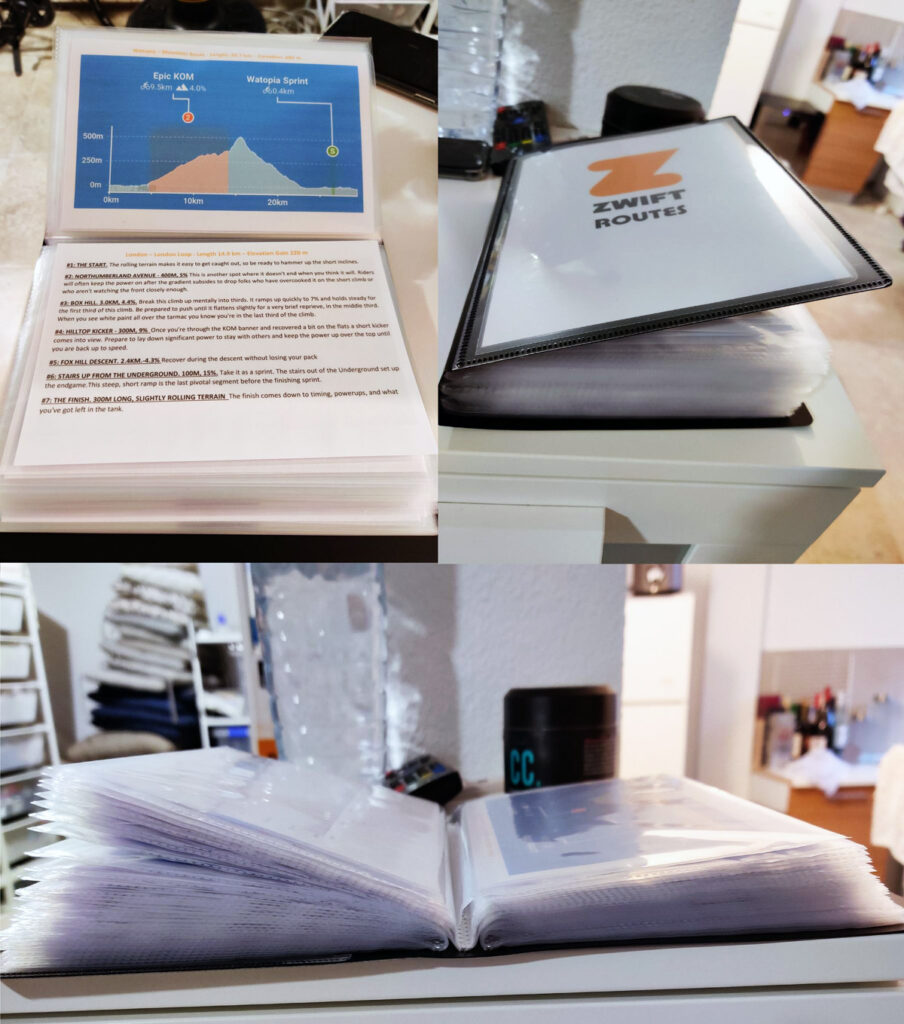 We all spend our time and money on what makes us happy. (If you spend yours on something that makes you unhappy please send me a private message and I will send you the contact details of a very good shrink!) As far as I am concerned, whatever that "what" is is great. And for me, there is nothing more fun than spending it on a "game". I wish everything could be a "game" like cycling (and by extension Zwifting) is for me. 
In conclusion, let me share this: that friend telling me I was taking myself too seriously is a huge fan of the Warhammer tabletop miniature fantasy wargame. He spends hours and hours choosing and painting figures in a specially dedicated room in his house which he locks so his kids cannot enter and touch.
It's not my thing, but that doesn't mean it shouldn't be his thing. Let's support each other doing safe, healthy things that bring us joy.
Your Thoughts
Share below!