Two years as an avid Zwifter have had dramatic consequences on my life. For the good and the bad.
More Zwift Levels = Fewer Friends
As I ascended the ladder of Zwift levels and challenges, my IRL social life got closer and closer to that of a Tibetan ascetic monk who has vowed silence and isolation forever.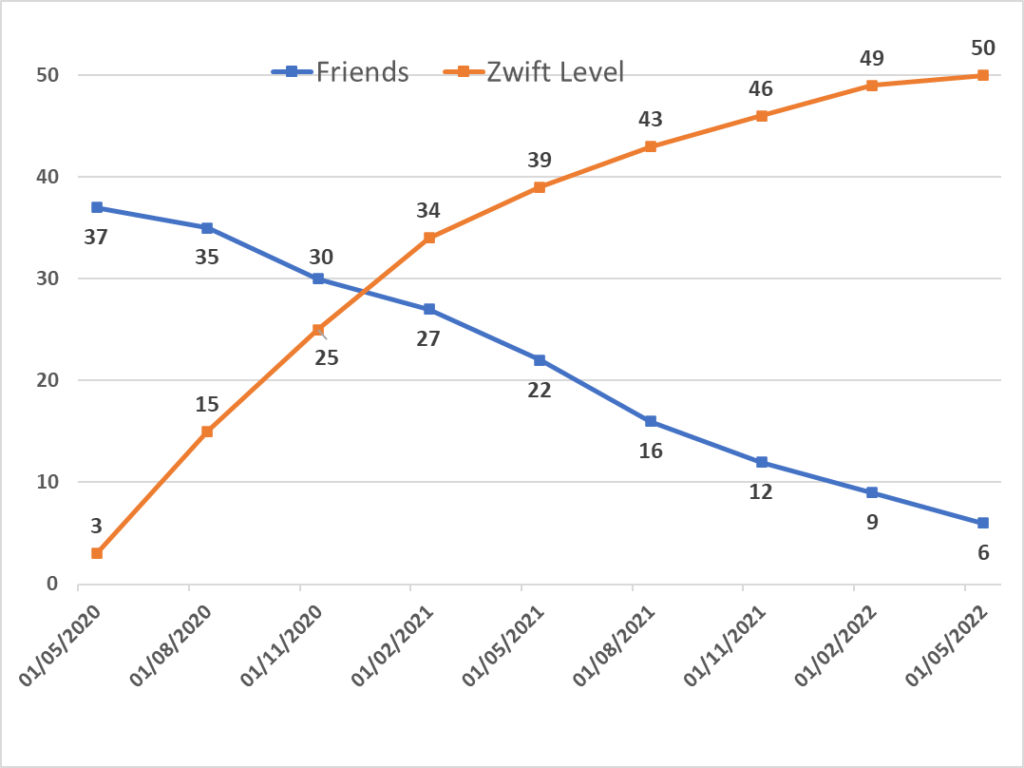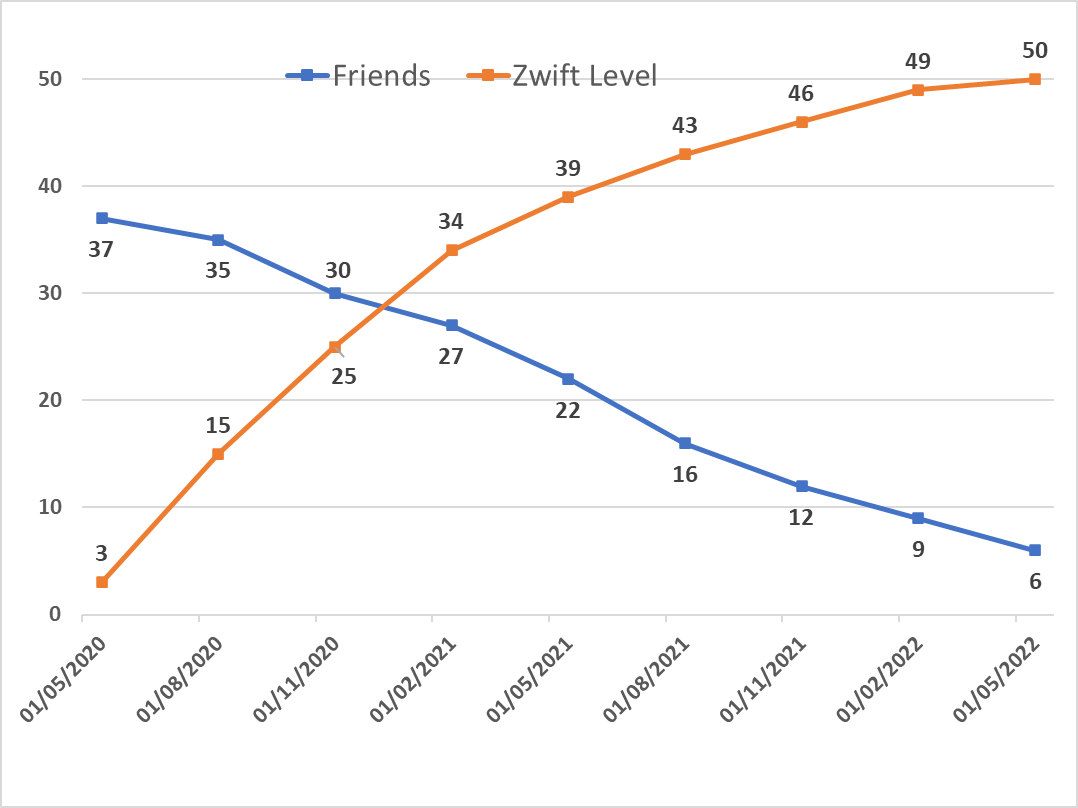 As Zwift becomes the epicenter of your day, you create your own magical parallel ecosystem, allowing you to survive with only what exists within the boundaries of Watopia. 
An example: Scotty the Squirrel has a voice in my head. You would guess it is a high voice but no, it's an Elvis Presley kind of voice. And Scotty is kind of a jerk. He always appears above my shoulder to laugh at me when I am in absolute pain or about to spit my lungs.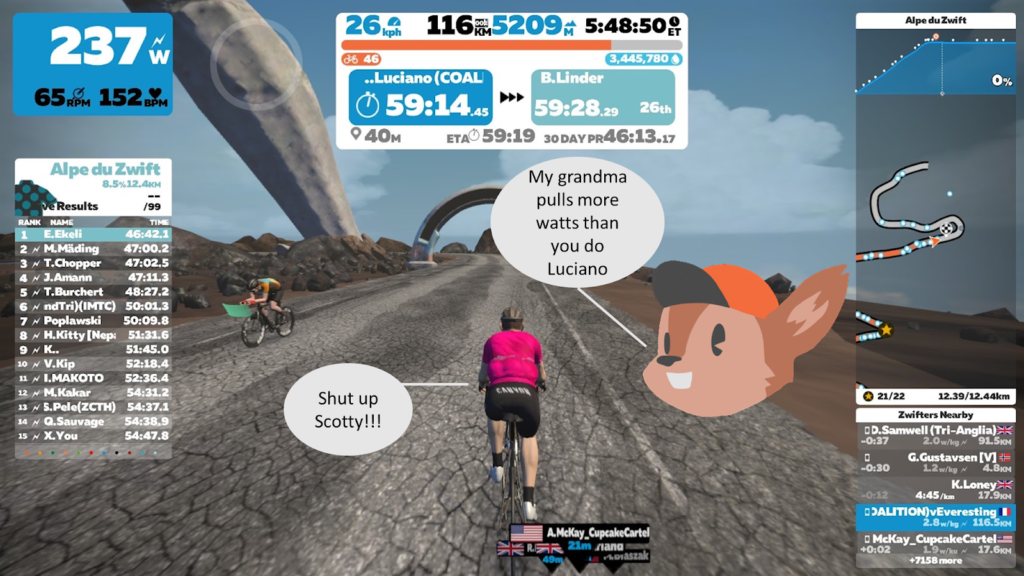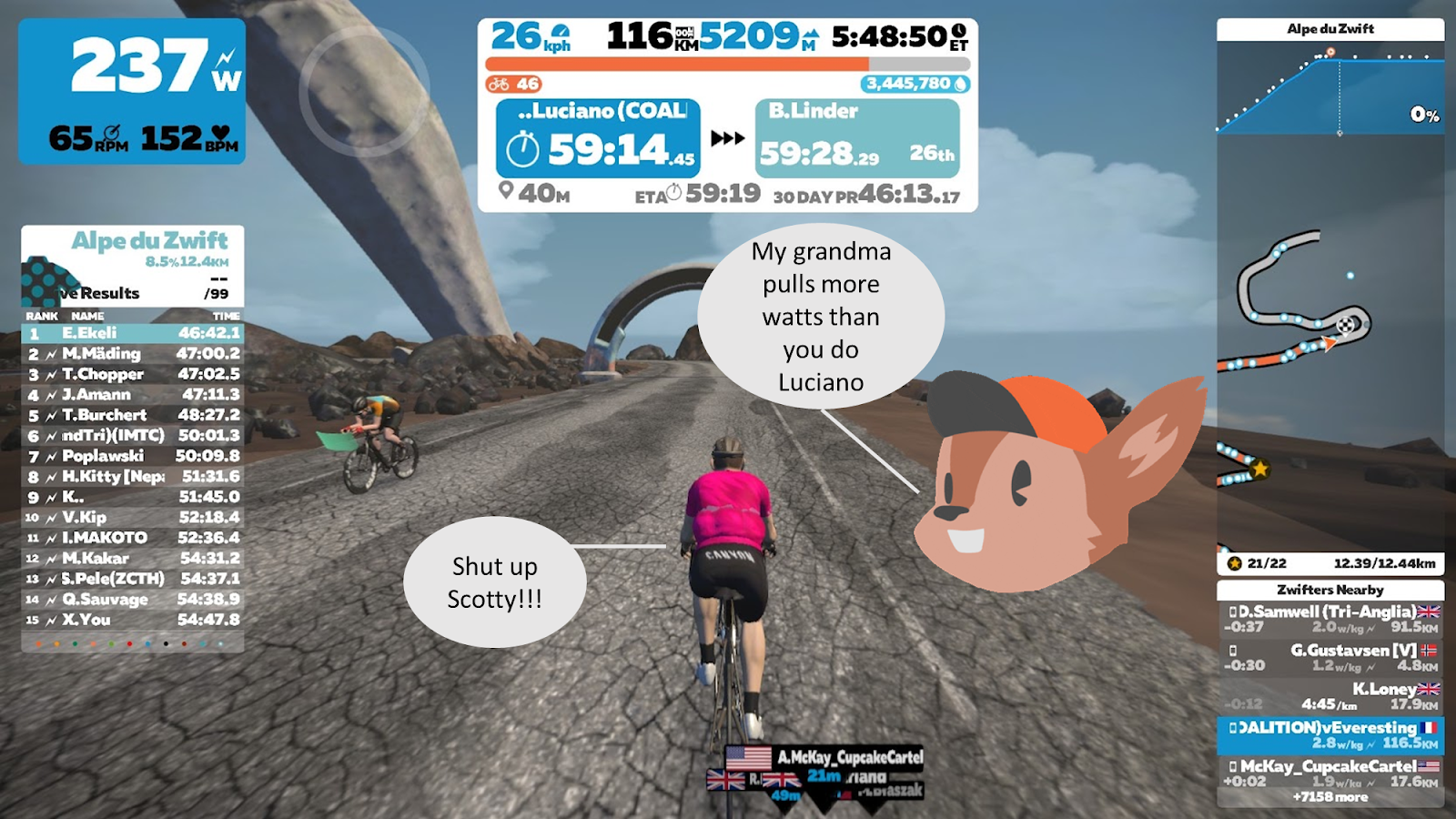 Same with the Pace Partners. Coco Cadence is an incredibly smart lady, able to exchange and debate about almost any topic. She is a little bossy though. From time to time she reminds you to keep your w/kg at the right level. I would not say the same about Bowie Brevet. The guy would not say a word. If you want to have fun, you'd be better off grabbing coffee with an IRS inspector than a lap of Tempus Fugit with Bowie. 
Continuous Improvement In Performance, Continuous Deterioration In My Likeability
Among the best things I experienced is this notion of continuous improvement. I remember the first day I climbed ADZ. It was my third day as a Zwifter and I had to find an event in order to be accepted (Road to Sky was a 12+ Level circuit). 
I was so proud that I was able to cross the banner. I had no dignity left, no legs left, my body was one piece of immense muscular pain, and the smell my body was producing would qualify it as a chemical weapon. But I was so proud! More than 100 minutes of heroic effort. 
It was also the day I saw for the first time some people with the vEveresting tag on their name. When I checked what this vEveresting thing was I could not prevent myself from laughing: who would be so dumb to climb this thing 9 times? Clearly, you must have some unresolved mommy/daddy issues in order to inflict something like this upon yourself.
In any case, here is a table with my progression on some of the most relevant Zwift segments. It gives you a quick overview of what it looks like to have a very structured training plan and spend your life in Watopia. I call it an amazing progression, my wife calls it the ultimate proof I am beyond help. 


Proudly Becoming the "Only Talks about this Ridiculous Virtual Cycling Game" Guy
Before Zwift, people invited me to gatherings because I had a tendency to animate all the dinners. I was the funny guy.  Now I regularly invent false excuses to skip dinners with friends, and the few social dinners I attend find me talking exclusively about Zwift and cycling. It's gotten so bad that people avoid asking me open questions or even better, run desperately in the opposite direction when I join a group. 
I have developed an incredible capacity to link any topic with cycling and Zwift. Any. Pick one. You can ask me about climate change, and I will find a transition to finish talking about the gradient in Pot Bank. You ask me about the French presidential election results? About the cross-fertilization of wet soils through bees?  No problem. I find an analogy with a Bologna TT or the new Zwift homepage UI.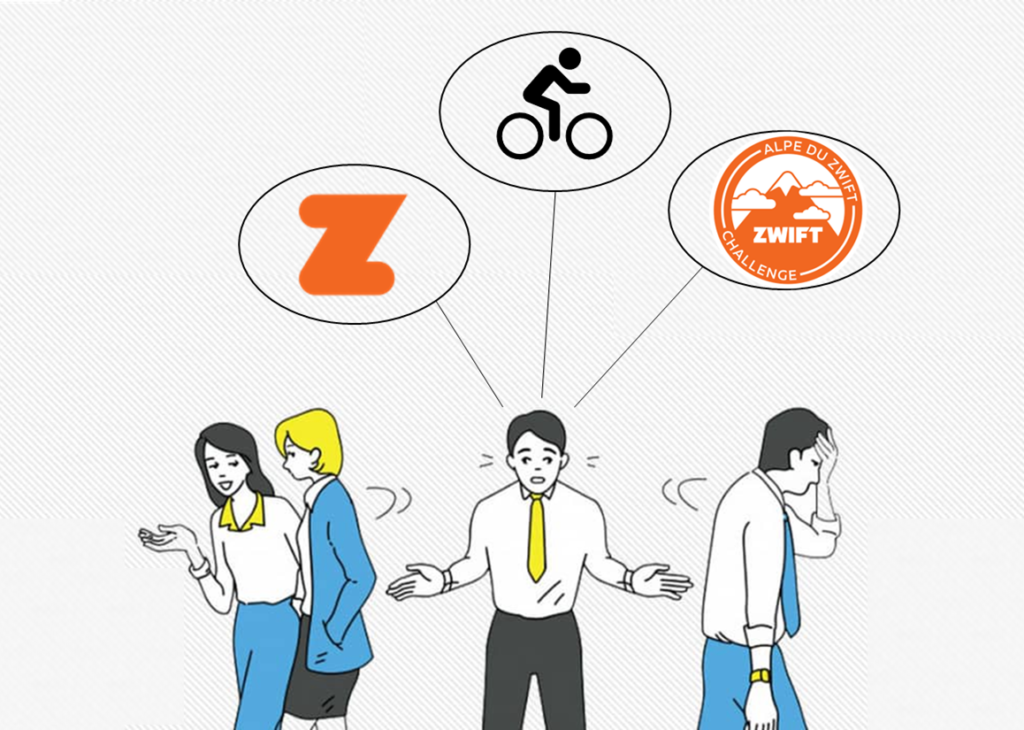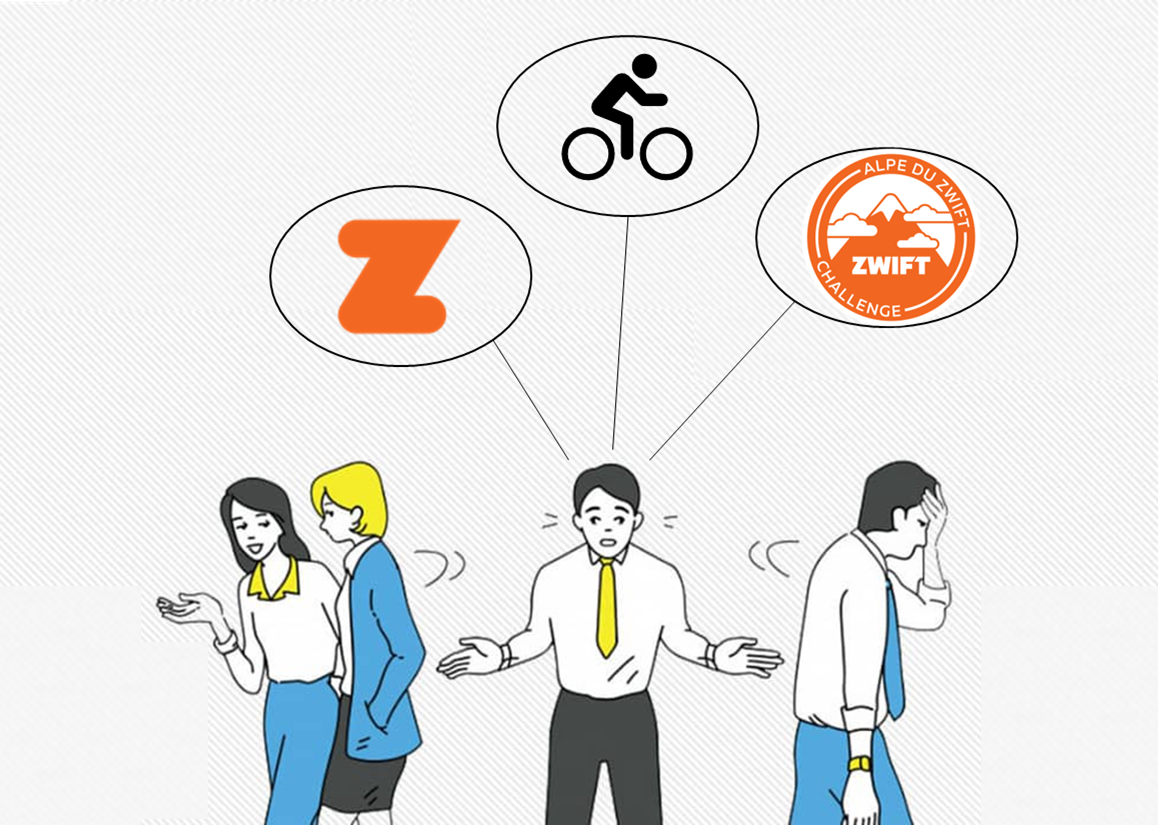 For them, my friends (or former friends if I want to be accurate), I've become the boring "only talks about this ridiculous virtual cycling game stuff" guy. For me, they've all become "those idiots who don't even know what a Tron bike is." 
The worst thing is that I am perfectly aware they couldn't care less about what I am telling them. I could see their faces progressively decomposing from a polite smile to an extreme expression of boredom when I passionately grumbled about the Dura-Ace groupset bug affecting some of the bikes back in November 2021 as if it was the end of the world (by the way it was the end of the world WTF!).
An Impact On My Quality as a Son and Husband
My Zwift addiction has also impacted my listening and empathy skills, and therefore the quality of my relationships with relatives. How many times have I committed to something without being conscious about it?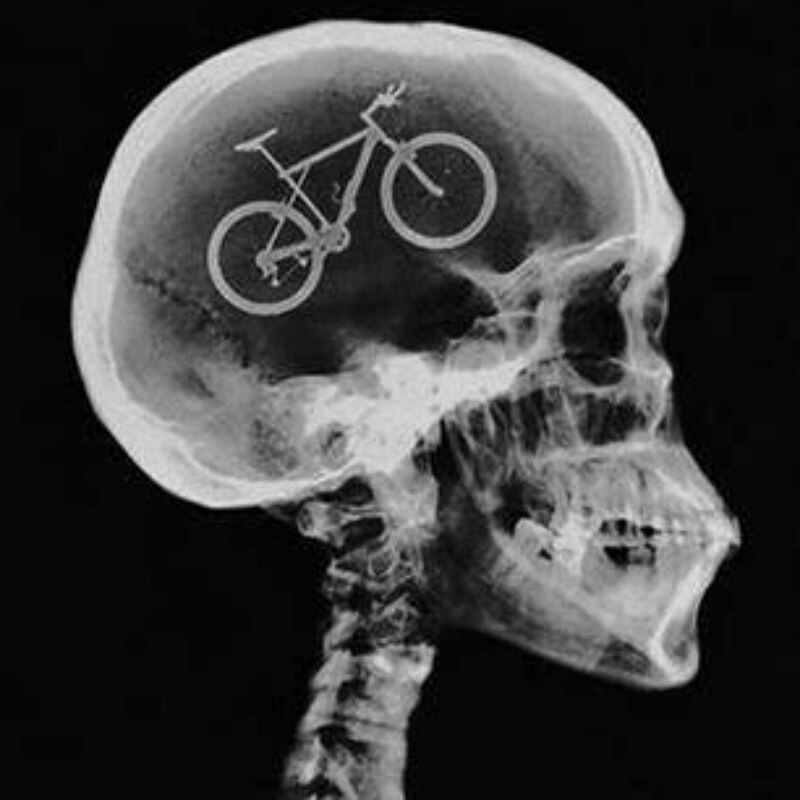 I remember one particular situation in which my mother was talking to me but my entire brain focus was on "will I swap to a gravel bike at the beginning of Temple KOM or not? There are pros and cons to it. First, I am really slow at swapping bikes, and also it depends if I arrive in a group or not and others stop to swap… what a dilemma. Also, Eric recommends swapping but the guy does it in 6 seconds, I saw it in one of his streams…" 
Apparently, during that thought process I agreed to go to dinner the following Tuesday at my mother's place and to bring a homemade dessert (pre-Zwift I was always cooking). I only figured out that I committed to this when my mother called me on Tuesday evening to ask where I was since I was already 45 minutes late. I was actually at 171 BPM ion the last km of the Temple KOM climb of the ZRL stage.
I am an awful awful son…
The same happens when my wife asks me something and I automatically nod when in reality every single cell of my body is obnubilated by this incredible debate on Discord about the likelihood that Zwift fixes the draft issue on some smart bikes (I don't even own a smart bike).
Note: if you are as much a Zwift junkie as I am, at this point in time you don't really care about the mother anecdote, right? The only thing you care about is if I eventually swapped bikes. The answer is no.
Monothematic Hobbies, Too
Another thing that has changed since I started Zwifting is my YouTube homepage and recommendations. In 2019 my YouTube homepage was a blend of politics, sports, rock music, cooking recipes, and funny videos of beagles (my dog Luna is a beagle) doing stupid things I would idiotically laugh about.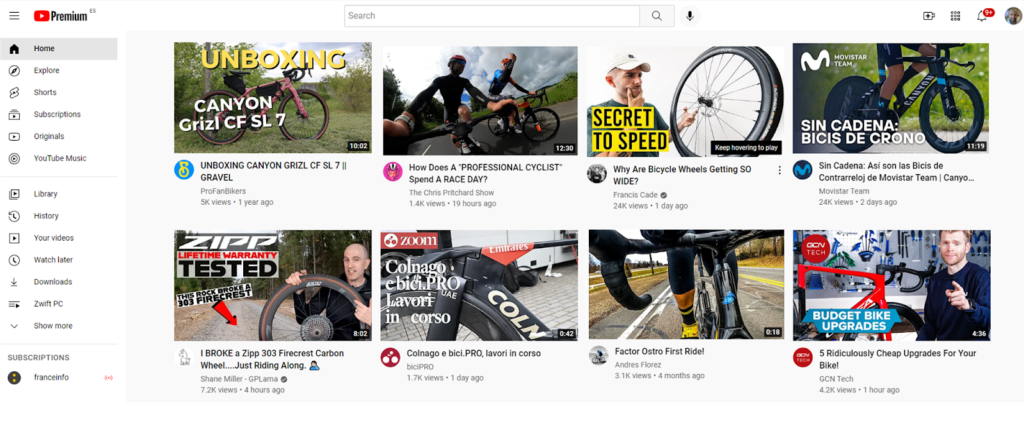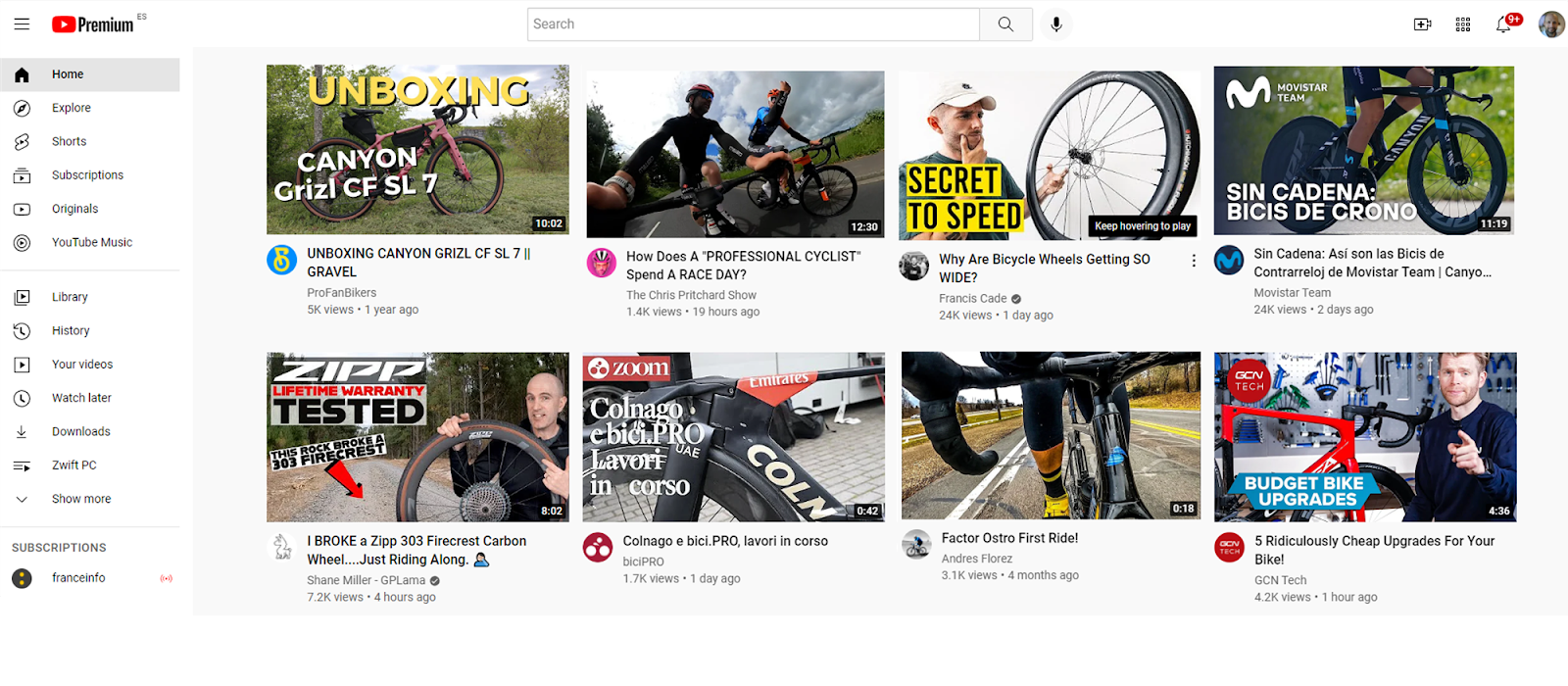 It seems I've made things easier for Google's AI. Now I have a monothematic YouTube homepage: exclusively Zwift, bikes and cycling. Sherpa Dave, Eric's streams, Bikotic, Hambini, GCN in all languages and fashions, Javier Ares (Spanish cycling journalist), Si Bradeley, BiciLab, GC Performance, Normandie Cycling, Cycling Insider, etc….
My wardrobe has also evolved. I am compulsively buying cycling apparel and cycling t-shirts with jokes that can only be understood by other psychologically deranged Zwift addicts like me: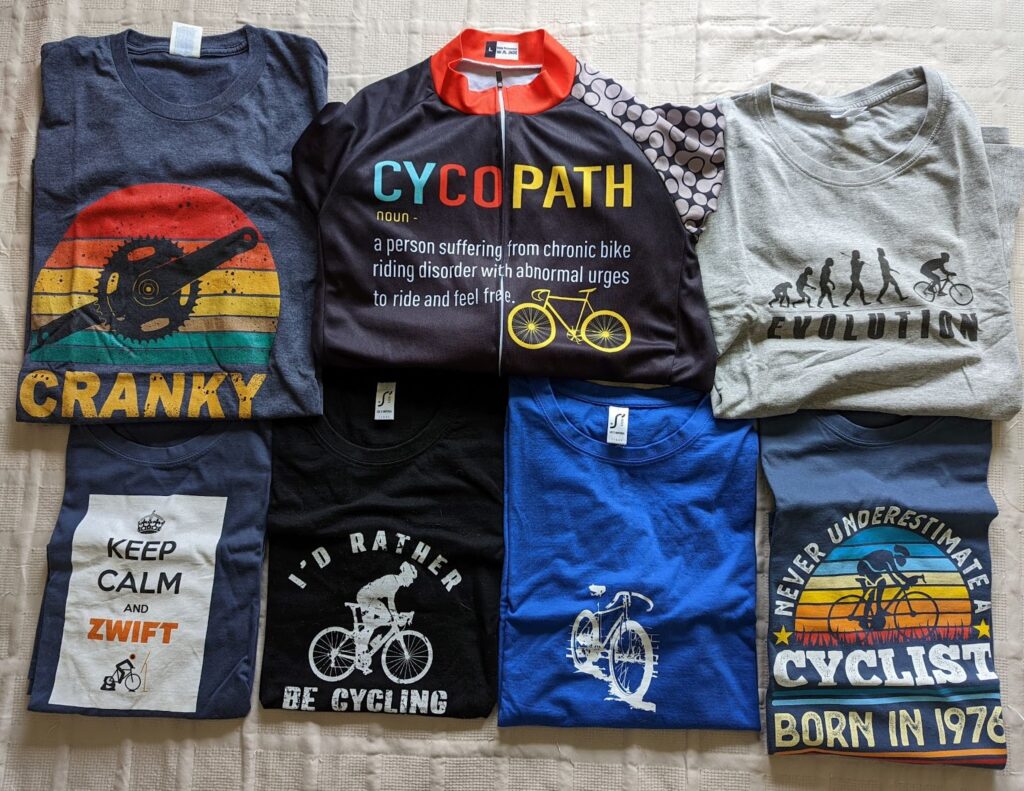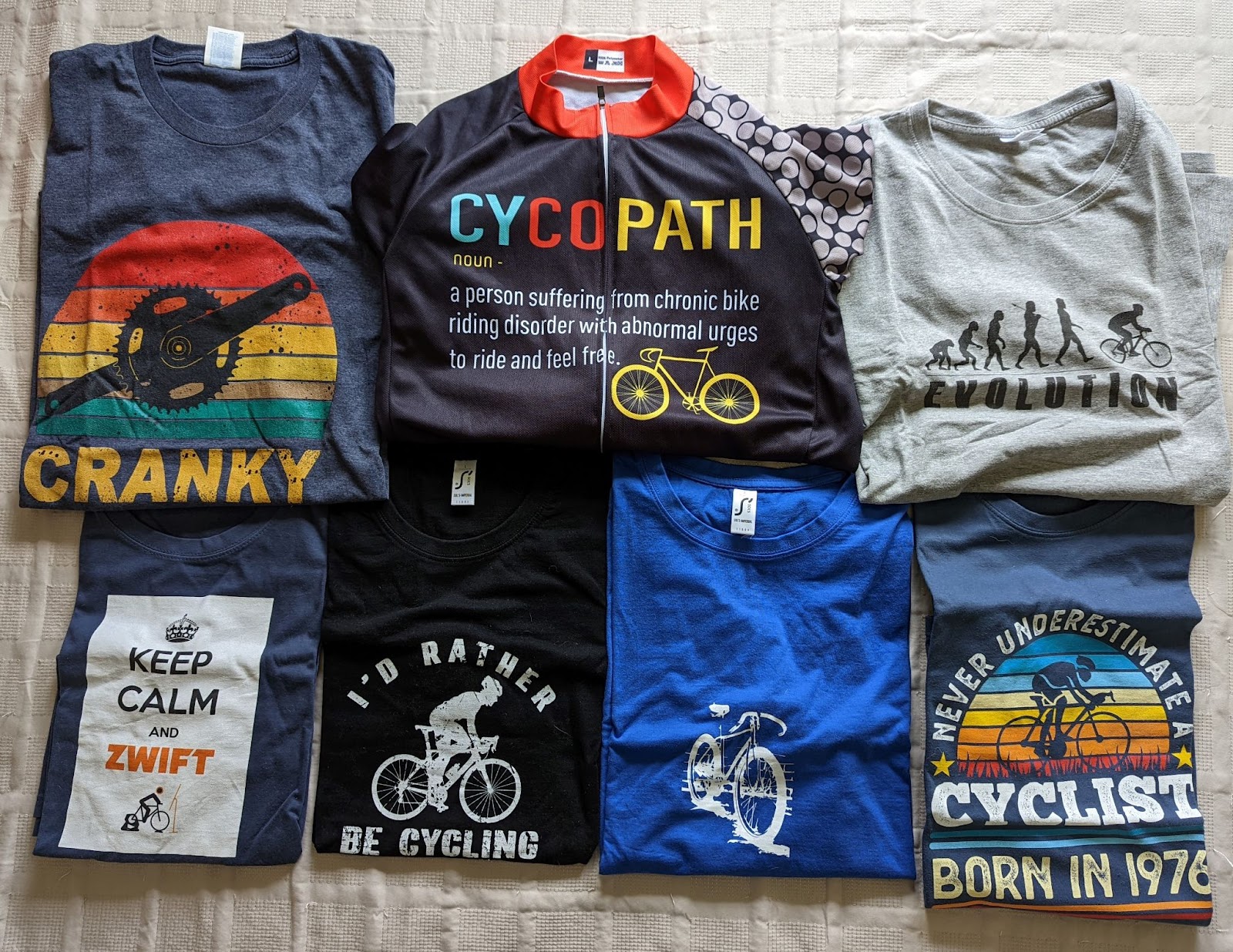 In some aspects, though, my condition has made things easier for others. Pre-Zwift, my friends and relatives used to say that finding a present for my birthday was an impossible task. Now they know that anything related to bikes or Zwift gadgets will have me jumping around like a little kid. Latest one: a bike holder for IRL race tags. Love it. 
Better Off, For Sure
All things considered, the substantial impact Zwift has had on my life is positive: I am more of a jerk, I have fewer friends, I find it difficult to communicate with most human beings yet engage in dialog with imaginary animated characters, and I pay less attention to my family. BUT, I am a better Zwifter and cyclist. Totally worth it. 😊