In everyone's life there are only a few defining moments. In mine, there will be a before and an after the 8 days between 23rd December and 31st December 2021… my Best Zwift Week ever.
I already had in mind the traditional Festive 500 between Xmas Eve and New Year's Eve. It's kind of a routine now, and also a different week where long social rides and conversations through the Discord channels of many teams are super interesting. It feels like a time when, more than ever, all Zwift Riders become a community.
However, 14th of December, I received the most astonishing news. Something I would not have dared to imagine in my wildest dreams: WTRL #140 is in Bologna! A WTRL TTT in Bologna! Two full laps!
Pinch me pinch me pinch me! The day before Xmas Eve! It's too good to be true!. Bells start ringing in my head to the tune of "Santa Claus is Coming to Town"!
Bologna TTT for Xmas, Was It Even Real?
Originally I thought the WTRL guys were cracking a bad joke at my expense. Perhaps they had hidden a camera in my place to see if I would have spontaneous bladder incontinence when reading the news, or perhaps if I would turn into a human drooling machine until the event, relegating Pavlov's dog to the wannabe list of drooling experts.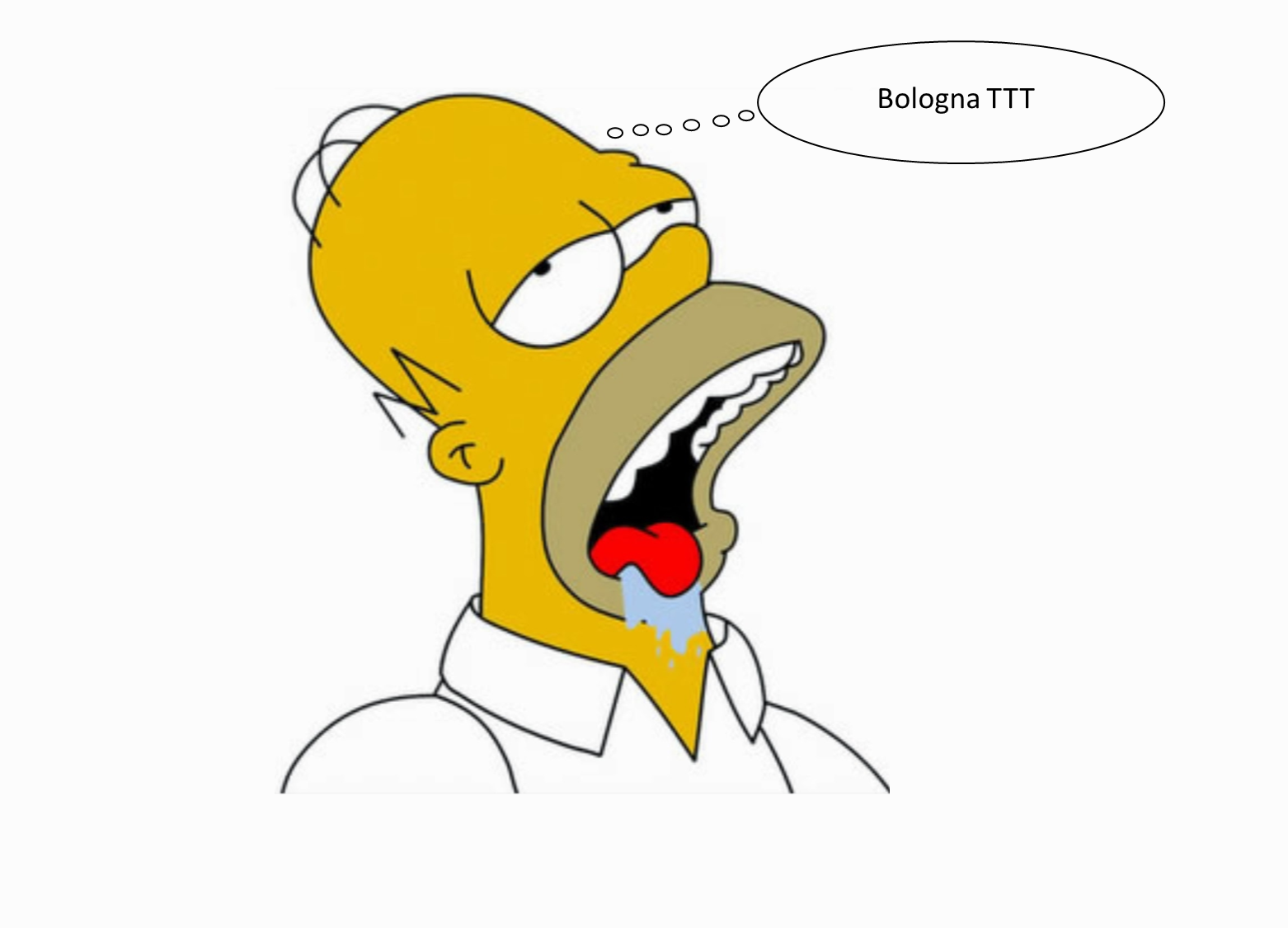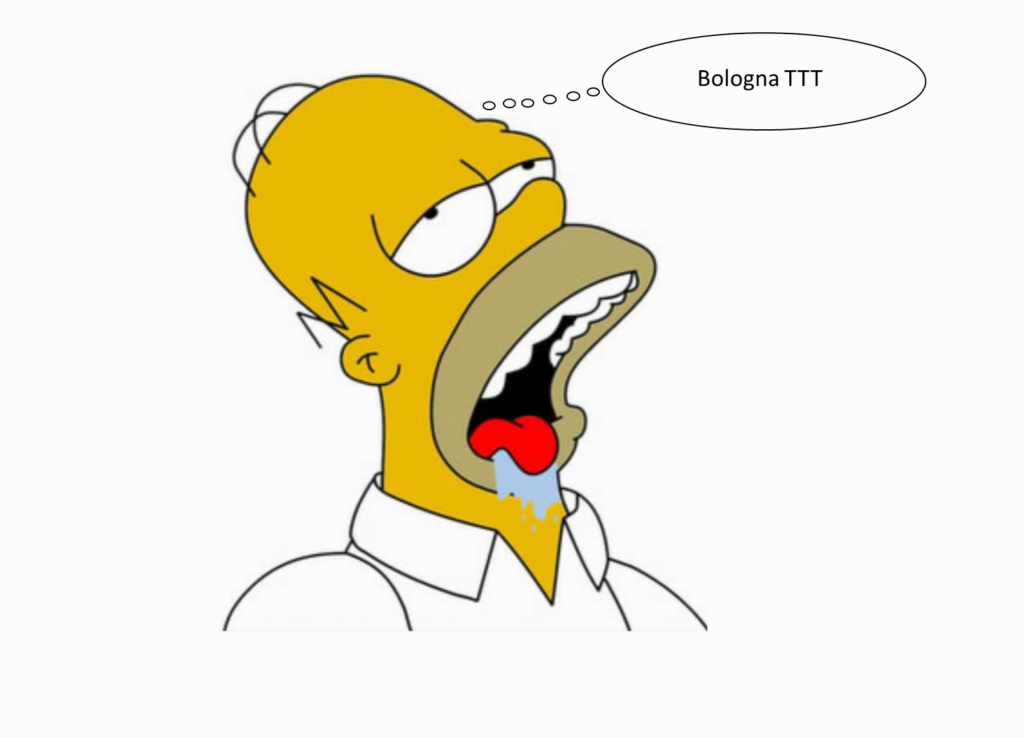 You may remember that Bologna is my favorite route on Zwift. I am very close to creating the Universal Church of Bologna Circuit. Each time I ride  Bologna I have the feeling I am on a pilgrimage. Bologna TT and Massif Mountain TT events are the ones where I have always destroyed my FTP, reaching levels of metaphysical fusion with my bike which would qualify me as a new type X-Man: half human, half bike. 
Within this magma of joy and celebration preparing the most important day of my Zwifter life, WTRL guys found nothing better than to announce that WTRL TTT #141 would be… ROAD TO SKY!
So to recap: Bologna TTT, Festive 500, and fireworks finale with Road to Sky TTT. If 2021 was a crappy year, this came very close to compensating for it all!
The Week Begins
23rd of December, I woke up somewhat impatient but at the same time tired. I swear I did not sleep the night before the event. (Just like the night before I had to present for the first time in front of the classroom the migration of the whales when I was 7. Like the night before my first date with Christelle, my first girlfriend. And the night before I got married. Defining moment, I told you!)
While crunching my typical Spanish tomato, olive oil, and ham toast + coffee breakfast, I revisited Eric's advice on bike choice, then connected to the event 30 minutes before the starting time. I was perfectly fitting the Italian atmosphere with my Pink COALITION kit.
As my teammates were joining I was executing my warm-up routine, already in my own Fausto Coppi world and to the tune of "Funiculì Funiculà"  which I was shouting out of tune though very proud of myself.  "YAPA, YAPA, YAPA YAPA YAAAAAAAAAAA!  FUNI-CULI, FUNI-CULA".
"40 seconds, stop pedaling! Three minutes delay!"  The tension and adrenaline could not be higher. So when he goes "5,4,3,2,1, GOOOOOOO!!!" it is a relief.
I must admit something: I somewhat have a Zwift Pressure Cooker affection. On many occasions, I am so impatient to start that when unleashed I burn myself at the beginning pushing harder than I can sustain during the entire race. That is even more obvious when I am the first to pull in a TTT like today, and it's something Ricardo spotted from day one. So it was no surprise when he immediately shouted through my headset "Luciano, 410 is enough, Luciano 410, LUCIANOOOO!!! 410!!!!" It looks like I am a rather basic and binary kind of animal, because the loudness of the instructions I am given has a direct correlation with my capacity to obey: I quickly stabilized at 410, and on the flats the team got very well organized.
We quickly reached a fast and steady pace, so when we turned at Arco del Meloncello to start the first climb, we were already in a good place. 4.5 w/kg was what we agreed we could sustain as a team on the climbs, for an effort somewhere between 8 and 9 minutes. 7 of the 8 teammates made it together to the Sanctuary of the Madonna di San Luca.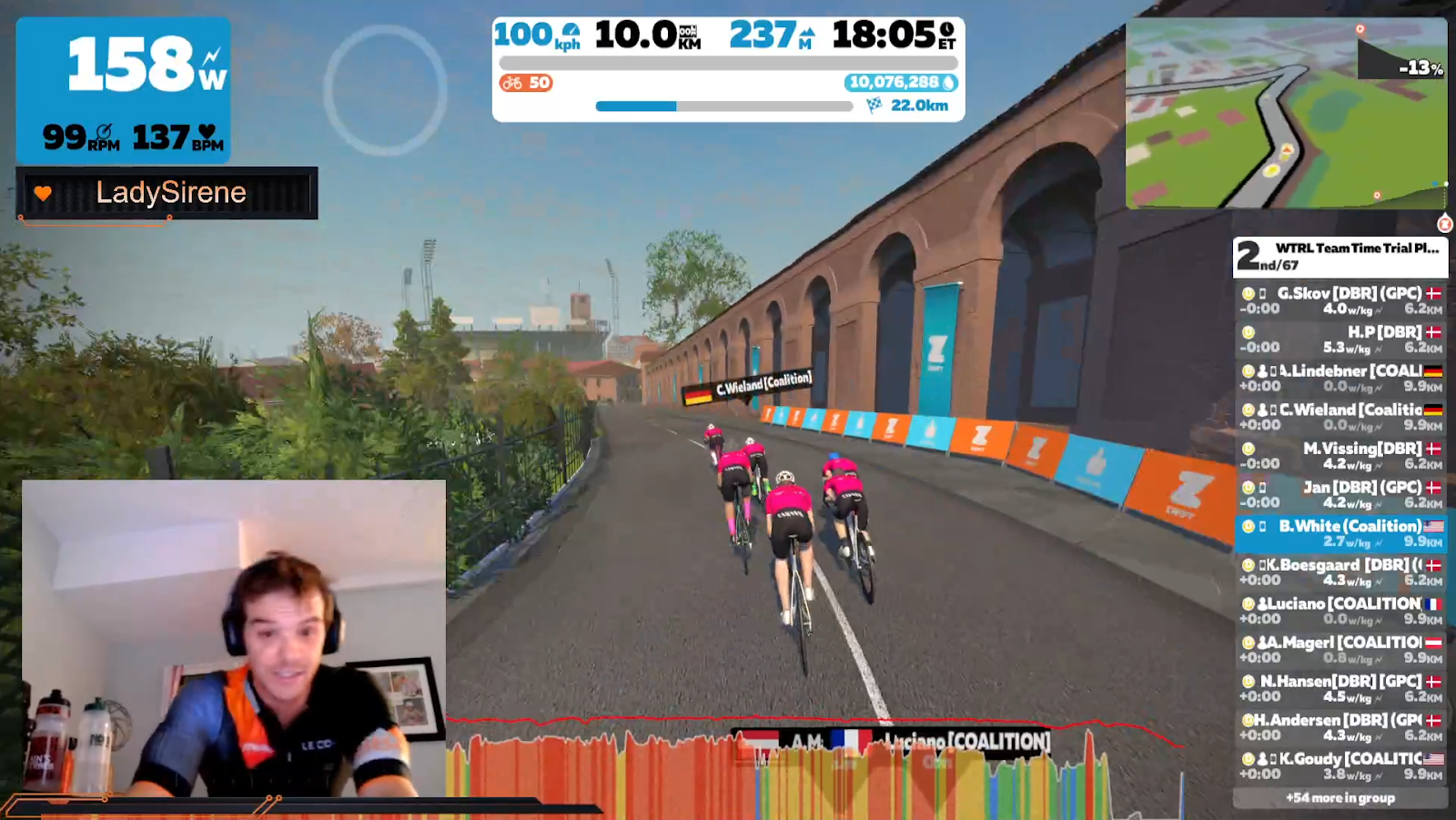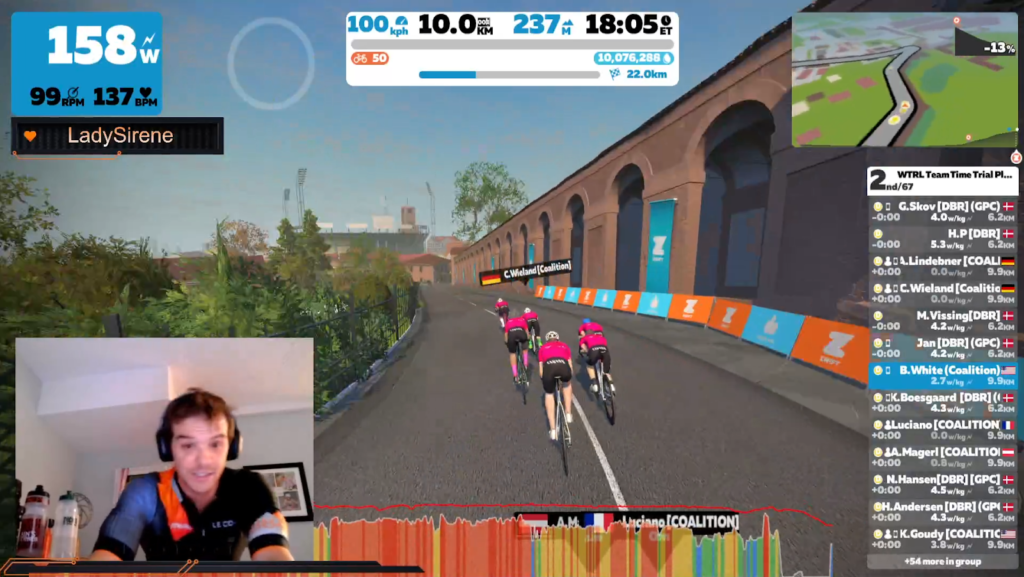 As anticipated, the heavier ones pulled on the descent (we reached 108 km/h which I think is the fastest speed I've had on Zwift) and continued in the flats. We literally flew in this segment, but we lost a second climber profile teammate. Kyle is still traumatized after being dropped in the descent despite producing 13wkg!
I don't know if it is the same for you, but seeing you are doing well generates a virtuous circle effect and pain becomes secondary. The endorphins and above all this conviction of being a team and that nothing can stop us just wipes away the pain.
Ricardo Is the DS Olympic Gold Medalist
But all good things have an end. While the beginning of the second iteration of the climb was profiling at the edge of my screen, Ricardo shouted "Give it all on the climb guys, you are doing great, but now it is time to give it all!!! Step on the pedals and push!!" And 4.5 w/kg for 8 minutes it was again. Whatever quantity "all" was, I gave it.
Ricardo is the DS Olympic Gold Medalist. He is clear and super-organized, he always finds the perfect balance between encouraging and reassuring, pushing and retaining. He conveys a reliability that makes him absolutely trustworthy so you follow his guidance. And he also has a PhD in Zwift Mindreading. When I was within a second of breaking he gave the instruction to slow down to 4w/kg for 30 seconds. His words were like oxygen to my lungs.
Give It All, AGAIN?!
Arriving at the top with 4 more teammates was almost a miracle. But I did not have the time to properly thank all the deities and celestial beings which allowed it when I heard "Luciano, you are the heavier now, your turn, push in the descent, GIVE IT ALL!"
(In the moment I was not sure if I had heard correctly or if it was a consequence of brain oxygen deprivation. I only had confirmation once I checked my teammate's live stream after the race.)
What do you mean by "Give it all?!" AGAIN?! I have nothing left! When you said give it all ten minutes ago I thought you were serious, it was not a 90% all… it was 100% all, right?
Anyhow don't ask me how we reached 107 km/h in the descent this time. And flew again on the flats. Upon arrival, the mutual congratulations were more intense than usual.
3rd in Frappe Platinum League, 4th overall. Champagne and Fireworks!
Bologna is still a special place. It's now Nessun Dorma resonating in my head and I am shouting out of tune! "Dilegua, o notte, Tramontate, stelle, Tramontate, stelle, All'alba vincerò! VINCERÒÒÒÒ! VINCERÒÒÒÒÒÒÒÒ!". My neighbours hate me more than ever.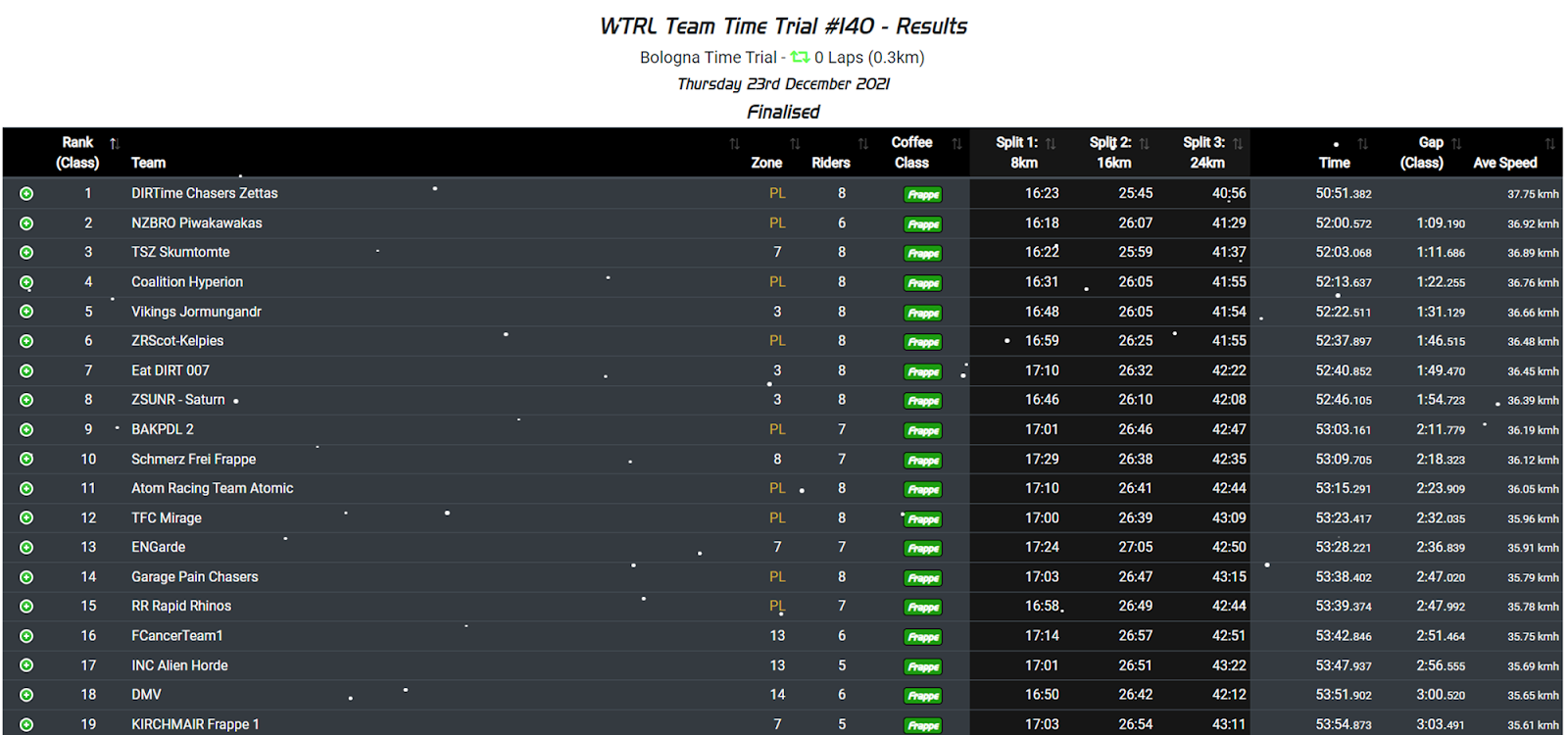 Thank you to the two Andreas, Samuel, Christian, Brian, Kyle and Fred for one of the best moments I had on Zwift! Just makes this whole thing so awesome!
And the week had only just started…
.