Today Zwift took a new mission live, dubbed the L'Etape du Tour de France Mission. It's another fun "carrot" to help motivate us to log some solid training in the coming weeks!
Mission Description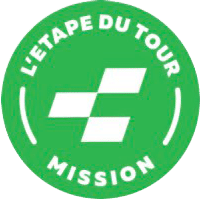 To complete this mission, you must ride the same distance and elevation of the real-life L'Etape du Tour de France over the course of 23 days between July 6th and July 28th.
That means riding 135 kilometers (83.8 miles) and climbing 4,563 meters (14,970′).
Any ride on Zwift counts. If you're having a hard time logging those miles, join one of Zwift's many group events to help you rack up the kilometers or elevation.
Unlocks
Riders who complete the mission will unlock the in-game Rapha x Étape du Tour cap.
Note: finish the 2019 Zwift L'Etape du Tour event and get the full Rapha kit to match!
Prizes
Everyone who completes the mission will be entered into a drawing to win one of three 2019 Rapha x Étape du Tour kits.
How to Sign Up
Just log into Zwift like you're beginning a ride/run. The mission will appear at the top-left of the start screen. Click "Join Mission". That's it!
You'll be notified in-game and by email when you have completed the mission.