Zwift CEO Eric Min (who, incidentally, lives in the real London) has posted a ride to Strava which includes two soon-to-be-released sections of new roads for the London course. (These new roads have been talked about by Zwift for several weeks, and were expected to be released before Christmas… but the holidays caused some delays.)
The new roads consist of a 3km (1.9 miles) section north of Box Hill, and a 10km (6.5 miles) climbing section south of Box Hill. That's quite a bit of new tarmac on a course like London! In fact, this update will expand London's roads by approximately 30%.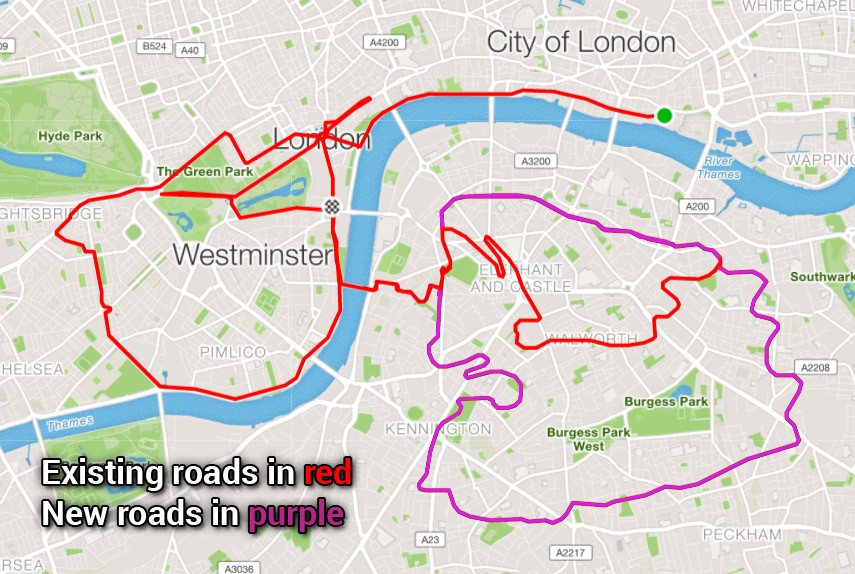 Once released, the southern section will be the biggest climb on the London course, with 243 meters (796′) of elevation gain over 6km (3.7 miles) for an average gradient of 4%. The backside of the climb is 4.5km (2.8 miles) long with a -4.9% grade. This new climb is Zwift's version of Surrey's famous Leith Hill, with the backside of the climb (visible in Eric Min's screenshot) called "Keith Hill" in game.
By comparison, the Box Hill climb currently in game is 2.7km (1.7 miles) long with 139 meters (456′) of elevation gain for an average gradient of 4.9%.

New Routes
Until the expansion is released, we won't know what new pre-planned routes will be available using the new roads. But I'm sure we'll have at least a handful of new routes, which will make group rides and races much more interesting in London since we'll have a variety of climbs to work with.
When Can We Ride It?
As always, Zwift hasn't promised a release date for the London expansion. But my guess is it will arrive when we all return to London Tuesday, January 9th.