Zwift Insider were lucky enough to catch up with Leah Thorvilson (winner of the 2016 Zwift Academy) at the end of 2017 for a quick interview and we can't thank her enough from taking the time out of her hectic schedule to answer some questions.
For those new to Zwift, could you introduce yourself and give us a little back ground info about where you came from and how you ended up riding for the Canyon/SRAM Race Team?
I feel like I should introduce myself like "Hello, my name is Leah…." but that feels super awkward in type format so I'll just get into the where I am from, etc.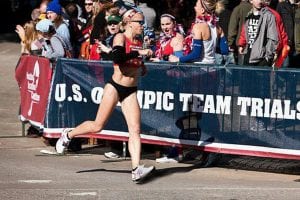 I'm almost 39 years old, and come from a running background. My running career progressed from sprints and jumps and short distance in high school, to mid-distance and cross country running in college, and finally to the marathon post-collegiately. The marathon is where I feel I found my niche, as well as my passion. I loved the training and I loved to race. Between 2004 and 2014 I competed in over 40 marathons. I won several of the lesser known races, and also had the chance to participate in the US Olympic Trials… though I was not anywhere near making the team. (I was 55th…but I was there!)
Years of running high mileage and being inflexible and probably having poor biomechanics over time led to a series of injuries that would result in 4 surgeries between May of 2013 and November of 2015. The final surgery was a bone graft to my femur (a plug of bone about an inch in diameter and length removed and replaced with cadaver bone – it's not fun, I don't recommend getting to the point that you need this if you can help it) which would mandate that I not do ANY high impact activity for at least a year, with no guarantees of ever being able to run again without reproducing the same injury (a massive defect on the cartilage on the end of the femur). The surgery prior to that, in May of 2015, was to repair a meniscus torn off at the root and stabilize the knee to be able to withstand the femur surgery. While on a couch recovering from the May surgery, I registered for a 100 mile ride before I even owned a bike. Motivation to start cycling.
My first ride was July 2, 2015. I rode from July to October when I got the call they had a donor for my bone graft, and the first week in November I had the second surgery. I was on crutches after that for 12 weeks, and then I was allowed to start some light spinning on a stationary bike, but was not allowed to go outdoors for 2 months. I knew I would go crazy if I did nothing but spin on my boyfriend's old, loud, non-smart trainer and stare at a wall… enter the purchase (or gifting rather) of a Wahoo Kickr Snap, and the start of Zwift. My friends Tom and Missy who knew I had started working out on Zwift told me about the Zwift Academy program. I thought it sounded fun and a good way to challenge myself so I made a mental note to sign up when registration opened a few months later. I never would have believed you if you had told me I would win. I didn't even start the program thinking I might have a chance of winning. When Zwift Academy started. I had never entered a real life bike race.
Zwift Academy started in June. From June to September we had to complete 27 workouts and 9 group rides to graduate the Academy and be considered for the semi-finals. 12 of us were selected from the graduates to move on. We were sent Kickr Snap trainers (which I already had but they wanted us all on the same equipment to keep a level playing field) and Quarq power meters to monitor outdoor sessions. From September to December the 12 of us had to complete one Zwift group ride, one Zwift workout, and one outdoor session each week. Three finalists were selected to join the team for training camp in Mallorca for ten days in December, at the end of which I was chosen as the winner of the grand prize, a one year contract to race on the Canyon/SRAM Racing team.
Do you feel better prepared for 2018 after spending a year with the Canyon/SRAM Team?
Of course, I feel somewhat better prepared. I have a year of invaluable experience under me. I still feel very behind the curve though. At 38, I've been on a bike just over 2 years (minus 4 months due to surgery) and most of the peloton have been doing this since they were 10 years old, so I am not disillusioned to where I stand, but I have a much better understanding of the way things work and know what to expect with the races… executing the way I want to is a continued work in progress.
What are your ambitions for next year, race targets and goals?
That's always a tough question to answer because my goals for the races will center around the team goals and who we are riding for… so my goals come off sounding a bit vague. I aim for continued improvement, growth in skill and confidence, and helping to put my teammates on the podium at every race. I do have some races on my calendar that are not guaranteed without adequate progress and appropriate fitness on my part, such as Tour of California… so my goal there is to earn my place.
How do you feel about your own performance this year?
I feel that with the level of experience I had and the tools I was given I did the best I could. Of course in the back of my mind I would have loved to create this fairy tale story where a Cat 4 rider joins a world tour team and has unexpected success but I think my results were about what could be realistically expected from anyone in the same situation… how's that for an obscure answer? Ha.
I guess what I am trying to say is that I'm not 100% satisfied with my performance, but I also give myself grace and respect for jumping in way over my head and staying afloat. When I say I'm not satisfied I mean that I'm not done. I can be better, I just needed to learn… and I am still learning.
Do you have any advice for the winner of the 2017 Male & Female Zwift academy?
Believe in yourself, have confidence that you belong in these races and belong in the peloton… because the mental game is huge. Recognize the abundance of experience and knowledge that is at your fingertips with your teammates, and don't be afraid to ask questions. Many of the things you don't know, they've been doing so long that it's second nature. They might not even think to tell you… so if there is something you don't understand or want to do better, ask. Take care of yourself spiritually, whatever that means for you personally whether it is religion or meditation or long therapeutic walks talking with friends, don't neglect that part of yourself.
Do you still use Zwift, if so, for how long and what purpose and is it a popular training platform within the Canyon/SRAM Team?
I do still use Zwift, both alone as well as a team platform. We have used it specifically for group rides when we are not all together in the same country and for some team time trial training last year, which we will do again this season. I also will have some specific blocks of training that are solely on Zwift in the upcoming year, and of course I use it when the weather is not conducive to good training outdoors… I'm certainly not a fair weather only rider, but if it poses a health risk due to cold and rain or ice….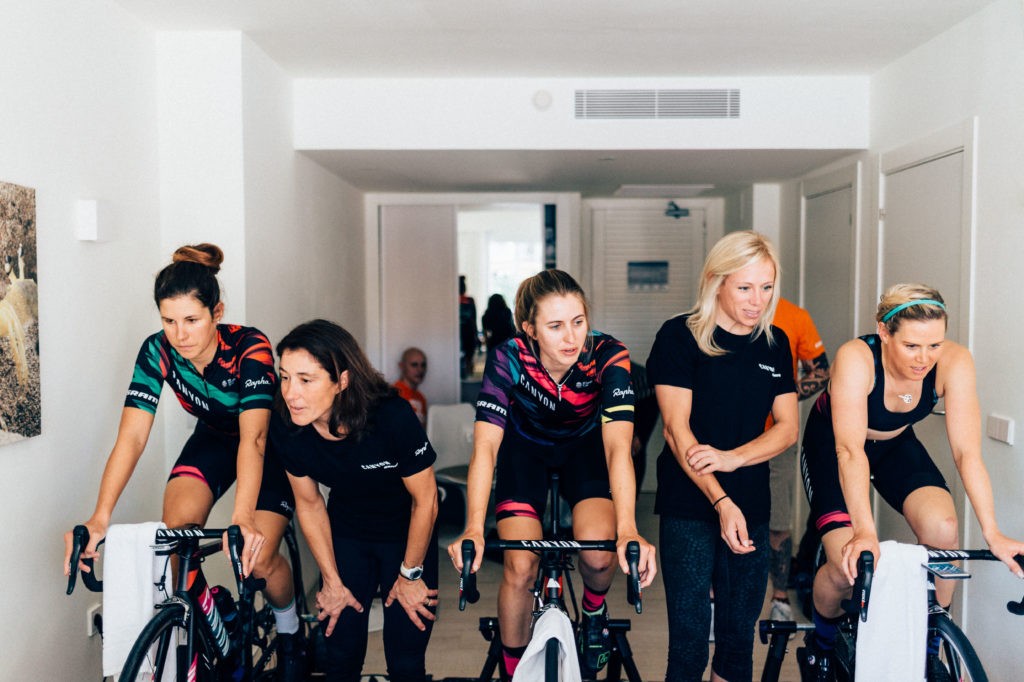 Can you name one thing that surprised you the most from moving to pro racing from the amateur ranks?
Haha, I can't say anything surprised me, because I didn't have a preconceived notion of how it would be. My time in the "amateur ranks" was literally about 6 races… but I can say the most challenging thing was just being comfortable in the peloton and learning to negotiate riding in a pack of 120-200 skilled riders when I had never raced with more than 15.
Since joining the team do you have any regrets and would you do it again?
No regrets. I wish I had had more experience going in, but that was nothing I did wrong, it was just life and how I arrived at the sport, so I don't regret it. I would do it again 10 times out of 10. Absolutely.
Is this what you thought Zwift Academy would lead to or is it completely different?
Ha! Different. Because I didn't ever think I would win… it's still strange to say "I'm a professional cyclist" when someone asks what I do… it's just crazy.
What's the best thing about winning Zwift Academy apart from getting the pro contract?
The people I have met and the places I have been.
What was the one thing that took you by surprise about racing alongside the Pros?
It's so hard. Again, I wouldn't say I'm surprised by this, I expected it to be hard, but wow, their abilities are really incredible, it's beautiful to watch really, more so when you have experienced it because they make everything look so fluid and easy like the way the peloton moves, it's like art and I'm just trying to keep my paintbrush in check. Lol.
How has your training changed since joining Canyon/SRAM and what motivates you the most to get out on the bike when the weather isn't as good?
Well, my training before Zwift Academy was just riding to stay fit and mixing it up with the local group rides. I didn't have any specific workouts or any regimen to what I did. So, everything is different. Every ride has a purpose. Whether it be intervals, endurance, recovery… there is structure and reason to each day's training.
I know I need experience riding in bad weather, so even though I prefer a nice day like anyone else it's very easy for me to find a positive in riding in wind or rain. When it gets cold and uncomfortable I struggle but not with motivation, because I know how good I will feel after getting it done… I just don't enjoy being out there and I get crabby sometimes. Lol. I'm human. 🙂 I love to train though. It's much harder for me to talk myself through multiple rest days than it is to get myself out the door to ride. I don't imagine at the pro level anyone is opting to not get out and train, so if I needed motivation I suppose it would be that I must be willing to do as much or more than the competition to be ready to race against them?
What do you do for downtime away from the bike and racing?
I enjoy reading, painting, cooking, coffee, and pretty much anything with friends that results in laughing. I'm also a huge fan of Shark Tank and Big Bang theory… I try not to get sucked into much on TV, but those two are favorites if I am taking a total "couch time" day.
A big thank you once again Leah for answering those questions and we wish you all the very best for 2018, RIDE ON!