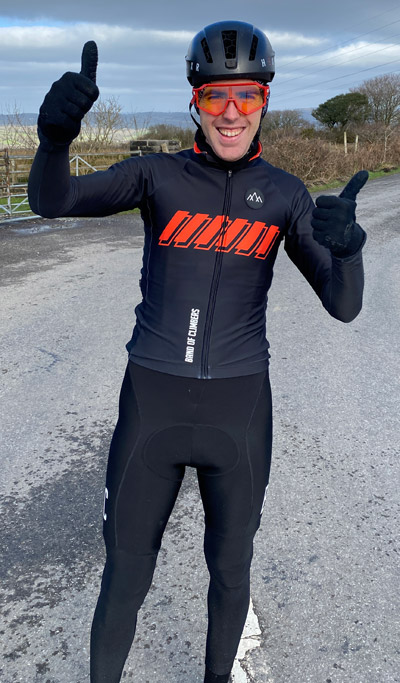 The month has flown by, and here we have the final diary entry of the comeback from COVID. Thank you for making it this far!
I'm going to keep this short and concise, in hopes of summarising what I have seen, and not seen, happen over the last 4 weeks.
First off, fitness is a precious thing. You quite frankly use it or lose it, and although it is a hard thing to stomach when you do lose it, it comes back quicker than you think, more often than not. Now, following on from that, the higher your fitness is in the first place, the further it has to fall. If you have been riding or training for many years, you may find that you can overload and progress quicker than most because of your history. This has certainly been the case for me this month and even though I have been through lots of ups and downs, these periods always remind me what an amazing thing the human body is!
This final week of January I have actually taken as a de-load week, also known as a recovery week. Aside from the WTRL race on Tuesday night, which went down a storm by the way, I have been far more focussed on riding below Zone 3.
A typical week like this for me would include shaving almost half of my weekly TSS down and being more flexible with how and where I ride. Usually I try and stick to a routine: same routes, same time leaving the flat. But a rest week usually takes a more laid-back approach.
A few times this week I included some short blocks of Muscular Force training. Muscular Force training is basically focusing on the power when turning the pedals. The other part of the equation is the velocity of your pedaling – cadence. What this means is that power is the result of force and velocity. And the more powerful you are the faster you go, in rather simple terms.
It's about this time of year that I like to include these short blocks of say 3 x 15min at low zone 3 power at 60rpm, with a 30s high cadence surge every few minutes. (The cadence surges help pass the time, too, as you can imagine.)
Everesting Experiment
The final training session of the week was a fun experiment. I want to have a proper go at the Everesting World Record much later this year (I know, we have heard enough about it!) but if I had a pound in my pocket for every time I was asked when am I going to try it then I'd never get up the hill with the extra weight!
So this session was simple: find a steep climb and ride it 'hard' as many times as possible in one hour. I managed 1178m (+- a few here or there) and was pretty pleased with that, considering all that has happened in the last few months! The data, as you can see, will be invaluable to me over the course of the year as I aim to build off of and improve on certain performance markers. There really is nothing more pure than having a number to chase or to tick off.
So, with that being said, I hope you have enjoyed these short diary entries and have been also stacking up some indoor/outdoor miles yourselves on your journey to becoming better and happier!
Questions or Comments?
Share below!