The London 8 route was on the menu for Dec 8th KISS EU. The A race came down to a sprint between David Allonby (Vision) and Stefano Sala. Philipp Diegner (Severe) took 3rd.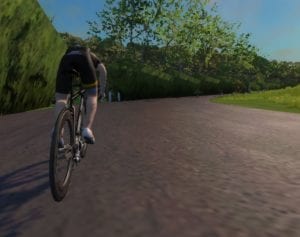 On the top of first climb, Brett Boniface and Stefano Sala were up by 15″ over Allonby (Vision), Cartwright (KissRT), Kaland (KissRT), Diegner (Severe), Pluijmers (Team X), Norton and Browning. The 2 leaders were caught before crossing the line for the first time. "The weight differential really hurts me in the descents," says Boniface. "I'm glad it's not like that in real life: when I open a gap in the climb, it's closed in the blink of an eye in the descent." The same lead group was together at the beginning of Box Hill. The flat section of the second lap didn't see much action, as everyone seemed anxious to see what the climbers had in store for the decisive part of the race.
Decisive Descent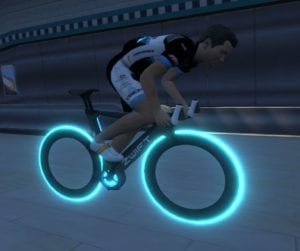 The second climb of Box Hill was total mayhem right from the get go, as Diegner attacked with a feather in the first slopes, with Boniface and Sala following, and the rest of the group falling a few seconds behind. The Italian climber managed to get away from Boniface in the second part of the hill, using the same skills that allowed him to win "La Marmotte" on the slopes on the Alpe d'Huez back in 2015. Flying towards victory, Sala saw David Allonby (Vision) come back in the descent, and the race ultimately came to a sprint between the two riders. The sprint was won by the Vision rider, adding a new line to his palmares.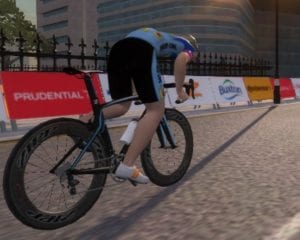 In the B race, Sebastian Sternefalk took the win in a late sprint against Matthew Rhyne and Greg "B." Racing on one lap on the London 8 course, the C category saw Jim Fitzgerald (Renegade MTB) take the win over Skyler Street (KissRT) and Sean Dormaar. Ultimately, the D race was won by Brian Cooper, right at the category limit. Christopher Octa took 2nd place, and Vincent Lagendijk 3rd.
---
Here is the race commentary from Nathan Guerra.
Check out his Twitch.tv channel >
---
KISS EU – Dec 8th / Provisional Results :
A Category:
1- D.Allonby (GBR-Vision)
2- S.Sala (ITA-U/A)
3- P.Diegner (GER-Severe)
B Category:
1- S.Sternefalk (NOR-U/A)
2- M.Rhyne (USA-U/A)
3- G.B (USA-U/A)
C Category:
1- J.Fitzgerald (IRL-Renegade MTB)
2- S.Street (USA-KissRT)
3- S.Dormaar (CAN-U/A)
D Category:
1- B.Cooper (GBR-U/A)
2- C.Octa (USA-U/A)
3- V.Lagendijk (NED-U/A)
-the q/l Report-