For the first time this winter, the KISS EU race took place on the Half-Pretzel route. Surprisingly enough, the climb to the tower wasn't the decisive point of the A race, which David Allonby (Vision) won over Tim Cartwright (KissRT) and Justin Purificati (Team ODZ).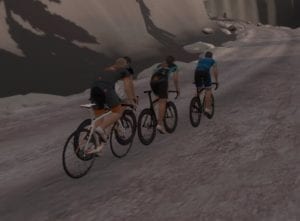 Right from the start of the climb, the main teams were up front: Team X, KissRT, Vision, ODZ… at the KoM banner, Allonby (Vision), Cartwright (KissRT), Purificati (ODZ) and Paterson were leading with a reasonable gap over the first chase group led by Pluijmers and Little (Team X). "I couldn't have a decent warmup," says Allonby, "so I had a pretty hard time at the beginning of the climb. I bridged a 5-second gap to get back to the lead group, and I knew I had to stay up there until the summit if I wanted to have a shot." At the tower, the same leaders were opening the road, as Cartwright chose this moment to change bike.
Time to duel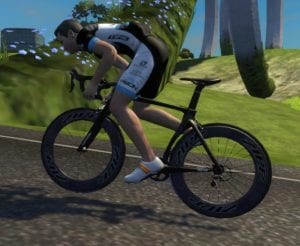 For Allonby (Vision), the fast descent from the tower was the chosen place to attack and create a gap. "I noticed Tim dropped off to change bike, I knew it was time to use the aero-hat to make the most of it. I pushed hard in the descent, and Tim was the only one to come back," explains the Vision rider. As Cartwright came to the bottom of the descent, Allonby was still on his wheel, and with the TT bike on, there was no drafting for the KRT rider. "I did my best to hold on to his wheel in the descent, and then I attacked on the hill," says Allonby, who ultimately kept his advantage and went on to take the win.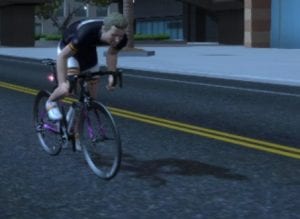 In the B category, the race came down to a sprint where Robin Stevens (TK.be) took the win over Sebastian Kühn (Vision) and Bryan Greatrick (TRCC). Darren Dunn took the win in the C category, with Marco W (Kettenhunde) coming 2nd, and Peter Reynolds 3rd. Finally, in the D category, Alexander Molodkin won at the upgrade limit. Thomas Coates took the second place, and Brian Handley the third.
---
Here is the race commentary from Nathan Guerra.
Check out his Twitch.tv channel >
---
KISS EU – Dec 6th / Provisional results:
A Category:
1- D.Allonby (GBR-Vision)
2- T.Cartwright (GBR-KissRT)
3- J.Purificati (CAN-ODZ)
B Category:
1- R.Stevens (BEL-TK.be)
2- S.Kühn (GER-Vision)
3- B.Greatrick (GBR-TRCC)
C Category:
1- D.Dunn (GBR-U/A)
2- M.W (GER-Kettenhunde)
3- P.Reynolds (AUS-U/A)
D Category:
1- A.Molodkin (RUS-U/A)
2- T.Coates (GBR-U/A)
3- B.Handley (GBR-U/A)
-the q/l Report-