[et_pb_section admin_label="section"][et_pb_row admin_label="row"][et_pb_column type="4_4″][et_pb_text admin_label="Text"]
The first classique race of the year saw some close finishes for the KISS EU of January 5th. In the A category, Tim Cartwright (KissRT) took the win after a long breakaway, whereas in the Bs, Sebastian Sternefalk (Vision) won the final bunch sprint.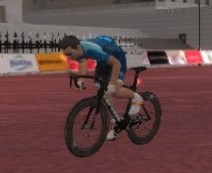 Known for its fast pace, the London Classique Course was the ideal place for a new two-man breakaway featuring Tim Cartwright (KissRT) and David Allonby. Managing to stay up front, the English duo saw its advantage cut down to 6 seconds at the beginning of the race's last hill. In an ultimate sprint effort, Cartwright managed to keep a few seconds over the pack, and took the win over Brett Boniface (Team ODZ) and David Allonby.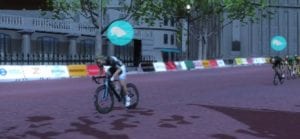 In the B category, the finish came down to a bunch sprint, despite the several attacks from Julien Beijer (Team X) in the uphills. The Dutch rider from Team Experimental, in addition to a 2nd place, won the first q/l Report – Combativity Award of 2017. In the final sprint, Sebastian Sternefalk (Vision) took the win over Julien Beijer (Team X) and Morten Austestad. "I wasn't sure to ride today, after a rough New Year's eve" says Sternefalk. "In the last lap, I had some gear problems, but I managed to get back and do my sprint. In that kind of sprint, you got to have a small gear to spin fast… I guess you can say that spinners are winners!"
Time to duel for the Cs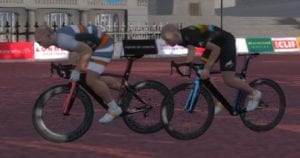 For the Cs, Scott Gallagher (BRTeam) won the two-man sprint against Jeff Edwards (Team TFC). A few seconds later, Stephen Hall took 3rd by winning the bunch sprint. Finally, in the D category, Berit Sundquist (Team X) took the win over Ian Martin and Thomas Vestergaard. Of course, all those results await to be official and are still provisional.
---
Here is the race commentary from Nathan Guerra.
Check it out on his Twitch.tv channel >
---
KISS EU – Jan. 5th/Provisional Results:
A Category:
1- T.Cartwright (GBR-KissRT)
2- B.Boniface (CAN-Team ODZ)
3- D.Allonby (GBR-U/A)
B Category:
1- S.Sternefalk (NOR-Vision)
2- J.Beijer (NED-Team X)
3- M.Austestad (NOR-U/A)
C Category:
1- S.Gallagher (GBR-BRTeam)
2- J.Edwards (GBR-Team TFC)
3- S.Hall (GBR-U/A)
D Category:
1- B.Sundqvist (NOR-Team X)
2- I.Martin (GBR-U/A)
3- T.Vestergaard (DAN-U/A)
q/l Report Combativity: J.Beijer (NED-Team X)
-the q/l Report-
[/et_pb_text][/et_pb_column][/et_pb_row][/et_pb_section]