The KISS EU race of Nov 22nd took place on the Figure 8 course. Despite the two climbs on the course, the 4 categories ended in bunch sprints. In the As, the recent Virtual World Champion David "Debbie" Allonby (Vision) took the win over Jacek Tarach (Team Poland).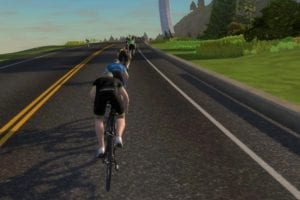 There were almost 15 riders in the A race's leading group, and the attacks rained down on every single climb like cranberry sauce on a Thanksgiving turkey. Nevertheless, despite all the efforts of Daniel Schimdheiny (Team X), Dafydd Williams (KissRT), Justin Purificati and Bart Dobblestein, there was no tearing the group apart this time.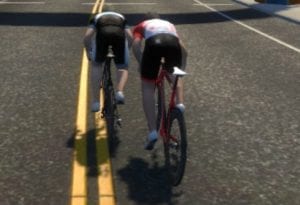 Digging his way back into the lead after every attack, David Allonby (Vision) managed to catch the last attacker, Bart Dobblestein, in the final kilometer. In the final rush, Jacek Tarach (Team Poland) took a commanding lead, but the only one who could reach him, and actually beat him, was the Vision rider. Consistent during the past weeks, Dafydd Williams (KissRT) took 3rd place in the A race.
Celebration time for PTz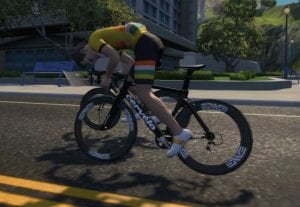 For the B category, the race ended in a bunch sprint as well. Team PTz manager BJ Afonso went on to take his first win of the winter, celebrating PTz's first anniversary. "It was a crazy sprint, says BJ Afonso. I had to put out 130rpm, but it was worth it. I got outsprinted a couple of times these past few weeks, but not this time". Bard Andreassen (Vikings) and Jeff Phillips took 2nd and 3rd place in that 21-man sprint.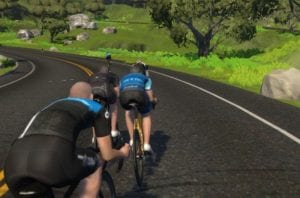 In the C category, Skyler Street (KissRT) took the win over Niclas Fagerlund and Damon McKay (Team TFC). Ultimately, in the D category, it was a 4-man sprint that set the winner. Matt Davison was the fastest at the line, just before Matt Baker (ARCC), Nuno Lopes and Olav Owesen. In the end, Baker was the only one under the category limits and took the official win. Keith Atkinson and Dagmar Van der Salm completed the podium.
---
Here is the race commentary from Jesper Anker.
Check it out on Nathan Guerra's Twitch.tv channel >
---
KISS EU – Nov 22nd (provisional results):
A Category:
1- D.Allonby (GBR-Vision)
2- J.Tarach (POL-Team Poland)
3- D.Williams (GBR-KissRT)
B Category:
1- BJ.Afonso (POR-PTz)
2- B.Andreassen (NOR-Vikings)
3- Jeff Phillips (USA-U/A)
C Category:
1- S.Street (USA-KissRT)
2- N.Fagerlund (SWE-U/A)
3- D.McKay (GBR-Team TFC)
D Category:
1- M.Baker (GBR-ARCC)
2- K.Atkinson (GBR-U/A)
3- D.Van der Salm (NED-U/A)
-the q/l Report-