Every category had its chance to shine on the KISS EU race of Nov 15th. The Watopia flat lap was covered 3 times by the Cs and Ds, 4 times by the Bs and 5 times by the As. Each of these races ultimately went to the rider able to outsprint his opponents.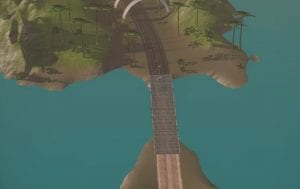 In the A category, the leading peloton got smaller and smaller as the laps passed, from a 25-ish-man group to a 9-man group halfway through. The attacks from Allonby (Vision) and Cartwright (KissRT) kept up the tempo at the front. But the KRT racer, victim of technical issues, had to step down with a lap and a half to go. "There wasn't too many attacks to follow, so we were able to save some energy for the finish, says Frode Bokerod. Plus, the aero hats helped staying in the wheels!"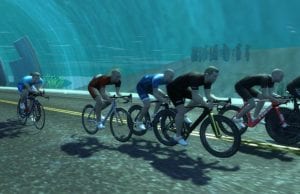 In the final kilometers, the Hedgehog (KissRT) and Henderson had to let go of the group coming into the Esses. There were 7 to ride for victory through the last bumps: David Allonby (Vision), Frode Bokerod, Ian Browning, Daffyd Williams (KissRT), Joseph Bank (BRT), Gregg O'Malley and Car Loeffler. Launching a first attack at the sprint banner, Allonby finally launched his sprint with 600 meters, surprising his opponents.
Four races, one outcome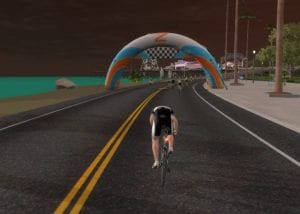 Caught right at the line, the Vision rider managed to keep a small advantage over Frode Bokerod and Gregg O'Malley to get his first win of the week. "He (Allonby) has been unbeatable lately, so I didn't really think I could win this, admits Bokerod, 2nd today. I was waiting for him to fly by… and he did! In the sprint, I was able to match his speed with the aero boost. Maybe I should've started 50 meters earlier. Who knows what'd have happened…"
On this flat course, even though it's well known by the riders at this point, every single race came to a bunch sprint, with some bunches bigger than others. The B race came down to a bunch sprint as well, with a dozen riders competing for the win. Sebastian Sternafalk, coming out of Norway, took the better over Team X rider Julien Beijer and Jason Haagensen from Canada. In the C race, Hans-Christian Erikstad (Vikings) outsprinted Brian McCardle and Mark Robertson (BRT) to take his second straight win after last friday's TFC. Finally, in the D category, Andrew Keedle (TPH Racing) took his 4th straight win over Ross Jones and Gary Darlington.
Here is the race commentary from Nathan Guerra.
Check out his Twitch.tv channel >
KISS EU – Nov 15th / provisional results:
A Category:
1- D.Allonby (GBR-Vision)
2- F.Bokerod (NOR-U/A)
3- G.O'Malley (GBR-U/A)
B Category:
1- S.Sternefalk (NOR-U/A)
2- J.Beijer (NED-Team X)
3- J.Haagensen (CAN-U/A)
C Category:
1- H.Erikstad (NOR-Vikings)
2- B.McCardle (GBR-U/A)
3- M.Robertson (GBR-BRT)
D Category:
1- A.Keedle (GBR-TPH Racing)
2- R.Jones (GBR-U/A)
3- G.Darlington (GBR-U/A)
See full race results including rider power, times, and heartrate on ZwiftPower.com >
-the q/l report-