The London loop was on the menu of the KISS EU race of January 26th. After three times up Box Hill, the A race was ultimately won by Le Monstre, outsprinting Boniface (ODZ) and Cartwright (KissRT).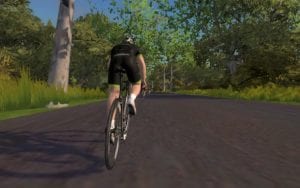 On the first climb, Kim Little (Team X) pushed hard and made the break, forcing the main group to form a few seconds behind him. This bold move awarded the "q/l Combativity Award" to the Team Experimental rider. In the following group were Le Monstre, Leguevaques (Team France), Norton (PTz), Onaindia (ADZ), Cartwright (KissRT), Beck (ODZ), Boniface (ODZ), Allonby, Webb (Vision), Komarek (Team TFC) and Hickey (ZTAZ). Heading into the second lap, Allonby tried to break away from the group right after Kim Little (Team X) was caught.
The second and third climbs narrowed down the lead group to 6 riders heading to the finish line: Allonby, Norton (PTz), Cartwright (KissRT), Onaindia (ADZ), Boniface (ODZ) and Le Monstre. "This race was insanely fast," said Boniface. "I was fried after the first climb, but Chris Beck did a fantastic teammate job to keep me in the group. If it wasn't for him, I wouldn't have been able to hang on." In the final showdown, Le Monstre took the win over Brett Boniface (ODZ) and Tim Cartwright (KissRT).
Three German wins
The B, C and D categories, competing over 2 laps of the course, saw a fair amount of upgrades. In the B category, Tobias Muller (RuhrRiders) won the 3-man sprint for the win over Rick Barbera (KissRT) and Matt Ray (Race WBR). For the Cs, Michael H outsprinted Nicolai Find for the victory. Darren Jones (BRTeam) came in 3rd, about 40 seconds later. Finally, Felix Schönherr won the D race with a 6-second advantage over Jonathan Meyer. Robert Primke (Team Poland) completed the podium a minute later.
---
KISS EU – JAN. 26th / Provisional Results:
A Category :
1- Le Monstre (GBR-U/A)
2- B.Boniface (CAN-ODZ)
3- T.Cartwright (GBR-KissRT)
B Category :
1- T.Müller (GER-RuhrRiders)
2- R.Barbera (USA-KissRT)
3- M.Ray (GBR-Race WBR)
C Category :
1- M.H (GER-U/A)
2- N.Find (DEN-U/A)
3- D.Jones (GBR-BRTeam)
D Category :
1- F.Schönherr (GER-U/A)
2- J.Meyer (USA-U/A)
3- R.Primke (POL-Team Poland)
q/l Report Combativity Award : K.Little (GBR-Team X)
-the q/l Report-