The KISS EU race of Nov 29th was the chosen set for the new broadcast feature "Zwift on Board." The A race came to a sprint finish with Casey Schumm (Team X) crossing the line first. Tim Cartwright (KissRT) and Alexandre Gagnon (ODZ) completed the podium.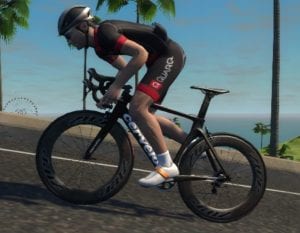 The first three laps of the A race, on the hilly course, were mostly animated by Canadian rider Justin Purificati (ODZ). Attacking on every climb, the ODZ racer had the 15-man pack chase for him every lap, giving the riders something to work for. But with a lot of strong riders in the pack, his efforts didn't pay off the way he might have expected. Ultimately, he went on to take 7th place. This race was also the first to feature live feed from racers themselves: David Allonby (Vision), Dafydd Williams (KissRT), Mark Macintosh (Team X), Sebastian Kühn (Vision) and Casey Schumm (Team X). "Knowing that people are watching you live gives a bit of additional motivation" commented Schumm.
"The longest sprint ever"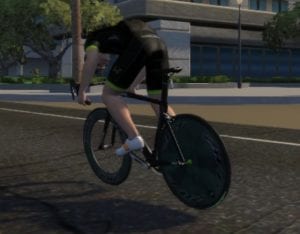 There were 9 riders going into the last Esses in the lead group: Cartwright (KissRT), Gagnon (ODZ), Purifiati (ODZ), Allonby (Vision), Schumm (Team X), Sheret, Bokerod, Tarack (Team Poland) and Paterson. Launching the sprint from far off, Cartwright and Allonby saw Casey Schumm (Team X) flying by and take the win in a close finish. "It was the longest, hardest sprint I've ever done," said Schumm. "This feels really good and hurts so bad at the same time. The tactic was to rest as much as I could, for that finish. We got dropped a little bit up the climb, with Allonby, but we managed to come back with some RNG help. When crossing the line, I wasn't sure about the result, so Daniel (Schmidheiny), who was in the team car, checked ZwiftPower and that's when I really knew I'd won."
In the B category, Werner Otto (KissRT) took his first win since July, crossing the line a few seconds before Sebastien Sternefalk and Morten Austestad. Rick Hanna (BRTeam) outsprinted Skyler Street (KissRT) and Karl Knight for the C win. Finally, in the D category, Lindy Gray took the win a couple of seconds ahead of "J.A" and Roel Crollet. This said, the many upgrades shown in the live results might change these podium a bit in the next few hours.
---
Here is the race commentary from Nathan Guerra.
Check out his Twitch.tv channel >
---
KISS EU – Nov 29th / Provisional results:
A Category:
1- C.Schumm (USA-Team X)
2- T.Cartwright (GBR-KissRT)
3- A.Gagnon (CAN-ODZ)
B Category:
1- W.Otto (GBR-KissRT)
2- S.Sternefalk (NOR-U/A)
3- M.Austestad (NOR-U/A)
C Category:
1- R.Hanna (GBR-BRT)
2- S.Street (GBR-KissRT)
3- K.Knight (GBR-U/A)
D Category:
1- L.Gray (GBR-U/A)
2- J.A (GBR-U/A)
3- R.Crollet (BEL-U/A)
-the q/l Report-